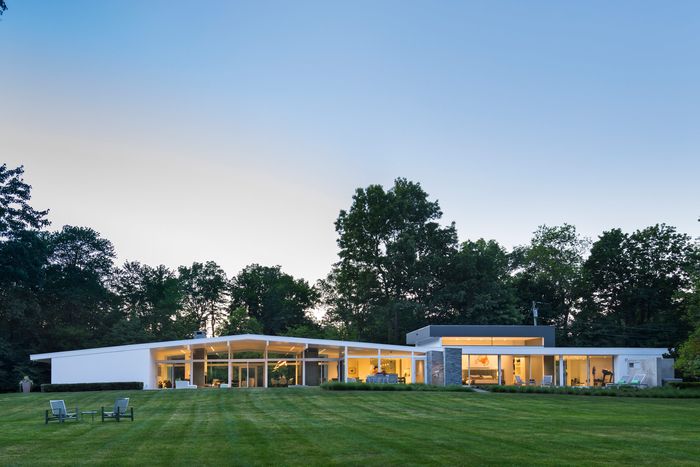 Photo: Peter Aaron/Peter Aaron
Location: New Canaan, Connecticut
Year built: 1957
Architect: John Black Lee, with renovations and addition by Joel Sanders
Specs: 4 beds, 4 baths, 5,612 square feet, 2.8 acres
Price: $5,000,000
Though he went to Brown, John Black Lee is often referred to as the sixth member of New Canaan's Harvard Five, having apprenticed with Harvard Five member Eliot Noyes and designed more than half a dozen homes in the modernist hot spot himself. Among those works, 478 Oenoke Ridge is perhaps the most significantly, though carefully, altered.
The original wood and steel house featured long horizontal lines with a shallow gable roof and glass walls on both sides. In 2017, owners Mark Ullman and Taylor Gibson-Ullman hired New York architect Joel Sanders to update and expand the 3,600-square-foot home, which, according to a 2018 Architectural Record story on the project, was in "pristine" condition but had a cramped kitchen and small bathrooms. "The owners wanted to keep the aura of the house," Sanders told the Record.
After the renovation, the exterior retains a very similar feel; Sanders only demolished a small portion of the east side in order to join the addition. But the living space is now much larger, with the 2,600-square-feet extension creating a new master suite, gym, and garage. To help complement the original house, the new section also employs walls of glass and continues the white roofline of the existing structure (though the master-suite portion rises higher, with 12-foot ceilings and clerestory windows to flood in light).
Other changes include the removal of shoji screens in the living areas to open up the floor plan and turning bathtubs into glass showers to give the bathrooms a more spacious feel. Meanwhile, the original three-bedroom wing on the west side is entirely intact, and the home's entrance location remains the same, though it now overlooks a formal garden.