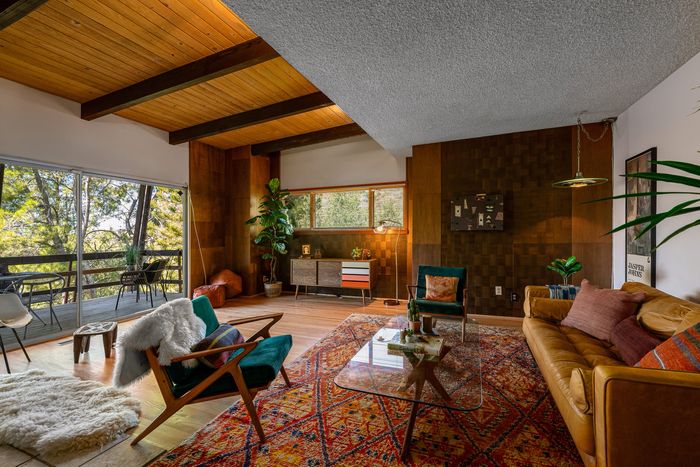 Photo: Listing Zen, courtesy of Jacqueline Tager/Sotheby's International Realty
This story was originally published by Curbed before it joined New York Magazine. You can visit the Curbed archive at archive.curbed.com to read all stories published before October 2020.
In Time Capsules, Curbed unearths homes hitting the market for the first time in a long time — or maybe ever — in hopes of finding mint-condition bathrooms, vintage kitchens, and plenty of original architecture.
Location: Glendale, California
Year built: 1968
Last sold: 2002
Specs: 3 beds, 2.5 baths, 2,444 square feet, 0.28 acres
Notable changes: New roof, solar panel system, some flooring, HVAC
Price: $1,198,000
Once a private game preserve for the family of L.A. oil baron Edward Doheny, Glendale's Chevy Chase Canyon remains to this day a wild, rural neighborhood where deer, coyotes, bobcats, and at least one mountain lion roam. Here, on a cul-de-sac street branching off from a winding dirt road, architect Gus Stamos built a modern house for himself and his wife, Sophie, in 1968.
Former high school sweethearts who eloped in the 1940s — Sophie's parents didn't approve of Gus — the Stamoses would reside happily together at 1105 Outlook Lane for decades. Last sold in 2002, the Stamos home is now on the market for only the second time ever.
While the two-story house — one of just five on the tucked-away lane — hasn't been completely trapped in amber over the past five decades, its changes have been relatively minor. Listing agent Jacqueline Tager says the current owners replaced the wood flooring in some of the common spaces, installed an intricate mosaic-tile floor in one of the bathrooms, and painted some of the molded-concrete blocks in vibrant magentas, yellows, and oranges. Other updates include a new roof with a solar panel system and central HVAC.
Sheathed in vertical redwood planks on its street-facing side, the home's rear side is lined with ample walls of glass that look out onto the canyon and the city beyond. Other standout details include tongue-and-groove ceilings, original orange formica countertops, and walls paneled with stereo cabinet doors salvaged from the company where Sophie Stamos worked as an office manager. For a 3D-tour click here.