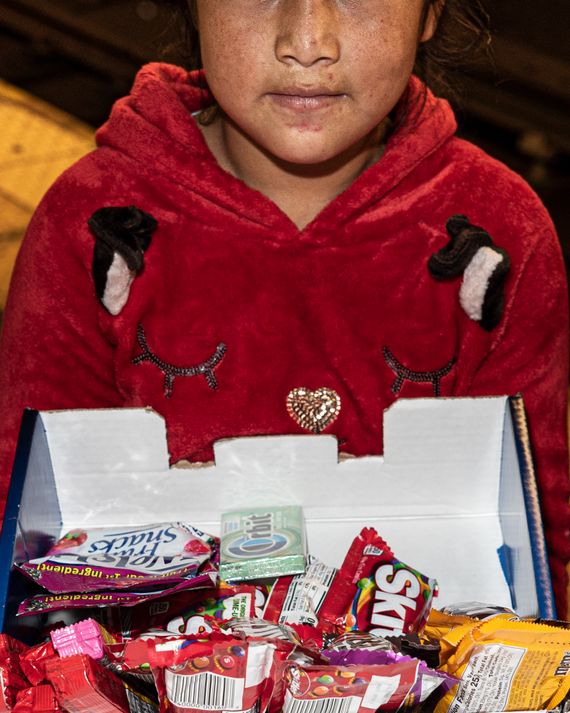 42nd Street–Bryant Park station, Wednesday, July 19.
Photo: Andy Zalkin
This article was featured in One Great Story, New York's reading recommendation newsletter. Sign up here to get it nightly.
One Friday morning earlier this summer, 16-year-old Gloria Vega was selling candy to commuters on one of midtown Manhattan's busiest subway platforms when a woman approached her and demanded she hand over all of her packets of M&M's. "She looked completely crazy," Gloria said in Spanish, her voice trembling and tired, "and she told me she would hit my baby." She pointed to her infant daughter, Yuleidys, who was wrapped tightly in a shawl on her back, her jet-black hair sticking up in three short pigtails with red, yellow, and blue scrunchies. "Of course I gave her the M&M's."
The woman grabbed the candy and wandered off, and Gloria boarded the next train. Not an hour later, she was on a different platform, recounting what had happened and nursing Yuleidys, gently stroking her hair. "She doesn't like solid foods or the bottle yet," she said. "Only from Mamá. Isn't that right, my love?" Beside them was an open cardboard box filled with candy, with an empty space where the M&M's had been.
Gloria migrated to the U.S. from Ecuador last fall, shortly before giving birth to Yuleidys. By November, she had made it to New York along with her parents, her twin sister, and the father of her child. In Ecuador, the Vega family lived in the province of Cotopaxi, in the country's central highlands, where they sold legumes and vegetables. Now, they shared a single room in an apartment in Corona, Queens. More aunts, uncles, and cousins have followed them in the months since Gloria arrived.
Each day, the men in the family look for work as day laborers and the women and children go to the subway, selling candy on the trains and platforms from ten in the morning until 6:30 in the evening. They arrange their items neatly in variety-pack boxes — yellow M&M's, blue Orbit gum, Snickers, Oreos, Welch's Fruit Snacks — priced at $2 apiece.
I asked Gloria where she buys her candy. She wasn't sure of the name of the store or the neighborhood where it was located. She was, however, able to tell me exactly how to get there, a journey she makes once every week or so. "I take the R train almost to the end. And then I take the Q59 bus," she said, pausing to repeat this number as though she were passing along the meticulous instructions just as they had been told to her. "The Q59 bus, exactly 22 stops." There was a wholesaler there with prices good enough for her to make around a dollar on each sale. She would fill her bags and set off for the hourlong ride home to Corona.
The Vega family sticks to a series of busy stations on the 7 line, traveling together at set times in the mornings and evenings and keeping tabs on one another's movements during the day through audio messages in WhatsApp group chats. There are other Ecuadoran families working the subway, many of them high-school-age girls like Gloria with infants strapped to their backs in bedsheets or shawls or with young children beside them on foot. Sometimes, the younger children themselves — 5, 8, 11 years old — are doing the selling. "Cómpreme un chicle, un chocolate, cómpreme," they say quietly ("Buy a piece of gum, a chocolate"). Or "Ayúdeme, por favor, con una compra" ("Help me, please, by buying something"). Others approach potential customers without saying anything at all.
Like Gloria, most of the candy sellers are Kichwa-speaking Indigenous people from Ecuador's rural central highlands. They are part of the largest wave of Ecuadoran migration to the U.S. since the turn of the century: In January, for the first time, Ecuadorans were more common than any other nationality of migrants detained by Mexican authorities. Whole families are fleeing a country mired in a socioeconomic crisis, driven by radical cuts to public spending and an overwhelmed health-care system still recovering from the pandemic. More than a quarter of the population lives in poverty, and in many regions gangs and drug cartels have fueled a surge in violence; on August 9, a presidential candidate was killed on the campaign trail in Quito. Some 12,000 encounters with Ecuadoran migrants were reported by the U.S. along the southern border in November 2022 alone, a nearly 20-fold increase over the year before.
In New York, asylum seekers have struggled to find space in the city's shelter system, which currently houses 57,000 undocumented new arrivals, outnumbering the homeless population for the first time. Earlier this month, hundreds of migrants had to sleep on the street when the city couldn't find beds for them. "We are past our breaking point," Mayor Eric Adams said. "New Yorkers' compassion may be limitless, but our resources are not." Migrants have saturated the city's informal labor markets — including construction, restaurant, and domestic work — and rents even for shared rooms in overcrowded houses have soared. Families can't meet their basic needs.
"We've all recently arrived, and we don't have the money even to afford diapers," Gloria said. On the best days, most candy sellers don't earn much more than $80. "Some people are nice and tell you to keep the change, and some people will give you money without asking for anything in return." On the worst days — hot or rainy days when fewer people are commuting — hardly anyone buys at all.
The youngest working children in the Vega family, about half a dozen cousins between 4 and 14 years old, stay on one of the platforms all day, supervised by an adult — usually Gloria's mother, Juana, a middle-aged woman who speaks Kichwa with her daughters, who typically respond in Spanish. Month after month, the children work throughout the weekday. Even if their parents might want to put them in school, they know a simple truth: Children sell more.
It's like a postcard from my country," said Soledad Álvarez Velasco, a social anthropologist originally from Quito who researches migration from Ecuador to the U.S. at the University of Illinois Chicago. "You will always see women there carrying their children, or with their children around them, selling whatever they can." In the U.S., she said, "they're doing exactly what they did at home."
Most of the candy sellers work the subway lines that lead to Elmhurst and Corona, Ridgewood and Bushwick — the neighborhoods where Ecuadoran immigrants have historically settled in the city. They have mental maps of busy stations, of free transfers, of bathrooms. "If I need to go to the bathroom, I take the subway to Times Square," Gloria said. "But sometimes the bathroom in the station there is closed. If the Times Square bathroom is closed, I have to go to 74th Street." The bathroom at the Jackson Heights–Roosevelt Avenue station is usually open, so Gloria and Yuleidys take the train all the way back to Queens just so she doesn't have to spend another $2.75 to get through the turnstiles again.
Individuals and families who work in the same areas tend to look out for one another — but they don't always get along. There are, increasingly, disputes over territory as more take to the trains. "That guy over there," one young candy-and-beverage seller from Ambato, Ecuador, said along the F train, pointing discreetly to a middle-aged man selling sodas from a cooler of ice farther down the platform. "He told us that bad things will happen to us if we keep selling here. That this is his place and no one else's."
The MTA prohibits unlicensed selling on the subway, so informal vendors are constantly chased off the platform by police officers who sometimes issue fines of up to $50, essentially wiping out a day's earnings. An NYPD spokesperson said that "officers use a high level of discretion to correct a condition without imposing a civil fine." Through July 23, the department had issued 415 summonses for unauthorized vending or solicitation in the subway.
Many of the candy sellers were afraid of attracting attention. "Please go away," one woman selling candy at Grand Central–42nd Street pleaded when I introduced myself as a journalist. When I approached another, at the Lexington Avenue–63rd Street station, she turned and ran toward her elementary-school-age son, who was working alone at the other end of the platform; they quickly stepped through the closing doors of a Q train before it pulled away from the station. Those who were willing to chat often gave me false names at first (nearly every single woman I met initially called herself María), and everyone spoke on the condition of anonymity because of the risks that may come with their legal status, their presence in the transit system, and the fact that they often work with their children.
When the wildfire smoke from Canada descended upon the tristate area in early June, many of the candy sellers told me they couldn't handle it anymore. That day, they went home early, but the next day, with the haze only slightly better, they were back at work. School had been canceled owing to the air quality, so there were more kids out selling with their parents than I'd ever seen before. One woman pointed to her 8-year-old son, who was sobbing a few feet away next to an advertising display. "He doesn't want to walk anymore," she said. "I don't feel well," the boy told me. His cousin, a girl about his age, was crying next to her mother nearby.
I saw people scream viciously at young candy sellers for resting on the staircases and getting in their way. I have watched others try to taunt them into giving away free sweets. One afternoon along the N/R/W line, a group of teenage boys heckled a man called José who was quietly selling candy from a box atop his churro cart.
"Will you give me a piece of candy for free?" one of the boys asked in English.
José did not seem to understand and remained silent. "No, no free," a woman who was selling near him said.
"You won't give me one for free?" the boy said again, coming closer.
"You won't let your mom suck my dick?" his friend shot back at him. They started teasing each other and forgot about José, who looked relieved.
Multiple people, most of them Spanish speakers, stopped the candy sellers to tell them that what they were doing was wrong. "You can't work like this. You have to be in school," one older woman scolded a child in Spanish when he offered her candy on the Jackson Heights–Roosevelt Avenue platform. "Where are your parents?" She was intent on speaking with the boy's mother, but the boy's mother was nowhere to be found. Instead, she watched him warily as he continued selling along the platform until the next train came and he could slip quietly aboard.
Ecuadorans wanting to get to the U.S. without papers are presented with two common routes. The first option is to fly north to Panama, Nicaragua, Honduras, or El Salvador — which don't require a visa — before continuing by land toward the U.S.-Mexico border. The cheaper route is entirely overland and involves a treacherous multiday trek through the Darién Gap, a 66-mile stretch of roadless jungle on the border between Colombia and Panama, where dozens of migrants have died in each of the past several years. On the 7 train, I met a 4-year-old girl who had evidently arrived that way. "I came through the jungle," she told me. "We took boats and then we walked."
Ana Toaquiza, 28, and her husband, Manuel, chose the first route — more expensive but less dangerous — for themselves and their three children, two daughters ages 5 and 9 and an 8-month-old son. She told me her story on a stifling afternoon in June as she held her baby and her daughters, Naty and Cynthia, played beside her in the grass in Flushing Meadows–Corona Park.
In early 2023, Ana's family flew from Ecuador to Panama, avoiding the Darién. "For the baby's sake," she told me. "I couldn't put him through that." They continued, on foot and by bus, north through Central America. "We slept in parks and on the street. Our shoes broke, we had wet clothes, and sometimes my oldest daughter was so hungry that she asked restaurants to give us scraps and leftovers." After crossing the Rio Grande near Eagle Pass, Texas, she said, they were detained while they applied for asylum. Three days later, they were released at a church and told that they could take a free bus to New York — one of hundreds sent by GOP governors to blue cities in protest of the Biden administration's immigration policies.
When the family arrived in Manhattan, they were given a room in one of the many midtown hotels that had recently been repurposed as shelters. But the shelter didn't have a kitchen, so the family set out in search of a place to rent near 103rd Street in Corona, where Manuel's brother lives. About a week into their search, they found a house in the southern part of the neighborhood that was advertising a single room for rent, and they took it. "They're charging us $1,100 a month," Ana said. All five of the family members sleep on an old mattress on the floor. "They said it would be more expensive because of the kids."
Ana's family lived in Alausí, a town of brightly colored buildings in the center of the country. Manuel was from a rural community near Ambato, farther north. The couple met in Quito, where members of their Indigenous communities would travel by bus to the San Roque market to sell grains, beans, and vegetables.
"Back home, we knew what to harvest and what to eat," Ana said. Peas were their staple, but they also ate rich stews of machka, a Kichwa flour made from ground toasted barley, with fresh carrots, potatoes, and rice, and chapo, a hot beverage made from boiled sweet plantains. "We had animals — cows, sheep, pigs, a little of everything." She carried her children everywhere in a shawl on her back — a chalina in Spanish, a kashpa guagua in Kichwa. But after the pandemic, the family could no longer earn enough to live. "We decided to come here," she said, "so that my children could have a better chance at life." Not long after they left, a landslide devastated Alausí, killing Ana's grandparents and more than 60 others and destroying the family's home. "We have nothing left there," she said.
Ana told me their first few months in New York had not been easy. "Everything has been a surprise. I didn't know what it would be like to live here," she said. She memorized her home address but still struggled to navigate through the city (whenever I said the word Queens, Ana stared at me blankly until I realized she had no idea it was the name of the borough where she'd been living). At six o'clock each morning, Manuel set out on foot some 30 blocks to Woodside, where dozens of day laborers queue for jobs at construction sites. Unlike the Vega family, she and her husband had enrolled their children in public school, where they received free breakfast and lunch, but there were nights when they ate only white rice for dinner.
Ana began working in the subway system early on. Someone else living in her house — "un señor," Ana said vaguely — suggested she use his Costco card to buy candy and beverages in bulk and sell them. On weekdays, she would head out to the train stations with her son on her back; Naty and Cynthia joined her after school to help.
In recent weeks, the police have stopped her numerous times on the platforms to give her warnings. "They told me that if I kept selling with my children, they'd take them away from me and put me in jail," she said. "But we do it because we have no other option. There are men and boys who live in the other rooms of our house. How can I leave the girls at home alone?"
Naty told me she dreamed of someday becoming a doctor, but first she had to learn English. "Sometimes my friends try to teach me, but when I speak to them in Spanish, they understand everything too, so it's okay for now," she told me. Her teacher is bilingual, which made the transition far smoother. Still, she had questions. "How do you say árbol in English?" she asked me. Tree, I told her. "How about hielo and carro? I can count to ten …"
"How do you say chicles in English?" Ana interrupted. Gum, I said. She asked me a few more words, as if running through a checklist in her head. "Candy, cookies, gum," she repeated to herself quietly. "Candy, cookies, gum."
In mid-June, Cynthia almost fell onto the tracks. "I was sleeping, and a man pushed me," she told me.
"We were on the platform, and the man looked a bit wild," Ana continued. "He pushed her from behind, and I grabbed her hair so she wouldn't fall onto the tracks." Ana was glad her children weren't with her on the subway any more than they were. "Nobody truly wants to bring their children onto the trains," she said.
One group that is eager to help people like Ana find safer work is Voces Latinas, a Queens-based nonprofit that provides support to migrants from Latin America. But its director, Nathaly Rubio-Torio, told me that outreach is a slow process. "You can't just start getting people in trouble or threatening that you're going to remove their children," she said. "It's a conversation. It's education. It's explaining over a cup of coffee."
Voces Latinas uses what it calls the "promotora model" in its outreach. In both Latin America and Latin American communities in the U.S., promotoras are peer advisers who offer information about social services. Especially in rural parts of Central and South America, promotoras form a much needed link between communities and the institutions that can provide support. On several of my visits with the candy sellers, I was accompanied by Voces promotoras and staff, some of whom were undocumented themselves and brought an added level of trust to the conversation.
Voces Latinas sent promotoras to talk with migrant women who worked as waitresses in bars along Roosevelt Avenue, where sex work is common. "We would go in at night, and the managers totally trusted us," she said. "They would give us their karaoke room, their office. And we would give workshops on STIs, on HIV, on wellness. We would give workshops to these women and follow up with them." At the Voces Latinas office, the staff distributes food, clothing, and reduced-fare MetroCards and helps migrants sign up for health insurance and find pro bono legal counsel. They also show families how to enroll their children in school.
Rubio-Torio sees an opportunity to train the women who are selling candy with their children as promotoras themselves. "I understand that it is survival mode," she said, "but I think there's a huge need to educate at least the moms that I'm seeing — because most of them are women with their children — about what these child-welfare laws are in New York. Imagine we do it on the train platform. Meet people where they're at while they're selling by offering to compensate them for a small amount of their time. We just need one or two families or women with young children to connect to us, or connect a child to the program, and word is going to spread so fast."
Voces also hopes to reach out to some of the candy sellers via TikTok, which was popular with almost all of the Ecuadorans I interviewed. Moments of downtime in the subway system were often spent watching — and making — videos. Many of the ones made by migrants project an image of success to their audience of TikTok followers, mostly other Ecuadorans. Online, the candy sellers are living the American Dream. They use these words, sueño americano, over and over in their posts and comments. They are dressed nicely, sometimes wearing traditional Indigenous clothing of the Andes such as bowler hats and knee-length skirts. Very often, the videos are dedicated lovingly or tearfully to family members still in Ecuador with onscreen messages such as "I'm so far from my mom, I miss you so much" and "Ñaño, I will never forget you."
From those back home, there are unboxing videos of people opening care packages of clothes, medicines, and other gifts sent from the U.S. There are videos that show migrants who have just survived their journeys reuniting with relatives in New York. On Father's Day, Gloria and some of her candy-selling cousins posed in the sea during a beach day at Coney Island. They hadn't brought bathing suits, so they went in the water in their leggings and jeans.
Gioconda Herrera, a migration specialist at the Latin American Faculty for Social Sciences in Quito, believes social media could be helping to facilitate the journey to the U.S. "It's about networks, about having the social imagination of the possibility of going there," she said. On TikTok, people can also follow along with their family and friends who are on their way, por el camino, and encourage them in real time. "You've still got the most difficult part ahead, mijo, but have faith," one commenter says on a video posted by a boy making his way north. "You're not even halfway, brother, good luck," writes another.
One question pops up frequently: "How much money do you need to go?"
Recently, when I met up with the Vega family at one of their regular spots, Gloria told me I should expect to meet someone new. "Una prima," she said. A cousin. "She arrived yesterday."
Victoria was her name. She was just 14 years old and wore a T-shirt, black leggings, and bright-red shoes that looked brand new. She carried a cardboard box filled with candy. That day, I was accompanied by a Kichwa-speaking anthropologist from Ecuador named Aida Yanza, who struck up a conversation with her.
"It's horrible here," Victoria told us. The girl was clearly distressed: She didn't expect to be selling candy like this just one day after landing with her father and brother on a plane from the border, the final chapter in a long journey up through the Americas. In a TikTok of their arrival at La Guardia airport, Victoria can be seen wiping away tears as she descends the escalator and embraces her aunts, uncles, and cousins. Many of the people I recognized from the subway platform were there, an extended family around a dozen strong, posing for pictures.
But Victoria would not stay with her father and brother much longer. Today, without a phone of her own, she had no idea where they were. "They said they were looking for work somewhere," she said. According to a TikTok post made by her father a few days later, he and her brother appear to have registered at the Roosevelt Hotel in midtown, the first stop for new asylum seekers in the city, where they were given a shelter spot.
Victoria went to live in a rented room in Corona with her aunt and some of the other girls in the family who sold candy. Rubio-Torio surmised that this was potentially to avoid the shelters' school-enrollment rules so that Victoria could work — contributing to the family's living costs and supporting her mother and her other siblings, who she was told were still somewhere in Central America without enough money for food.
Rubio-Torio worried that this dynamic — migrants being told they are responsible for the well-being of their relatives on the journey north — could lead to more trafficking and exploitation within these communities. "We have seen it happen before," she said. But she didn't think there was a controlling organization, no top of a single pyramid profiting off the candy sellers.
Álvarez Velasco speculated that prejudices within Ecuadoran society could be making life more difficult for new migrants. "Ecuador is a society of castes," she said, and Indigenous people have been excluded from community and labor networks both at home and in the diaspora. "Within the Ecuadoran population in New York, the immigrant population, all of these forms of domination and oppression are being reproduced." As long as the Vega family could not find other work, they would continue to sell in the subway.
Victoria and her cousins had just been chased off the platform by two NYPD officers wearing white short-sleeved uniforms. "You can't sell here," the officers shouted as the kids hurried onto the trains, returning to the station shortly after the police were gone.
Yanza asked Victoria whether she had thought about attending school.
"The people I'm staying with told me that school costs money," she said.
Yanza gave me a concerned look, and we explained to Victoria that public school is free.
"Still," Victoria said, shaking her head, "I need to work so we can send the money to my mom, and I need to pay $1,000 this month for rent and food just myself." It was already four o'clock, and she had earned just $30 on her first day. In her head, she did the math. "Thirty dollars here is nothing."
Six-thirty came around and the Vega family began to gather on a bench at the far end of the platform where they were selling. The women carefully placed their boxes of candy in cloth tote bags before helping one another hoist their babies atop their backs in chalinas, as they always did.
Aboard the train, the cousins filled two of the long rows facing one another. The younger kids were restless, running and playing between the seats. The mothers — the kids with kids — were watching TikToks and looked exhausted. Earlier, I had asked Gloria what she missed most about home as she scrolled through videos on her feed. "Todo," she said — everything — and she let out a long sigh. It was astonishing to consider just how much these children had gone through, how much their lives had changed in a matter of months: a new country, new responsibilities, and in some cases motherhood, all at once. Gloria never expected her life in the U.S. to be as hard as this. "Nothing's the same," she said, looking down at the floor of the car as it shifted beneath her feet.
On Gloria's back, baby Yuleidys — who had also been given an American name, Julie — stared and smiled curiously at two children who were speaking English with their parents across the way. Every few moments, Gloria held Yuleidys's little hands in hers, turning back to make sure she was comfortable. "It's me and you, my little one Yuleidys," the 16-year-old had written in a TikTok post dedicated to her daughter just a few weeks earlier. "You're my friend for every moment, you're going to be my princess, and for you I will fight day after day."
The 7 train emerged from the tunnels onto the elevated tracks, and the evening sun glinted off the shiny glass towers, flooding the subway car with light. The women and children squinted, their eyes adjusting after a day spent underground. At 103rd Street station in Corona, the doors opened and the family got out. Corona Plaza, below the tracks along Roosevelt Avenue, was a labyrinth of vendors selling whatever they could: grilled corn from street stands, shirts from tents, jewelry from folding tables, tamales from shopping carts. I lost the candy kids there among the crowds, in the swell of people returning home from work.