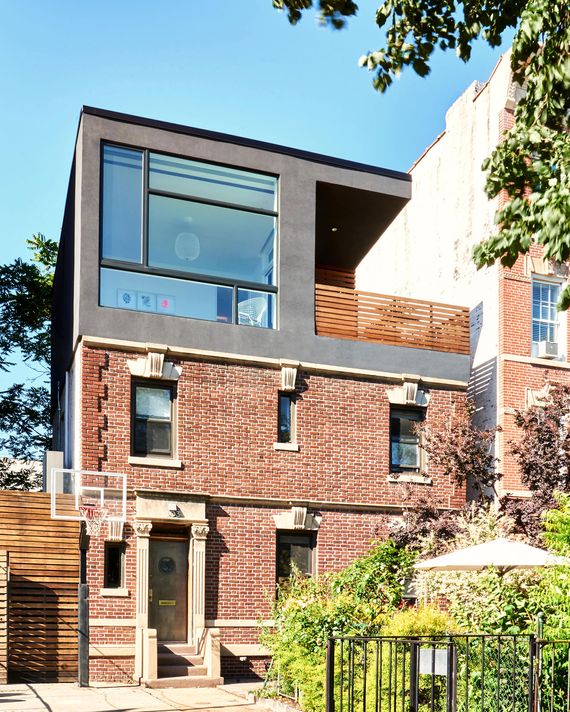 The angular modern addition completes a 1899 brick carriage house.
Photo: Morten Smidt
Nicole Tierney remembers how lucky she and her husband, David Weinstone, felt when they bought this "falling-down little house" in Carroll Gardens back in 2005.
Weinstone is a musician; he is CEO of Music for Aardvarks and Other Mammals, a music program for preschool-age children he founded in 1997. Tierney is a psychotherapist. The house they found "needed a complete gut renovation to make it habitable," Tierney says. "We had three young boys and two cats and we were living on two floors — approximately 1,100 square feet. It was tight, but it was ours, and we utilized every square inch. We even finished the basement so we could have a full drum set as well as a playroom for the boys."
For that renovation, they used "a wonderful builder, but no architect," she remembers. "It was an enormous undertaking with some inevitable mistakes. I knew I didn't want to do that again."
By the time the boys were teenagers, Tierney says, "it started to feel really close. We all shared a bathroom." They decided to expand their house upwards.
After Hurricane Sandy flooded the building where Weinstone had his music studio in Red Hook, they'd hired their friend, architect  Sarah Jefferys, to convert the garage into a studio. They'd known her since 2006 when their children went to preschool together, and liked her modernist aesthetic.
The zoning was a bit particular and dictated what could be done. "I think it's fun to have constraints because you have to get more creative in your design." says Jefferys. The building could be expanded upwards, but the addition had to be set back eight feet from the property line. It also gave her the chance to create a modernist hat for a 19th-century house.
For the 650-square-foot addition, she created a main bedroom suite with a bathroom and private deck area, she says, "just to give an oasis to the parents with three kids downstairs." In Nicole's words, "Now we have a sanctuary on the third floor."
"Luckily we finished the addition before the pandemic when everyone was working from home," Jefferys says. "That privacy was really key for them. It's still cheaper, believe it or not, to build than to buy. Since then we have completed 3 or 4 more additions on top."