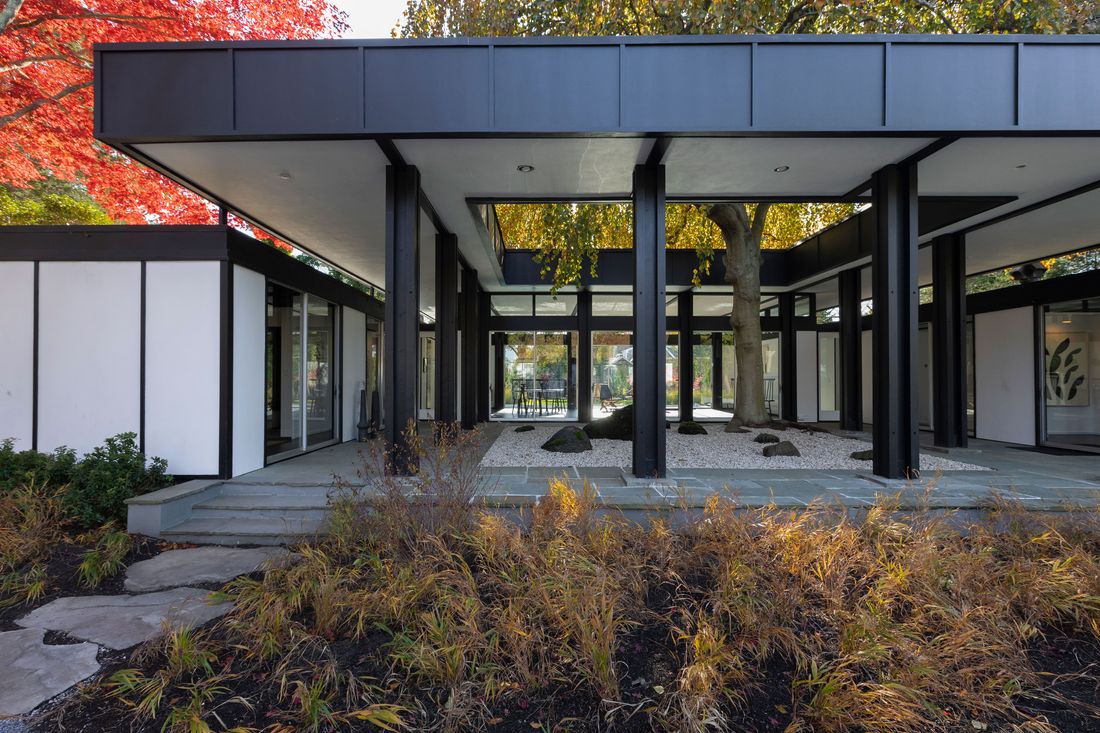 Exterior:
Architect Paul Lester Wiener built the courtyard glass-and-steel house for Robert and Ethel Scull in 1962. Lisa Perry discovered it for sale on Instagram and was determined to save it.
Photo: Jordan Tiberio
In the middle of the pandemic, a bit restless in her country home in North Haven, Lisa Perry was itching for a new project. "I wasn't looking to buy another house; that was the last thing I needed," the designer and collector told me. "But I wanted somewhere to go that was creative and inspirational and just an office studio." Then one day, while scrolling real-estate agent Esteban Gomez's Instagram account, she found a challenge she was uniquely suited for in the form of a listing: "While it's in need of repairs and restoration, the qualities of the design, the provenance, and its history really do give it merit for you to tackle this assignment."
The modernist glass-and-steel courtyard home in question was designed by architect Paul Lester Wiener, a German-émigré architect and planner whose projects included the high modernist slabs of Washington Square Village. He and his family spent summers on Long Island during the '50s up to his death in 1967; it was there that he designed elegant glass pavilions for clients including longtime Vogue editor Beatrice Simpson (known as Babs) in 1963.
This one was originally designed for the influential Pop Art collectors Ethel and Robert Scull in 1962 — great pedigree given that Lisa and her husband, Richard Perry, are themselves collectors. Not only that but the design had an uncanny resemblance to the house Perry grew up in, with its glass walls and steel beams. "It made me feel like I was home," she says.
Another less attuned buyer might not have respected the house, but "I decided to stay true to the original architecture and design as much as possible," Perry says. She did expand a kitchen and created a breakfast area by taking over of one of the bedrooms. She also repurposed the dilapidated laundry and storage room into guest quarters too, adding a kitchen there.
Perry decided to use it as a gallery and artist in residency for women creatives and named it Onna House, which is open by appointment. The mid-century Hamptons was full of artists, but it was a male-dominated scene. "How about they were setting up the shows!" Perry says, referring to artists Lee Krasner and Elaine de Kooning. "They were doing their own work at that time and they weren't able to show it." The work Perry is exhibiting includes pieces from a mix of local and international artists, including Almond Zigmund, Toni Ross, Kelly Behun, Nodoka Yamaura, and Nina Cho.
Perry's enclave of artists keeps growing thanks in part to the help and guidance of friends including Russ Steele, an antiques dealer in East Hampton; Tripoli Patterson, who runs the Tripoli Gallery; Joh Siff; and Patricia Assui Reed, the owner of Matriark in Sag Harbor.