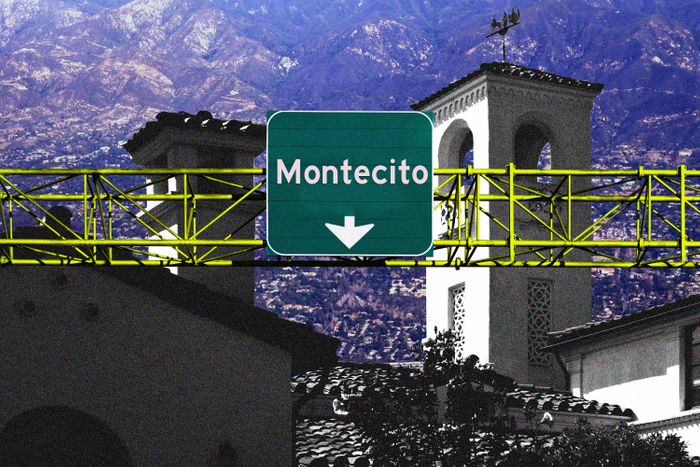 Photo-Illustration: Curbed; Photos: Getty Images
In this biweekly series, Realtor Diaries, we hear from the people at the center of a wilder-than-ever market. Today, an hour-by-hour glimpse into the working world of Chris, 40, a power broker in Montecito, California.
6 a.m. I have a newborn son, so I wake up early no matter what. I try to let my girlfriend sleep a little later, since I'm working almost all day these days. I give him some love and then — always, right to my phone, before anything else, before I stretch or even think about coffee. Every day: Baby. Phone. Coffee.
We live in Lower Village in Santa Barbara — we bought a small house here just before COVID. We couldn't afford to buy it today, that's for sure. It's a desirable area because it's walking distance to the beach, and there are a lot of classic Spanish-style homes. Everyone wants the house from It's Complicated and there's a lot of that around. Also, there are relatively "normal" families here — compared to other neighborhoods nearby.
7:45 a.m. Every day is different which keeps it exciting but also pretty stressful. When you've got a lot of deals going, it's a bunch of inspections, closings, and escrow situations. From start to finish, there is something high stakes going on. It's a problem. I try to put my phone down in the morning to talk about the upcoming day with my girlfriend, and check in with her, and figure out what I can do to support her. We make sure we get some real closeness and togetherness in before the day takes off, but it's impossible if I'm being honest. Anyway, I have A.D.D., so I always need to be doing something.
10 a.m. There's a broker tour for a new listing in Riven Rock — basically, an opportunity for agents to preview new inventory for clients. Riven Rock is also where Meghan and the prince are. I don't really care about them, but a lot of people do. Riven Rock is nice — a mix of very large estates as well as some more modest-size ones, kind of mazelike, with very narrow streets and hedges everywhere. Extremely private. Apparently when they first bought here, the Zillow views on Montecito homes went through the roof; like, it broke the internet. Although, I've heard from a pretty reliable source that they're trying to move. I saw their house before they bought it. It's beautiful, but it's not like, the most beautiful property in town. I think they bought it for $14 million. If they sell now, it will go for well over $20 million. The markup has gone up astronomically — not just for their house, but especially for their house.
11 a.m. I get a call from a new buyer who knows my girlfriend. I tell him I'm not working with new buyers right now. It's the truth. Because the thing is, you don't want buyers right now. There's no good inventory. Everyone is offering ridiculous offers with insane terms and no contingencies, and it takes a certain buyer to even participate. You're basically releasing all your rights. You can lose your deposit. Pretty much only super-rich and very aggressive buyers stand a chance; you have to be a buyer who will do whatever it takes. This guy, on the phone, does okay. He's a doctor. But he will need a mortgage. If you're getting a loan, you're on the bottom of the pile; you have to seriously overcompensate in terms of your offering price to stand a chance.
11:30 a.m. Yesterday, I had buyers put an offer on a property, a really glamorous large bungalow with lots of indoor-outdoor fluidity. It was on for $4.3 something. We came in at $4.9 million. I get a call from the seller's broker saying they weren't even going to counter — the house was gone. "They got an offer they couldn't refuse," the seller's broker tells me.
12 p.m. It's not like Montecito wasn't on the radar before. But it was undervalued. You could get a nice, not-over-the-top, family home for $1.5 million in years past; now that same house would be $4 million. There's so much privacy. The beaches, the mountains. Outrageous views. Lush landscaping and foliage, these old-growth trees. It's always been special, but now with people working from home — especially from L.A. and S.F. — it's hot as hell. It used to be retired actors, or older CEOs who sold their companies, and it was decidedly not flashy. For a long time the main celebrities were Rob Lowe (who is a really nice guy and a real-estate addict), Ellen (also a real-estate addict), and Oprah. Now it's Ariana Grande, maybe Bieber, some other celebrities whose names I don't know.
Now, there's more flash. More crowds. More A-list. The shops and restaurants on Coast Village road is the hot spot for celeb sightings. But I don't think the vibe is changing too much. Maybe it's harder to get a table at Tre Lune, maybe there are bigger crowds at Jenni Kayne, but there are worse problems.
1 p.m. I have a client who only cares about privacy. He can afford pretty much anything, and yes, the oceanfront is great, but you're giving up some privacy if you're right on the beach. The homes that the really wealthy people want are tucked away, on three acres, with ocean views and the classic, long, gated driveway. A lot of the nicest houses you don't see from the road and you'll never know what they look like.
2 p.m. I screen a call. I'm careful with who I work with. Last year, there were some people going around town, writing offers on properties that they couldn't afford — it turned out they were just mentally ill. A few of us brokers encountered them. They weren't like proper scammers or anything, just delusional — and broke! Wire fraud is a big thing these days too. Hackers find out when you're closing, and they'll impersonate an escrow company and have you wire them money. It doesn't happen a lot, but you have to be aware.
3 p.m. My brother texts to ask me about the smell around Meghan and Harry's. He wants the gossip. I honestly have to Google it; I don't even know what he's talking about and then realize he means the smell from the Bird Refuge. It's not something that has seriously affected anyone I know, and their house is probably way too far back to actually smell it. I think someone was being dramatic. Even if that area reeked of bird shit, it wouldn't make any difference to sales around there. Not in this market.
Before my brother hangs up the phone, he asks if there's any point to him looking at houses in the area. He's wanted to move here from Rhode Island for a long time. He makes about $300,000 a year and is killing it at work, but I say, "No. No chance. Zero chance."
He asks about teardowns as a way in. "Teardowns are going for 2 million bucks," I tell him.
4 p.m. I'm showing a house to a dream client — he's a smart, businesslike person who listens to what I have to say. Usually everyone thinks they're smarter than you, when you're a Realtor. That's my favorite kind of client; the ones who trust that you know what you're talking about. Then, of course, you have the perpetual lookers. And you have the overthinkers. In this market, I can't bother with those types.
5 p.m. I find myself in my first screaming match with a client who refuses to stage her house. It's outdated, it's way overdone — kind of gaudy. She won't pay an extra $5,000 for what will easily get her $50,000 more in her sale. I even offer to pay for it myself (which I rarely do) and she is stubbornly saying no. Ridiculous.
Stagers are a huge part of the process here; they'll transform a house into something that will sell. That's literally their only job, to turn it into something that will garner more money for us. The goal is: clean, white, and bright. I have them on speed dial.
7 p.m. I'm back home with my family, but I'm taking calls and doing emails. How do I limit the stress? I hike, I run, I surf, and I occasionally — and what I mean by occasionally is every night before bed — smoke a joint and watch very bad TV with my very wonderful woman.