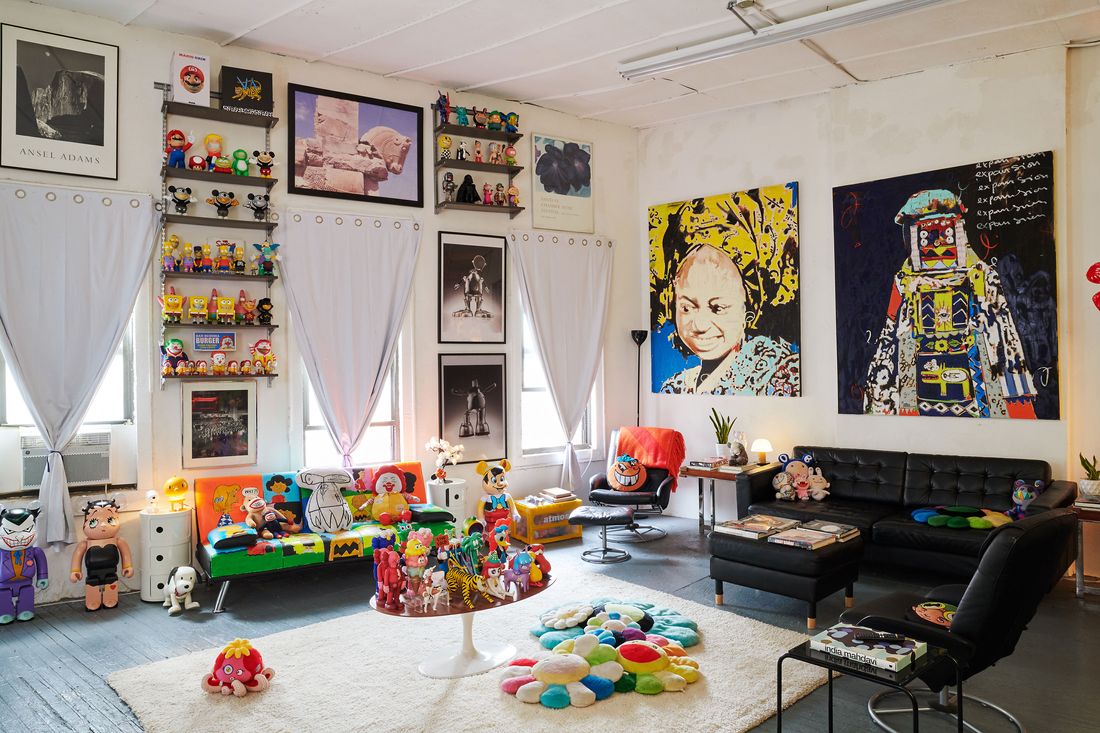 Móyòsórè "Moyo" Martins painted the "Peanuts" characters on the couch under the windows. Takashi Murakami pillows lie on the floor. On the side wall: Moyo's paintings Untitled Study (left) and Expansion.
Photo: Kelly Marshall
Móyòsórè "Moyo" Martins moved his workspace into this 3,000-plus-square-foot studio in Mott Haven in December 2021. He'd been working from his Harlem apartment and using a bedroom as his studio. But things had become cramped. Then he found this space in a former furniture factory on the Listings Project. It took two months to clean out. One thing it also had — lots of natural light from the windows and the six skylights — would have seemed like a bonus. But Martins painted them black.
"I really don't paint during the day," he says. "During the day, I do what I call scribbling and scratching — the final touches before the work is complete. Sometimes I paint to study what I'm going to paint overnight."
He's filled the space with his collection of toy figures by artists Ron English, Matt Gondek, Kaws, Takashi Murakami, and Kenny Scharf, among others, and chairs by Tom Dixon, Charles and Ray Eames, Harry Bertoia, and Hans Wegner — some found at secondhand furniture stores and on eBay. And then there's a dramatic suite of somewhat intimidating furniture designed by Alex Locadia, one of the artist-designers in gallerist Rick Kaufmann's former Art et Industrie stable; it turns out that the piece appeared in Tim Burton's 1989 Batman movie.
There is also enough music equipment to fill a recording studio, set around the dining table and chairs that had been owned by the late Paul Bridgewater, a mainstay of the East Village art scene.
Martins, 36, who was born in Nigeria, has had a long journey to get here. "I wasn't the best child growing up because I was misunderstood," he says. "I was never allowed to do what I am doing today." His father was married several times — Martins has ten stepsiblings — and had a specific ambition for him to become an architect. But he dropped out of architecture school and instead studied computer science in Ghana and languages in Côte d'Ivoire before moving to this country in 2015 with his mother, who had big dreams for him. He stayed with cousins in Maryland and then worked for a while as a baggage handler at a warehouse near Newark airport, but New York City was where he wanted to be. Arriving by bus, "I saw the city lights. I saw that people were so energetic. I felt like I was in Lagos. I felt like I was back home."
It took him a while to get his footing. For a year, he lived in Queens and worked as a security guard at a public school in the Bronx. The commute took more than three hours. "I was doing two shifts; I was sleeping in my security uniform," Martins says. But he had a journal and a pen and was always sketching.
In 2016, he met Joanna Martins, who had just started a PR agency, Culturespun, and they married. The growing family (they now have two boys, Zee, 4, and Poe, 1) moved to East Harlem. Martins began
working at Traffic Creative Management as a graphic-design assistant in early 2020, but the pandemic cut the full-time position short only a month later. Then, in November, Traffic's founder and CEO, Michelle
Edelman, and her husband, Asher Edelman, came to visit the Martins at home, saw his work, and signed him in December 2020. At that point, he stopped doing freelance graphic design and began his professional art career.
"I just knew that one day things would change," Martins says. "If I don't create, I am not my best self. It's a way to tame who I am."