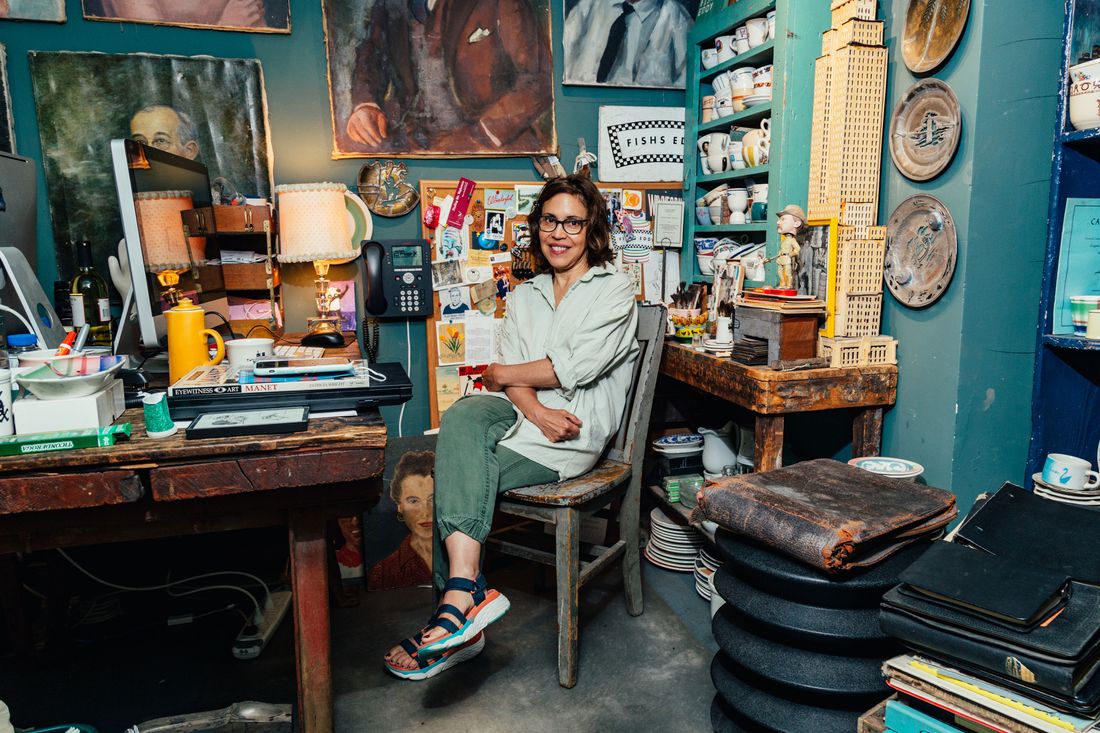 Julie Gaines in her office:
"This is where I put out fires," she says, laughing. "This is my anxiety seat."
Photo: DeSean McClinton-Holland
"There are so many empty storefronts," Julie Gaines tells me as we sit in her office above the Fishs Eddy shop on Broadway and 19th Street, retailer of a famously eclectic selection of plates, bowls, platters, glasses, and more. "I was going to open a museum of American restaurant china in a storefront." But then her son, Ben Lenovitz, told her, "Why would you open a museum when you already have a museum here? Just find a way to invite people up." On June 3, Gaines opens up this private area to those interested in the history of commercial dishware, evoking a lost era of hospitality.
Her son (who has a little corner in the shop where he sells his pet portraits, commissions accepted) illustrated her 2018 book, Minding the Store, which tells the story of how she and her ex, Dave, named their retail venture after an upstate hamlet they happened to drive through in their blue pickup truck back in 1986. Exploring the back country roads, they also happened upon a barn packed with soot-covered dishware from a nearby manufacturer which had gone out of business. They bought it all, and brought it back to the city. There they cleaned it all up and put it on sale; their customers loved it.
During many similar forays over the years, they discovered a bounty of discarded inventory from restaurants, diners, and hotels. This was before eBay, before TV shows like American Pickers; they were sleuthing out a part of forgotten Americana. Gaines also has been collecting outsider-artist portraits since high school when she would visit flea markets. She has many here in her office and downstairs in the store, none of which are for sale. "They are my audience," she says. "They were probably painted between the 1940s and '60s, and they were all amateur painters, but they were good."
Fishs Eddy eventually began to make their own plates and glasses and the store became a destination for tourists. Gaines recently licensed the brand to a Japanese company who will look after retail in China and Japan, while West Elm, already wholesaling Fishs Eddy products, will now be overseeing the brand in the USA, Australia, and Canada. Gaines still runs the Broadway store space, however, and it will remain as it is, with one big change: she's opening up her personal collection to visitors.
It includes hundreds of sample dishes, molds, color samples — before Pantone existed — and vintage ledgers filled with page after page of hand-drawn and hand-colored patterns and notes. "I must have 30 or 40 of them. These books have been my inspiration," Gaines says. "These were people just going to work and doing their job, and as a community they created art."
Even the table we're sitting at is covered in ceramic paint samples under glass. "Dishware is the unspoken hero of restaurants," she says as we turn the pages and look at the end result of a plate near a page where its decoration started as a delicate watercolor in one of the books. "Everything was made with love," she says. "Think of how many hands touched each piece before it ever made it to the table."
Fishs Eddy, 889 Broadway at 19th Street. The exhibition upstairs will be open Thursdays and Fridays 4 p.m. to 6 p.m. and Saturdays 1 p.m. to 4 p.m. No appointments necessary, but space is limited. Admission is free.