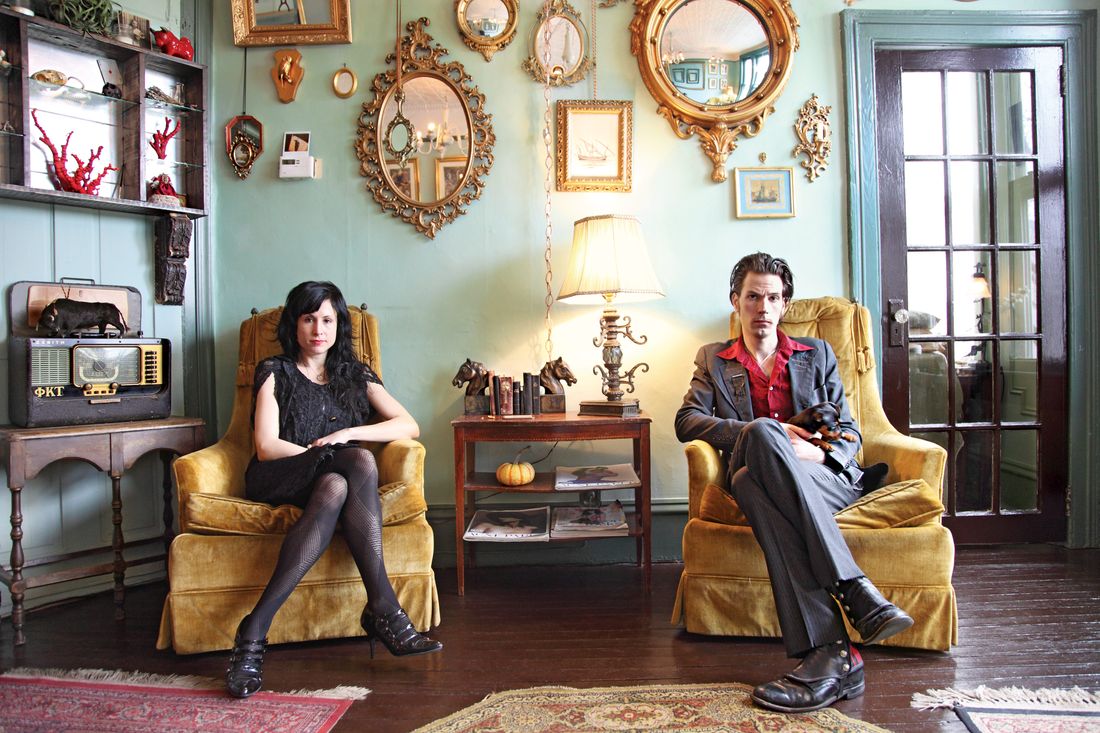 Jamie Isaia and Anthony Malat in their living room on chairs from Isaia's grandmother.
Photo: The Selby
This story was originally published in the May 10, 2010 issue of New York Magazine.
We both love the eighties — the 1880s." Yet when fashion designer Anthony Malat and photographer Jamie Isaia first rented this floor-through in a small aluminum-sided house in Williamsburg, the style was more like the mid-seventies. Wall-to-wall carpeting and lots of fake-wood paneling prevailed. They drank a "case of Red Bull" and got to work ripping everything out, says Malat, whose Sinner/Saint Menswear reworks vintage suits into new pieces for the likes of musician Billy Corgan. Then they applied their finely honed skills as scavengers to fill the place again: with furniture repurposed from the street and from Isaia's grandmother; with the inner skeleton of a grand piano, which they affixed to the wall; with enough taxidermy to make Freemans restaurant jealous; with a bookcase Malat made from wood flooring from an old torpedo factory. Theirs is a prime example of the finder aesthetic so pervasive in the city right now, in which the old can be rearranged to create something both nostalgic and new. But anyone can pick up a glass skull in a shop. Perhaps only these two would think to put their olive oil in it.
Anthony Malat on their apartment's influences:
We thought our first home together would be more purely Victorian, but as things fell together, we saw a closer resemblance to Depression-era stylings.
Jamie picked out the colors, which I love; they remind me of that time when folks would gather around the radio in the evenings. I like that feeling of comfort.
The office interiors of the film Downfall were a big influence on our color palette. In general, it was a mixture of Flowers in the Attic, Pretty Baby, The City of Lost Children, and Spaceballs.
If we could live in a novel, maybe we would try Anna Karenina or The Count of Monte Cristo, but I think the opulence would bug us.