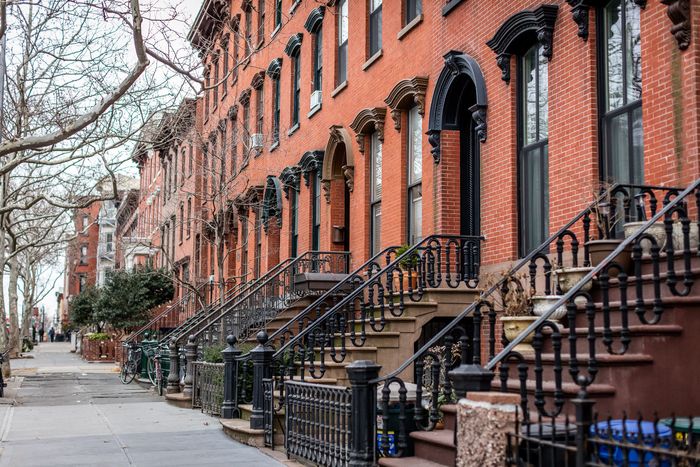 New York City is a city of renters: According to a recent Zillow study, 68 percent of NYC residents rent their homes, giving us the largest share of renters in the entire country.
But how many of those people are aware of their basic rights as tenants? Both the city and state have codified certain provisions into law, both on the most basic level — you're entitled to heat, hot water, and a clean living space — and for things that are slightly more complicated, like rent stabilization.
One important thing to note: In the wake of the novel coronavirus pandemic, the Mayor's Office of Tenant Protection has also updated its guidelines for tenants who have tested positive for COVID-19, or are under quarantine after contracting the virus. According to the guidelines, "your landlord cannot discriminate against you, kick you out, or ask you to leave your apartment because of fears and stigma around COVID-19, including discrimination or harassment on the basis of actual or perceived race, national origin, disability, or other protected classes." The office recommends anyone facing eviction or harassment reach out directly.
Here, we've created a primer on a few key rights all tenants should know.
1. New York City renters have the right to live in "safe, well maintained buildings that are free from pests, leaks and hazardous conditions."
This is the core of New York City's tenants' rights laws: Landlords must maintain livable units — ones in which the heat and hot water works; the plumbing is in good working order; there isn't a mold problem or peeling paint; there aren't rats, rodents, or other vermin running free; and basic safety measures, such as smoke detectors and window guards, are provided.
2. There are different classes of housing violations, which affect when they must be remedied.
Let's say your apartment is suddenly overrun with roaches (which, ew). This is considered a "Class C," or immediately hazardous, violation by HPD, and according to the law, must be remedied by your landlord within 21 days. There are several different classes of violations: "A" is non-hazardous and has a 90-day remediation period; "B" is hazardous, and must be remedied in 30 days; and within "C" — immediately hazardous — there are different remediation periods depending on the severity of the issue. A lack of heat or hot water, for instance, must be repaired "immediately," or a landlord may face penalties. It's good to familiarize yourself with each class and the issues they correlate to; Tenant.net has a simple guide.
3. There's a "heat season" that landlords must pay attention to.
Losing your heat in the winter, or hot water at any point in the year, is a pain — and a problem that your landlord must remedy immediately. Specifically, city law states that heat must be provided from October 1 to May 31, with several stipulations: During the day, if it's consistently below 55 degrees, the inside temperature must be 68 degrees; at night, regardless of what the thermometer says outside, the inside temperature must be at least 62 degrees.
Hot water is a different story: All rental apartments must have hot water 24 hours a day, seven days a week, 365 days per years — no exceptions. Here's what to do if you lose either one in your apartment.
4. Landlords are required to tell you if an apartment has had bedbugs in the past year.
Not only are landlords legally obligated to get rid of bedbugs if, heaven forbid, they become a presence in your apartment, they're also obligated to report if a particular unit has been infested with bedbugs within the past year. According to the Met Council on Housing, bedbugs are a Class B violation, so your landlord has 30 days to remedy the issue; once they've brought in an exterminator (who must be licensed by the NY State Department of Environmental Conservation), the landlord is also responsible for stopping an infestation from happening again.
5. How often is a landlord legally allowed to raise your rent, and by how much?
Landlords are allowed to raise rents at the end of a lease period, which is typically one or two years. The amount varies based on the type of housing you live in. If you're not in a rent-regulated unit, the amount by which your rent can be raised is at your landlord's discretion. But under the new rent laws that went into effect earlier this year, landlords must give at least 30 days notice if they plan to raise your rent by more than five percent, or if they don't intend to offer a lease renewal; it's 60 days if you've been renting for 1-2 years, and 90 days if you've been renting for at least two years.
If you apartment is rent-stabilized, your landlord must give you the option to renew your lease once it's up (they're required to contact you at least 90 days before the lease ends); at that point, they may also raise your rent. But it can only go up by a certain amount decided by the city; for leases that began on or after October 1 of this year, that number is 1.5 percent for one-year leases and 2.5 percent for two-year leases.
Landlords may also tack on an increase if they've made upgrades to your building or apartment (known as a major capital improvement or individual apartment improvement), but only by two percent under the new rent laws.
5. If you're over the age of 62 or disabled, you may be able to get a rent freeze.
New York City has a rent freeze program in place for renters who are 62-years-old and older, and for people with disabilities who are 18 or older. "Under this program, a property tax credit covers the difference between the actual rent amount and what you (the tenant) are responsible for paying at the frozen rate," according to the city's guide on the subject.
How it works: If you meet eligibility requirements for either program (which includes having an annual income of $50,000 or less, and spending more than a third of your monthly income on rent), you can apply for the benefit — and your landlord is obligated to honor it. ("Landlords cannot prevent a tenant from participating in the program," per the city.) Find out more through the city's guide to the Rent Freeze Program.
One important thing to note: market-rate housing and certain low-income apartments (including those in NYCHA complexes) are not eligible.
6. You have the right to form a tenants' association with other building residents.
There is power in collective action — and if you live in a building with chronic issues, you may want to band together with your fellow residents to ensure your landlord or property manager is fulfilling their responsibilities. To that end, residents of a building can organize as a tenants' association without fear of reprisal or pushback from their landlord; the building owner is also obligated to allow meetings to happen in common areas.
7. If you live in a rent-stabilized apartment, you can — and should — request your apartment's rent history.
Landlords of rent-stabilized apartments are legally required to register those units, along with its rental history and increases throughout the years. And tenants have the right to request that history at any time; DHCR has a new portal that has made the process super simple.
Why is this important? If you find that your landlord has been charging above the legally mandated rent for your apartment, you can file a complaint with DHCR to potentially recoup the amount you were overcharged.
8. There are new rules regulating security deposits.
Renters are all too familiar with being asked for a chunk of cash — often the sum total of your first and last month's rent — as a security deposit for a new apartment. But the rent laws passed earlier this year have improved that policy for all apartment dwellers, limiting the amount a landlord can collect to just one month. Additionally, landlords now have 14 days from the termination of a lease to return the security deposit, less any amount being withheld for repairs — and they're required to submit an itemized list of any deductions made for those fixes.
9. Document everything.
"In general, when fighting with your landlord over repairs and services, keeping good records is key," according to the Met Council. What that means: If an issue comes up — mold is growing in your bathroom, roaches have taken over your kitchen, or your heat hasn't been working for a few days — be sure to take meticulous notes, and to submit whatever proof you have of the problem in writing. Take pictures, record every instance of an issue (and how long it hasn't been fixed), and send all of this to your landlord in a certified letter to ensure proof of delivery. If you end up in housing court, all of that documentation will come in handy.
10. Don't ignore problems until it's too late.
The bottom line: If something seems off about your rental situation, don't wait until it gets out of hand to tell your landlord there's a problem; the sooner you report, the sooner you can (hopefully) get fixes implemented. And if you have issues with your landlord or property manager — whether it's harassment, indifference to needed repairs, or something else entirely — seek input from a tenants' rights organization or the housing department right away.
Resources
The agencies tasked with oversight of NYC's rental apartments are the city's Department of Housing Preservation and Development (HPD) and the state's Division of Homes and Community Renewal (DHCR). Each one has its own guide to tenants' rights: HPD, DHCR.
The New York State Attorney General's office also has a guide to New York state's tenants' rights.
The Mayor's Office of Tenant Protection has plenty of information for city renters, including helpful guides to the new rent laws for tenants in regulated and unregulated buildings.
The Met Council on Housing: One of the oldest tenants' rights organizations in the city operates a hotline for renters who have questions about their leases, landlord issues, and more.
Housing Rights Initiative: This nonprofit watchdog group has helped tenants file lawsuits against landlords who've broken laws, particularly in regards to misclassified rent-regulated housing.
Legal Aid Society: This organization often provides legal assistance to tenants embroiled in fights in Housing Court, but who cannot afford representation.
New York Communities for Change: A major tenants' rights organization that helped organize the push for universal rent control in New York state.