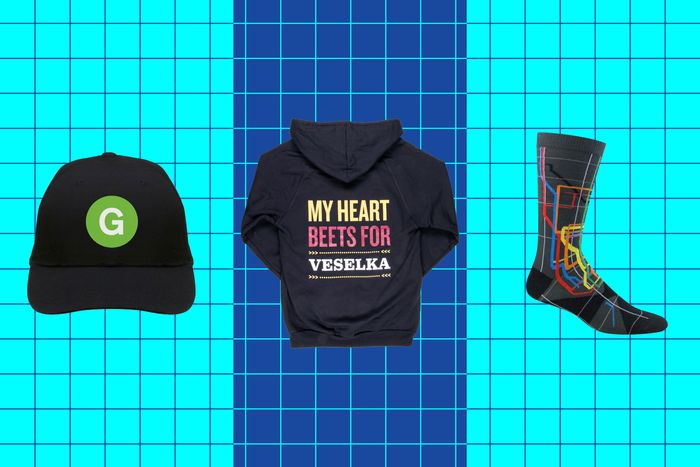 The desire to represent the city took a niche turn this past year as New Yorkers bought all manner of wearable memorabilia to support their favorite neighborhood spots. Zizmorcore, as the Cut coined it back in March, "embraces hyperlocality," whether that's a Nom Wah tee or a G Line cap. As obsessive chroniclers of city life, we at Curbed are, needless to say, fans of the trend — and put together a list of super-specific New York City stuff that would make especially excellent gifts.
This was first released alongside MoMA's 2017 exhibition Items: Is Fashion Modern?, which showcased more than 100 pieces of clothing and accessories that defined the last century.
A circa-2011 design depicting the century-old original location's façade on Doyers Street.
Something to sport while the museum's historic buildings are closed for renovations.
Photo: Retailer
A graphic take on the shop's (now fairly ubiquitous) Smith Street entryway.
Available for all the lines — plus one with the OMNY logo for the subway tech.
Alternatively: socks featuring the Rose Main Reading Room ceiling at the NYPL.
Decorated with multiples of Patience and Fortitude, the pair of marble lions in front of the Main Branch (so named in the '30s by Mayor Fiorello La Guardia).
The featured diagram was the city's official subway map from 1972 to 1979.
Featuring a peachy tie-dye pattern and a wriggly sky-blue logo from the '60s.
"My Heart Beets for Veselka."
A very good adaptation of the East Village Taiwanese spot's minimalist neon sign.
All proceeds will go to the much-loved corner purveyor of over 2,500 publications.
Alternatively: a Peter Luger golf shirt catering to the steak house's clientele.
The same shape featured on all the iconic Forest Hills Stadium posters.
The back depicts a golden guardian lion rolling up a dim sum cart.
Likely the same ones the dancers in George Balanchine's The Nutcracker wear while stretching preperformance.
Unsurprisingly, rotunda-printed totes and tees abound at the Guggenheim gift shop.
The pandemic-born, vegan-friendly pizzeria already has three locations — and a cult following including Andy Cohen and Sarah Jessica Parker.
Photo: Retailer
Just a classic in a classic colorway.
A limited-edition design by artist Yumi Chambers. (The Bed Stuy coffee shop's regular slate of stuff — like its branded lighter and simple long-sleeved tees — can be regularly spotted on the C line.)
A portion of the proceeds will go to the City of New York.
Photo: Retailer
Designed by local illustrator Vanessa Nguyen.
Our very own contribution to the Zizmorcoreverse, part of a new 11-item collection with Only NY that includes a varsity jacket and a rugby shirt.