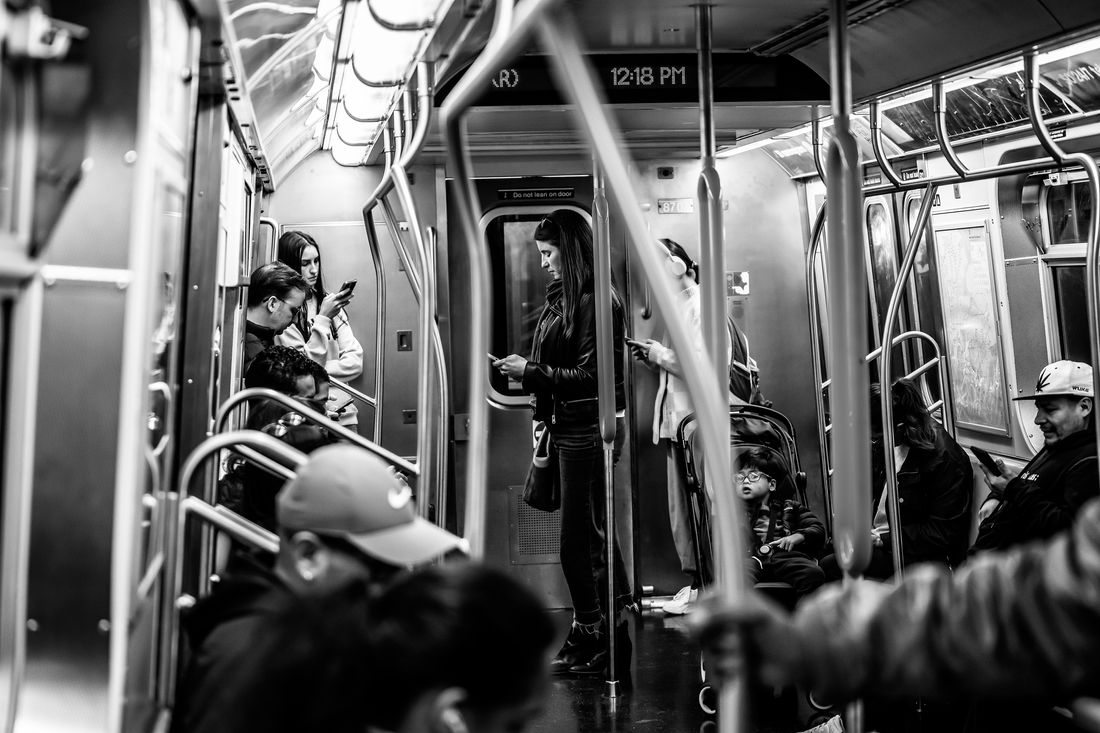 Julie Samuels on September 27.
Photo: Mark Peterson
You may have seen that we published a list of 49 exceptionally powerful New Yorkers whose names you've likely never heard. You can call theirs inside power, hidden power, stealthy power — but in every case, what they wield is a distinct, sometimes frightening ability to get things done in their respective universes. Here's a look at all the city power from our list, from a co-op whisperer to the longtime ruler of Manhattan parks to the journalist who can set the public-policy agenda with one column.
The Power To:
The transplant process relied on a racist algorithm. Michelle Morse changed that.
Undergirding the daily operations of doctors' offices and hospitals, there are clinical formulas that tell physicians which patients are healthy and which are at risk. Are their organs functioning normally, or is something wrong? For decades, parts of the medical industry have been using a racist formula to estimate kidney function that assumes Black people have greater muscle mass than white people. As a consequence, Black patients have often received inadequate treatment and been forced to wait longer for kidney transplants. It's one of the reasons why African Americans die from kidney disease at especially high rates. The formula and others like it are bogus, but changing the practice is complicated, the institutional equivalent of removing a tangled brain aneurysm.
In New York, there has been a transformation. Over the past two years, half a dozen of the city's biggest hospital networks, including NYU Langone Health and Northwell Health, have stopped using these algorithms. And it's fair to say one woman has been behind the shift: Dr. Michelle Morse, the city's first chief medical officer.
The Philadelphia native, who spent years practicing medicine in Botswana and Haiti (and speaks fluent Creole), has been crusading on this issue for a while, including in Washington, D.C., as an adviser to the House Ways and Means Committee. In February 2021, the de Blasio administration created Morse's position and gave her a lofty assignment to "operationalize health equity." George Floyd's murder was still recent news, and Morse thought it was a rare moment to ram a change through. She recruited hospital executives to join a new group — CERCA (the Coalition to End Racism in Clinical Algorithms) — and commit to making substantive reforms. To hear insiders tell it, Morse isn't an arm-twister or master negotiator so much as she is the epitome of managerial competence. "She corralled everyone around a common agenda," says Dave A. Chokshi, who hired Morse when he was health commissioner.
Morse's group has had the most success on kidneys, but member hospitals have also been making progress on other concerns, including a formula that leads to Black and Latino pregnant people receiving unnecessary C-sections. The best way to work with Morse, says one former colleague, is to "do a lot of blocking and tackling — and then just get out of the way." — Nick Tabor
The Power To:
Tim O'Brien and his Hornblower armada have taken over the rivers.
A few years ago, the owner of Freedom Cruises, Pjeter Vulaj, received a letter informing him he had 24 hours to vacate his berth at Pier 36, just north of the Manhattan Bridge. Quickly, he came to the conclusion that Hornblower Group, another cruise operator, was after his spot and had enlisted the mayor's office to get it. "They sicced the fire department on me, the health department on me; they went after my liquor license," says Vulaj. "Hornblower has enough muscle that they can do whatever they like." (Vulaj filed a lawsuit against the city, which he later dropped; Hornblower declined to comment.)
Hornblower is based in San Francisco, but Tim O'Brien, an M.B.A.-toting former sailing instructor, is the company's VP in New York overseeing ferries and transportation, which makes him the most formidable figure on the city's harbor. In 2007, the company won the rights to ferry millions of tourists to the Statue of Liberty. Hornblower began running dinner boats up and down the Hudson and by 2016 was the largest sightseeing operation on the water — and with the help of private equity, it gobbled up its closest competitor (RIP, Spirit Cruises). Hornblower's fleet is now so substantial that the company recently opened its own shipyard maintenance facility in Bridgeport, Connecticut. "They have the biggest pocketbook, and the fear is they can come in and undercut everybody overnight," says a wary independent charter-boat owner. "They're too big to sink."
Hornblower's operation has grown to include NYC Ferry, which transported 6.1 million commuters last year and was part of Bill de Blasio's vision for a comprehensive ferry system connecting all five boroughs. Whether or not it's sustainable is another matter. An audit by Comptroller Brad Lander in 2022 reported that NYC Ferry operations had somehow lost track of $224 million and that taxpayers had subsidized a stunning $12.88 of every ride in 2021. Still, in a market where few other companies have the resources to compete, O'Brien was able to convince the city to re-up Hornblower's contract at $405 million over the next five years. — James D. Walsh
The Power To:
For every decision about Manhattan Parks, Steve Simon is there.
When Katherine Hedden, a pickleball organizer, wanted courts painted onto precious Manhattan playground space, she knew she had to go through the Parks Department's Steve Simon. Hedden pushed for two courts in Hell's Kitchen; Simon said they could have one. The court got painted over an access panel; she called him again. During the negotiations, Hedden assumed that Simon was the Manhattan commissioner. Understandable mistake. He is technically the chief of staff to the commissioner — a man named Anthony Perez — but in reality he is the man standing between Manhattanites and the resolution of their grievances. "For all practical purposes," says former councilmember Ben Kallos, "Steve Simon runs the Parks Department for Manhattan."
Simon has held his role for nearly 20 years. He is a savant of Parks minutiae and a budget wizard, famous for apparating funds out of thin air. "He solves problems that no one else could solve," says Councilwoman Gale Brewer. "Conflicts between park groups, how to address repairs in a dog run, what to do about a rat infestation." State Senator Brad Hoylman-Sigal says Simon recently talked him into appropriating $1 million for a renovation of Little Engine Playground, a project that would ordinarily be financed by the city — or not at all. He can also slow down projects he isn't keen on. Kallos goes into granular detail describing his yearslong crusade to persuade him to replace disused exercise equipment with a seniors area in John Jay Park. "He's an intractable force. You, as a river, must bend around the rock," says a chief of staff to another councilmember. "He's a Seinfeld character." Think Robert Moses crossed with Larry David. "If he's explaining why he thinks something can't be done, it's not because he thinks you're an idiot," says another chief of staff. "It's because you just don't know, and he does." — Simon van Zuylen-Wood
The Power To:
Win
Delivery
Workers
Minimum
Wage
Ligia Guallpa made elected officials finally listen to their demands.
Of course, it was the deliveristas who, in WhatsApp messages and crowded intersections, organized to call attention to their industry's low, unpredictable pay. But the person who was able to translate their experiences in negotiations with city officials and secure a mandatory minimum-wage law ($18 an hour, required to go up to $20 by 2025) was Ligia Guallpa, the executive director of Worker's Justice Project, the advocacy organization backing Los Deliveristas Unidos. In the first few months of organizing, Guallpa, the daughter of a day laborer, spearheaded a survey of delivery workers to determine the issues that mattered most — collecting damning data on their pay and working conditions. And as the primary intermediary between the workers and elected officials, Guallpa positioned herself as a trustworthy conduit. "I don't mean this pejoratively, but she really gets how to play the game on both sides," says Chansi Powell, director of policy and advocacy at Robin Hood. Brad Lander, the comptroller who sponsored the minimum-wage law, says Guallpa's preexisting ties to City Hall helped enormously in pushing through the legislation. "When she calls, you're always happy to answer," says Lander. "And that's despite the fact that you know she's going to have an ask or push you to do something." — Paula Aceves
The Power To:
They all read Mara Gay's column.
At just about every Democratic campaign's first organizational meeting, a staffer is assigned "Mara duty" — a full surveillance of the social-media feeds of the New York Times editorial board's youngest member, Mara Gay. The paper's pronouncements still matter quite a lot — mayoral candidate Kathryn Garcia jumped 15 points in the polls after the Times endorsed her — and Gay is emblematic of its shifting interests. For politicians desperate for the Times' nod, her concerns are theirs.
Gay, whose remit includes city politics and government, brought the vantage of a Black millennial woman living in a rented apartment in Brooklyn to the board when she was hired in 2018. She helped housing affordability become the major issue in Albany this past session with Kathy Hochul unveiling the most expansive agenda of any governor in generations. In 2020, Gay was one of the leading voices advocating for the rezoning of Soho, and people involved in the battle say the board's editorial helped push it over the finish line. "Politicians tend to not want to do things," says one operative who pitches Gay regularly. "If you can convince Mara to write something, it gives them a bit of a nudge." — David Freedlander
The Power To:
Buy
a
New
High
Society
Life
Zhang Xin escaped China with her fortune. Now she's one of New York's most significant cultural philanthropists.
Over the past decade in China, as the Communist Party has reined in entrepreneurship in favor of Xi Jinping's gospel of "common prosperity," bad things have begun happening to the country's billionaires. The outspoken real-estate magnate Ren Zhiqiang is now in prison after calling Xi a "clown"; Jack Ma disappeared from the public eye for years. One prominent billionaire, Zhang Xin, along with her husband, Pan Shiyi, made a well-timed departure during the pandemic, moving a significant chunk of their wealth out of China and relocating to New York.
Upon arriving here, Zhang and Pan — who in the 2000s and 2010s developed some of the most striking shapes on the Beijing and Shanghai skylines — quickly became fixtures of Manhattan's cultural and philanthropic elite. Zhang had already donated millions to Harvard, Yale, and Phillips Academy to fund scholarships and athletic facilities, and she had also joined MoMA's board. In 2022, she started the production company Closer Media, which produced three films that debuted at the Toronto International Film Festival in September. (One project in the works is a film about George Orwell directed by Raoul Peck, which some may interpret as a jab at Xi's government.) Today, Zhang's apartment on Billionaires' Row and her house in the Hamptons are destinations for influential media figures and China watchers, and she's friendly with Wendi Deng Murdoch, Jamie Dimon, and Henry Kissinger. Superstar pianist Yujia Wang once played at her annual Chinese New Year party. It's certainly a better fate than a prison sentence from the Communist Party. "They truly dodged a bullet," says a friend of the couple's. — Christopher Beam
The Power To:
Enforce
the
Mayor's
Petty
Grudges
Ingrid Lewis-Martin "is the Adams administration."
Eric Adams and Ingrid Lewis-Martin are so close that she was the first person he thanked from the stage at his Election Night party. When he was sworn in on New Year's Eve in Times Square, she was at his elbow. Now, as the mayor's chief adviser and the so-called Lioness of City Hall — an appellation she has embraced — she roams freely, the lone aide without portfolio.
"I don't think you can say she has her fingerprints all over the Adams administration," says a rival political operative. "She is the Adams administration. It is Brooklyn clubhouse politics brought to the whole city. And every dispute is a personal fucking bloodbath."
It can often seem as if there are two Adams administrations. The first is a collection of policy technocrats, generally acknowledged to be experts in their field, who would likely find a home in any administration — and indeed are veterans of the Bloomberg and de Blasio years. (This faction is led by First Deputy Mayor Sheena Wright and includes deputy mayors like Anne Williams-Isom and Maria Torres-Springer.) The second is composed of Adams loyalists whose expertise is what could charitably be described as "operationalizing" the mayor's agenda. They're knife fighters, and they relish their mandate to destroy the mayor's enemies. Lewis-Martin is their alpha. "When they go low," she once told an interviewer, "we dig for oil."
And so while one segment of City Hall is overhauling zoning laws, rethinking trash, and planning more bike and bus lanes, the segment Lewis-Martin leads is speaking to the mayor's base of moderate and right-
leaning outer-borough homeowners. You can see her influence in moves such as calling on the federal government to close the southern border, backing challengers to state lawmakers who oppose the mayor's policing initiatives, and giving jobs to people with a history of making anti-gay comments — all dog whistles to Adams's conservative fans. The tension is most apparent in Lewis-Martin's efforts to counter initiatives by Adams's own Department of Transportation to keep cars off a pedestrianized street in Fort Greene and bring traffic-calming measures to the deadly McGuinness Boulevard in Greenpoint. She has boasted about not taking the subway in 40 years.
"Most of my colleagues are afraid of her," says a councilmember. "They think of her as someone who can make a few phone calls and get people to show up for you if you need it or who can turn on the money spigot. You don't want to get on her bad side. She will make your life miserable."
On a recent night as New York was drenched in record-setting amounts of rain, Adams was at a $2,000-a-head reelection fundraiser in Inwood. As he was speaking, a protester interrupted, saying the mayor was pitting migrants against other unhoused New Yorkers and using Republican talking points. Before security could come to snatch the protester away, even before Adams could say much of anything in response, Lewis-Martin sidled up beside the mayor, towering over him, arms folded across her chest, glowering. — David Freedlander
The Power To:
As a hotel-union boss, Peter Ward set the platform's local demise in motion. Next project: A casino in Queens.
Probably no one is more responsible for the coming ruination of Airbnb in New York than Peter Ward. Until 2020, Ward was the president of the Hotel and Gaming Trades Council, the union representing about 40,000 hospitality workers across New York and northern New Jersey. Over two decades, Ward transformed the organization into a political dynamo, winning large pay increases for bellhops and housekeepers while forging close relationships with every politician of note. Airbnb was a direct threat to HTC's membership, and Ward catalyzed its downfall, pushing top hotel executives to unite against the marketplace and channel their donations to politicians who promised to implement tough rules limiting Airbnb's operations. Ward even endorsed Bill de Blasio's desultory run for president, surely knowing it would go a long way toward securing the mayor's support in the fight.
Since retiring from HTC, he has run Ward Strategies, a consulting-and-lobbying firm with clients in commercial real estate, private equity, and health care. Ward's most important customer may be the Malaysian conglomerate Genting, which operates Resorts World, the racino in southern Queens, which is relying on Ward as it vies against other gaming giants to land one of a limited number of downstate casino licenses. (Jay-Z and Steve Cohen are among the other bidders.) It helps that Ward has a certain sway over Joseph Addabbo Jr., the state senator whose district includes Resorts World. State rules require that for a casino to win a license, local politicians must support the project — no problem for Ward, who has won loyalty from virtually all of them through his years in the labor trenches.     — Ross Barkan
The Power To:
As a bloc, they're moving rightward. Yiatin Chu is making Democrats pay attention.
Lee Zeldin, a proud Donald Trump supporter, seemed like the last candidate who could make a dent in New York's deep-blue electorate. But he did. This past November, with crime among voters' priorities, he fell just six points shy of becoming the first Republican to win a governor's race in 20 years. Zeldin ran remarkably well against Kathy Hochul in the Asian community, winning large swaths of Flushing and Bensonhurst.
This was no surprise to Yiatin Chu, president of the Asian Wave Alliance, a citywide political club that endorses Republicans and Democrats alike. Asian voters are drifting to the right, and Chu is forcing progressives to stop taking their vote for granted. "We can't look at just one party," she says. "A lot of grief we've experienced is because we keep voting for one party." Chu and AWA worked closely with Zeldin — registering Chinese voters, canvassing, and conversing with a large ethnic press that is little understood by English-speaking politicians. Many Asian voters were furious because they believed Democrats wanted to weed them out of specialized high schools by dumping the SHSAT and weren't doing enough about anti-Asian hate crimes.
Democratic candidates who might have once assumed that Asian voters would tend to support them will have to contend with Chu's opposition to various progressive causes, including bail reform and congestion pricing. Bob Holden, a conservative Democratic City Council member who endorsed Zeldin last year and has worked with AWA, says Chu and her group are harnessing a powerful new bloc of disaffected voters. "They're fighting back and saying, 'Enough is enough,'" he says. "They're very persistent, and they're very active. That's why I like them." — Ross Barkan
The Power To:
Reinvigorate
Harlem
Politics
Keith Wright knows his neighborhood.
Earlier this year, Keith Wright, the chairman of the New York County Democratic Party, made a surprise power move by recruiting Yusef Salaam, one of the Central Park Exonerated Five, to move from Georgia and run for a City Council seat. With Wright's son, Jordan, serving as campaign manager, Salaam pulled off a stunning upset against three Harlem incumbents.
At 68, Wright has a foot in the past and an eye on Harlem's future — and the patience to outwork and outlast his opponents. He still lives in the apartment he grew up in, in Harlem's Riverton complex, a cradle of middle-class Black talent where Wright's neighbors included future mayor David Dinkins. His father was a State Supreme Court judge who earned the sobriquet "Turn 'Em Loose Bruce" for not demanding sky-high bail from indigent defendants awaiting trial; while Wright was in the State Assembly for 24 years, one of his pet causes was an attempt to loosen bail standards. Recent reforms, he says, vindicate five decades of effort. — Errol Louis
The Power To:
Keep
Control
of
the
Bronx
The game of politics changes. The Yankees lobbyist and election lawyer Stanley Schlein doesn't.
Stanley Schlein has been called a kingmaker, a consigliere, and the dark prince of Bronx politics. As an election lawyer, lobbyist, and counsel to many Bronx Democrats, he sees the machinery of politics from every angle. For decades, nothing's happened north of Manhattan without him knowing about it. According to one fellow operative who asked to remain anonymous out of fear of reprisal, "County leaders change. Elected officials change. Priorities change. But Stanley is always there."
Schlein lives on City Island and carries a brick of index cards in his coat pocket in lieu of his phone's address book. At 75, he's perhaps as powerful as ever, thanks to his close relationship with Assembly Speaker Carl Heastie (whom he once helped make chair of the Bronx Democratic Party). As an election lawyer, Schlein's worked for Heastie, Andrew Yang, and Vanessa Gibson. He knows by heart New York's famously impenetrable election laws. He exerts powerful influence on the County Committee, which, via Kremlin-style uncontested elections, selects the judges tasked with upholding those laws.
While a die-hard Democrat inside the Bronx, outside Schlein is a political chameleon, having worked for Mayors Ed Koch, Michael Bloomberg, and Bill de Blasio. He was in Bloomberg's Republican-heavy suite on Election Night in 2001, while his day job was ostensibly concerned with turning out blue votes. I asked George Arzt, his friend of 50 years and a former Koch press secretary, whether Schlein holds any personal political convictions. "None," Arzt said. "He's a person who likes the game."
Schlein likes the game so much, in fact, that he plays both sides as a corporate lobbyist and a political adviser. In 2006, representing the Yankees, he helped craft a deal for the new Yankee Stadium, which cost taxpayers $1.1 billion. (Noting his simultaneous power in the Bronx Democratic Party, a contemporary told the former Village Voice writer Tom Robbins that it was as if Schlein had "sat in a room alone and negotiated with himself.") In 2021, he won a $75 million state contract for Dominion Voting Systems. At Somos, the annual getaway conference where all of Albany relocates to Puerto Rico to party with lobbyists, Schlein waits for elected officials to approach him while playing cards on the beach with his buddy and client Joe Strasburg, the president of the perversely named pro-landlord Rent Stabilization Association.
As a behind-the-scenes operative, Schlein makes headlines only when he's in trouble. Over the years, he was ousted from a cushy appointment for mishandling court-appointed clients' funds and paid a hefty fine for utilizing public office space for his own private law practice. The Post caught him parking inside a crosswalk with an active-firefighter placard on his dash. (He maintains he's done nothing wrong.) "He's walked between the raindrops all these years," says Robbins. — Owen Long
The Power To:
Stop
a
Sunset
Park
Development
It was the work of environmental activists Elizabeth Yeampierre and Eddie Bautista.
The interests that have historically called the shots in Sunset Park's Industry City are right there in the name. But recently, industry — as represented by the billion-dollar developer Jamestown — lost a seven-year effort to transform the waterfront district into an even bigger retail destination. Led by Elizabeth Yeampierre, an environmental-justice activist and the head of the Sunset Park community-advocacy organization Uprose, a local coalition managed to kill the project over concern that the rezoning would push out thousands of residents from the working-class community of color: Greenpoint or Williamsburg all over again. The coalition also wanted to preserve the waterfront in hopes of creating green jobs. "Elizabeth was the driving force," says Representative Nydia Velázquez, whom Yeampierre recruited to the effort.
In 2021, Yeampierre helped notch another win for Sunset Park when the de Blasio administration announced the city-owned South Brooklyn Marine Terminal would be the assembly point for a gargantuan offshore wind project that should come online by 2026. On that one, Yeampierre teamed with her husband, Eddie Bautista, the executive director of the New York City Environmental Justice Alliance. Since they first began collaborating at an organizing workshop in 1987, the couple have pushed for cleaning up the neighborhoods that the city is most likely to pollute: poorer communities of color located near industrial zones. As the top legislative aide to Mayor Bloomberg, Bautista helped reform the way New York gets rid of the tens of thousands of pounds of trash it creates daily, switching from garbage trucks to barges and rail. Now, they're working with state agencies to shut down "peaker" plants exposing outer-borough neighborhoods to excess emissions. — Matt Stieb
The Power To:
Get
You
Past
the
Co-op
Board
Serena Boardman doesn't just sell you a $50 million apartment.
It's not uncommon to scroll a StreetEasy history for an East Side "social" building and find one name on nearly all of the recent listings. Serena Boardman dominates the exclusive uptown co-op market; she was on both sides of the $77.5 million sale at 834 Fifth in 2015, which remains the highest price paid for a single co-op. It helps that she was born into this world. Per one broker, "literally everyone knows her mom. Everyone knows her dad." (Respectively, the popular socialite Pauline Pitt, whose great-grandfather founded what would become Citibank, and hedge-fund pioneer Dixon Boardman.) Her sister, Samantha, a psychiatrist, is married to real-estate developer Aby Rosen, and Serena is married to a Greek shipping heir, John Theodoracopulos. The listing broker on the 14-room $48 million co-op at 2 East 67th that Jonathan Tisch bought? Serena. Aerin Lauder's $47 million co-op purchase at 960 Fifth? Serena.
Boardman also has a reputation as something of a co-op-board whisperer. A big component of an application is the reference letter, and "if you're a client of Serena's, it's like an additional reference," says one broker. And because she knows everyone on the board, she knows just how prospective buyers should phrase things to make their applications most compelling. "Another broker might look at a letter and be like, 'This is perfect,'" one tells me. Boardman would look at the same letter and give edits — rephrase this, rewrite this. Another tells me Boardman might also make a call if she felt it was appropriate. (She's also savvy enough to know when that kind of thing would backfire.) Boardman managed to get Len Blavatnik, who had previously been turned down at 740 Park and 927 Fifth, into Woody Johnson's penthouse at 834 Fifth, which Max Abelson once described in the Observer as "the most pedigreed building on the snobbiest street in the country's most real-estate-obsessed city." — Kim Velsey
The Power To:
Keep Public Housing Public
Nothing happens at the Smith Houses without going through Aixa Torres.
The 12 towers comprised by NYCHA's Alfred E. Smith Houses occupy prime real estate overlooking the East River between the Brooklyn and Manhattan Bridges. A decade ago, the Bloomberg administration took note, unveiling a high-profile plan to lease land at the complex to market-rate developers. In theory, the gambit was meant to raise funds for the cash-strapped public-housing authority. But Aixa Torres — the Smith Houses' uncompromising, well-connected tenants-association leader — saw the specter of luxury towers as an unacceptable lurch toward privatization and, from there, the eventual dislodging of her tenants. She led a legal counteroffensive that resulted in the complete abandonment of the plan. As the top staffer to one local politician says, speaking for many, "We try not to piss off Aixa."
The most famous recent "Aixa battle" involves the Smith Houses' trees, which Torres claims NYCHA contractors damaged while doing hurricane-resiliency work. She hired a consulting arborist, marshaled elected officials to intervene, and eventually forced the capitulation of NYCHA, which agreed to plant replacement trees (and reimburse her for the arborist). State Senator Brian Kavanagh, who represents lower Manhattan, marvels at Torres's ability to get him involved in such a small-bore conflict. "A local tenant leader got her senator to personally talk to the chair of the Housing Authority — who represents half a million people — to make sure the tree agreement was signed," he says.
With roughly 5,000 people living in the Smith Houses, Torres's endorsement in small-margin primary races is coveted. In the 2021 race for the City Council's First District, Torres backed Christopher Marte. When Carlina Rivera, a councilwoman from a neighboring district, showed up at the Smith Houses to campaign for Marte's opponent, Torres called her to ask what, exactly, she was doing there. "Like I tell NYCHA," Torres says, "nothing happens at Smith that I don't find out about in a minute." Marte won by 20 points. — Simon van Zuylen-Wood
The Power To:
Broker
Peace
Between
Tech
and
City
Hall
The reason they don't hate each other — like they do in San Francisco — is Julie Samuels.
New York's relationship with the tech industry, which is now the city's largest employer, hasn't been all IPOs and roses — recall Amazon's HQ2 disaster — but the person most responsible for preventing all-out tech-versus-government warfare is Julie Samuels, founder and executive director of Tech:NYC. Samuels has accumulated influence by convincing each side of the divide that the other is not the enemy. She texts with not only pretty much every venture capitalist in town but also Mayor Adams and Governor Hochul. Samuels is every New York start-up's de facto government fixer. Your attempt to disrupt an industry is pissing off the unions? Samuels knows the right person at the local. Your founder's girlfriend can't get her visa renewed? Samuels can get the application to Senator Chuck Schumer's office. Your DTC flagship store is overrun with shoplifters? Samuels can reach the right person at the NYPD.
In City Hall and other offices, Samuels is appreciated for her ability to convince techies that government isn't filled with Luddites but rather with potential partners. "Unlike some other trade-association reps, she figures out how tech can work with different agencies, which in turn makes New York more receptive to the tech industry," says Janno Lieber, the head of the MTA. When subway surfing became a viral challenge this summer, leading to the deaths of four teenagers, the MTA called in Samuels to help it persuade the major platforms to take down the videos. The platforms removed 3,000 of them.
Samuels has been the Adams administration's go-to tech conduit from the beginning. When City Hall wanted to figure out what to do about drones, Samuels was tasked with getting the smartest executives and regulators together. "In a world where doing that otherwise could take 900 meetings, she can get the right people together in 20 minutes," a former Adams-administration official says. At a dinner earlier this year, Samuels and the VC Fred Wilson were the first to show Adams how ChatGPT worked. The mayor was impressed with the bot's answer to the question "How do we get rid of rats in New York City?" — Reeves Wiedeman
The Power To:
Any Latino politician considering a run meets with Eduardo Castell.
"I think Eddy's at the zenith of Latino political consultancy," says Eric Gonzalez, the Brooklyn district attorney. "I'm not sure there's a Latino leader in New York City who has not at some point sat across the table from him and his partners to talk about their run, their concerns, their issues." Eddy, or Eduardo Castell, is the managing partner at both the Hamilton Campaign Network and MirRam, the prominent campaign-management and political-consulting firms, founded by Luis Miranda and Roberto Ramirez. He's been the under-the-radar power broker behind many victories: Gonzalez's in 2017, when he became the first Latino DA in city history, and Letitia James's run for public advocate in 2013 and for state attorney general in 2018. What Castell offers, his clients say, is an intimate knowledge of what constituents across the five boroughs are thinking — about crime, for example, or progressive reforms. "It was Eddy giving me bona fides and introducing me to the Latino community, not only in Brooklyn but throughout New York, and that was key to my success," James says. (He also tried, unsuccessfully, to teach her Spanish.) Today, Gonzalez says, any Latino candidate who wants to run for office will sit down with Castell and his team, if only to pick their brain. And hiring him brings instant credibility. "Everyone understands that they would not be standing next to a candidate that they did not believe could win," Gonzalez says. "Having them vouch for me made people look up and say, Oh, let me take a look at this guy." Castell's latest client: Yadira Ramos-Herbert, who is campaigning for mayor of New Rochelle — a position she is expected to win, which would make her the first woman and person of color in the office. — Nia Prater