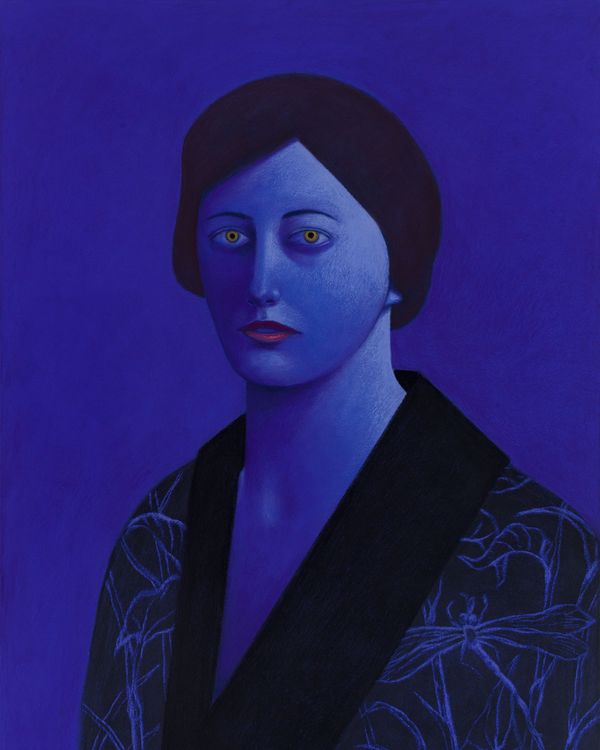 Nicolas Party's
Blue Portrait
(2020) is one of the works available in Hauser & Wirth's auction benefiting visual art organizations in New York.
Art: Nicolas Party/Courtesy the artist and Hauser & Wirth/Photo: Adam Reich
An Auction Perfect for Home Renovators
From 7 p.m. this evening through 7 p.m. on October 4, the Design Industries Foundation Fighting AIDS will be hosting its first-ever online auction, with all sales going toward DIFFA's efforts in support of the HIV/AIDS community and its most vulnerable members affected by homelessness. The auction features over 80 pieces, including lighting, furniture, wall art, and interior-design consultations.
Art for Good
Today, Hauser & Wirth is launching Artists for New York, an initiative to raise funds for nonprofit visual-arts organizations in New York that have been affected by the pandemic, including the Bronx Museum of the Arts, the Drawing Center, the Public Art Fund, the Studio Museum in Harlem, and several others. Works from over 100 artists will be shown online, and many of them will also be displayed at Hauser & Wirth's two New York gallery spaces starting on October 6. Elsewhere, KAWS has donated a painting to a fundraising sweepstakes hosted by Free Arts NYC, an organization dedicated to empowering underserved youth through art and mentoring programs. Entries to win the painting start at $100, and all proceeds benefit Free Arts NYC. Purchase an entry here through October 2.
Historic Masks
Check out Yard Sail, a recently launched online store that makes one-of-a-kind masks using a stock of historic fabrics donated by the family of D.D. and Leslie Tillett, influential 20th-century New York designers whose creations were beloved by Jackie Kennedy. The company was founded partly in response to this summer's political upheaval and is devoted to fair payment for everyone involved in making the masks; proceeds are also donated to vital organizations. Plus, the website features a more literal "yard sale" section, offering unique treasures like a magnetic, dress-up Jackie O and a letter from Kennedy herself.
An Exciting New Shoe
This morning, Union and Converse announced a new collaboration with New York–based interior designer Sheila Bridges, who is also the creator of the "Harlem toile" design. Now that celebrated visual is being placed on footwear for the first time — on the iconic Chuck Taylor All Star. Bridges told New York: "My designs are inspired by a lot of things (travel and nature for instance), but culture has always informed my work. Growing up in Philly and living in Harlem for nearly 30 years has hugely impacted my designs. There are so many parts of Black culture that have been appropriated throughout history that I wanted to shift to a medium that could breathe youthful energy into the original design and give it a bigger voice and presence."