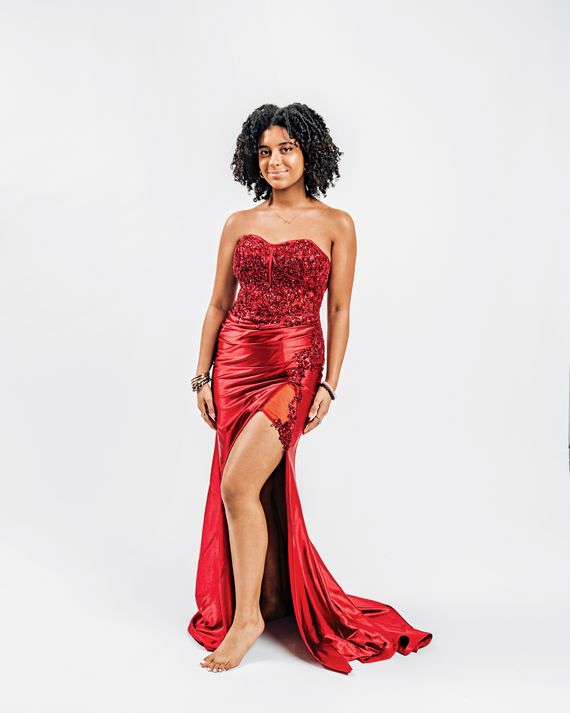 Gismaira Mota.
Photo: DeSean McClinton-Holland
Gismaira Mota (pictured above), Senior, Parkchester.
So tell me about this dress.
I was feeling kind of discouraged because I wasn't finding anything. I would put on a dress, and my mom would love it and I would hate it and then we would bicker. She is just absolutely in love with her type of style — like, rhinestones — and I'd be like, "Mom, it's my prom." But then I showed Joseph, who works at the store, my mood boards (I made two before I came: one on Pinterest and one with magazine cutouts), and he went to the back of the store and pulled out this red dress. And I cannot thank him enough for that.
Who are you going with?
I'm going with a group of friends because we just don't like any of the boys at our school. To be honest, we were like, Mmm, no. We're hard to impress. I think that's something people would say about us.
Who are you going to prom with?
Ved. I've known him for a few years; we longboard together. He asked me a few weeks ago, but he's gonna do the public promposal with, like, a poster and stuff. I think it's gonna be a surprise, like, any day now. I'm waiting.
Where is prom?
At a place called Wave Hill, which is pretty close to my school. They said it was a "plated dinner"? I don't know exactly what that means, but I'm sure it'll be great.
You excited for prom?
I'm actually here shopping for my cousin, who's in the Dominican Republic and has her quinceañera coming up. She found her dress here online and asked if I could check it out. She really was skeptical that it would look the same in person as it does online, so I became like an FBI agent, making sure she's getting her money's worth.
Is this your first prom?
Yes. I was supposed to go last year, but my date and I got into a fight so I didn't go.