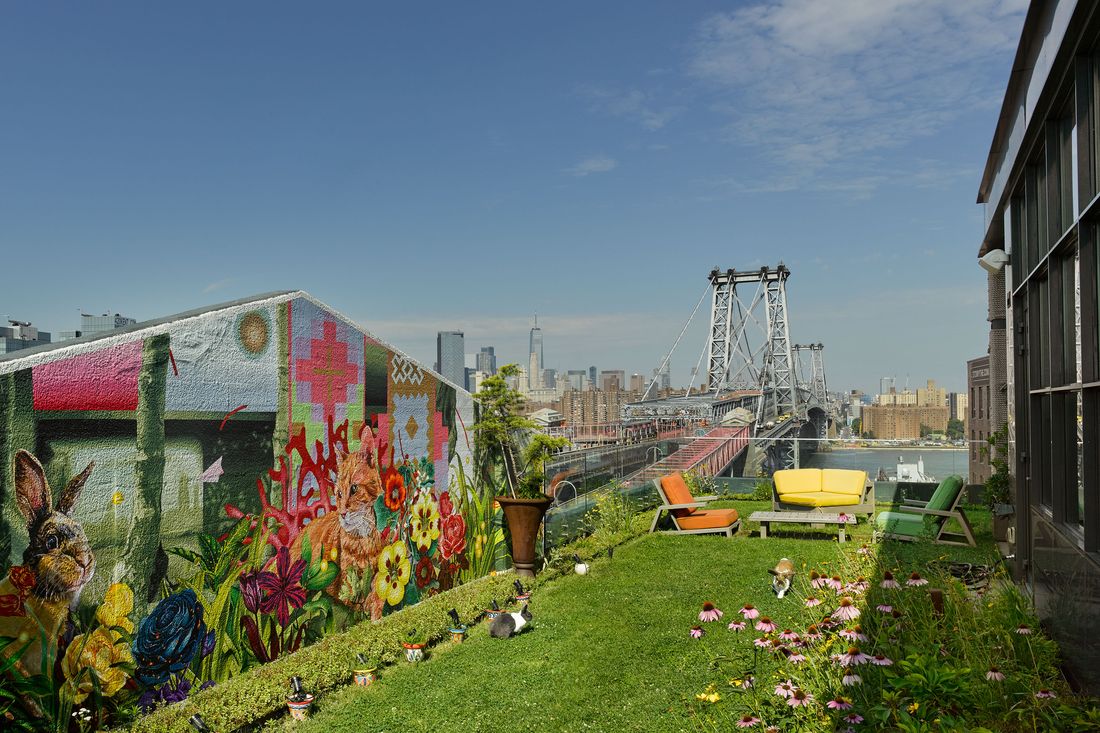 A garden with a bridge-and-skyline view.
Photo: Annie Schlechter
Rachel Nuwer admits she wasn't initially convinced when she and her husband, Paul Dix, first looked at this newly built three-bedroom penthouse atop a onetime noodle factory in Williamsburg in 2019. The 2,200-square-foot apartment had a 2,300-square-foot wraparound terrace with fantastic views of the bridge, but the outdoor space was covered in concrete pavers, which gave it a bit of a parking-lot vibe. Fortunately, Nuwer, a freelance science journalist and author of Poached: Inside the Dark World of Wildlife Trafficking as well as a forthcoming book on MDMA, I Feel Love, had done a story on green roofs. She reached out to Brooklyn Grange, and together they concocted a plan to transform it into a garden for family, friends, birds, beehives, crickets, and … bunnies.
Brooklyn Grange got the plantings finished before the pandemic set in, which gave the couple and their friends a lockdown oasis.
"We throw regular rooftop parties for the NYC bunny community — people come by with their bunnies for some outdoor frolicking," says Nuwer, who grew up in Biloxi, Mississippi, where her mother was known for being an animal rescuer. The family had a menagerie that included rescue cats, a German shepherd, an iguana, a hedgehog, zebra finches, a dove, a horse, chickens, and a snake. "My first rabbit, Poopsie Bun, was actually dumped at my elementary school, and the principal's office called me in to deal with him."
It didn't take that long for Dix, co-founder and CTO of the software firm InfluxData, to warm up to the rabbits but "the bees are another story. We really just have a detente. But they're docile so I guess they're ok."  He realized how lucky they were during lockdown. " Rachel ordered the garden beds, and I built them up here and we planted all of them," he says. "Anything we could bring into our home to make it a bit more interesting. And we just had the roof installed and spring was coming."
"I order ladybugs, praying mantises, and midges as natural pest controllers each year," Nuwer says. "I release crickets for the lovely sound that reminds me of growing up in Mississippi and to create more of a mini-ecosystem up here. We've also added earthworms."
There was also the large concrete building pediment that faced the living-room windows, but Nuwer had a plan for that. "The mural was something we wanted to do before we even moved in," she says. She first found artist Juan Travieso online. "I love the vibrancy of his work. He focuses a lot on endangered species and habitats, so he's done a ton of work on wildlife, which aligns to my interests."
They have a bunny named Furrynand Magellan (as well as a cat named Kit) who lives there with them, and there is room enough to shelter rabbits before they are adopted. "They really are their own creatures, with their own quirky adorable habits," Nuwer says.