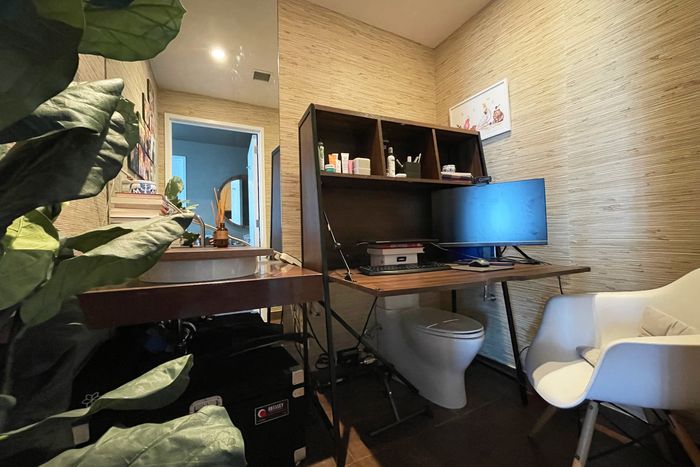 Photo: Ralph Modica/Compass
One Saturday morning in April of 2020, after about a month of full-time working from home with her husband (both of them taking calls all day from their bedroom) and two kids (both doing remote school), Niamh Sproul decided something had to change. On a whim, while her husband was out getting bagels, Niamh began transforming one of the bathrooms in her Williamsburg apartment into a private office.
She slid the desk (Target's Loring Wood Secretary Hutch) in her bedroom onto a blanket and dragged it into the bathroom, where she positioned it over the toilet. This was a success (mostly — she had to take out a bar so it fit properly), so she brought in a fake plant. Next came some photos, books, and candles (she eventually even bought a "Do Not Disturb" sign from Amazon to hang on the door). "I did think about what people would see on my Zoom background," she says. Colleagues, though, thought she had gone to a hotel or moved; she only told a few people the truth. Sproul worked in there from "9 to 6 at least" for a good 12 months.
As it happens, the family is moving to California next month and will be dismantling the setup, which, per listing agent Ralph Modica, was "the showpiece" at recent viewings.