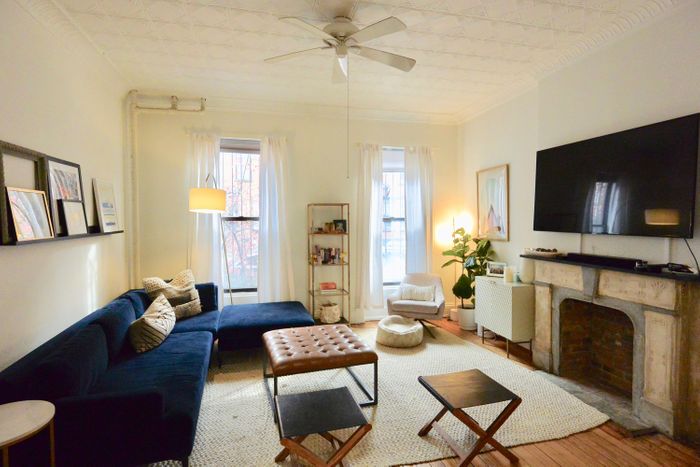 A Carroll Gardens
townhouse duplex
with a 50-foot-deep garden.
Photo: Courtesy of Brown Harris Stevens
As new apartments hit the market each week, we've taken on the job of carefully hunting through various listings sites, newsletters, and Craigslist to find the very best deals out there. A good deal on a rental apartment, of course, can mean very different things for different people. So as we sorted through hundreds of listings, we kept our eye out for places that are worth their asking price — whether that's an under-$2,000 one-bedroom (that truly is a one-bedroom) or a $7,000 Beaux-Arts townhouse with a spiral staircase and three functioning fireplaces. 
Inventory is looking ever so slightly more flush this week, and we were able to find some nice spots in a few neighborhoods we haven't featured in a while. For instance, there's a Boerum Hill two-bedroom with multiple skylights and a 700-square-foot Fort Greene apartment asking $2,600. Meanwhile in Chelsea: a true one-bedroom with a wood-burning fireplace.
Want to get these picks earlier than everyone else (plus fun bonus content)? Sign up for the Listings Edit newsletter, sent to your inbox first thing every Thursday morning.
Bed-Stuy
$2,600: This bright and renovated one-bedroom-plus-office sits on the second floor of a townhouse on Lafayette Avenue. The unit has lovely original window shutters and great appliances (including a stainless-steel French-door Whirlpool fridge, Bosch dishwasher, and stacked LG washer/dryer). Also worth a look in the area: a less updated but similarly sized apartment asking $2,300.
Boerum Hill
$2,900: There are only four Boerum Hill two-bedroom apartments listed on Streeteasy right now and none of them are under $3,000, so this Listings Project posting is a rare find. The catch is that it's a fifth-floor walk-up, but the 700-square-foot unit is actually quite charming, with very high ceilings, an exposed-brick wall in almost every room, and multiple skylights.
Carroll Gardens
$9,000: This 2,000-square-foot townhouse duplex on the Cobble Hill border has an especially grand kitchen/dining room in the back, which takes up the full width of the house (22 feet) and has a large glass door out to the 50-foot-deep private backyard. The three-bedroom unit also has a spiral staircase, multiple decorative fireplaces, tons of exposed brick, a laundry room, and pantry.
Chelsea
$3,500: This is a great price for a true one-bedroom (in a townhouse on West 21st Street) with a wood-burning fireplace and a massive skylight in the living room. The kitchen is also relatively spacious with a breakfast bar and dishwasher, and the bathroom comes with new marble walls.
Fort Greene
$2,600: A low rent for a 700-square-foot apartment in an Adelphi Street townhouse that's just a three-minute walk from Fort Greene Park. The unit also includes several large built-in bookshelves.
Harlem
$2,850: This one-bedroom condo (with oversize windows and five closets) sits conveniently on top of the 110th Street B/C train, right between Morningside Park and the northwest corner of Central Park. The owner listing is also priced the same as it was in 2020 and 2015, so that's somewhat encouraging.
Park Slope
$2,200: This apartment on Sixth Avenue and 14th Street is cute enough for the price (there are three windows and a decorative fireplace in the corner bedroom). Yes, the living room is objectively small, but the layout is workable (the current arrangement fits a small sofa and TV set). You also get access to a huge shared roof deck. Another promising find in the area: a high-ceilinged prewar one-bedroom on Prospect Park West offering one month free.
West Village
$3,300: This is a quaint one-bedroom on the ground floor of a butter-yellow townhouse that's actually part of a row of townhouses that sit behind a street-facing building. So this apartment has direct access to a lovely shared rear garden with a lamppost. The unit itself also comes with a nice fireplace and checkered tile in the kitchen.