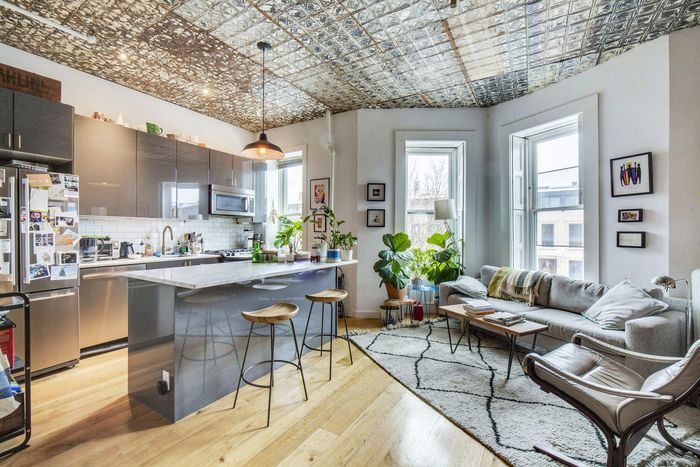 A renovated Bed-Stuy apartment that kept its striking tin ceilings.
Photo: Oleg March
As new apartments hit the market each week, we've taken on the job of carefully hunting through various listings sites, newsletters, and Craigslist, to find the very best deals out there. A good deal on a rental apartment, of course, can mean very different things for different people. So as we sorted through hundreds of listings, we kept our eye out for places that are worth their asking price, whether that's an under $2,000 one-bedroom (that really is a one-bedroom) or a $5,000 three-bedroom duplex, with crown moldings, a massive backyard, and an in-unit washer/dryer.  
This week, we found a bunch of apartments with fantastic original details, from great moldings and tin ceilings in Bed-Stuy, to cast-iron columns (in a former caviar factory) in Tribeca, to wide-plank floors in Red Hook. Also surfaced in our search: a nice rent-stabilized unit in the West Village and another in Williamsburg.
Our picks are organized by neighborhood in order of ascending price. Didn't see anything from the neighborhood you're interested in? We'll try to include a wide range of locations as new units come up. To keep this list fresh, we're removing listings that have not been rented after two weeks (and will put an asterisk next to holdovers from the previous week). Check back every week for updated picks. Want to get these deals earlier than everyone else? Sign up for the Listings Edit newsletter, sent to your inbox first thing every Thursday morning.
Bed-Stuy
$1,600: Alcove studio just off Bedford Avenue with 15-foot ceilings, two original fireplaces, French doors, lovely moldings, and "great water pressure," per the owner.
$1,900: Large one-bedroom plus an office, with lots of windows and a decorative fireplace, near both the Myrtle–Willoughby Avenues and Bedford–Nostrand Avenues G-train stops.
$2,495: Airy duplex on Hart Street (a five-minute walk down to Herbert Von King Park) with two large bedrooms (one of which has a huge walk-in closet), two full bathrooms, 18-foot ceilings in the main living area, plus a balcony.
$3,175: Gut-renovated brownstone two-bedroom with a very sunny and open living area, featuring striking tin ceilings and a huge brick wall.
Carroll Gardens/Cobble Hill
$1,800: Bright and neat one-bedroom in a small walk-up building (with a shared courtyard) on Pacific Street near Boerum Place with ample kitchen storage and base moldings throughout.
$2,300: Cute brownstone one-bedroom plus office with crown moldings, green bathroom tile, and a decorative fireplace, plus (free) laundry in the building and a shared backyard.
$2,600: 820-square-foot parlor-floor one-bedroom plus office on a brick-townhouse block with parquet floors; gridded, double-hung windows; a separate dining area; and glass-fronted cabinets in the windowed kitchen.
Clinton Hill/Fort Greene
$2,375*: Two-bedroom on Hall Street just off Myrtle Avenue with a windowed kitchen and bathroom — both renovated — and exposed-brick fireplace. Previously renting for $2,500.
$2,850: Two bedrooms on Myrtle Avenue with space for a dining table in the 24-foot-long living room, a washer-dryer, huge closets, and access to a grill-equipped rooftop.
East Harlem
$1,650: Low price on a relatively spacious apartment (the bedroom can fit a king-size bed plus multiple desks or dressers) on East 102nd Street (just around the corner from a 6-train stop).
East Village
$2,195: Loft apartment a block from the First Avenue L train with a decorative brick fireplace and a floating staircase up to the bedroom (which has a door that opens to a private roof-deck).
East Williamsburg/Williamsburg
$2,800: Bright rowhouse two-bedroom three blocks from McCarren Park with a very sleek, all-white kitchen (plus ten additional matching cabinets on an opposite wall) and skylight in the bathroom.
$2,961 (net effective: $2,538): Huge rent-stabilized two-bedroom next to the Hewes Street J/M trains with plenty of cabinets and a dishwasher in the separate, windowed kitchen as well as a washer-dryer.
$3,500: 1,800 square feet (plus a large patio) above the Brooklyn Art Library (and its enormous collection of artist sketchbooks) with two skylights and a washer-dryer.
Gramercy Park
$2,050: Renovated two-bedroom at East 19th Street and Second Avenue with a new stove and dishwasher, plus French doors and really nice moldings throughout.
$7,500: 1,350-square-foot two-bedroom, two-bath apartment in a doorman building on East 18th Street with an unexpected bounty of exposed beamed, a concrete kitchen island, an entire wall of built-in shelves, and two bonus spaces that could be home offices.
Greenpoint
$2,150: Bright one-bedroom (the bathroom is especially well lit) around the corner from the Greenpoint Avenue G train with a washer-dryer and several walls of exposed brick.
Hell's Kitchen
$2,200 (net effective: $2,017): Corner apartment with five windows, great moldings, and a white-brick decorative fireplace in the living room, plus an oversize window in the bedroom, updated cabinets and appliances in the kitchen, and a scalloped edge sink in the bathroom.
Little Italy/Nolita
$1,950*: A studio on Spring Street with nary a blank wall in the main living space (instead, you'll find wooden ceiling beams, exposed brick, and extensive built-in shelving), wide-plank floors, and a new oven incoming.
$2,200: True two-bedroom on Mott Street with a windowed kitchen and an actually decent-size common living area.
Murray Hill (Queens)
$5,000: Rare house for rent in the area with a real suburb feel (lawns, hedges, portico entrance, huge backyard with little pond), plus lots of moldings and built-ins, two fireplaces, and a renovated kitchen and bathroom.
Park Slope
$2,250* (net effective: $2,062.50)*: Sunny apartment near the Fourth Avenue F/G/R trains that has a separate sleeping area (the windowed space fits a bed and plenty of storage but is not enclosed), an open kitchen with a small dining area off the living room, plus a private deck overlooking a Zen garden.
Pelham Parkway
$1,950*: Two-bedroom in a Tudor-style prewar co-op, with tons of windows (there's a bay window in the living room, three windows in one of the bedrooms, plus a windowed kitchen and bathroom), two arched doorways, and parquet floors throughout.
Red Hook
$2,000*: 1,100-square-foot apartment on Van Brunt Street with tin ceilings, a massive exposed brick wall, and original hardwood floors.
$4,750: 1,400-square-foot duplex plus deck with tons of charming details, including wide-plank floors, crown and base moldings, tin ceilings, tons of exposed brick and beams (including in one large windowed bathroom).
Ridgewood
$1,600: Just a very sunny and well-priced one-bedroom with parquet floors, a separate windowed kitchen, and arched doorway.
Tribeca
$8,500: 2,000-square-foot loft in a former caviar factory on Watts Street with 18-foot ceilings, a massive and newly renovated kitchen, five cast-iron columns, and an operable garage door right in the main living area.
Upper East Side
$2,000 (net effective: $1,833): Two-bedroom on East 78th Street with a renovated kitchen (subway tile, white shaker cabinets, stainless-steel appliances) that is renting for less than it did in 2012.
Upper West Side
$2,750 (net effective: $2,521)*: Brownstone one-bedroom on West 82nd Street with a rare semicircular balcony, exposed-brick walls (plus a brick fireplace), sleeping loft, and a particularly nicely renovated kitchen with blue cabinets (and what appears to be a brass swan faucet).
West Village
$1,933: Rent-stabilized studio bordering Chelsea with a small but renovated kitchen and a large window overlooking the building's rear courtyard.
$2,399*: Very well-lit apartment with a small kitchen and bedroom but relatively large living room, on the third floor of a Federal-style townhouse on Waverly Place.
$2,625: True two-bedroom on Bedford Street (a block from the Houston Street 1 train) that used to list for at least $2,900 with stainless-steel appliances and a windowed kitchen and bathroom.
$3,795*: Charming 900-square-foot loft on Hudson Street (overlooking Abingdon Square Park) with a colorful tile backsplash in the kitchen, lots of white-painted brick, and unusually plentiful built-in storage throughout (even in the bathroom).