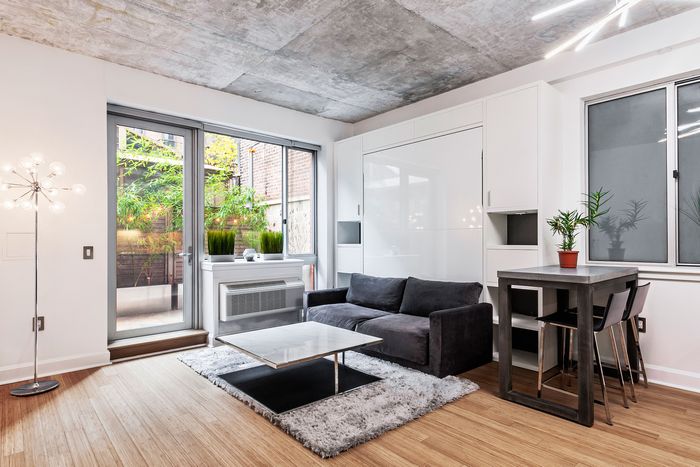 A renovated
Hell's Kitchen studio
with a Murphy bed, dishwasher, washer/dryer, and a private, bamboo-lined terrace.
Photo: Brown Harris Stevens
As new apartments hit the market each week, we've taken on the job of carefully hunting through various listings sites, newsletters, and Craigslist, to find the very best deals out there. A good deal on a rental apartment, of course, can mean very different things for different people. So as we sorted through hundreds of listings, we kept our eye out for places that are worth their asking price — whether that's an under-$2,000 one-bedroom (that truly is a one-bedroom) or a $7,000 Beaux-Arts townhouse with a spiral staircase and three functioning fireplaces.  
Not all studios are sad and cramped. This week, we found a couple of renovated studios that have especially pleasing private outdoor spaces, like this Hell's Kitchen unit with a bamboo-lined terrace (pictured above) and a Greenpoint apartment that opens up to a spacious backyard with a paved patio that's perfect for entertaining. Also a standout: this Williamsburg one-bedroom that appears to have been meticulously assembled from various reclaimed details, from 19th-century pine floors to the pocket barn doors that allow for a separate office space.
Want to get these deals earlier than everyone else (plus fun bonus content)? Sign up for the Listings Edit newsletter, sent to your inbox first thing every Thursday morning.
Bed-Stuy
$2,649: Floor-through two-bedroom near the Clinton Hill border with large windows (including one in the bathroom), lots of storage, and recessed lighting.
Boerum Hill

$2,200: Bright, high-ceilinged studio on the second floor of a carriage house near BAM and Barclays Center, with space for a dining table, a huge built-in bookshelf, and garden views.
$3,350: Renovated one-bedroom plus an office (or a generous walk-in closet) in a brick townhouse on Bergen Street, with two marble fireplaces, tons of moldings (including crown molding and a ceiling medallion), an arched doorway leading to the dishwasher-equipped kitchen, and a large windowed bathroom with a claw-foot tub and washer/dryer.
Chelsea
$3,750: Getting pretty close to Penn Station, but a well-priced true two-bedroom that comes with updates throughout (notably a glossy white kitchen with a dishwasher and a concealed fridge, plus a new vanity and a dual-flush toilet).
Crown Heights
$2,400*: Three-bedroom, two-bath top floor apartment with a large kitchen, room for a dining table, and huge windows, on a tree-lined block of Pacific Street just off Albany Avenue.
$3,200: Three-bedroom in a limestone townhouse on New York Avenue near Eastern Parkway, with loads of period details like tin ceilings, French doors, a bay window, and a large pier mirror, and an especially big kitchen with two windows and mosaic-tile floors.
East Village/Lower East Side
$2,600: A relatively plain but spacious one-bedroom on East Houston Street (between Suffolk and Clinton Streets) with a decorative fireplace and laundry in the building.
$3,695: An actually spacious one-bedroom on East 11th Street (near Third Avenue) with multiple white-painted brick walls, a natural nook for a dining set, a windowed galley kitchen with a dishwasher, and extra-wide bathroom counters.
$4,500*: Rare loft on Fourth Avenue near East 11th Street with three massive windows (that have open sky views), lots of exposed beams, poured-cement floors, an updated kitchen (with thick Calacatta-marble countertops), a marble bathroom (with an antique cast-iron clawfoot tub), and a staircase up to two sleeping areas.
Fort Greene
$2,095: Renovated brownstone studio on Cumberland Street (just one minute to a C-train entrance) with three windows and a stainless-steel dishwasher, fridge, and stove.
$2,500: Sunny renovated one-bedroom on South Oxford Place (almost directly across from Fort Greene Park), with a white-painted brick decorative fireplace, plenty of subway tile in both the kitchen and bathroom, a built-in bookshelf, and laundry in the building.
$4,000: Two-bedroom, 1.5-bath townhouse duplex with a 400-square-foot private roof terrace, an updated open kitchen, and a decorative fireplace on each floor.
Gowanus
$2,300: Spacious one-bedroom near the 9th Street R train station, with moldings throughout, large windows in the bathroom and shower, a skylight in the hallway, great storage (including several built-in shelves), and a washer/dryer.
Gramercy Park/Kips Bay
$2,475: Low-priced one-bedroom on East 21st Street (near Third Avenue) with 12-foot beamed ceiling, an exposed-brick wall (that includes a decorative fireplace), and a separate windowed kitchen.
$2,500: A fifth-floor walk-up one-bedroom that's fairly charming, with wall moldings, an arched doorway, breakfast bar, French door, and some exposed brick. On East 18th Street between First and Second Avenues, just a block away from the little oasis that is Stuyvesant Square Park.
$3,200: Well-priced one-bedroom (with an all-white kitchen and bathroom) at I.M. Pei's Kips Bay Towers, where similar units have recently been going for at least $3,400.
$3,450: One-bedroom on East 27th Street near Lexington Avenue, with exposed-brick walls, a dishwasher, washer/dryer, and a spiral staircase up to a private roof deck.
Greenpoint
$2,500: Gut-renovated studio two blocks from the G train, with a lofted bed, a dishwasher and oval-shaped island in the kitchen, sage-green wall paneling, and a huge private backyard with both paved and grassy areas.
Harlem/Washington Heights 
$1,595*: The cheapest one-bedroom in Hamilton Heights (on West 149th Street, right across from a community garden and a few steps from the many restaurants on Broadway), with French doors and a small but updated windowed kitchen with white Shaker cabinets and stainless steel appliances.
$1,800: 900-square-foot prewar one-bedroom near the 168th Street 1 and A/C trains, with a bay window, a huge kitchen, and a bright bathroom (with a large window, claw-foot tub, and frosted-glass door).
$1,995: Two-bedroom on the top floor of a townhouse, with exposed-brick walls and a skylight in both the (industrial-style) kitchen and the black-and-white-tiled bathroom.
Hell's Kitchen
$2,800: Renovated studio on West 48th Street near Tenth Avenue, with a Murphy bed, dishwasher, washer/dryer, and a private terrace (lined with bamboo in planters).
$3,200: Two-bedroom in an ivy-covered townhouse on West 46th Street near Eighth Avenue, with multiple marble fireplaces, intricate door and window casings throughout, a large pier mirror, and a separate windowed kitchen with a dishwasher.
Park Slope
$2,750: Renovated floor-through one-bedroom on Sackett Street (just around the corner from the Union Street R train) with an updated open kitchen (a full-size dishwasher included), Brazilian walnut floors throughout, and a Porcelanosa vanity in the bathroom.
$3,750*: True two-bedroom on 8th Avenue at 5th Street with a coat closet in the long entryway, a windowed galley kitchen with a dishwasher, a windowed bathroom with butter-yellow tile, and a large living room with space for a sectional and dining table.
Prospect–Lefferts Gardens
$2,790: Rent-stabilized three-bedroom that's a five-minute walk from Prospect Park with large rooms, a pair of cute built-in bookshelves flanking an arched doorway, a windowed galley kitchen, and laundry in the building.
Red Hook
$2,750*: 900-square-foot converted factory loft across the street from Coffey Park with extremely high ceilings, huge exposed beams, white-painted brick walls on almost all sides, and a relatively separate kitchen with bar seating.
Upper West Side
$2,100: Huge studio on West 84th Street near Riverside Park with a gently curved bay window, a decorative fireplace, and yellow and blue tiles in the bathroom.
West Village
$3,595: Sun-flooded walk-up one-bedroom on West 10th Street near Seventh Avenue, with 12-foot vaulted ceilings and a gigantic skylight in the living room, a decorative brick fireplace, and an all-white windowed kitchen.
Williamsburg
$3,100: One-bedroom (plus a bonus room behind pocket doors) on South 1st Street (half a block from Berry Street) decked out in custom reclaimed details, including 19th-century pine floors, a wooden cubby storage wall in the kitchen, and wood-plank walls.
$3,800*: Sprawling three-bedroom on Grand Street (a four-minute walk from an L-train stop) with a breakfast bar and checkerboard floors (both in the kitchen and in the unusually large bathroom), big closets, a skylight, and a washer-dryer.
Our picks are organized by neighborhood in order of ascending price. Didn't see anything from the neighborhood you're interested in? We'll try to include a wide range of locations as new units come up. To keep this list fresh, we're removing listings that have not been rented after two weeks (and will put an asterisk next to holdovers from the previous week).