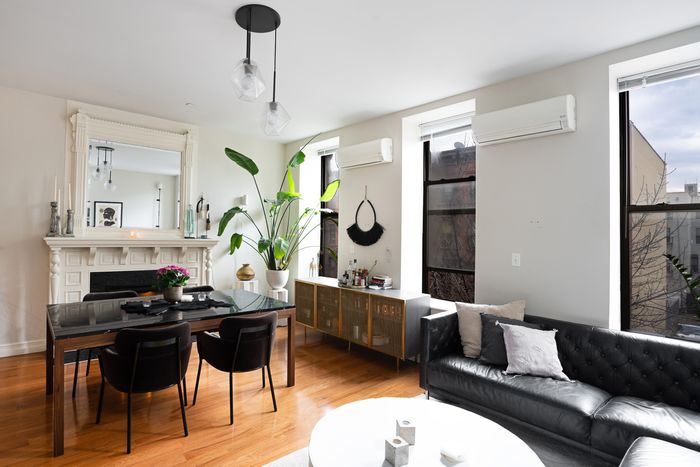 As vacant apartments continue to flood the market, we've taken on the job of carefully hunting through various listings sites, newsletters, and Craigslist, to find the very best deals out there. A good deal on a rental apartment, of course, can mean very different things for different people. So as we sorted through hundreds of listings, we kept our eye out for places that are worth their asking price, whether that's an under $2,000 one-bedroom (that really is a one-bedroom) or a $5,000 three-bedroom duplex, with crown moldings, a massive backyard, and an in-unit washer/dryer.  
This week, we noticed several particularly spacious one-bedrooms in Manhattan, including a Harlem brownstone floor-through apartment (pictured above) with a huge walk-in closet, a 750-square-foot Kips Bay condo unit that feels even larger because its massive windows overlook a three-acre courtyard garden, and a Nomad walk-up apartment with a 16-foot-long bedroom and 200-square-foot private deck. On the smaller side: this studio on Cornelia Street that ticks all the (architectural detail) boxes: arched casement windows, a brick fireplace, and built-in bookshelves.
Our picks are organized by neighborhood in order of ascending price. Didn't see anything from the neighborhood you're interested in? We'll try to include as wide a range of locations as new units come up. To keep this list fresh, we're removing listings that have not been rented after two weeks (and will put an asterisk next to holdovers from the previous week). Check back every week for updated picks. Want to get these deals earlier than everyone else? Sign up for the Listings Edit newsletter, sent to your inbox first thing every Thursday morning.
Astoria
$1,475: A spacious prewar studio with a separate windowed kitchen, herringbone floors, an arched doorway, built-in bookshelf, plus four closets, a four-minute walk from the 30th Avenue N/W trains.
Bay Ridge
$2,350*: Three-bedroom, two-bathroom apartment just one block from the Bay Ridge Avenue R train with updated kitchen and baths.
Bed-Stuy
$1,850: 850-square-foot one-bedroom in a landmarked brownstone near the A/C trains at Utica Avenue, with lovely parquet floors, two decorative fireplaces, and French doors.
$2,000*: 750-square-foot one-bedroom on a full floor of a brownstone on Putnam Avenue just off Tompkins Avenue, with huge windows, two marble fireplaces, a clawfoot tub, and an arched recessed shelf in the living room.
$2,100 (net effective: $1,950): Sunny gut-renovated one-bedroom in a brownstone on Greene Avenue (between Bedford and Nostrand Avenues) with high ceilings, huge gridded windows, two massive walls of exposed brick, plus a dishwasher and central A/C.
$2,299*: Renovated two-bedroom with several walls of exposed brick and skylights in the living room and bathroom, on Lexington Avenue (a four-minute walk to the Bedford-Nostrand Avenues G train and two blocks from Herbert Von King Park).
$2,800: Garden-level two-bedroom with a private entrance and small foyer, a spacious eat-in kitchen (with full-size appliances, dishwasher included, and a stacked washer/dryer off to one side), and a private patio looking out to a shared backyard.
$2,800: Two bedrooms plus a bonus room directly across from Herbert Von King Park, featuring a large open kitchen with bar seating, two decorative fireplaces (one in the living room and one in a bedroom), and, somewhat oddly, a bathroom with two showers (one of them is in a glass-enclosed tub).
Boerum Hill
$2,500*: A floor-to-ceiling white brick wood-burning fireplace, a bathroom with wood-slat ceilings, and a king-size bedroom with sliding glass doors out to a balcony, right next to the F/G trains at Bergen Street.
$4,650: Townhouse duplex very close to Atlantic Terminal, with a large living room and open kitchen on the lower level and four bedrooms (the two larger ones have closets) on the upper level, connected by an elegant staircase (with thin balusters).
Brooklyn Heights
$3,500: 820-square-foot brownstone one-bedroom a three-minute walk from the Court Street Station R train, with crown and base molding throughout, two marble fireplaces, a bay window, and an unusually bright and spacious windowed bathroom.
Chelsea
$4,900*: Two-bedroom loft in a landmark cast-iron building on West 18th Street with skylights over the entire 21-foot-wide living space, previously listed for $5,600.
Chinatown/East Village/Lower East Side
$1,670*: Rent-stabilized studio around the corner from the East Broadway F train, with checkered floors and open shelves in the windowed kitchen, tin ceilings, and a surprisingly large private patio.
$3,290*: 1,200-square-foot renovated one-bedroom fronted by two large arched windows, with walls of white-painted exposed brick, recessed lights throughout, a white-and-charcoal kitchen, bleached oak floors, washer/dryer, dishwasher, and central air.
$6,545 (net effective: $6,000)*: Four bedrooms, two full bathrooms, six closets, and a 24-foot-long living room on Clinton Street just below Rivington Street.
Fort Greene
$2,000*: Big bright studio a block from both the Fulton Street C and Lafayette Street G trains (and a block to Fort Greene Park) with exposed beams, a large casement window, and separate alcove kitchen.
$2,050*: One-bedroom half a block from Fort Greene Park with lots of moldings and two walls of exposed brick.
$2,500: Two-bedroom across from the Brooklyn Navy Yard (a five-minute walk to the ferry), with open shelves and a patterned tile backsplash in the kitchen, plus some uncommon nice-to-haves (motion-sensor lighting, a new sink and shower head, and dimmer switch for the living-room light).
$2,950: Rent-stabilized apartment near Barclays Center with two large bedrooms (the bigger one currently fits both a work desk and keyboard with room to spare), 1.5 bathrooms, a kitchen with a five-burner stove and lazy susans in the cabinets, and a private patio.
$3,500: Really massive apartment (the living room and one of the three bedrooms are especially large) with a private deck on Myrtle Avenue.
Greenwich Village/West Village
$2,120 (net effective: $1,943): So many charming details (a white-brick fireplace, built-in bookshelves, arched casement windows) in a renovated studio on Cornelia Street, just around the corner from all the West 4th Street trains.
$2,500: Queen-size one-bedroom with ten-foot-ceilings, an eat-in kitchen, some exposed brick, and checkered floors in the windowed bathroom.
$2,600 (net effective: $2,167): King-size renovated one-bedroom at Morton and Bleecker Streets with lots of windows, plus a two-person bar and custom overhead cabinets in the kitchen.
$3,400 (net effective: $2,833): Top-floor, renovated one-bedroom-plus-office with two skylights, a dishwasher, and exposed brick and recessed lights throughout.
$9,500*: 1,700 square feet, three fireplaces, and a large shaded terrace off the master bedroom in a 25-foot-wide townhouse on East 11th Street.
$16,000: A full-floor (2,000-square-foot) penthouse apartment that is possibly worth the splurge, with a wide living area fronted by five arched windows, exposed beams on very high ceilings, a brick fireplace, full-height wine fridge, a freestanding tub in the huge master bathroom, and a row of skylights in the second bedroom.
Harlem
$1,499: Neat south-facing studio on W. 121st Street with a renovated kitchen and double closet, plus access to an 800-square-foot shared roof deck.
$2,500: 1,000-square-foot brownstone one-bedroom with an especially wide living room and open kitchen (featuring at least a dozen glossy white cabinets), an intricately carved fireplace, a huge walk-in closet, washer/dryer, and balcony.
Kips Bay
$1,890*: Low price on a renovated one-bedroom with French doors, exposed brick, washer/dryer, mini wine fridge, dishwasher, and recessed lights on Second Avenue.
$2,550: Large one-bedroom condo apartment with tons of floor-to-ceiling windows overlooking a beautiful three-acre courtyard garden that's only accessible to residents of the complex.
Midtown
$2,430*: Two-bedroom on West 56th Street with very high ceilings, exposed brick in every room, and a breakfast bar in the open kitchen.
Nomad
$3,350: A Lexington Avenue floor-through one-bedroom (plus a bonus office or dining room facing the entry) with white-painted brick walls, a fireplace, parquet floors, and a 200-square-foot private deck off the 16-foot-long bedroom.
Prospect-Lefferts Garden
$2,300: 1,000-square-foot three-bedroom near the Winthrop Street 2/5 trains, with a private entrance, original parquet floors, large windowed kitchen with a full-size range, and an updated bathroom with sleek black accents.
$6,000*: Four-bed, three-bath spread over 2,280 square feet in a gut-renovated townhouse with front and backyards, wide-plank oak floors, a bay window with a built-in bench seat in the master bedroom, and a freestanding soaking tub, only two blocks from Prospect Park and the Parkside Avenue Q train.
Soho
$2,200: One large, well-lit bedroom and a living room with a sliding door (can potentially be used as a second bedroom), plus a renovated kitchen (it's small but has a decent amount of cabinets).
Upper East Side
$2,950 (net effective: $2,689): Two-bedroom near Carl Schurz Park, with a spacious living room (fits a work desk, six-person dining table, couch, and TV) and a windowed kitchen (which has a countertop dishwasher and new washer/dryer), plus great wall moldings throughout.
Upper West Side
$2,050 (net effective: $1,879)*: A large and particularly lovely studio with a fireplace, chandelier, wall mouldings, parquet floors, and an updated kitchen on West 90th Street less than a block to Central Park.
$2,350*: Parlor-floor one-bedroom on West 76th Street, with 12-foot ceilings, built-in shelves (plus a desk), a tiny breakfast bar, and a floor-to-ceiling pantry.
Williamsburg
$2,499: Extra-wide 1,000-square-foot apartment on Withers Street (across from Llama Inn and a three-minute walk from McCarren Park), with two large bedrooms (each with two windows), and separate living and dining rooms, plus a shared garden and laundry.
$2,799: One-bedroom loft on Berry and S. 3rd Streets with an unusual amount of built-in storage (both open shelves and wardrobe closets), and island and dishwasher in the kitchen, plus access to a membership tenant garden.