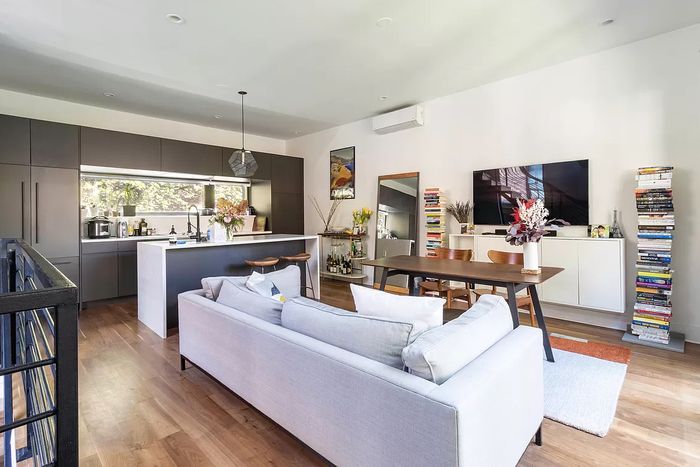 As new apartments hit the market each week, we've taken on the job of carefully hunting through various listings sites, newsletters, and Craigslist, to find the very best deals out there. A good deal on a rental apartment, of course, can mean very different things for different people. So as we sorted through hundreds of listings, we kept our eye out for places that are worth their asking price — whether that's an under-$2,000 one-bedroom (that truly is a one-bedroom) or a $7,000 Beaux-Arts townhouse with a spiral staircase and three functioning fireplaces.  
Looking for a two-bedroom under $3,000? We found several of those this week: one with a private backyard in Bed-Stuy, another with an eat-in nook in Turtle Bay, and a few more in Williamsburg and Bushwick. Meanwhile in Greenwich Village, a gut-renovated one-bedroom with a view of Jefferson Market Library.
Want to get these deals earlier than everyone else? Sign up for the Listings Edit newsletter, sent to your inbox first thing every Thursday morning.
Bed-Stuy
$2,250: 750-square-foot townhouse apartment near the Nostrand Avenue A/C trains, with one big bedroom, a second (windowed) room, and a very spacious open kitchen (there's a ton of cabinets and counter space, plus a large window nearby).
$2,800: Renovated two-bedroom garden apartment close to Herbert Von King Park, with a dishwasher, ample closets, black accents throughout (doorknobs, faucet, lighting fixtures), and a private (south-facing) backyard with a magnolia tree.
Bushwick
$2,300: 900-square-foot top-floor townhouse two-bedroom with a lovely bay window in the living room and some grayscale accent wallpaper (depicting treetops and a cloudy sky) by the kitchen (which, like the bathroom, has teal-colored cabinets).
Chelsea
$15,000: Just an astounding amount of space on the top two floors of a townhouse on West 15th Street (four bedrooms, 3.5 bathrooms, a living room measuring 24 by 16 feet, a separate dining room that's almost as large, and a 725-square-foot private deck).
Clinton Hill
$2,250*: A rather charming second-floor brownstone apartment (on Washington Avenue north of Pratt) with original tin ceilings and hardwood floors throughout, three big windows on each end, and a pretty arched alcove in the bedroom.
East Village
$2,150: Bright and relatively spacious walk-up studio half a block from Tompkins Square Park, with several exposed-brick walls and laundry in the building.
Gramercy Park/Kips Bay/NoMad
$1,900: Studio on East 17th Street (a five-minute walk from Union Square) with very high ceilings, an arched window, a built-in bookshelf, a decorative brick fireplace, and a small breakfast bar and range hood in the kitchen.
$3,400*: A 750-square-foot one-bedroom in the I.M. Pei-designed Kips Bay Towers (where all units have huge picture windows), wide-plank floors, and a multiple-jet shower system. On the 14th floor overlooking the complex's three-acre private park.
$4,200: Airy two-bedroom on East 28th Street (just a few steps from the 6 train), with very high slanted ceilings (and large clerestory windows in the living room), new kitchen appliances, and a windowed loft in one of the bedrooms (the staircase up to the loft is full of built-in drawers underneath).  
Greenpoint
$2,200: One-bedroom on India Street (a G train entrance is just at the end of the block) with a window each in the kitchen and bathroom, a decorative fireplace, and tons of lofted storage space.
Greenwich Village/West Village
$3,494*: True one-bedroom at Morton and Bedford Streets with exposed brick walls, crown molding throughout, and a windowed bathroom.
$3,500: Sunny gut-renovated one-bedroom with new hardwood floors and stainless-steel appliances, two windows in the corner kitchen, a decorative fireplace, and an unobstructed (and very charming) view of Jefferson Market Library.
Greenwood Heights/Sunset Park
$1,750: One-bedroom on 23rd Street (a three-minute walk from the R train), with an arched doorway, subway-tiled bathroom, eat-in kitchen (with a skylight), and big closets.
$2,100: 1,000-square-foot gut-renovated corner apartment with a bay window and tons of moldings in the bedroom (which also leads to a windowed bonus room), and a peninsula, dishwasher, and gray Shaker cabinets in the open kitchen.
Hell's Kitchen
$3,300: Large two-bedroom on West 48th Street near Tenth Avenue with exposed brick in every room, a washer/dryer, dishwasher, separate dining area, crown molding, a walk-in closet, and a private terrace that runs the entire width of the apartment (which overlooks "an avenue-long backyard").
Park Slope/Prospect Heights
$2,750: 850-square-foot one-bedroom (plus a bonus room and a separate windowed office) on 2nd Street (between Fourth and Fifth Avenues), with parquet floors, tin ceilings, a separate dining area, a big windowed kitchen, and laundry in the building.
$3,100: A renovated windowed kitchen, windowed bathroom, and three spacious bedrooms (one of them especially so, with space for a desk, dresser, armchair, and more) on St. John's Place.
$7,500: A rare newer-built and unusually private townhouse tucked behind street-facing buildings at Underhill Avenue and Prospect Place, with a sleek look inside and out (it's clad in titanium zinc and Brazilian ipe wood and comes with multiple large ribbon windows, accordion doors, and kitchen appliances concealed in custom charcoal-hued cabinets).
Prospect Park South
$2,550: Spacious and neatly maintained three-bedroom on Ocean Avenue with parquet floors, wainscoting, a separate kitchen with two windows, and multiple big closets.
Turtle Bay
$2,600: True two-bedroom on East 52nd Street (between First and Second Avenues) with a decorative brick fireplace in one of the bedrooms, an extra nook with bar seating behind the kitchen, and multiple exposed-brick walls.
Upper East Side
$1,902: 600-square-foot backyard-facing studio on East 81st Street (a three-minute walk from a Q train entrance) with oversize grid windows, a huge exposed-brick wall, plus a dishwasher and bar seating for two in the kitchen.
$2,150 (net effective: $1,985): Huge prewar studio on East 60th Street between Park and Lexington Avenues, with ten-foot ceilings, three (south-facing) arched windows, and a white brick decorative fireplace.
$2,600*: King-size one-bedroom with a sunny (and dishwasher-equipped) eat-in kitchen, just around the corner from the 72nd Street Q train.
$5,400*: Rare oversize garden apartment in an 1889 Queen Anne townhouse on  East 69th Street just off Madison with a wall of French doors and windows in the living room opening to a private backyard, parquet floors and crown moldings throughout, two marble bathrooms (one of them has a clawfoot tub), a wood-burning fireplace, and garden access from the bedroom.  
Upper West Side
$1,875: Big 16th-floor studio in a full-service doorman co-op (around the corner from the 103rd Street 1 train) with beamed ceilings, tons of wall moldings, oversize windows, a renovated kitchen (which has glossy white cabinets and a dishwasher), and access to the building's huge roof-deck and solarium.
$2,300: Just a solid one-bedroom on West End Avenue and West 92nd Street, with wall and crown moldings, a decorative tile fireplace, built-in recessed shelf, French doors, and a dishwasher.
Williamsburg
$2,850: True two-bedroom on South 2nd Street near Roebling Street, with a renovated kitchen (dishwasher included), laundry in the building, and a common roof-deck.
Our picks are organized by neighborhood in order of ascending price. Didn't see anything from the neighborhood you're interested in? We'll try to include a wide range of locations as new units come up. To keep this list fresh, we're removing listings that have not been rented after two weeks (and will put an asterisk next to holdovers from the previous week).