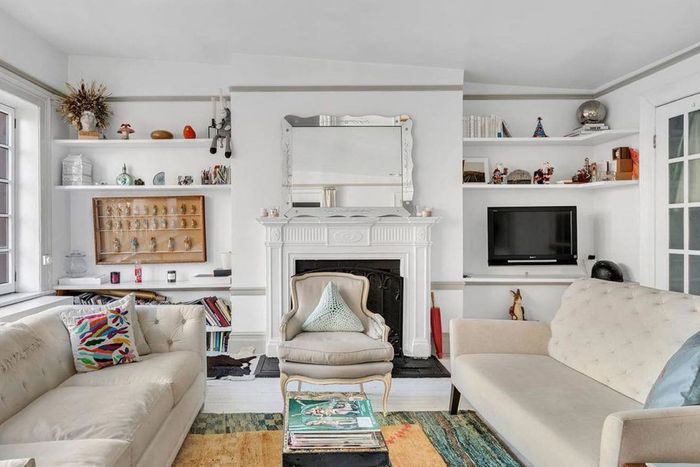 As vacant apartments continue to flood the market, we've taken on the job of carefully hunting through various listings sites, newsletters, and Craigslist, to find the very best deals out there. A good deal on a rental apartment, of course, can mean very different things for different people. So as we sorted through hundreds of listings, we kept our eye out for places that are worth their asking price, whether that's an under $2,000 one-bedroom (that really is a one-bedroom) or a $5,000 three-bedroom duplex, with crown moldings, a massive backyard, and an in-unit washer/dryer.  
Greenwich Village has some particularly cool spots at wide-ranging price points this week. We found: a $1,950 one-bedroom with wooden shutters, radiator covers, and built-ins; a one-bedroom with a wall of windows and white-painted hardwood floors, as seen above, for $3,500; and for $9,500, 1,700 square feet in a 25-foot-wide townhouse on East 11th Street with a shaded terrace and wood trimming throughout. Also spotted: a Hobbit-house-esque arched wooden door in a generally quirky Red Hook one-bedroom.
Our picks are organized by neighborhood in order of ascending price. Didn't see anything from the neighborhood you're interested in? We'll try to include as wide a range of locations as new units come up. To keep this list fresh, we're removing listings that have not been rented after two weeks (and will put an asterisk next to holdovers from the previous week). Check back every week for updated picks. Want to get these deals earlier than everyone else? Sign up for the Listings Edit newsletter, sent to your inbox first thing every Thursday morning.
Astoria
$2,000: Two bright bedrooms (plus two walk-in closets) near the Astoria Boulevard N/W trains with parquet floors, moldings, and French doors.
Bay Ridge
$2,350: Three-bedroom, two-bathroom apartment just one block from the Bay Ridge Avenue R train with updated kitchen and baths.
Bed-Stuy
$1,999*: 900-square-foot one-bedroom in a brownstone on Bainbridge Street (just above the Utica Avenue A/C trains) with lovely original fireplaces and window/door casings, plus a skylight each in the kitchen and bathroom.
$2,000: 750-square-foot one-bedroom on a full floor of a brownstone on Putnam Avenue just off Tompkins Avenue, with huge windows, two marble fireplaces, a clawfoot tub, and an arched recessed shelf in the living room.
$2,150: Brownstone two-bedroom just a block from the Nostrand Avenue A/C train with a generous eat-in kitchen and floating shelves in the living room (if you want to keep them), on the market for the first time in seven years.
$2,395: Renovated two-bedroom with several walls of exposed brick and skylights in the living room and bathroom, on Lexington Avenue (a four-minute walk to the Bedford-Nostrand Avenues G train and two blocks from Herbert Von King Park).
Boerum Hill/Carroll Gardens
$2,500: A floor-to-ceiling white brick wood-burning fireplace, a bathroom with wood-slat ceilings, and a king-size bedroom with sliding glass doors out to a balcony, right next to the F/G trains at Bergen Street.
$3,200*: Just over 1,000 square feet in a brownstone on 3rd Place just off Court Street, with a washer-dryer and a large private patio off the huge kitchen–dining area.
Brooklyn Heights
$1,779*: Studio with herringbone floors and moldings (it was renting for $200 more in 2016) on Pierrepont Street just a block and a half from the Brooklyn Promenade entrance and the Clark Street 2/3 trains.
$3,095*: Montague Street one-bedroom with lots of moldings, parquet floors, closets with built-in shelves, some exposed brick in the kitchen, and a built-in makeup vanity in the bathroom.
Chelsea
$2,255*: Freshly renovated one-bedroom with Carrara-marble countertops, a stacked Bosch washer-dryer, a wine fridge, and recessed lights, just around the corner from the 1/2/3/F/M/L/PATH trains at 14th Street.
$4,900: Two-bedroom loft in a landmark cast-iron building on West 18th Street with skylights over the entire 21-foot-wide living space, previously listed for $5,600.
Clinton Hill/Fort Greene
$2,000: Big bright studio a block from both the Fulton Street C and Lafayette Street G trains (and a block to Fort Greene Park) with exposed beams, a large casement window, and separate alcove kitchen.
$2,050: One-bedroom half a block from Fort Greene Park with lots of moldings and two walls of exposed brick.
$2,300: One large bedroom plus a bonus room in a brownstone with a cute arched doorway to the windowed kitchen and a skylight in the bathroom.
$2,699: Two-bedroom (with a washer/dryer, recessed lights, and loads of subway tile in the kitchen and bathroom) on the corner of Lafayette Street and South Portland Avenue (currently an Open Street), previously rented for $3,000.
$2,750 (net effective: $2,521)*: True three-bedroom right next to the Clinton-Washington Avenues C train, with a clawfoot tub in the large bathroom, a windowed galley kitchen, and inlaid hardwood floors throughout.
Crown Heights
$1,265*: Bright studio with a lofted sleeping space, a huge casement window, and shared access to the kitchen, bathroom, courtyard, and laundry.
$1,550*: Sweet brownstone studio on Prospect Place with a separate alcove kitchen, parquet floors, and two sets of built-in bookshelves with scalloped edges.
$1,800*: Rent-stabilized top-floor one-bedroom just off Kingston Avenue with skylights in the kitchen and bathroom and extensive moldings.
$2,400: Sunny three-bedroom, two-bath apartment in a townhouse near the Utica Avenue A/C train, with space for an eight-person dining table and a full-size oven.
East Village/Lower East Side
$1,670: Rent-stabilized studio around the corner from the East Broadway F train, with checkered floors and open shelves in the windowed kitchen, tin ceilings, and a surprisingly large private patio.
$3,290: 1,200-square-foot renovated one-bedroom fronted by two large arched windows, with walls of white-painted exposed brick, recessed lights throughout, a white-and-charcoal kitchen, bleached oak floors, washer/dryer, dishwasher, and central air.
$6,545 (net effective: $6,000): Four bedrooms, two full bathrooms, six closets, and a 24-foot-long living room on Clinton Street just below Rivington Street.
Greenpoint
$2,431 (net effective: $2,026)*: Renovated, rent-stabilized two-bedroom only a minute's walk from the Nassau Avenue G train and three minutes from McCarren Park.
Greenwich Village/West Village
$1,950: Relatively spacious one-bedroom on Bleecker Street with parquet floors, wooden shutters (and radiator covers), tin ceilings in the windowed kitchen, and lots of built-in storage in the bedroom (including a platform bed with drawers).
$2,095 (net effective: $1,920)*: Strangely shaped but recently renovated one-bedroom with three big windows in the main living area and a surprisingly sparkling windowed bathroom with subway tile and marble floors.
$2,470*: Rather plain but objectively massive one-bedroom across the street from the A/C/E/B/D/F/M trains at West 4th Street.
$3,500: Really beautiful townhouse one-bedroom on West 9th Street with a wall of casement windows, a wood-burning fireplace (flanked by built-in shelves), white-painted hardwood floors, and a light blue Smeg fridge in the updated kitchen.
$4,400*: A small but true prewar two-bedroom on Perry Street with a windowed and updated galley kitchen plus access to a new roof deck lush with greenery.
$9,500: 1,700 square feet, three fireplaces, and a large shaded terrace off the master bedroom in a 25-foot-wide townhouse on East 11th Street.
Kips Bay
$1,890: Low price on a renovated one-bedroom with French doors, exposed brick, washer/dryer, mini wine fridge, dishwasher, and recessed lights on Second Avenue.
Midtown
$2,430: Two-bedroom on West 56th Street with very high ceilings, exposed brick in every room, and a breakfast bar in the open kitchen.
Park Slope
$3,500: 900-square-foot brownstone two-bedroom with great moldings, a ceiling medallion, decorative fireplace, arched built-in storage, and three key private amenities: entrance, basement washer/dryer, and a huge stone-paved backyard with a pergola.
Prospect-Lefferts Garden
$6,000: Four-bed, three-bath spread over 2,280 square feet in a gut-renovated townhouse with front and backyards, wide-plank oak floors, a bay window with a built-in bench seat in the master bedroom, and a freestanding soaking tub, only two blocks from Prospect Park and the Parkside Avenue Q train.
Red Hook
$2,300: Unusual duplex with a Hobbit-like arched wooden door, tin ceilings, original pine floors, and a small, steep staircase up to the bedroom, which opens out to a large deck (the ground floor also has access to backyard).
Ridgewood
$1,700: A polished one-bedroom near L/M trains featuring wall and base moldings throughout, wall sconces, plus updated cabinets and recessed lights in the kitchen.
Soho
$2,750: King-size one-bedroom loft (on the third-floor of a walk-up) with massive windows, white-painted brick walls, and a large walk-in closet.
$2,800 (net effective: $2,644)*: An actually relatively spacious one-bedroom on Thompson Street with a windowed kitchen and bath, washer-dryer, and dishwasher.
Tribeca
$3,495*: 740-square-foot one-bedroom with huge windows around the corner from the Chambers Street 1/2/3 trains, last rented in 2019 for $400 more.
Upper East Side
$1,995*: Relatively spacious one-bedroom (there's even some built-in counter seating in the black-and-white kitchen) on East 82nd Street just off Third Avenue.
$2,051 (net effective: $1,880)*: Low price on two queen-size bedrooms on East 77th Street near Second Avenue, with a dishwasher and space for a dining table (there's also a similar three-bedroom in the building asking $2,500).
Upper West Side
$2,050 (net effective: $1,879): A large and particularly lovely studio with a fireplace, chandelier, wall mouldings, parquet floors, and an updated kitchen on West 90th Street less than a block to Central Park.
$2,100*: Brownstone one-bedroom on West 72nd Street that checks all the prewar boxes (herringbone hardwood floors, French doors, mirrored decorative fireplace, checkered floors in the bathroom).
$2,350: Parlor-floor one-bedroom on West 76th Street, with 12-foot ceilings, built-in shelves (plus a desk), a tiny breakfast bar, and a floor-to-ceiling pantry.
$2,500 (net effective: $2,308): King-size one-bedroom in a 1907 townhouse on West 74th Street (just off Central Park), filled with original details (massive built-in cabinets, crown moldings, and inlaid parquet floors).