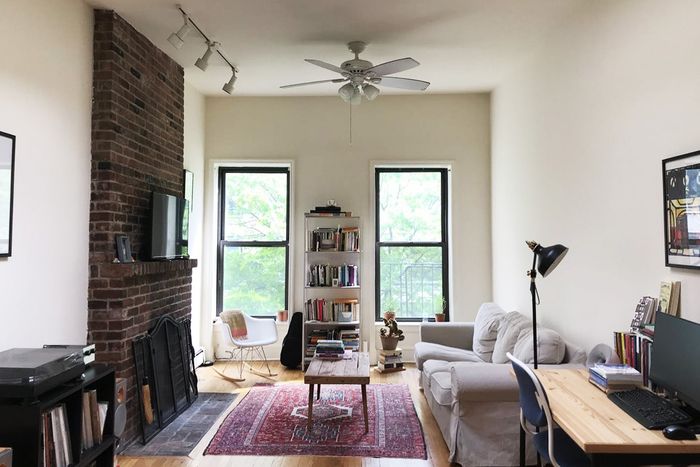 A
Boerum Hill one-bedroom
with two skylights and a spiral staircase up to a private deck.
Photo: Courtesy of the tenant
As new apartments hit the market each week, we've taken on the job of carefully hunting through various listings sites, newsletters, and Craigslist, to find the very best deals out there. A good deal on a rental apartment, of course, can mean very different things for different people. So as we sorted through hundreds of listings, we kept our eye out for places that are worth their asking price, whether that's an under $2,000 one-bedroom (that really is a one-bedroom) or a $5,000 three-bedroom duplex, with crown moldings, a massive backyard, and an in-unit washer/dryer.  
This week, we noticed several townhouse apartments with especially charming living rooms, like this one in Kips Bay (with four windows and two exposed-brick walls) and this one on the Upper West Side (with a curved bay window, tons of wood paneling, and a stone fireplace). Hunting for a rent-stabilized place? We found three this week: one in Bed-Stuy, one in Harlem, and another in Williamsburg.
Our picks are organized by neighborhood in order of ascending price. Didn't see anything from the neighborhood you're interested in? We'll try to include a wide range of locations as new units come up. To keep this list fresh, we're removing listings that have not been rented after two weeks (and will put an asterisk next to holdovers from the previous week). Check back every week for updated picks. Want to get these deals earlier than everyone else? Sign up for the Listings Edit newsletter, sent to your inbox first thing every Thursday morning.
Astoria
$2,100: Massive two-bedroom right next to the 30th Avenue–Grand Avenue N/W stop, with two arched doorways (plus an arched pass-through window in the kitchen), crown moldings, a brick fireplace, and several slivers of glass block.
$2,600*: Recently discounted three-bedroom, two-bath apartment just around the corner from the 46th Street M/R trains, with an arched doorway and surprising coffered ceilings in the large open kitchen.
Bed-Stuy
$1,724: Large rent-stabilized one-bedroom with a separate dishwasher-equipped eat-in kitchen and French doors. The unit has had only two different tenants in nearly 10 years.
$2,500*: Brownstone one-bedroom (plus a windowed office and bedroom-sized dressing area) near the Kingston-Throops Avenues A/C trains, with fantastic moldings (including crown molding, chair rails, and moldings around a large charged doorway), a decorative fireplace, chandelier, and extensively updated kitchen and bathroom.
$2,800*: Sunny three-bedroom near Tompkins Avenue with two decorative fireplaces, a large renovated kitchen (that includes a dishwasher, peninsula, and tons of cabinets), plus a separate shower in addition to a tub.
$3,500*: 850-square-foot apartment on Halsey Street (just above the Nostrand Avenue A/C trains) with two bedrooms (the larger one has an especially lovely bay window), two bathrooms, a decorative fireplace, and a nice little terrace with built-in seating.
Boerum Hill
$3,100: Top-floor brownstone apartment with very high ceilings, two skylights (one in the living room, which also has a functional brick wood-burning fireplace, and another in the bathroom), and a king-size bedroom with a spiral staircase up to a private deck.
Brooklyn Heights
$2,795*: A rare rental in a 53-unit prewar co-op on Monroe Place (where most listings are for sale), with beamed ceilings and wall moldings.
Bushwick
$2,500 (net effective: $2,290): Extremely large apartment on Stanhope Street, with a bay window (plus more window) that can comfortably fit a home office (think two wide monitors side by side), a second bedroom with coffered ceilings and an ensuite bathroom, and an open living room/kitchen.
$3,250*: Truly unusual duplex in a converted 1800s church on Bushwick Avenue (near the Myrtle Avenue-Broadway J/M station) with 28-foot ceilings (which are the church's original hand-painted tin ceilings) and a (ladder-accessed) private roof terrace off the bedroom.
Clinton Hill/Fort Greene
$1,760*: Cute brownstone studio on Clifton Place with parquet floors, a newly renovated marble bathroom, and very high ceilings (the current tenant set up a lofted bed with a living area underneath).
$2,350: Floor-through garden apartment in a brownstone just two blocks from Fort Greene Park, with a renovated kitchen (which has slate-colored cabinets and a stainless-steel dishwasher) and bathroom (featuring an updated window and dual showerheads).
$2,850: Sweet 750-square-foot garden townhouse garden apartment (near the Clinton–Washington Avenues C train) with two decorative fireplaces, exposed brick, built-in bookshelves, wide-plank hardwood floors, a renovated kitchen and bathroom, plus a private patio.
Crown Heights
$1,650*: Large townhouse one-bedroom at Albany Avenue and St. Johns Place, with a white decorative fireplace, bright windowed kitchen, and a skylit bathroom.
$2,900: Lovely 1,100-square-foot parlor-floor apartment near Utica Avenue, with beautiful French doors, inlaid parquet floors, and wall moldings and sconces, plus a bay window on each end and a renovated kitchen that leads out to a deck and 1,000-square-foot backyard garden.
$2,950*: Almost 1,000 square feet in a brownstone near the Prospect Heights border, with two bedrooms, a skylit office (there's another skylight in the bathroom), a decorative fireplace, dishwasher, washer/dryer, and a large terrace overlooking rear gardens.
East Village/Lower East Side
$2,150*: Just a relatively spacious one-bedroom on Orchard Street (diagonally across from Russ & Daughters Cafe) with lots of windows and an exposed brick wall.
$2,195: Renovated one-bedroom near Tompkins Square Park with tons of exposed brick, a sliver of bar seating, a dishwasher, and a bathroom covered in checkered tile.
Gramercy Park
$2,850: Rare studio that has a private patio as large as the main living area inside (nearly 12 by 20 feet), plus a dining alcove and three closets.
Harlem
$2,500: Very spacious two-bedroom on the top floor of a 20-foot-wide townhouse on West 130th Street, with three windows (looking out to tall trees) in the living room and a C-shaped kitchen with tons of cabinets.
$2,670: Bright rent-stabilized two-bedroom right by the West 116th Street B/C train with space for a modest dining table and workspace in the living room, an updated kitchen, and big closets, plus a washer/dryer in its own room (with built-in open shelves).
Kips Bay
$2,825: Floor-through apartment in a townhouse on East 29th Street (a three-minute walk to Trader Joe's and Target) with a particularly lovely living room (which has four gridded windows facing the street, a fireplace, and two walls of exposed brick), space for a dining table, and a rear-facing bedroom with two large windows overlooking the garden.
Park Slope
$2,800: Bright two-bedroom on Eighth Avenue (a three-minute walk from the F/G train) with a long hallway, a separate renovated kitchen (with light gray shaker cabinets), and some vintage pink (tile, tub, and wall-mounted soap dishes) in the bathroom.
$2,850: Floor-through one-bedroom on Carroll Street (just off Fifth Avenue) with tin ceilings, an arched window, and an especially big and bright galley kitchen.
Prospect-Lefferts Gardens
$3,000: A Miami-esque two-bedroom (accessed by a keyed private elevator) in a 2016-built condo on New York Avenue, with a living room completely surrounded by folding glass doors that retract to open up to the 400-square-foot wraparound terrace.
Soho
$5,300: 1,200 square feet of open-plan living space on Wooster Street, with five large windows wrapping around one corner, tons of white-painted exposed brick, and a dishwasher.
Turtle Bay
$1,650: Huge studio (that fits a queen-size bed and sectional sofa) on First Avenue, with three large windows and decent kitchen storage.
$1,995 (net effective: $1,663)*: Walk-up one-bedroom with a clawfoot tub on East 50th Street that had been renting for at least $2,500 since 2015.
Upper West Side
$1,690: Small one-bedroom on West 105th Street (near Columbus Avenue) with a rather charming living room, which has a large arched window, floor-to-ceiling brick fireplace, crown moldings, and wall sconces.
$1,995: Low price for a corner one-bedroom on West 93rd Street (less than a block from Central Park) with a kitchen island (small, but contains lots of storage) and great wall moldings throughout.
$2,350*: Spacious prewar one-bedroom on West 76th Street next to Riverside Park, with an arched doorway and some bar seating in the kitchen.
$2,600 (net effective: $2,400): Two-bedroom on Columbus Avenue (near West 107th Street) with some unexpected loft-like vibes (think exposed brick and beams in every room), a renovated kitchen with a dishwasher, marble bath, and a washer/dryer. The unit used to rent for $3,000.
$3,100*: Extremely charming apartment on West 73rd Street with built-in bookshelves flanking the fireplace, two sets of French doors enclosing the bedroom, fantastic crown and base moldings, plus a relatively large private deck.
$3,995: 1,100-square-foot three-bedroom, two-bath apartment near West 107th Street and West End Avenue with lovely dark-stained wood throughout (doors, window casings and shutters, and two mantels), a small dining area, and a large windowed kitchen with a dishwasher, plus a washer/dryer.
$5,000: Floor-through two-bedroom in a grand limestone townhouse on West 89th Street, right by Riverside Park, with an extremely ornate living room (where there is a large curved bay window, wall-to-wall wood paneling, and a stone fireplace).
Washington Heights
$2,000: 900-square-foot floor-through townhouse one-bedroom next to the West 163rd Street C train, with loads of original details (including exposed brick, pocket doors, two fireplaces, and window shutters).
West Village
$1,895: A rather cute studio on Morton Street with a white decorative fireplace, beamed ceilings, and a window in the kitchen.
$2,795 (net effective: $2,562): Very bright one-bedroom on Perry Street with a black-painted decorative fireplace, black subway tile in the bathroom, and some built-in shelves.
Williamsburg
$2,600 (net effective: $2,383)*: Spacious corner two-bedroom on Montrose Avenue (across from Win Son) with exposed brick in every room and the option to pay net rent monthly.
$2,921 (net effective: $2,504): Rent-stabilized two-bedroom by the Hewes Street J/M trains with wall moldings, a large kitchen, and a windowed bathroom.