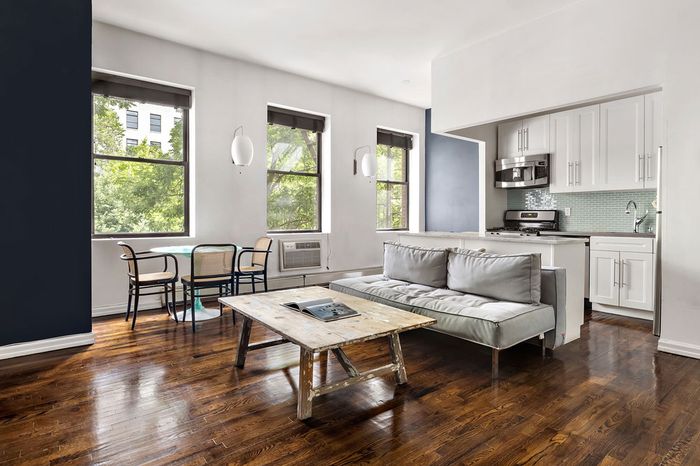 As new apartments hit the market each week, we've taken on the job of carefully hunting through various listings sites, newsletters, and Craigslist, to find the very best deals out there. A good deal on a rental apartment, of course, can mean very different things for different people. So as we sorted through hundreds of listings, we kept our eye out for places that are worth their asking price, whether that's an under $2,000 one-bedroom (that really is a one-bedroom) or a $5,000 three-bedroom duplex, with crown moldings, a massive backyard, and an in-unit washer/dryer.  
This week, we found a few standout studios, such as this Gramercy Park spot with its own large backyard garden (which has both a paved area and room to garden); a renovated unit in a former inn at Station Square (which our own architecture critic Justin Davidson called "the prettiest block" in 2019); and an Upper East Side apartment with a lime-green Smeg fridge. Also worth a look: pretty parlor-floor spaces with original woodwork in East Harlem and Bed-Stuy.
Our picks are organized by neighborhood in order of ascending price. Didn't see anything from the neighborhood you're interested in? We'll try to include a wide range of locations as new units come up. To keep this list fresh, we're removing listings that have not been rented after two weeks (and will put an asterisk next to holdovers from the previous week). Check back every week for updated picks. Want to get these deals earlier than everyone else? Sign up for the Listings Edit newsletter, sent to your inbox first thing every Thursday morning.
Bed-Stuy
$2,275*: Sunny two-bedroom around the corner from the Nostrand Avenue A/C station with two marble fireplaces, wide-plank wood floors, a checker-tile backsplash and dishwasher in the kitchen, and a relatively spacious bathroom with a very large window.
$2,349: Flex three-bedroom, two-bath brownstone apartment on Lafayette Avenue with very high ceilings (and tall windows to match), a relatively separate dining area, and brick wall in each room.
$2,500: Airy brownstone one-bedroom (plus office), with pale wood floors throughout, an updated kitchen (which includes a stainless-steel range hood and all-white cabinets with black pulls in the kitchen), original window shutters, recessed lights, a bright windowed bathroom with subway tile, and a washer/dryer.
$7,500: Utterly charming four-bedroom (plus an office) triplex in a brownstone on Putnam Avenue (just off Tompkins Avenue) with a beautiful parlor-floor great room (featuring elaborate doors and window casings, inlaid floors, and ceiling moldings), a huge kitchen (which leads out to the balcony and large private backyard), tons of built-in shelving, multiple fireplaces, and a particularly lovely and bright bathroom with checkered floors and a claw-foot tub.
Brooklyn Heights
$2,100: Large studio (near the Promenade and 2/3 trains) where the alcove sleeping area is more private than usual since it's tucked behind an interior wall (with a large cutout "window"), and the kitchen has plenty of cabinets and some room for a small dining table.
Chelsea
$2,425 (net effective: $2,238): Studio on West 19th Street (around the corner from the 18th Street 1 train) with a renovated kitchen (range hood and dishwasher included) and a small balcony.
East Harlem/Harlem
$1,595*: A sparkling studio on West 120th Street (a leafy brownstone block) with high ceilings, several windows facing back gardens, and an arched doorway to the kitchen.
$2,250: Spacious three-bedroom on West 140th Street with a separate windowed kitchen (which, although looks rather unexciting, does come equipped with a dishwasher, garbage disposal, and washer/dryer) and plenty of room for a dining table.
$2,400: Very pretty parlor-floor one-bedroom on East 120th Street with lovely (rounded) door and window casings, wall moldings, a decorative fireplace, pocket doors, a large dressing area with built-in storage, and a separate eat-in kitchen with a dishwasher.
$2,795*: Two-bedroom, 1.5-bath on West 122nd Street (a three-minute walk from the 125th Street 1/2/3 station) fronted by a large bay window with extremely intricate original woodwork and stained glass — meanwhile, the kitchen and bathrooms come updated.
East Village/Lower East Side/Two Bridges
$2,300: Relatively spacious one-bedroom on East 10th Street (just a block from Tompkins Square Park) with decent kitchen storage and a giant window in the living room.
$2,800 (net effective: $2,585): Recently renovated one-bedroom with recessed lights, a washer/dryer, pocket French doors, and two walls of exposed brick.
$3,250: Unusually cool two-bedroom duplex on East 2nd Street near Avenue B with a double-height living room (which fits a C-shaped sofa and includes a mezzanine area, a massive window, and two more glass-block windows), plus space for a dining table and a large walk-in closet.
$3,300*: Two-bedroom, 1.5-bath apartment right next to Russ & Daughters (the shop) with a relatively spacious living room (which has some built-in recessed shelves) with an open kitchen and a separate dining or work area to the side.
Forest Hills
$1,695: Bright (three-window) studio with a renovated kitchen and bathroom, in a Tudor tower in the charming Forest Hill Gardens.
Fort Greene
$3,300: Garden-level brownstone one-bedroom with both sleek updates (like an open kitchen with wall-to-wall subway tile, rounded black sconces, and a built-in oven, plus a rain showerhead in the bathroom) and lovely original details (like a marble fireplace in the bedroom, where there's also a separate half-bathroom, crown moldings, and chair railings, and wide-plank floors).
Gramercy Park
$2,295: Very rare studio on East 18th Street (just off Third Avenue) that comes with its own private backyard (which is actually quite large and charming, with both paved areas and room to garden).
$2,995: Bright and neatly updated one-bedroom on East 19th Street, with marble countertops and a pale-green tile backsplash in the open kitchen.
Greenpoint
$2,700*: Bright one-bedroom (plus a windowed office) on Freeman Street with French doors, parquet floors, and laundry in the building.
$3,250: 1,000-square-foot two-bedroom (plus a truly gigantic walk-in closet that could be an office) near McGolrick Park, with two windows and lots of storage in the huge kitchen.
Hell's Kitchen
$2,000 (net effective: $1,833): Surprisingly spacious apartment for price, with a windowed kitchen, a large doorway separating the living and bedroom areas, plus great wall moldings and a mantel.
Midtown East 
$13,500*: Possibly as close to a Swiss chalet as you can get in Manhattan with 1,700 square feet over two floors — the entire top floor being a great room with 27-foot beamed ceilings, huge brick walls, an open kitchen with an island, dining area, and a wood-burning stove, plus a staircase down to an 800-square-foot private backyard with an eight-person hot tub.
Park Slope
$2,300: Bright top-floor one-bedroom (plus bonus room) with a decorative fireplace, a skylight (and subway tile) in the bathroom, and patterned tile floors in the black-and-white kitchen.
$3,500: Large garden-level one-bedroom (the landscaped backyard includes a fish pond) on 12th Street, with coffered ceilings and built-in bookshelves in the living room, a kitchen updated with a slightly more luxe touch than usual (slate-colored cabinets, a French-door stainless-steel fridge), and a bay window in the bedroom.
$9,000: A rare entire three-story brick townhouse on 10th Street (between Fifth and Sixth Avenues) with an especially large kitchen (where there are two sinks and double doors out to a 54-foot-long landscaped backyard), multiple marble fireplaces, and lots of built-in bookshelves in the living room.
Prospect-Lefferts Gardens
$1,495: Cute and sunny studio on Albemarle Road near Ocean Avenue with parquet floors, an arched doorway, a separate windowed kitchen, and laundry in the building.
Ridgewood
$2,300: Charming 1,100-square-foot two-bedroom (plus office) with tin ceilings throughout, some French doors, and a windowed eat-in kitchen.
Sunset Park
$1,632*: A 750-square-foot rent-stabilized one-bedroom right above Sunset Park with a windowed eat-in kitchen, a bright bathroom, tons of storage, parquet floors, and wall moldings throughout.
Upper East Side
$1,850: Alcove studio on East 78th Street with a few fancy touches (like a chandelier and a lime-green Smeg fridge in the separate windowed kitchen).
$2,655*: A just-renovated two-bedroom on York Avenue near East 75th Street, with four windows and tons of recessed lights in the main living area, plus crown molding, exposed-brick walls, a washer-dryer, and white Shaker-style fridge doors that match the rest of the kitchen cabinetry.
$2,975: 900-square-foot duplex one-bedroom on 90th Street near Third Avenue with a brick wood-burning fireplace, skylight, and the loveliest private roof deck (there's ample space for seating surrounded by string lights and city views).
$4,500*: Three huge bedrooms, two bathrooms, an updated kitchen, and a big private deck in a duplex on East 77th Street at First Avenue.
Upper West Side
$1,795*: Spacious townhouse studio (that last rented for $1,950) on West 92nd Street with high ceilings and a separate windowed kitchen with a decent number of cabinets.
$2,000*: Large one-bedroom on West 85th Street (less than a block from an entrance to Central Park) with a huge brick wall and decorative fireplace, a relatively spacious kitchen, plenty of storage, and butter-yellow tile in the bathroom.
$2,695: Third-floor corner unit in a townhouse on West End Avenue and West 77th Street (the building has a particularly ornate arched-door entrance), with large windows overlooking the intersection, a marble windowed bath, and a decorative fireplace, plus two more windows in the bedroom and a renovated kitchen with plenty of storage.
$4,795: 1,200-square-foot prewar two-bedroom, two-bath on Amsterdam Avenue near 89th Street, with a legitimately massive living room that can definitely fit a huge dining table, plus beamed ceilings and wall moldings throughout.
West Village
$3,200: Two-bedroom on Carmine Street renting at 2015 prices, with parquet floors, brick walls, and an extra half-bathroom.