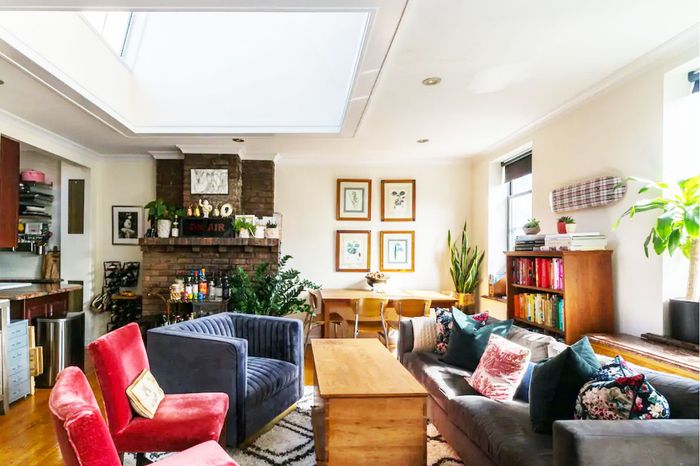 As new apartments hit the market each week, we've taken on the job of carefully hunting through various listings sites, newsletters, and Craigslist, to find the very best deals out there. A good deal on a rental apartment, of course, can mean very different things for different people. So as we sorted through hundreds of listings, we kept our eye out for places that are worth their asking price, whether that's an under $2,000 one-bedroom (that really is a one-bedroom) or a $5,000 three-bedroom duplex, with crown moldings, a massive backyard, and an in-unit washer/dryer.  
There are some unusual spaces for rent in Lower Manhattan this week. We found a Nolita studio that looks a bit like a Swiss chalet, a West Village townhouse apartment with three skylights, and a Tribeca artist loft with tin ceilings throughout and a freestanding wood-burning stove. Meanwhile, way uptown in Washington Heights, we noticed an entire historic townhouse for rent on Sylvan Terrace.
Our picks are organized by neighborhood in order of ascending price. Didn't see anything from the neighborhood you're interested in? We'll try to include a wide range of locations as new units come up. To keep this list fresh, we're removing listings that have not been rented after two weeks (and will put an asterisk next to holdovers from the previous week). Check back every week for updated picks. Want to get these deals earlier than everyone else? Sign up for the Listings Edit newsletter, sent to your inbox first thing every Thursday morning.
Astoria
$1,650*: Rent-stabilized one-bedroom with a windowed eat-in kitchen, less than a block from a bunch of bars and restaurants on Broadway and a four-minute walk from the Broadway N/W trains.
Bed-Stuy
$2,250: Huge one-bedroom near the Gates Avenue J/Z trains with an open kitchen (which has tons of white cabinets and a dishwasher) and a very neatly maintained private backyard with both some turf and a paved patio.
$2,400: An airy third-floor apartment off Tompkins Avenue with two especially beautiful and ornate fireplaces and an open floor plan (there's a huge space up front for sleeping and eating, which is connected to a farmhouse-esque galley kitchen with wood countertops and shelves, which then leads to another large room, currently used as a dining room).
Boerum Hill/Carroll Gardens
$2,500*: Just a very spacious one-bedroom with two balconies, right next to the Bergen Street F/G trains.
$2,700: Corner walk-up two-bedroom on Pacific Street (the stretch that's currently an Open Street) with a brick fireplace, a windowed kitchen with a dishwasher, and lots of closets.
$3,450: Bright two-bedroom in a brownstone at the corner of 2nd Place and Clinton Street, with a dishwasher, windows overlooking the lovely, densely planted front yard, and access to a furnished roof deck.
Chelsea
$2,500 (net effective: $2,308): One large bedroom (currently fits a bed and home office separated by a large cubby-hole shelf) and a similarly spacious living room with a raised section for seating next to a dining area. On West 24th Street near Ninth Avenue.
Clinton Hill
$1,650 (net effective: $1,523): Studio right around the corner from the Clinton-Washington Avenues A/C trains, with a separate foyer area big enough to store multiple bikes.
$2,375: Two-bedroom on Hall Street just off Myrtle Avenue with a windowed kitchen and bathroom — both renovated — and exposed-brick fireplace. Previously renting for $2,500.
Crown Heights
$1,820: Large studio on Dean Street with an intricate fireplace (the mantel has a top shelf built in) against a brick wall, a renovated kitchen with room for a standalone breakfast bar, and a rather large and updated bathroom with a massive window and a walk-in shower.
East Village/Lower East Side
$1,595: A sunny studio on East 9th Street with a brick wall and black decorative fireplace, last rented for $2,100 in 2018.
$3,495 (net effective: $3,204): Two-bedroom on the seventh floor of an elevator building at Delancey and Allen Streets, with huge windows and an unusually open view of the Chinatown and Tribeca skyline.
East Williamsburg
$2,350: 850-square-foot railroad apartment near the Graham Avenue L train, with a large bedroom (it has an all-white decorative fireplace), a second smaller room, and a lovely windowed kitchen with tin ceilings and black-painted cabinets.
Greenpoint
$2,500: Just a spacious and nicely updated one-bedroom (with very high ceilings, glossy kitchen cabinets, and rain showerhead) on Eagle Street off Manhattan Avenue.
Harlem
$4,000*: Tastefully renovated parlor floor of a brownstone on St. Nicholas Avenue, with ten-foot ceilings, Miele and Bosch appliances, and two fireplaces.
Inwood/Washington Heights
$1,795*: Large one-bedroom (very close to the Dyckman Street A train and both Inwood Hill and Fort Tryon parks) with lovely moldings throughout, a windowed eat-in kitchen with many cabinets, and a foyer big enough for a home office.
$6,090: An entire four-bedroom, three-bath townhouse (spanning 1,700 square feet) on Sylvan Terrace, available for the first time altogether.
Kips Bay
$2,000 ($1,833): Newly renovated one-bedroom on East 33rd Street (a three-minute walk from the 5/6 trains) with polished crown moldings, a decorative fireplace, and a large closet in the bedroom with built-in shelves plus overhead storage.
Midtown
$3,500*: Extremely large corner one-bedroom in a doorman building on West 55th Street (listing says the foyer alone can fit a "rowing machine, love seat sofa bed, bookcase, and desk"). Plus: a brick fireplace, two walk-in closets, and beamed ceilings.
Nolita
$1,950: A studio on Spring Street with nary a blank wall in the main living space (instead, you'll find wooden ceiling beams, exposed brick, and extensive built-in shelving), wide-plank floors, and a new oven incoming.
Park Slope
$2,250: Sunny apartment near the Fourth Avenue F/G/R trains that has a separate sleeping area (the windowed space fits a bed and plenty of storage but is not enclosed), an open kitchen with a small dining area off the living room, plus a private deck overlooking a Zen garden.
$2,500*: Big corner apartment on 15th Street with four windows and two large closets in the bedroom, a dishwasher and peninsula in the kitchen, plus community garden views across the intersection.
Pelham Parkway
$1,950: Two-bedroom in a Tudor-style prewar co-op, with tons of windows (there's a bay window in the living room, three windows in one of the bedrooms, plus a windowed kitchen and bathroom), two arched doorways, and parquet floors throughout.
Red Hook
$2,000: 1,100-square-foot apartment on Van Brunt Street with tin ceilings, a massive exposed brick wall, and original hardwood floors.
Tribeca
$3,950: The 1,000-square-foot loft where a college professor/theater artist has lived for 40 years, featuring five skylights, tin ceilings, a freestanding wood-burning stove, and a clawfoot tub.
$6,495: Loft on Franklin Street with five large windows in the 32-foot-wide open-plan living room and kitchen (includes a direct view of One World Trade), plus three more windows in each of the two bedrooms, and a huge bathroom with a washer/dryer.
Upper East Side
$1,800*: Second-floor walk-up one-bedroom with an especially large eat-in kitchen, just two blocks from the 72nd Street Q train. Usually listed for over $2,300.
$1,850: A pretty normal renovated studio except for the huge private patio with a tree and ivy-covered rear wall.
$2,350: Two-bedroom on East 83rd Street with ten-foot ceilings, breakfast bar, and a private patio that can fit two small seating areas.
$2,500 (net effective: $2,083): Bright true two-bedroom on York Avenue with a huge living room and lots of closets.
$3,800*: Large one-bedroom plus a bonus room (with French doors) just around the corner from the 86th Street Q train, with two full bathrooms, a dishwasher, washer/dryer, and huge private backyard with string lights and both some turf and stone-paved areas.
Upper West Side
$1,900 (net effective: $1,583)*: Huge studio on West 88th Street with three large windows, parquet floors with inlays, a lovely decorative fireplace, and a small but separate kitchen.
$2,750 (net effective: $2,521): Brownstone one-bedroom on West 82nd Street with a rare semicircular balcony, exposed-brick walls (plus a brick fireplace), sleeping loft, and a particularly nicely renovated kitchen with blue cabinets (and what appears to be a brass swan faucet).
$4,500: Rare two-bedroom, two-bath duplex with wood-paneled walls, exposed ceiling beams in the kitchen, and a gigantic private roof deck.
$4,500*: Two extremely large bedrooms (you can fit multiple tables or dressers in each), a third (and still decently sized) bedroom, a bright galley kitchen, a living room with space for a dining table, plus wall moldings throughout and plenty of herringbone floors.
West Village
$2,399: Very well-lit apartment with a small kitchen and bedroom but relatively large living room, on the third floor of a Federal-style townhouse on Waverly Place.
$2,500: Spacious one-bedroom on West 10th Street with plenty of great wall moldings and windows (the bedroom has two big ones side by side) and a separate foyer.
$2,995: Large alcove studio (it actually used to be a one-bedroom but a wall was recently knocked down) with three skylights, including a truly massive one over the main living area, three additional windows, a brick fireplace, and room for a dining table.
$3,795: Charming 900-square-foot loft on Hudson Street (overlooking Abingdon Square Park) with a colorful tile backsplash in the kitchen, lots of white-painted brick, and unusually plentiful built-in storage throughout (even in the bathroom).