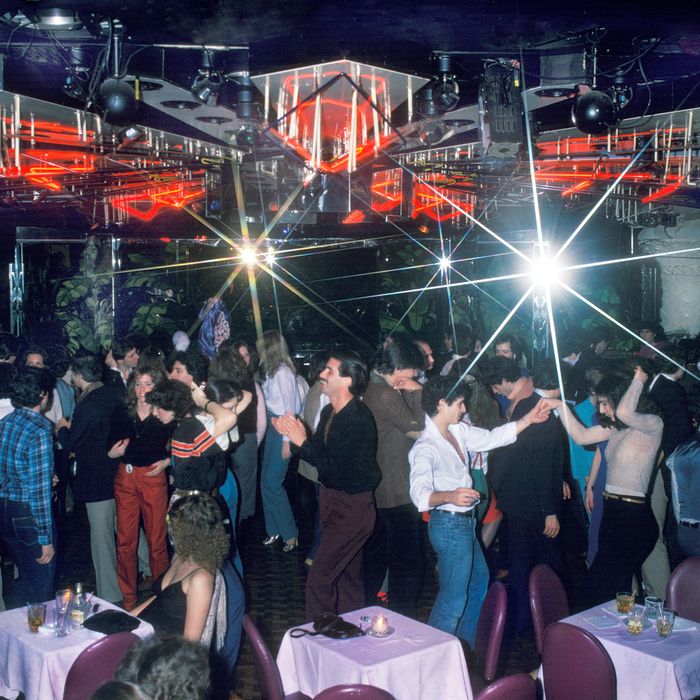 Copacabana in 1979.
Photo: Waring Abbott
This year, we have devoted New York's annual "Reasons to Love New York" issue to a celebration of the go-tos that have closed since the pandemic struck. A wake for the places that defined our lives here — that gave us community and let us try on new identities in return for our money. The bars where we came together for after-work drinks, the boxing gym where everybody thinks they're in an action movie, the gallery that trusted you to build a cloud, the coffee shop where you were left alone to read, the restaurant with the full bar where you'd find yourself trying to eat after an all-night bender, the place that was so of its moment that it became a relic and then (deservedly) an icon. All gone. And sadly, probably, more to come before the city returns to its purpose: a place of gathering. We'll be sharing these tributes all week on Curbed.
Nightclub
Times Square, first opened in 1940
DJ Alejandro Bouza:
Everybody knows there's a club in New York called the Copacabana. It's a big corner building with the name written in huge red letters in the windows. I was incredibly humbled every time I walked inside, thinking that a kid from Argentina could end up DJ-ing here.
Tuesday was a very salsa-heavy night. All the floors were wood, well waxed, clean. It was probably the best dance floor in New York. We only played a little bit of bachata — it was almost everything salsa and nothing else. It was a combination of the old-school crowd that has been going to the Copa on Tuesdays for 30 years and my crowd, which was mostly people in their 20s and 30s.
March 10 was the last Tuesday we played the Copa. You could tell already that it was a little slower; we probably had 225 people. I started having people contact me asking that I cancel my events to try to avoid spreading the virus. We decided not to open on Sunday. By the time the next Tuesday came, the city had issued a shutdown order. So we did that event without knowing it would be our last. —As told to Justin Curto
Bar
Fort Greene, first opened in 1972
For some reason, the year I turned 32, I said to myself, Fuck parties, and booked a birthday flight out of town. I kept telling friends I was excited to "really just celebrate solo" because I was "over big birthday parties." Nobody believed me. And then, the week of my birthday, I regretted it. If I'd had a house, not an apartment with a bad party layout, I would have just had a house party, but instead I opted to host people at Frank's.
Frank's Cocktail Lounge was a little worn but always clean, never mysteriously sticky. Call it a dive bar, and your tongue will blacken and fall out of your mouth. The red neon sign went on at 4 p.m. every day for anyone who needed a drink before or after a show at BAM or a sweaty dance party, for a grown-up and sexy Saturday night, or, with its good lighting and stacked digital jukebox, a decent spot for a first date. It was even a place to divert packages for those who lived on the same block and spent more time there than in their own living rooms. So even though it committed all four of the cardinal sins a bar can (charging a cover on weekends, overcharging for a Bud Heavy, failing to have a beer-shot special, shutting down to become condos), I still loved it anyway.
I spent so much time there — sitting on a red vinyl stool at the bar, wondering if the Cîroc poster on the wall was really signed by Diddy, swapping turns on the jukebox with the bartender who liked aughts R&B even more than I did — it was my house equivalent. I let the bartender know about my birthday (she told me I could bring a cake if I wanted), and I sent out a Sunday email hoping nobody had plans that Thursday, certain no one would show up because it was short notice, a weeknight invitation, and supposed to rain.
Somehow, after a series of near catastrophes ("It's amateur comedy night." "Surprise! It's actually a DJ who will play as much Rihanna as you want") and a slow start (8 p.m., sitting with three friends and ten pizzas), by the time someone handed me a tequila shot in a plastic cup — I didn't even see who — Frank's had become exactly what I needed: a packed party with free shots. That night, my friends, my brother's friends who lived in the neighborhood, local aunties, and a loose acquaintance who was at BAM and came through with eight of her friends were all partying together. It was all such sweaty, tumbling, happy vibes and so crowded, I was panicking about how I would get back to the single bathroom. I chose, instead, to exit through the front and sneak out to my apartment to pee and grab a snack. When I returned, a stranger at the door blocked my way. "Some girl's birthday party is too big. You can't get in there." The greatest birthday present of all: a party so sprawling you end up being "some girl." —Allison P. Davis
Bar
Lower East Side, first opened in 1989
Max Fish was too well lit and decorated with an ever-changing selection of works from a range of artists — some now museum famous, and some whose only other showing was on a refrigerator. The permanent collection hung over the bar: the bas-relief pompadoured mook, the mutilated Julio Iglesias ad, a three-foot nail sticking out of the wall. In the mid-1990s, Taylor Mead, the poet and Warhol star, always sat under the nail. We'd talk about MGM and RKO — he liked me because I "looked like [his] favorite star, Alice Faye" and because I knew who Alice Faye was. (She used to play Betty Grable's sister.) As one regular pointed out, Max Fish offered "a bridge between the old East Village/LES of the junkies and Warhol types and the art-directed new one." It was also the clubhouse of indie rock during the Matador Records era: If you wanted to join a band, sign a band, or hang out with a band, this was the place. It had a kick-ass jukebox and a bathroom big enough to do drugs in. It moved in 2014, and the new space on Orchard Street kept up the tradition of art shows, skater dudes, and well drinks until the end. —Lissa Townsend Rodgers
Gay Bar
Hell's Kitchen, first opened in 2003
Michelle Buteau:
When I first started doing stand-up, I had my foot in all these clubs. I would do the Chitlin' Circuit, the Spanish rooms in the Bronx. I would do gay clubs and bars and lounges. Because I lived on 69th Street, I started doing the Sunday-night shows there called Electro Shock Comedy Therapy. I'd tell my mom, "I'm going to Therapy!" and she'd say, "Thank you." It was like the Apollo but for gay men, and everybody had cosmos because it was the Sex and the City era. It was where performers became strong and confident because it felt like you were interrupting somebody's party. If you could get the crowd to listen to you, that was amazing. I was performing with drag queens and doing all types of alternative shows. I made people stand and clap for my husband's dick. I brought my mom and made gay men clap for her tits. I had really fun long nights afterward, and I even had my bachelorette party there. It felt like a home away from home, where people could feel comfortable and safe being who they are. —As told to Jane Starr Drinkard
Nightclub
Williamsburg, first opened in 2008
At its best, Kinfolk was the distillation of a certain kind of collective energy, a chaotic Williamsburg 2010s vibe. Everyone was down to split the Uber there because it was the place you ended up when you weren't quite ready for the night to be over. Once, I saw Jonah Hill there at a party thrown in his name, smiling so big you knew his cheeks hurt. Kinfolk was where I finished one of my most perfect Brooklyn days in my mid-20s.
It was hot, and July, and I was wearing all white; I remember because I felt self-conscious about sweat stains. I'd spend the day wandering around without specific plans, bumping into and merging with friends along the way. Coffee at Sincerely, Tommy; a drink at Lovers Rock; a cigarette smoked on a pal's nearby fire escape; and finally, a trap-heavy set at Kinfolk spun by the good people at No Losses.
By the end of that particular night, people were mobbing the stage, spilling onto the street, smoking, laughing, flirting. My phone was on one percent, and I was hunting for a portable charger so I wouldn't have to ask the bartender to plug me in behind the bar for the billionth time. I didn't find one, so I did a French exit. I was so full from human contact and felt so secure in its plenitude I didn't feel the need to say good-bye. I was craving intimacy with myself then, but I miss that fullness now. —Muna Mire
Bar
Alphabet City, first opened in 2010
When Bedlam, named after the ancient London psychiatric hospital, opened on Avenue C in 2010, it was big for the neighborhood — there was even a dance floor — and a bit A-list, since it was co-owned by Anderson Cooper's then-beau, Benjamin Maisani, who decked it out in Ace Hotel–era Victorian drag with lots of taxidermy. Abi Benitez and Tom Jackson, who'd started an underground magazine called Gayletter, hosted a party there called Interracial ("Gayletter's official party celebrating interracialness") for a couple of years.
"We needed a party which celebrated interracial couples," Benitez says.
"It was just such a segregated scene," says Jackson. "Hell's Kitchen was so white."
"One of the first ones was a Halloween party just before Obama got reelected."
"A lot of people thought we were doing Interracial as a costume theme that night."
"People would come trying to run into Anderson Cooper. And sometimes Kelly Ripa and Andy Cohen would be there."
"It was a good moneymaker for us to hang out with our friends. We'd get a percentage of the bar — $500, $600 a night. And sometimes I would DJ because I was free. I remember some girl told me she would pay me $20 to play 'Call Me Maybe,' and I was like, 'Sure, I'll take your money.' "
"Gio Black Peter was the DJ very often. He would take his dick out all the time."
"We did it once a month. It was very, very full. Raucous. Our friends tried to film a reality-TV show there. It never went anywhere."
"They wouldn't give us our money till everyone had left. We would stay till, like, 4 a.m., and I would put on sleepy music as a signal for people to leave."
"And they would still stay there and they would dance drunkenly and refuse to leave. Sometimes I would put on jazz." —As told to Carl Swanson
Restaurant
Red Hook, first opened in 2018
Fifteen years ago, my wife and I stopped to have dinner one Saturday night at a cute neighborhood restaurant in Red Hook, then called the Hope & Anchor, on the corner of Van Brunt and Wolcott Streets. Within moments of sitting down, a congenial 60-something named Kay Sera (a.k.a. artist-actor Richard Eagan) handed us a catalogue of songs. "Will you be joining us for karaoke this evening?" she asked. The idea appealed to us both — my wife is a ringer, I'm a bit of a ham — but, feeling shy, we demurred. The following Saturday, we returned, and for the next decade and a half, nearly every weekend, we would bring a growing number of friends to what we could call our "Cheers for Queers," bringing together people from the neighboring lofts and public housing, theater nerds and weekend crooners, and even the occasional celeb (singer Hamilton Leithauser, formerly of the Walkmen, once sang Divinyls' "I Touch Myself"; Martha Plimpton sang a perfect rendition of Elvis Costello's "Shipbuilding"), who would come to work out some feelings in song till the wee hours of the morning.
Part of the appeal was in the hosting: an impressive roster of artists who usually performed in drag personas, like actress Ashlie Atkinson (Mr. Robot, BlacKkKlansman) appearing as the affable "Dottie LeBlotto," and actor–community organizer Reg Flowers, who, with their Donny Hathaway–like voice, blonde Afro wig, and four-inch-heel go-go boots, morphed into a nearly seven-foot-tall drag queen named Dropsy Dousman.
Hope & Anchor became an extension of our living room, so when it closed, in early 2018, we mourned it with a New Orleans–style jazz funeral that paraded through the streets of Red Hook after a two-night-long karaoke fest. And then — saved! It was reborn that summer as the CopperPot, and the karaoke nights soon returned. I remember this past February, just weeks before the shutdown here, thinking — as I watched in awe as writer Alexander Chee took on Asia's "The Heat of the Moment" and then my wife and another friend harmonized Phil Collins's "Separate Lives" — that these good times couldn't last forever. Indeed, as Atkinson's Dottie wrapped up the night with "Angel From Montgomery," by John Prine, the brilliant songwriter who had become one of our earliest COVID-19 casualties, I should have seen the writing on the wall. —Kera Bolonik
*A version of this article appears in the December 7, 2020, issue of New York Magazine. Subscribe Now!