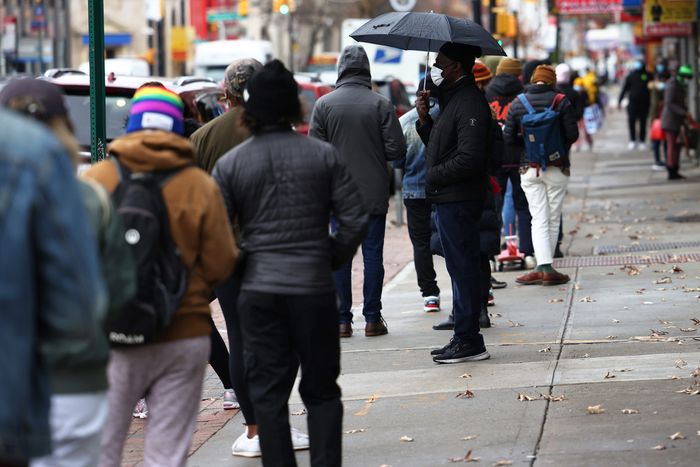 The line to enter the CityMD in Flatbush on November 23.
Photo: Michael M. Santiago/Getty Images
The COVID testing process in the city has technically never been more accessible — there are hundreds of free city testing sites across the five boroughs, along with urgent-care facilities. But functionally, it's still a mess: Blocks-long lines have become so commonplace that New Yorkers have begun to game the system by using TaskRabbits to hold their spots, hiring doctors to come to their homes, or simply cutting. The cleverest among us have discovered less-dubious hacks to shorten the wait times. Some of their tips, below.
Check wait times at your nearest Health + Hospitals location. 
Testing sites run by the city's (free) Health + Hospitals system generally have shorter waits than private urgent-care clinics like CityMD. There are dozens of locations, from hospitals and health centers to new pop-up sites (look up the nearest to you here) — and no appointment is needed. Still, depending on where and when you go, it can be a mixed bag of almost no wait time to upwards of two hours. That's when checking wait times on the city's website comes in handy.
"It's made a big difference for me," said Jonah Goldberg, a chef who gets tested weekly. "The site in Midwood where I live usually gets pretty backed up — over an hour sometimes — but the one at the Red Hook Recreation Center is almost always empty, and it's a quick bike ride from my work. Last Wednesday, there were only two people in front of me. It was in and out. Got my results within 48 hours." Other Health + Hospitals sites that people we spoke to say generally have short waits include Jacobi Medical Center, Harlem Hospital Center, 196 Albany Avenue in Crown Heights, 8515 Fifth Avenue in Bay Ridge, and St. Albans Church in Jamaica.
Go to a quickie site. 
There are nine (also free) city-run COVID Express Quickie Lab sites. They use the gold standard of diagnostic tests, the RT-PCR, with access to results within 24 hours. But you'll need to book an appointment, and they fill up fast. Slots are released up to 48 hours ahead of time — so you could book an appointment for a Wednesday on a Monday — usually around midnight. "Once, I woke up in the middle of the night, and instead of getting a glass of water, I reserved a COVID test because it was like 3 a.m. and I had the pick of the litter," says Robert Khederian, a real-estate broker who gets tested every other week. "Frankly, if you just get up early and check first thing, like at 7 a.m., there's usually availability. And your results are guaranteed within 24 hours, but I've never had to wait more than four or five hours for them."
Try a (non-CityMD) walk-in spot. 
Danielle Sinay, a graduate student at Columbia University who gets tested every few weeks, recommends Kāmin Health's Urgent Care Center on 555 Lefferts Avenue in Crown Heights (there are two other NYC locations, in Borough Park and Fresh Meadows). Asisa Urgent Care at 667 Myrtle Avenue in Bedford-Stuyvesant has also proved speedier than others. Mandy Seiner, who works for the city's Department of Education, recommends calling ahead to ask about wait times but says they're usually startlingly short there. "Both times, I've had no more than a five-minute wait and then I've just waited outside 15 minutes and popped my head in and asked what the results were. Very smooth." Sabrina Escobar recommends MedRite Urgent Care's walk-in clinic at 521 West 42nd Street, which she has now been to three times (there are also locations in Midtown East, Park Slope and the Upper East Side). "I tend to go on the earlier side to make sure there isn't a line," she said. "And I usually get my results back in 20 minutes." On Thanksgiving Day, she had to wait about an hour there — while at other places in the city, lines stretched to five or six hours.
Or go to a pharmacy.
The downside to this is that only a small pool of insurance companies currently covers these tests. Mohammad Faruque, who delivers packages and gets tested at least once a week, recommends Best Care Pharmacy & Surgical at 8510 Third Avenue in Bay Ridge. Last week was his first time getting tested at the pharmacy. "It was very quick. I couldn't believe it. I've waited on line three times as long just to get a test at other places," he says. Faruque suggests calling around to your local pharmacies, like he did.
Sign up for a free trial of One Medical.
Take advantage of a 30-day free trial of the health-care concierge service One Medical. Schedule an appointment on its app by clicking on "COVID-19 Testing." From there, you can book a PCR test at one of its offices or testing sites, which usually takes about five-to-ten minutes. You also have the option to schedule a test and consultation if you want to review your symptoms with a health-care professional. Be forewarned that if you're uninsured, you'll be hit with lab fees (up to $100).
Order an at-home test.
Dr. Anish Mehta, a primary-care doctor at Eden Health and an assistant professor at Mount Sinai, calls at-home tests "a really good alternative" and specifically recommends the Pixel, by LabCorp, which is broadly covered by health insurance. For the uninsured, federal funds may be available to foot the bill, or you can pay $119 out of pocket. That being said, the kits are currently reserved for those who are experiencing symptoms, have been exposed to someone with COVID-19, or have been recommended for testing by a health-care provider or public health department. Ordering a test online is extremely simple; just fill out a survey, which will determine if you're eligible for the test, and plug in your billing information. Tests are received and submitted through FedEx. An easy how-to video walks you through how to take a nasal swab, and an online portal lets you check your results. This week, Pixel also became the first at-home test to be granted emergency approval by the U.S. Food and Drug Administration for nonprescription, over-the-counter use, and it will soon be available in stores, according to LabCorp.
Just do it at your pediatrician's office. 
If you have kids, you can get tested at your pediatrician's office. Alexandra Lange, an architecture and design critic (and frequent Curbed contributor), has been tested three times at Heights Pediatrics at 145 Henry Street in Brooklyn Heights with her husband, 13-year-old son, and 9-year-old daughter. She said the process was as simple as calling to schedule an appointment. "I didn't want to wait in line, or feel good about taking my kids to a busy place," said Lange. "The first time the four of us were in an exam room, [we] all got throat swabs. Most recently, the doctor just did a nasal swab in the lobby with the door open — another way to keep people apart." Other pediatric offices offering COVID-19 testing include PM Pediatrics (which has locations in Brooklyn, Queens, and Staten Island), Hudson Heights Pediatrics at 180 Cabrini Boulevard, and Riverdale Pediatrics at 2600 Netherland Avenue in the Bronx.