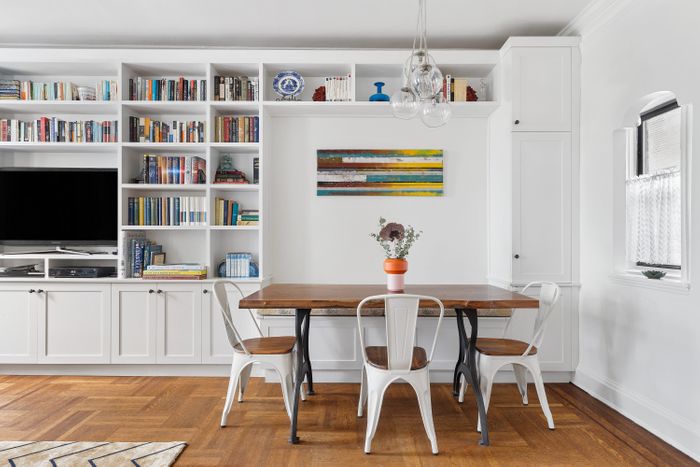 Photo: Joel McHale/DDReps
For under a million dollars, one can find all sorts of housing configurations: park-and-subway-adjacent studios, one-bedrooms hidden in carriage houses or former shoe factories, and even the occasional true two-bedroom. With price drops rampant across Manhattan and vacancies high citywide, we're combing the market for particularly spacious, nicely renovated, or otherwise worth-a-look apartments at various six-digit price points. This week: a lovely one-bedroom by the Brooklyn Museum, a two-bedroom in Hudson Heights with tons of casement windows, and more.
A Brooklyn Museum-Adjacent One-Bedroom for $470K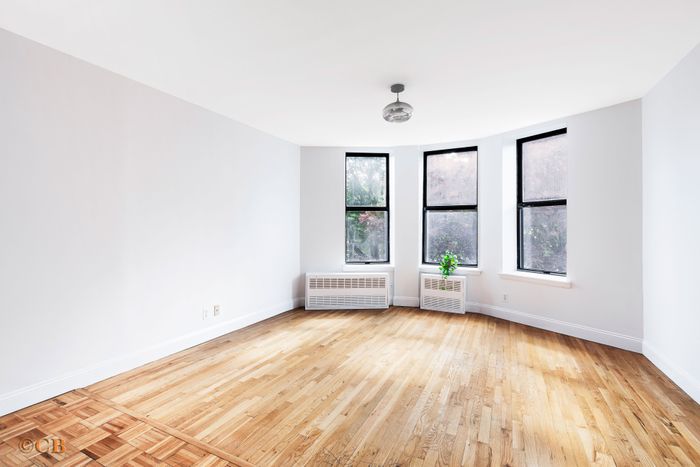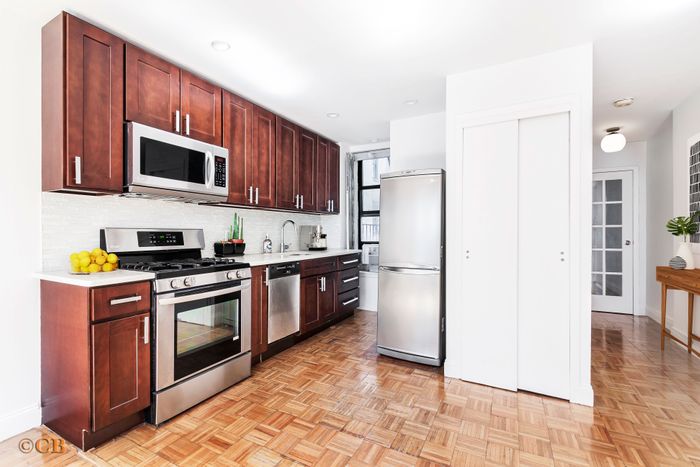 213 Eastern Parkway Apt. 5 — A few weeks ago we spotted a 1,000-square-foot two-bedroom on Eastern Parkway right across from the Brooklyn Museum priced at $875K. This prewar unit, still just three minutes to the museum (and four minutes to the Brooklyn Botanic Garden) is asking about half that price for not much less square footage. It's one of just three parkside one-bedrooms asking under $500K in Crown Heights right now — and though it is the most expensive of them, it is also the one with the most recently updated kitchen (with white granite countertops and a dishwasher), a pretty living area (with big bay windows looking out on with red maples), and importantly, laundry in the building.
A Perry Street Studio Without a Single White Wall for $525K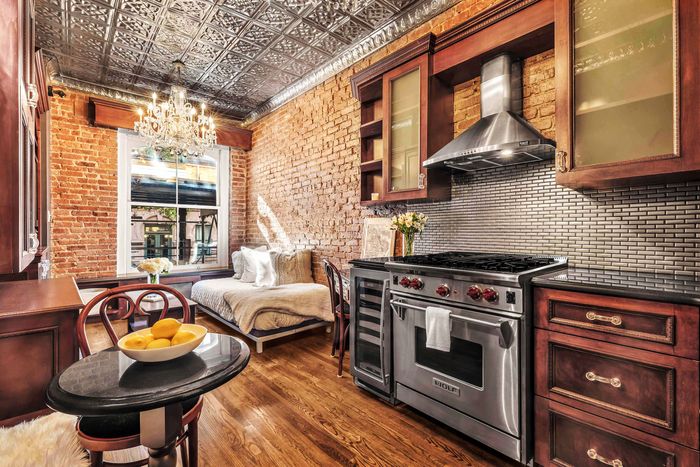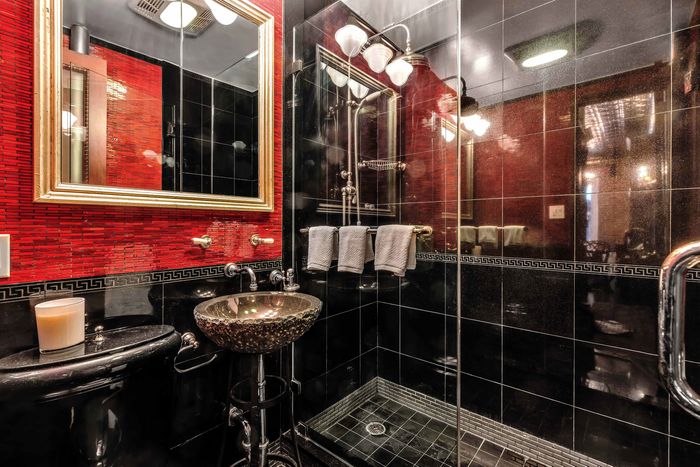 77 Perry Street Apt. 1B — This studio has a much better equipped kitchen than most: It comes with a Wolf range and hood, a built-in wine fridge, a microwave, and a dishwasher. The south-facing unit, which also has a silver tin ceiling and a rather massive chandelier, is on the parlor floor of a six-story landmark co-op and has ten-foot ceilings, plus custom built-ins like a desk adjoining the kitchen, and a wall of storage (including dedicated space for a TV). The slightly whacky bathroom has an all-black toilet and a sculptural, rocklike sink, and is covered entirely in black and red tile. It should be noted that this is not but 400 feet from the Carrie Bradshaw brownstone, so there may (eventually) be some Magnolia Bakery–toting tourists to contend with.
An Architect-Renovated Two-Bedroom Overlooking Sunset Park for $565K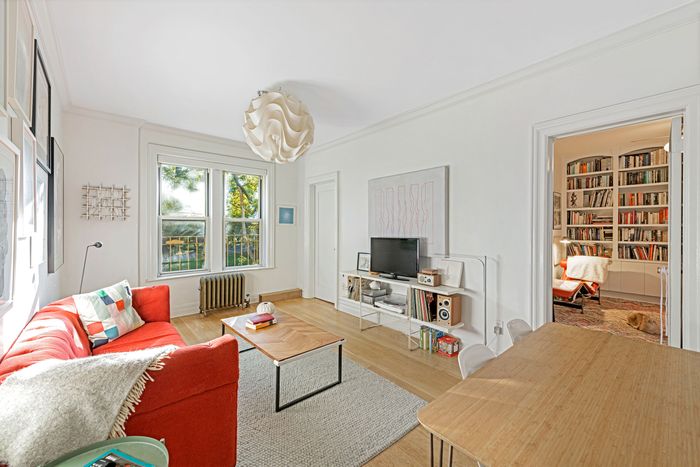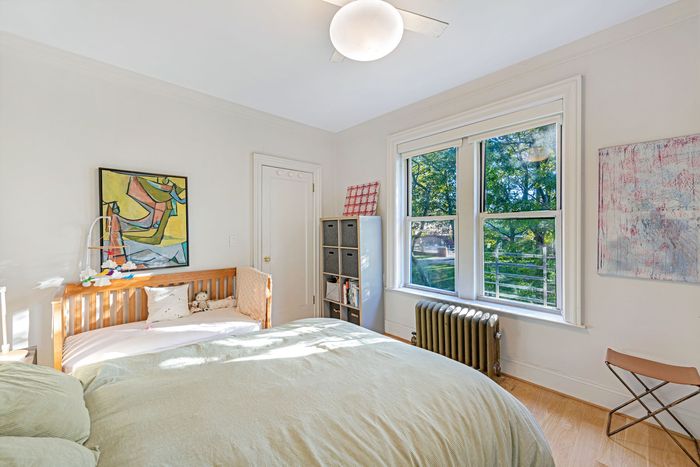 637 41st Street Apt. 3B — In this third-floor prewar co-op unit, you get generous, divided spaces (the two bedrooms are similarly sized and the separate windowed galley kitchen actually looks pretty wide) plus sleek details that you'd expect from an architect or designer owner. There are new white oak hardwood floors, white marble bathroom, two white ceiling fans with lights, the 172 Pendant from Le Klint, and all-white built-in storage in both bedrooms. Maintenance is relatively low at $560 and the complex, which is just a minute away from an entrance to Sunset Park, offers dedicated storage for each unit and a community vegetable garden.
A Casement Windows Heavy Two-Bedroom in Hudson Heights for $699K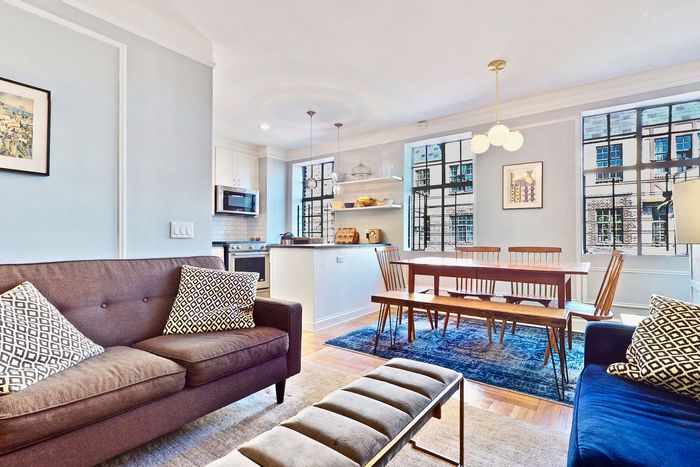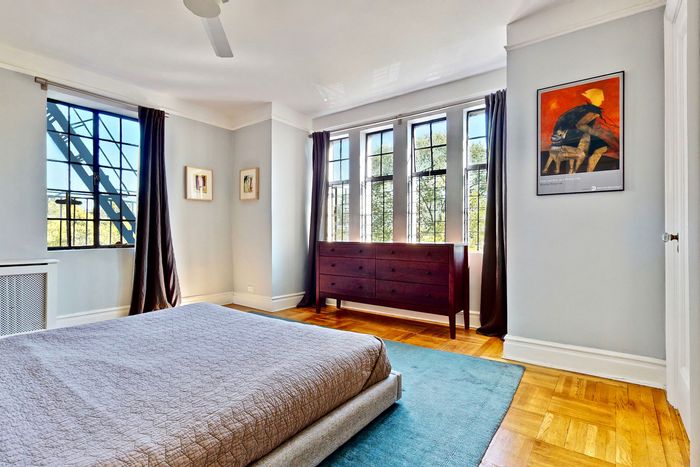 116 Pinehurst Avenue Apt. C51 — Hudson View Gardens, around the corner from the 181st Street A train stop, is one of the first co-op buildings in the city. This corner unit, one of five two-bedrooms available right now in the snaking Tudor Revival complex, has the best combination of space, light, and updates (and comparably lower maintenance) of them all. For one, it has three casement windows in the open kitchen and living area, one in the bathroom, and a couple more in the two bedrooms (both are pretty spacious and the bigger of the two has windows on two sides). The kitchen comes updated with white cabinetry (plus a column of open shelving), granite counters, and KitchenAid and Bosch appliances, and a bonus 12-foot-wide office (which seats two) has been carved out of a recess in the main hallway. And there are also some uncommon perks onsite, including a private picnic terrace, off-street parking, and licensed on-site childcare facility for residents (currently open and observing COVID-19 safety measures).
Windsor Terrace Two-Bedroom Directly Across from Prospect Park For $865K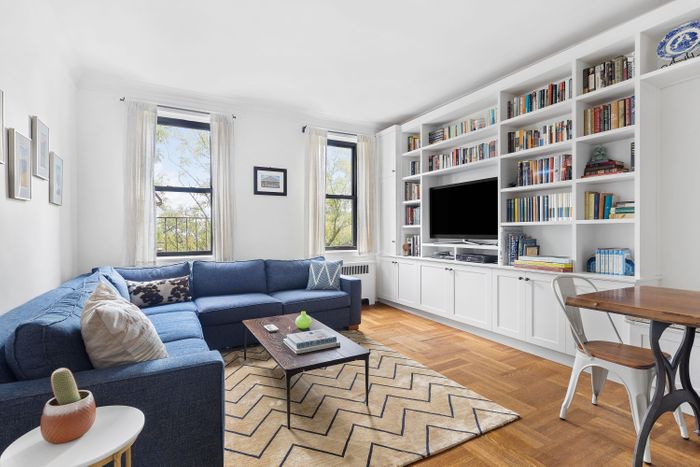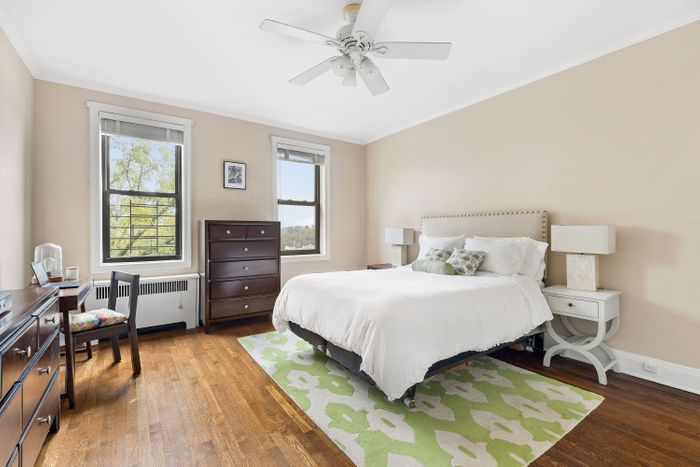 75 Prospect Park SW Apt. F2 — Measuring just over 1,000 square feet, this Prospect Park-adjacent co-op on the northern end of Windsor Terrace has space for a big windowed foyer with three closets, a dining area with cushioned seating built into a wall of bookshelves, a breakfast area in the windowed kitchen, and a main bedroom big enough to include an office area. There's also a linen closet next to the windowed bath, updated with bright-blue paint and a ton of subway tile. Particularly lovely are the original Art Deco arched openings flanking the arched doorway to the living room. (If coffered ceilings are more your period detail of choice, this similarly priced park-adjacent apartment on Seeley Street with a deeded parking spot is also worth a look).