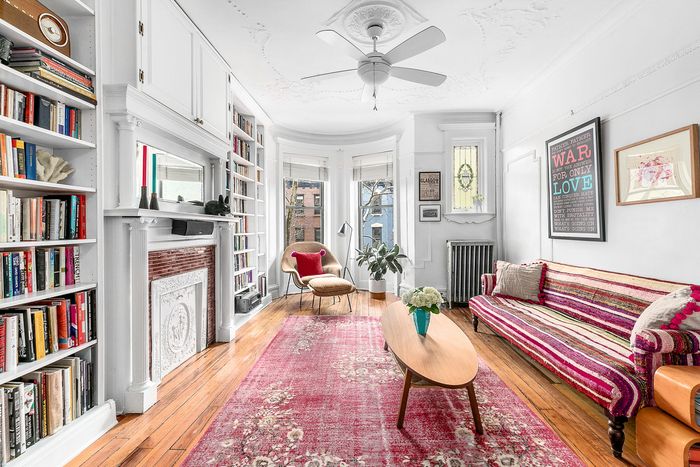 Photo: Rachel Kuzma / The Real Estate Production Network
For under $1 million, one can find all sorts of housing configurations: park- and subway-adjacent studios, one-bedrooms hidden in carriage houses or former shoe factories, and even the occasional true two-bedroom. With price drops rampant across Manhattan and vacancies high citywide, we're combing the market for particularly spacious, nicely renovated, or otherwise worth-a-look apartments at various six-digit price points. This week: a Lower East Side one-bedroom with butcher-block counters, an Upper West Side two-bedroom in a Renaissance Revival building, and more. 
A Lower East Side One-Bedroom With a Soaking Tub for $495K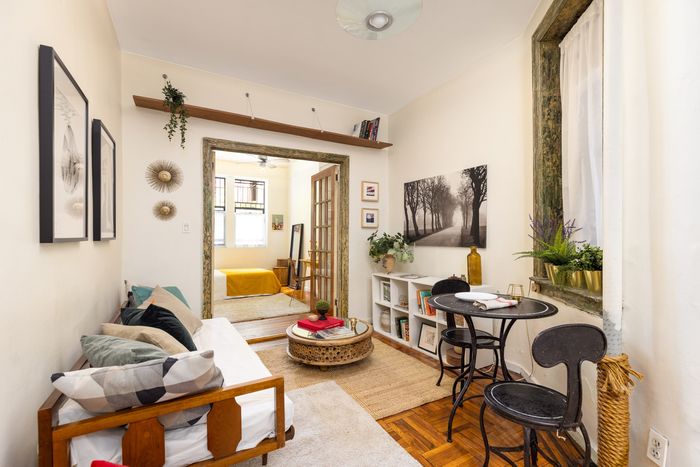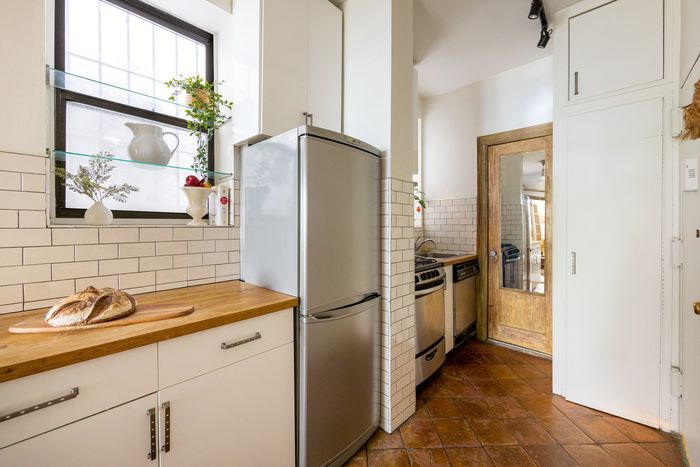 100 Suffolk Street Apt. 3A — This first-floor apartment in a five-story co-op building (around the corner from the Delancey Street F/M/J trains) is the most charming of just three one-bedrooms currently listed for under $500K on the Lower East Side. You'll find patinated wood doorframes and window frames, French doors to the bedroom, cobalt-blue floor tile and an original porcelain soaking tub in the bathroom, plus butcher-block counters, subway tile, terra-cotta floors, and two windows along the open kitchen. There's also an ample variety of storage, including open shelves and extra cabinets above closets. Although it's small, there's seemingly enough room to squeeze in a small dining set in the living room and a workspace in the bedroom.
An Upper West Side Two-Bedroom With a Huge Living Room for $849K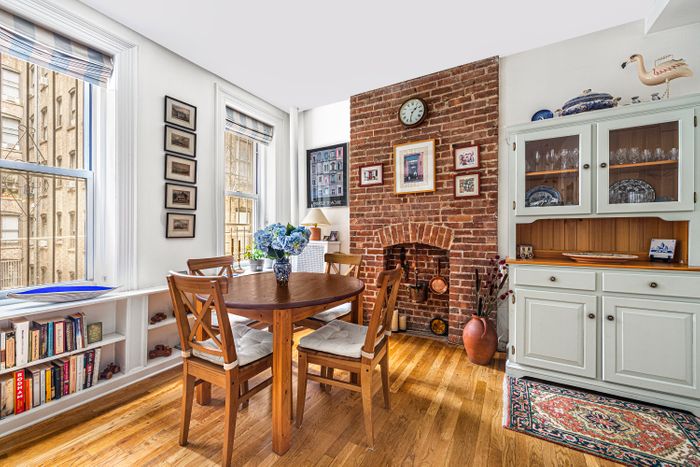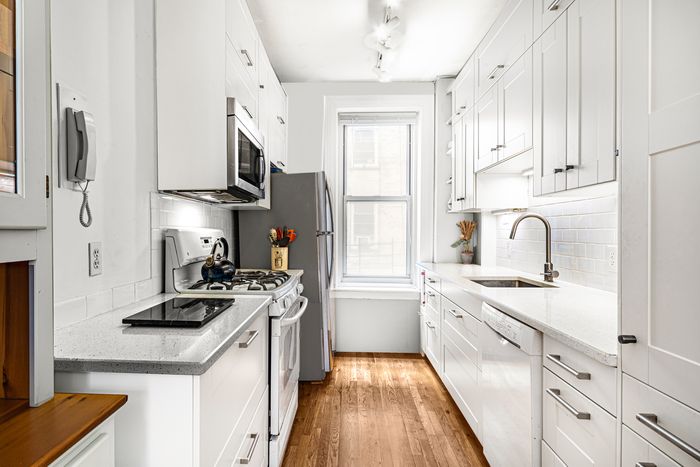 317 West 93rd Street Apt.1D — This prewar two-bedroom co-op apartment next to Riverside Park is unusually bright and airy with nine-foot ceilings and nine windows (six north-facing and three south-facing). The living room is 22 feet wide (plenty of space for multiple seating sets and a dining table) and comes with an arch-brick decorative fireplace on one end and lots of built-in shelving under the windows. The renovated (all-white) galley kitchen comes with tons of cabinets and drawers, and the especially spacious windowed bathroom includes an updated vanity (and a glass-block transom window that lets in even more light). The 22-unit Renaissance Revival building, just a three-minute walk to the 96th Street 1/2/3 trains, has only had four sales in the past five years.
A Park Slope Floor-through Condo for $925K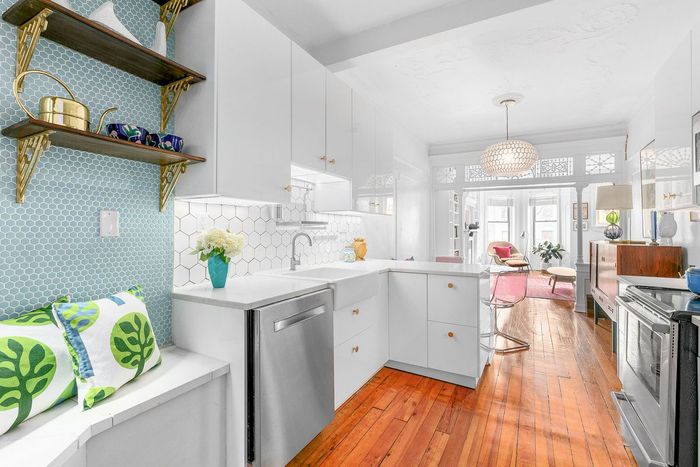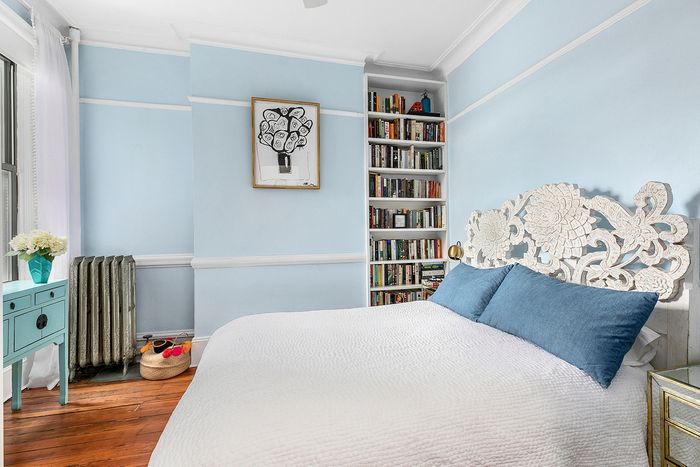 705 Carroll Street Apt. 3R — Part of an eight-unit barrel-fronted condo building (where the last sale was in 2017), this floor-through apartment just off Sixth Avenue is priced on the low end of two-bedrooms, but it could actually accommodate three bedrooms (or two bedrooms plus an office or nursery). The apartment is essentially split into two wings: the rear end, which contains all the bedrooms and the bathroom, and the front end, where there's a kitchen and a dining area (renovated with all-white cabinetry, a farmhouse sink, hexagon tile, and ample built-in bench seating) that leads to a living room with a curved bay window, decorative fireplace, and tons of built-in bookshelves. There are lots of original details throughout, including wall and ceiling moldings and an intricate columned room divider.
A Greenwich Village Loft With a Huge Private Terrace for $950K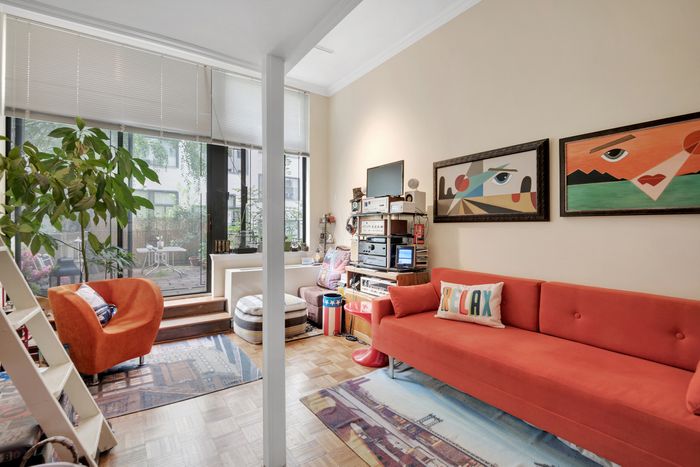 77 Bleecker Street Apt. 225E — What sets this second-floor apartment at the 243-unit Bleecker Court apart is a 300-square-foot private terrace that overlooks the building's courtyard (listing agent Lisa Garey says she only knows of one other unit there with a similar private outdoor space). Like many units in the building, the apartment has a stepped floor plan. In this case, the bathroom, the galley kitchen, and the spacious dining area are on the lowest level and then three steps up from there is the living room, which has a ladder up to a lofted queen- or king-size sleeping space (making room for an office underneath) and a sliding glass door out to the terrace. There's parquet floors and crown molding throughout (even around the loft platform).