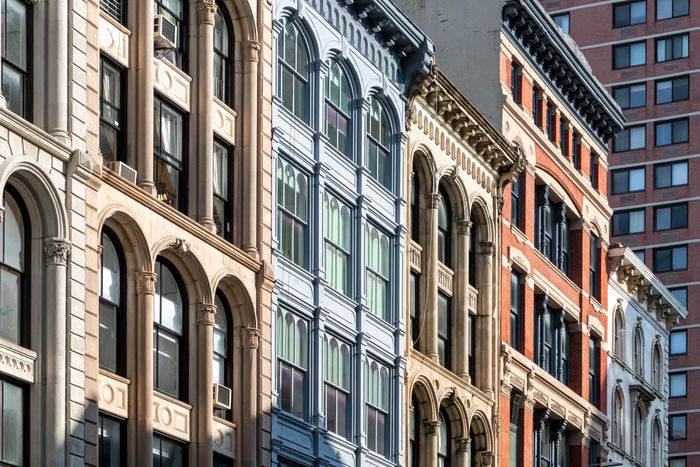 Photo: deberarr/Getty Images/iStockphoto
New York City is among the most expensive and competitive housing markets on earth, and it has also been among the most hard hit by COVID-19 — the long-term implications of which are still unclear. In certain ways, the very idea of the place as it has developed is under threat: its density, its glitzy globalism, the parts that make it a kind of adult playground for "creatives," tech bros, and people who work in finance. Is New York still New York when you can't eat a gold-flaked donut while watching Yoko Ono scream gibberish? What is clear, for now, is that in many parts of town, for the first time in at least a decade, it's a buyer's — and renter's — market. But assuming you are still employed and aren't planning on leaving town, what can you expect from New York City's housing market?
The fallout from the pandemic has kicked off what economists at Zillow have dubbed the "great housing reshuffling": Some people are moving to the suburbs or buying country houses, bidding up those prices, while those sticking around have often been able to find a better apartment for less. In the sales market, Manhattan home prices have dipped, while Brooklyn is defying murky economic conditions with a competitive scene that continues to push prices higher. In other words, it's all wild right now, full of once-in-a-lifetime opportunities along with stiff competition and more than enough other headaches — and the craziness isn't likely to end soon.
To better understand how we got to this historic moment in New York real estate, here's a rundown of where the market was prior to the pandemic, how COVID upended things, and where housing could be headed in our uncertain future.
The Manhattan housing slump started before the pandemic with new tax laws.
The financial crisis of 2008 didn't hit New York's housing market as hard as it did in other parts of the country, and its postcrisis recovery was steady and swift. But beginning in 2017, a series of changes to state and federal tax law put a chill on the city's sales, particularly at the high end in Manhattan. In 2017, Washington capped the state and local tax (SALT) deduction at $10,000, which had a disproportionately high impact on coastal cities like New York, San Francisco, and Los Angeles, where wealthy residents often pay — and, until then, had deducted from their federal returns — much more than that.
Then in 2019, New York State passed a law that levies a onetime sales tax on purchases of homes selling above $1 million. The rate for the so-called mansion tax gets progressively higher as the property gets more expensive; a price between $1 million and $2 million would receive a one percent tax, for example, and homes selling around the $25 million mark carry a 4.15 percent tax.
Taken together, these changes all make it more expensive for the well-off to live in New York City. Beginning in 2017, some started to leave, primarily from Manhattan, leading to lower asking prices there and an overall drop in sales volume. It also contributed to a small population decline: Between the start of 2017 and mid-2019, New York City's population fell from 8.463 million to 8.337 million.
During lockdowns, the housing market was put on pause.
When the pandemic hit New York in mid-March, the real-estate industry was literally not allowed to function. Everything froze. Although some realtors used technology and ingenuity to keep some of their operations going, essentially nothing moved for a period of months. Many buyers and sellers quarantined, taking themselves out of the market altogether.
That unprecedented pause led to wild swings in housing data, and equilibrium has not yet returned. For each month from April to July, home sales were down in the five boroughs by at least 40 percent compared to 2019. According to StreetEasy data, in April they fell 53.1 percent.
The floodgates opened in the sales market when the lockdown was lifted.
With the housing market all but closed during the spring, house hunters missed out on what is traditionally its busiest season. And when the lockdown ended, this pent-up demand was unleashed and then some. The summer season was full of the usual buyers, plus the people who wanted to buy in the spring but couldn't, giving the market a double dose of demand.
That kicked off a home-buying spree that is still going. Wealthy Manhattanites bought homes or second homes in Brooklyn and outside the city, seeking more space or access to a park. Intraborough moves occurred among Brooklyn residents as well. NYC suburbs and the further reaches of second-home-land saw a sales boom from their own release of pent-up demand, which was exacerbated by the outbound migration from Manhattan and even the pricier parts of Brooklyn.
The result of this has been rising inventory in Manhattan as the borough sees outbound migration. Brooklyn, seeing demand both from Brooklyn and Manhattan, saw a whopping 38.7 percent increase in new contracts in August, according to StreetEasy. New contracts on Long Island saw 34 and 38.8 percent increases for single-family homes and condos, respectively, according to Miller Samuel. The number of Hamptons single-family houses sold went up 75.7 percent.
In recent weeks, Manhattan has seen increases in both sales volume and new listings, suggesting that the market there is starting to function again and that people are laying down roots in the borough, even as all the focus has been on people leaving.
NYC's housing market is really two markets.
The trend of a migration to Brooklyn and the suburbs should really be looked at in terms of price point. The New York real-estate data provider UrbanDigs notes that listings above $2 million are lingering longer than they were, and some owners are even taking them off the market. But homes priced below $2 million are selling as inventory has come to market, keeping prices stable.
This is likely partly a function of the mansion tax and the SALT deduction cap, which have a bigger impact as the home gets more expensive. It looks like Manhattan is "swooning" and Brooklyn is booming, but really it's just that the more expensive homes that are harder to sell are mostly in Manhattan.
Even within Manhattan, less expensive homes are seeing higher demand. What this means for shoppers is that the "Manhattan swoon" that you read about really only applies if you are looking in the upper echelons of the price range. If you're not, the market is white hot in some areas, particularly Brooklyn. Expect bidding wars and short time frames for getting bids in.
And what about renters? Unemployment is up, so rents are going to go down.
The lockdown rendered thousands of New Yorkers unemployed almost overnight. The workers most affected by the economic fallout of the pandemic in the city are overwhelmingly renters, so when a large swath of them either leave town or lose income, their capacity to pay rent drops and landlords are forced to lower rents to fill vacancies.
The city's unemployment rate prior to the pandemic was 3.4 percent, a historic low. In June, it hit 20.3 percent; in August, it fell back to 16 percent. Some of these workers were transplants who responded by leaving the city. Others may have moved back in with family or downgraded to a cheaper apartment over the summer, which is usually the busiest season for leasing.
The effect on rents has been striking. For August, the median rental price was down 3.9 percent for Manhattan and 5.5 percent in Queens, according to Miller Samuel. Brooklyn rents have been more resilient, falling just 0.7 percent. But there are plenty of stories of people upgrading to a better apartment for less rent, and as the city continues to reorient, more opportunities will be there for renters fortunate enough to still have their jobs.
Uncertainty of unprecedented proportion hovers over a housing market in transition.
It's hard to know what comes next. At some point, the pent-up demand will be satiated. The people who wanted to move to a bigger place or for better access to a park will have done so. There are only so many wealthy people who will leave for Florida or the suburbs.
But the uncertainty is existential. As with most things in 2020, the course of the pandemic will largely decide what happens. The highly contentious presidential election will have a direct impact on New York's financial well-being, and the outcomes range from the president's refusal to cede power to his literal death from COVID-19. Wealthy people who are leaving — or switching their primary residence to another place where they now are living and paying taxes — could blow a hole in the city's budget, leading to service cuts that only prompt more people to leave the city, a vicious cycle that plunges the city into a state of disrepair. Committing to a monthly payment for the next 30 years during such a time may feel crazy, but the uncertainty could translate into a deal.
"The discounts are going to disappear as you check the uncertainties off," said UrbanDigs co-founder John Walkup. "There's a lot of uncertainty, but the time to buy is when there's blood on the street, and that's sort of happening right now."