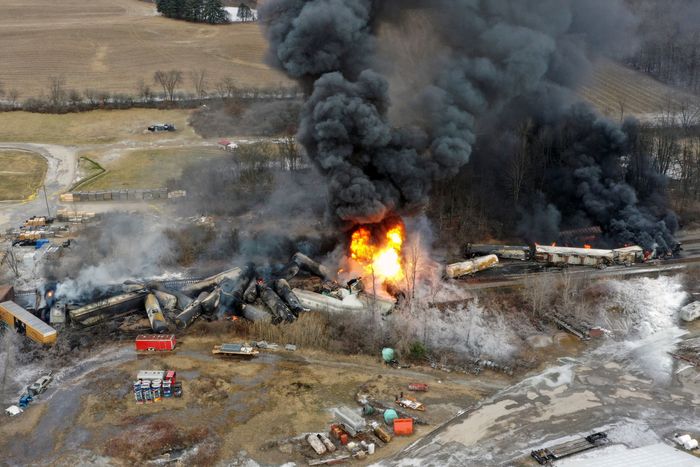 The Norfolk Southern freight train that derailed in East Palestine, Ohio, on February 3 was still on fire the next day.
Photo: Gene J Puskar/AP/Shutterstock
On February 3, a freight train derailed in East Palestine, Ohio. The 150-car train operated by Norfolk Southern was carrying 20 cars of highly flammable toxic chemicals, and ignited a fire a quarter-mile long that burned for days. On February 6, officials with the Ohio National Guard and the U.S. Department of Defense, worried about the tankers that hadn't already combusted, instituted a "vent and burn" operation, a controlled ignition they claimed would allow the chemicals to safely dissipate. About 1,500 people had already been evacuated after the derailment, and hundreds more followed suit just before a fireball erupted, sending a black plume of smoke over the region. Many evacuees returned home a few days later, and reports soon began circulating about people experiencing a burning sensation in their throat and eyes, layers of soot, and creeks filled with dead fish. On Monday, ten days after the derailment, Transportation secretary Pete Buttigieg made a statement after multiple members of Congress demanded a stronger federal response — even a congressional inquiry. He expressed concern about the incident's impact on families and said the National Transportation Safety Board has been investigating the cause of the catastrophe. A lot of information, changing information, and misinformation is flying around in the meantime. Here's what we know so far.
Do we know what caused the derailment?
Early NTSB statements suggest a mechanical problem. At a February 5 press conference, NTSB board member Michael Graham said investigators had found two videos showing "preliminary indications of mechanical issues on one of the railcar axles." A local Ring camera caught video of one of the train's axles on fire 20 miles before the derailment.
What was on the train?
When first responders arrived at the scene, "we didn't know what chemicals there were," Steve Szekely, chief of Mahoning County Hazmat, told WKBN. "But … we can smell. You can smell it in the air that there was something." In a briefing, Ohio governor Mike DeWine said the state had not been alerted that what was considered a "high-hazardous-material train" was traveling through Ohio. Even though EPA investigators were there within hours, preliminary reports noted only that the train was carrying "hazardous materials." NTSB officials confirmed on February 4 that some of the cars contained vinyl chloride.
On February 10, EPA investigators reported that the derailed train included tanks filled with vinyl chloride and butyl acrylate, both of which are hazardous. On February 12, nearly one week after the controlled burn, the EPA named three more combustible chemicals onboard: ethylene glycol monobutyl ether, ethylhexyl acrylate, and isobutylene, all of them hazardous.
Federal investigators were most concerned about the vinyl chloride, according to a statement by DeWine. The flammable liquid is used to make a very common plastic called polyvinyl chloride or PVC, known best as the material in plumbing pipes. Neil Donahue, a Carnegie Mellon University chemistry professor, told the AP that when vinyl chloride is burned, it releases phosgene and hydrogen chloride gases, which can cause vomiting, respiratory issues, rashes, and nose and throat irritation. (Phosgene was used as a chemical weapon in World War I.) Burning chlorinated materials can, according to the EPA, also form dioxins, highly carcinogenic compounds classified as "persistent organic pollutants" because they can accumulate in soil, water, and animal tissue. "The soot as well as any other materials should in my opinion be treated as contaminated by vinyl chloride and/or dioxins or other contaminants until proven otherwise," Dr. Lynn Goldman, dean of the George Washington University School of Public Health, told the AP.
What are residents saying?
When the fires began, people living nearby reported a smell similar to nail polish or chlorine bleach. Officials told residents that air sampling did not reveal toxic levels of any chemicals but urged them to stay indoors as a precaution. As the burn continued, residents said they had headaches, burning eyes, and respiratory issues. On February 9, evacuated residents were told they could return home, yet the odor has persisted and many people continue to report similar symptoms. "They're stressed, and they're worried, especially after learning about the three new chemicals that were on the train," Julie Grant, a reporter for the Allegheny Front, told NPR. "Some residents have reported soot on their homes and cars and worry that it's contaminated. So cleaning it is a concern."
Is the drinking water contaminated?
Monitoring near the site did detect a "very low level" of spilled chemicals in local rivers and creeks, according to the Ohio EPA. According to the Columbus Dispatch, local utilities have confirmed that the drinking water — which is always monitored for chemicals, including the ones involved in the spill — has not been affected so far. Groundwater contamination is a potential concern, Kurt Rhoads, an engineering professor at Case Western Reserve University, told the Dispatch, but it's too early to detect it. If that happens, utilities in the region can switch to an alternative water source if necessary.
Are animals dying?
On February 7, a woman who lives ten miles from the derailment site told WKBN that her six backyard chickens had died the day after the controlled burn began. Other locals say their pets are gagging and having trouble breathing, and two pet deaths — a fox and a cat — have been attributed by their owners to the derailment. Residents have also observed dead fish in local creeks and rivers, and the Ohio Department of Natural Resources now estimates about 3,500 fish were killed, "mostly small suckers, minnows, darters and sculpin."
Why are people making comparisons to White Noise?
The 2022 Netflix film White Noise, adapted from the 1985 Don DeLillo novel, describes a "toxic airborne event" that happens outside a midwestern college town. The book came out one year after the catastrophic industrial spill in Bhopal, India. The film itself was, incredibly, shot in East Palestine, and some of the extras in the movie are local residents who have now been forced to evacuate from the real thing.
What has the federal response been like?
As Buttigieg noted, the EPA is on the ground, and so are teams from the Federal Railroad Administration and the Pipelines and Hazardous Materials Safety Administration, both of which had also arrived within a few hours of the incident. The EPA continues to screen homes and monitor air and water. The NTSB has held several media briefings and continues to investigate the cause of the derailment. A coalition of local groups is demanding DeWine request a federal disaster declaration from President Biden to tap into more federal aid. DeWine has, so far, refused Biden's offer of additional assistance.
Is any of this related to the demands of rail-worker unions?
In a message to its members, Railroad Workers United, an inter-union caucus of rail workers, shared the same video showing the fiery axle, noting, "If this footage is authentic, it's very likely that car caused the derailment. This damaged car apparently was allowed to leave its initial terminal because it wasn't inspected properly due to car inspectors being laid off and time allowed per car inspection being dramatically reduced by the industry." These railroad staffing cuts directly affect safety, Ross Grooters, a locomotive engineer and co-chair of Railroad Workers United, told "Democracy Now!" "There are deep, systemic problems with the freight railroads right now, and those need to be addressed for us to have some sort of normal response to an event like this." Motherboard reported that this particular train, 32 N, was so notoriously dangerous among workers it was nicknamed "32 Nasty," and, prior to the crash, two mechanical problems were ignored or not detected in the hours leading up to the crash. A Lever news report also blames the derailment on railroads' weakening safety regulations. A preliminary NTSB report can be expected in a few months, but full details will likely not be made public until the investigation is concluded, which could be in over a year.
People are calling this one of the worst environmental disasters in U.S. history.
New York congressman Jamaal Bowman tweeted, "This is one of the deadliest environmental emergencies in decades and no one is talking about it." (Deadliest is, at least for now, an overstatement: No one has died.) There is evidence that the extent of the hazard was previously understated. "As questions continued to swirl around the cause of the February 3 accident and the official response to it, the disaster's still-emerging list of effects became more clear," reported the Washington Post. What's more, as Molly Taft wrote at Gizmodo, many local publications are understaffed and don't have dedicated environmental reporters, creating a news void that was filled with conspiracy theories. "What has unfolded over the last ten days is, unfortunately, also a case study in how government's inability to communicate risk to the public, reactionary law-enforcement agencies and unchecked corporate power can create an unnecessarily chaotic response," wrote Samantha Montano, assistant professor of emergency management at Massachusetts Maritime Academy.
Guidance that changes daily has made residents uneasy and distrustful. One week after residents were told it was safe to return home and drink municipal water, the director of Ohio's Department of Health, Dr. Bruce Vanderhoff, recommended that residents drink bottled water. "I would be drinking the bottled water, and I would be continuing to find out what the tests were showing as far as the air," DeWine agreed at a news conference on February 14. "I would be alert and concerned, but I think I would probably be back in my house." The following day, however, DeWine tweeted that the "municipal water is safe to drink."
The EPA posts daily updates for indoor air quality of homes. As of February 13, it said, "To date, no detections of vinyl chloride or hydrogen chloride were identified for the completed screened homes." A February 14 statement said, "Since the fire went out on February 8, EPA air monitoring has not detected any levels of health concern in the community that are attributed to the train derailment." Environmental advocates including Erin Brockovich, who criticized the Biden administration's response, are encouraging residents to trust their instincts — and their noses — and hold off on returning home. Emily Wright, director of River Valley Organizing, which has been warning about the possibility of a "bomb train" combusting toxic materials in the community for decades, says the response is not sufficient and residents should be receiving soil- and surface-testing results.
Why are reporters being arrested for covering the story?
On February 8, NewsNation reporter Evan Lambert was wrestled to the ground and arrested by Ohio State Highway Patrol officers after broadcasting live during a press conference given by DeWine. One officer who arrested Lambert claimed the reporter was being "loud." Lambert was released within a few hours.
What happens next?
Norfolk Southern presented a comprehensive remediation plan for the derailment, which includes monitoring of air and water. It also includes working with the EPA to install more air-quality monitors inside homes that would alert residents immediately if they were in any danger. On February 12, the EPA sent Norfolk Southern a notice of potential liability. The railroad originally agreed to pay just $25,000 to the town (which works out to $5 per resident) and has since upgraded to $1,000 per resident in the evacuation zone. The company has reimbursed residents over $1.2 million for housing, transportation, and meal expenses incurred by the relocation, but people who claim they have been affected live in a much larger area. Numerous lawsuits have already been filed against Norfolk Southern in an attempt to broaden monitoring and potential medical treatment to people living in a 30-mile radius. Norfolk Southern did not send representatives to a February 15 town hall, releasing a statement that the company was "increasingly concerned about the growing physical threat to employees." On the morning of February 16, another Norfolk Southern train, also carrying hazardous materials, derailed outside Detroit.