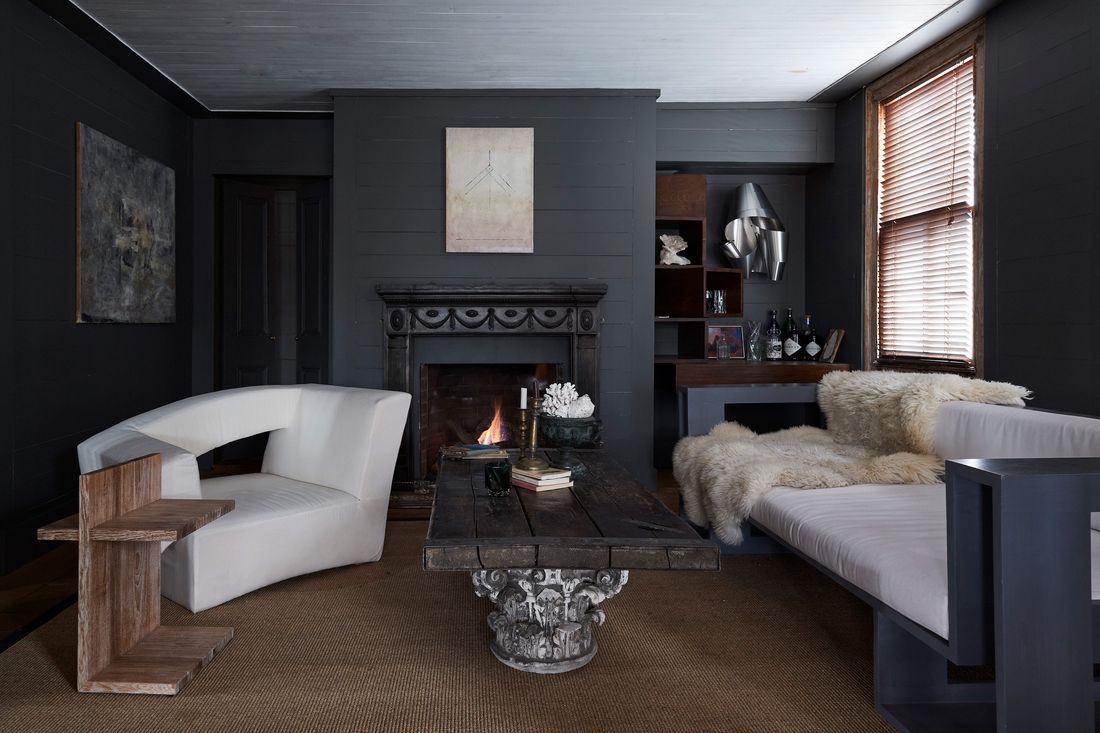 The Living Room:
"I did a quick one-month renovation that was basically repainting the walls and adding back some trim," Eicke says of the work he did this past February. In the living room, "we replaced the fire surround. It used to be oak with gesso — it's now cast iron. The whole room used to be white." Eicke's own designs for the sofa and armchair introduce a new aesthetic. "We wanted to create an absolute flip of an experience."
Photo: Björn Wallander
Back in 1994, antiques dealers Michael and Elfi Eicke, who'd had galleries in London and Düsseldorf, decided to spend their summers in Sag Harbor. They bought a house on Main Street which they filled with old-master paintings. In 1996, they purchased a cottage on Bay Street to live in, and used the Main Street building as an antique shop and showroom/storage space. Their son, Maximilian, now 31, eventually carved out his own little apartment in the Main Street building for privacy. His parents sold the cottage on Bay Street a few years ago and retired to Bali, where they live in a house Maximilian designed.
Last fall, Maximilian and his girlfriend, Irina Krylova, moved back to the Main Street place full time. He'd always had his own passion for the business, and his penchant for modernism is reflected in his designs for Max ID NY, the company he launched in 2009. Since February, he has given the old digs of the family business a makeover as his home and office. "We used this time to reinvigorate the space," he says. "Basically adding our twist of furniture to their collection mixed with mine."
In doing so, he was surprised to discover that maybe his aesthetic wasn't as far removed from his parents' as he thought. He and Krylova have done a thorough inventory of the place, sending some pieces to Philadelphia, where he is opening a new showroom. They also incorporated other heirlooms with his own designs. "The fun thing is that I thought since my parents aren't here, I would make the space completely modern," says Maximilan. "But as soon as we started decorating, we were actually having more of a tendency to go back towards my parents' antiques."