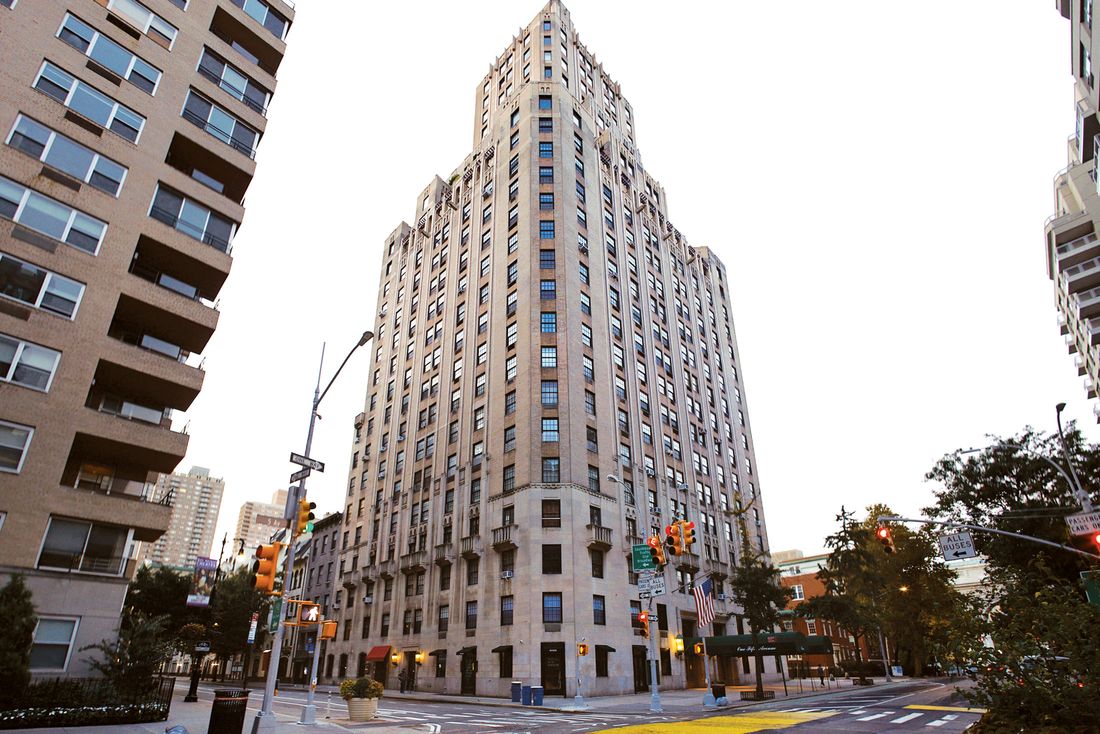 The Art Deco building has long been an expression of a certain type of New York–ness — where artists who have been here for decades live alongside investment bankers, the doormen leave out cookies, and intra-building relationships and tensions play out in the lobby (and don't get anyone who lives here started on the lobby).
Contents: History | The People Who Live There | Blind Items | The Co-op Board | Collector's Items | The Lobby | The Mews and Other Clubs | How to Get an Apartment Here | The Restaurant Downstairs
For almost a century, One Fifth Avenue has quietly loomed over Greenwich Village. The address itself carries gravitas, and the building, a 27-story ziggurat, has long dominated the local skyline, lurking in the background of tourists' photos of the fountain and marble arch in Washington Square Park. And the goings-on inside its setback walls have, practically since its inception, been a thing of fascination for the rest of the city. It was in One Fifth that Robert Mapplethorpe shot the album cover for Patti Smith's Horses; where Norman Mailer's editor committed suicide; and Tim Burton and Helena Bonham Carter lived together before they split in 2014. The building is now home to both art collectors who bought apartments for under $8,000 in the 1970s and, more recently, CEOs happy to pay millions for a penthouse. Over the years, One Fifth has become as much an idea as it is a real building. "It just said New York to me," says the novelist Lesley Dormen, "the New York of a time and period that probably every writer idealizes to some extent."
One Fifth was completed in 1927 by developer Joseph G. Siegel. He recruited the architectural firms Sugarman & Berger and Helmle & Corbett, which had designed such Goliaths as the 30-story Bush Tower in midtown. The idea, in essence, was to build an apartment-hotel that would cater to the wealthy, who were drawn to the counterculture that had recently emerged in the area. In the early days, tenants and guests passed through the building's Doric lobby to attend art auctions, benefit luncheons, and socialites' crowded salons filled with discussions of Finnegans Wake. Outside, curmudgeonly neighbors complained that the new building was an eyesore, as did The New Yorker, which called it "a pompous shaft." Still, it was a success: Market-exchange presidents and lawyers looking to live like (or, at least, near) Allen Ginsberg moved en masse into the building's two- and three-room apartments, many of which featured serving pantries, private roof terraces, and views of the river.
By 1966, NYU was expanding and, looking "to preserve the character of the neighborhood," purchased the building outright to use as student and faculty housing. So families and other long-term renters lived in the hotel alongside undergrads who walked their neighbors' dogs for extra cash and called many of the onetime luxury suites home. But in August 1974, the university — which was nearing the brink of bankruptcy — unloaded One Fifth. Not long after, in 1976, the building went co-op. It was around this time that a handful of artists began moving in. One Fifth was situated blocks from the burgeoning Electric Lady Studios and the newly opened Grey Art Gallery. Plus there was the restaurant on the ground floor, One Fifth. "When I first came to this country, One Fifth bar was like the place to hang out," says Adam Tihany, a hospitality designer who later purchased a pied-à-terre in the building. Anna Wintour and Lorne Michaels were among the regulars, and the cast of SNL descended weekly from Rockefeller Center after wrapping up the show with stars like David Bowie in tow. Upstairs, the art collector Sam Wagstaff bought a 27th-floor penthouse for less than $26,000, where he slept on a mattress on the floor, as well as a unit on the eighth floor that he used as a repository for his collection, according to his biography. Patti Smith and her then-partner, Allen Lanier of Blue Öyster Cult, shacked up below, where Smith wrote Babel during her recovery from a near-fatal fall off a stage in Tampa in 1977. In the 1980s, Courteney Cox auditioned for her "Dancing in the Dark" music-video role in Brian De Palma's duplex apartment, and The Heidi Chronicles author, Wendy Wasserstein, called a two-bedroom on the sixth floor home.
The spirit of One Fifth has changed over the years, and so too have the actual apartments. That's because more and more residents have scooped up and combined two, three — in some cases, even five — of these slim, former hotel units into 2,700-square-foot four-bedroom Franken-apartments with bamboo flooring and cabinetry, gold-trimmed bathrooms, and unobstructed views of the Freedom Tower. And though their apartments have appreciated by, in some cases, millions of dollars (and as neighbors eager for more space are standing by, ready to pounce), many who bought into the building decades ago say they have no plans to leave anytime soon.
"I moved in 26 years ago, and I think I was too young to realize the magnitude of it," says Laura Pedone Evans, an art therapist. "It's special. People knock on my door all the time. My neighbor, who has since passed, wouldn't even knock — she'd just walk right into my apartment and leave me a plate of Persian rice. Once, it was Brian De Palma. He was asking if he could borrow a lemon."
More Pieces of History
In the 1830s, a four-story red brick townhouse stood at this address. It changed hands between various wealthy society types, and, most notably, it housed Misses Green's School for girls. Winston Churchill's mother, Jennie, was a student there. Elihu Root, who would later become secretary of State, and Andrew H. Green, who steered the construction of Central Park and the New York Public Library, were both teachers.
The Brickwork
Design architect Harvey Wiley Corbett originally used both light and dark bricks on the outside of the building to mimic 3-D masonry work, a visual trick that was considered novel. In the early '90s, the co-op board spent over $1 million repairing the brickwork, which Times writer Christopher Gray was not fond of: "Now the building has an odd, spotty effect."
Patti Smith's Old Place
This ninth-floor apartment is owned by Jessica Salzer's family. She says that, when her parents first went to look at it, around 1986, "there were industrial moving blankets hanging over the windows as curtains, pizza boxes everywhere, stains all over the carpetings, a pool table in the middle of the entryway, and — my mom said — gold records on the wall."
The Lobby Loiterers
"We always have people sitting down there," says Diana Oberlander, a resident and media-and-content strategist. "There was a woman who passed away about a year ago, a psychiatrist named Joan. She'd sit in the lobby, really old, all dressed up, and talk to the doormen for hours and hours."
According to lore, Jimi Hendrix used to stay in One Fifth when it was still a hotel. Some say there is a secret lobby that he would walk through to meet his dealer on 8th Street.
The Steam-Pipe Incident
In 1988, the board was none too pleased when plastic surgeon Ronald Levandusky was planning to move a steam pipe while renovating his kitchen, so it forced him to halt the work. Levandusky was not pleased either: He sued the board, claiming it had a vendetta against him. (He would later sell the apartment to James Burrows, a director and co-creator of Cheers.)
The Broker Barrier
"There was a rumor," says Ann Weintraub, a longtime broker for the building, "that in the '80s, the doormen were physically throwing brokers out of the building — right out the front door — if they dared to come in."
The Lone Elevator Bank
There's only one — unusual for a building of One Fifth's size.
There's Something About Apartment 25b
A commercial starring the actress Shirley Jones was shot in the apartment. And, in 1980, a scene for Brian De Palma's Dressed to Kill was shot there, too, according to neighbor Joe Novak's memoir.
The Two-Apartment Filmmaker Family
In 2008, filmmaker Ira Sachs, who has lived on the sixth floor for over two decades, and his partner, the artist Boris Torres, asked filmmaker Kirsten Johnson, to have (and co-parent) a child with them. They had twins and all lived in the same apartment — until the one next door became available and Johnson moved in.
Washington Mews
The private cobblestoned lane between Fifth Avenue and University Place abuts the building. "In the first few years we lived here," says resident Lesley Dormen, "no one was in the Mews. Now it's tons of NYU kids taking pictures. We hate NYU."
The People Who Live Here
Inside six apartments.
Phyllis Spaeth and Julius "Jay" Novick, former Legal Aid Society attorney and former Village Voice theater critic
Moved in 1983
"A friend of mine had just recently moved out of One Fifth, and he just couldn't stop singing its praises. There was an apartment for sale, so we went to look. We were so taken by the size of it, by how interesting each room was. Nothing was cookie-cutter; there were French doors, little Juliet balconies. The neighborhood was perfect — as my husband said before my daughter was born, 'Oh, look! She could go buy drugs without having to cross a major thoroughfare.' I have seen fights in this building, suing of people on the board by other people on the board. When we moved in, the board interview was so perfunctory — like, hysterical. I think it's much different now. Everything really is about the money. I mean, 'Can you pay?' I understand. Very honestly, we never could've come in here now.  We bought it for $200,000; now it's probably worth around $2 million." —P.S.
Danya Labban and Tina Chandna, current board president and spouse
Moved in 1979
Tina and I started living in One Fifth full time right after 9/11. This place knows how to respond to crises. During Sandy, the elevators weren't working, and the lights were out, and the staff were running up and down the stairs, putting out glow sticks and sleeping in the lobby." —D.L.
Lesley Dormen and Quentin Spector, writer and former executive director
Moved in 1993
"We were very close to closing on a loft in Tribeca, and suddenly I was mugged walking into the door of my 11th Street apartment on Christmas Night. It was a push-in thing. After that, I said, 'Doorman. I must have a doorman.' The second I saw our apartment, it was that magical moment of home. It was a gray January day, but the apartment was still flooded with light because it's southwest-facing. We've been here since. It has become a bit like a compound. At the end of our hall, there is a filmmaker and his husband, and the mother of their kids moved into an apartment next door to theirs. Sometimes, when the twins were toddlers, I'd hear a little knock on the door, and I'd open to see these little post-shower darlings wanting to say good night. Just before the recession, when real-estate prices were at an all-time high, suddenly these very wealthy older people were buying pieds-à-terre or moving in. It definitely started skewing a little less … the building was never raffish, exactly, but it definitely seemed more artsy. Then, it became, Oh my God, all this wealth." —L.D.
Shivashish Chatterjee and Jeannette Vargas, co-founder of a financial company and assistant U.S. Attorney for the Southern District of New York
Moved in 2003
"So we've been here for 17-odd years. The first time we walked in, it was clear that it's not overbearing; you're in a full-service building, but it's not in your face. When you step out of the cab, you don't have three people rush out the door to help you. We found that to be quite to our taste." —S.C.
Jason Dietz and Katie Fleischer, voice-over artist and actor and screenwriter-director
Moved in 1996 and 1995
"What's interesting about the building, for me, is that I can literally look out my back window and see the apartment where I was conceived. My parents used to live at 11 Waverly Place way back when, so I guess I'm a little like Jesus; I don't go that far from home. We were able to get into the building when it was … manageable, because everything around here has gotten so exceedingly expensive that it's difficult now to get into any of these buildings unless you're making a whole lot of money." —J.D.
Juliet and Dale Ponikvar, psychotherapist/couples therapist, retired lawyer
Moved in 1998
"I started the renovation, a gut renovation, in '97, and it took a good year and a half. I hired the Hariris — they're two Iranian-born architects, Mojgan and Gisue. They were young then, so a One Fifth apartment was a challenge for them, and what they did was, to me, completely remarkable.
When the apartment next door to me on 20 opened up, I wanted to buy it, but my neighbor was a real sharp cookie, and she was basically using me as a stalking horse to up the price. I think Lois Gould, the fiction writer, was also a bidder, but eventually Alan Belzer, this retired COO of Allied Signal, swooped in and bought it — it was chump change for him. He apologized to me afterward, but I told him, 'Don't be sorry.' But then I bought the apartment below. And then the other two adjacent apartments on 21 became available, and I bought them." —D.P.
Building Blind Items
Anonymous tidbits from the tenants.
"There was one time when a woman living on my floor — who was divorced— was having an affair with one of the doormen. I kid you not."
"Jessica Lange is still here and is apparently gonna stay, because she bought an apartment on the floor above hers, and she's combining them."
"We have die-hard Republicans, surprisingly, and arguments in the lobby about protesters."
Everyone Has Something to Say About the Co-op Board
As one might imagine.
People Campaign
"When Wendy Wasserstein and Michiko Kakutani both still lived in the building, I'd tell them who they should vote for. People would slip flyers under people's doors telling them who to vote for." —Phyllis Spaeth
And Complain
"The board is an oligarchy. If you're the president and say you want the water fountains to have soda, the water fountains would actually have soda, and we would be paying for it. There are always people who are on the board because they're renovating their apartment. Because we're a landmarked building, it's hard to get the paperwork approved. But if you're on the board, it doesn't have to be approved; you're the approver." —Anonymous resident
They Used to Put Out a Newsletter
"At the very beginning, I remember there was a newsletter that the board sent out … it satisfied a certain gossip hunger for what was going on, like whose terrace was still leaking." —Lesley Dormen
And There's the Famous Keith Richards Story
"Keith Richards lived here. He made a bid on this gorgeous duplex — over $10 million. At the end of the process, Keith and Patti Hansen come to meet the board. Apparently, it starts out collegial. They sit at the table; it's friendly. The board president is like, 'Keith, Patti, it's so nice to meet you. It's a thrill. I'm a big Stones fan. So, Keith, why'd you pick One Fifth?' And Keith goes, 'Well, it was an address my wife thought I could remember.' " —Anonymous resident
Engraved Doorknobs and 60-Year-Old Silverware
Some of the residents — and the super — have become collectors of objects from the building's early days.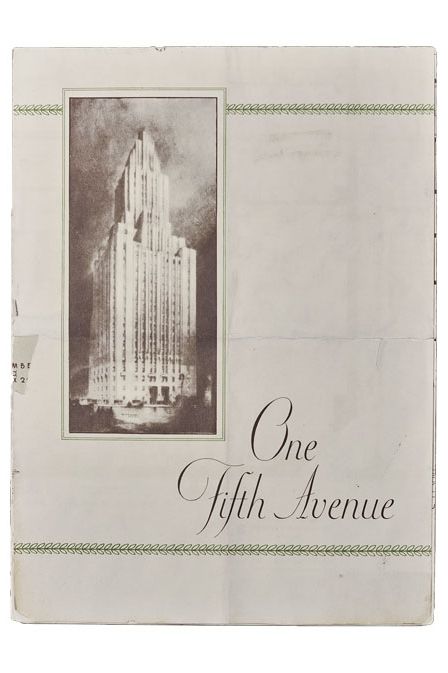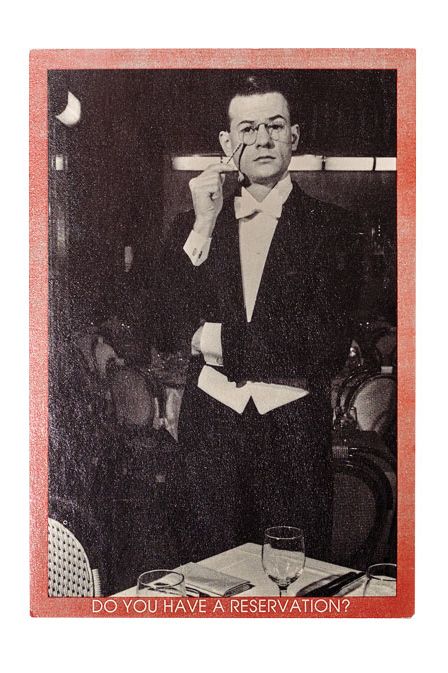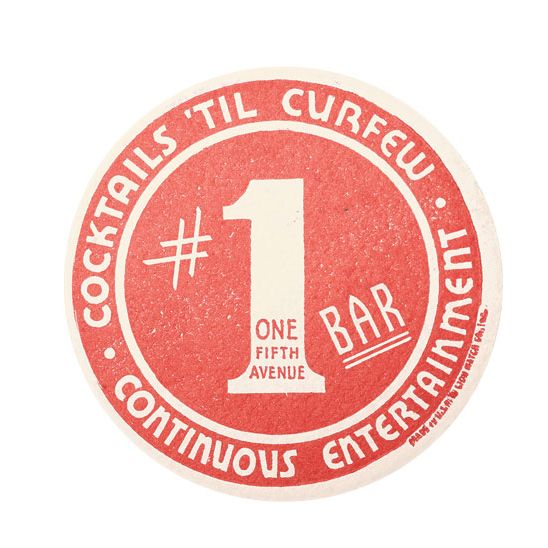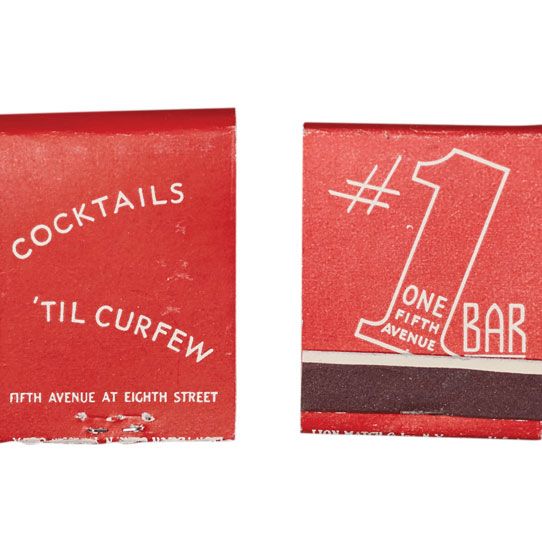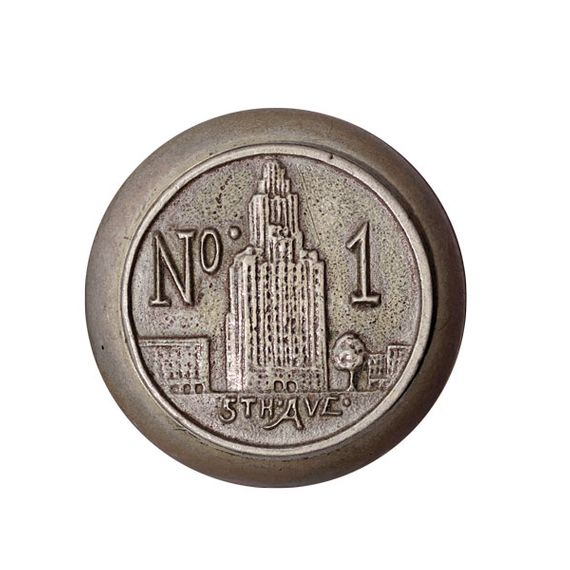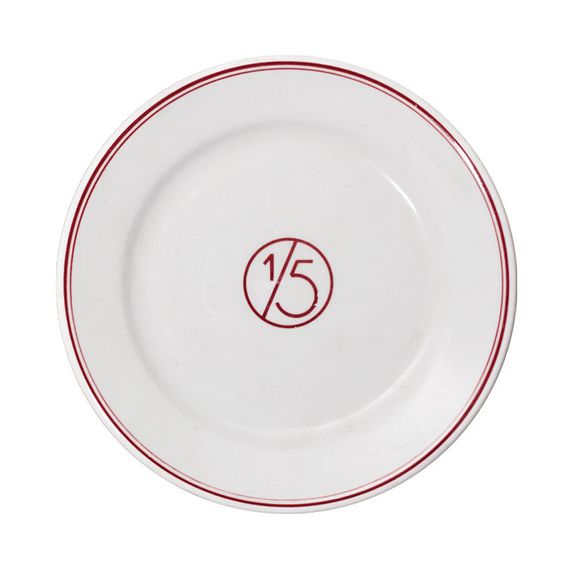 The Lobby's a Constant Source of Kvetching
"There has been a lot of resistance to the renovation campaigns in the lobby over the years," says resident (and former board member) Dale Ponikvar. "But a prior chairman pushed through a renovation of the mezzanine, which was aesthetically a great success, because it recaptured the original spirit of the place. The original Art Deco chandeliers were taken out and put in a hotel in the Poconos, but we replaced them with an Art Deco–esque light. People complain, of course, but it has been spruced up." Some residents, though, like Diana Oberlander, are less impressed. "The bones of the building are amazing," she says. "But then you'll have some random co-op president that decides the lobby needs to be redone, and for ten years the place looks like a Hilton hotel." Lesley Dormen says she hoped it might look "less like a doctor's waiting room."
But No One Complains About Nick's Cookies
"I started leaving out food the second year I worked here. They like the butter cookies and fig cookies, and, of course, they love Oreos. If my wife makes something special — lasagna or chicken-cutlet parm, homemade pizza — I bring it in. Over the years, I've brought in fried chicken, wine. Sometimes, at 1 or 2 a.m., people come down in their nightgowns looking for a sweet." —Nicholas Mistretta, doorman
There's a Crew of Dog Owners That Meets in the Mews
For a while, ten or so residents would meet in the evening in the Mews and let their dogs off their leashes. "When you have a dog, you really get to know everybody," says resident Laura Pedone Evans. "Jessica Lange and I walked together with our dogs. Diana had a vizsla, so her dog had red hair; my dog was black and white; and Lesley Dormen's dog was blonde, so we started calling them the Charlie's Angels of One Fifth." Dormen adds, "They would run madly up and down the cobblestones. It was so fun. Then, this man moved into the Mews. He has four dogs and was very strict about not letting dogs off leash. So everything comes to an end."
… And a Wine Club
Dale Ponikvar, who lives on floors 19, 20, and 21, says it was founded a few years after his neighbor Shivashish Chatterjee moved in, in 2003. They unofficially call themselves the Gang of Eight. "It's Shiv and his wife, Jeannette Vargas; this retired finance guy and his wife; and my next-door neighbor, Susan [Martin], and her husband, Alan Belzer," says Ponikvar. "We get together three or four times a year, and we usually bring two bottles of wine to share. Susan has proposed that, until we can get together in person, we do a virtual dinner, where each of us will leave a Mason jar of wine at each other's doors. If Susan and Alan do that, that means we're all getting some 20-year-old Bordeaux — because Alan actually bought a separate apartment on the 19th floor and converted it into a wine cellar."
How Do You Get Your Own One Fifth Apartment?
Ann Weintraub has been the de facto broker for the building for nearly four decades. "I've sold some apartments three, four times over," she says. The film producer Peter Newman, who bought his first One Fifth apartment from Weintraub, says, "Ann was always in the lobby and always knew what everyone's business was. She knew who was sick, who needed a room for a baby, and was just that go-to person." There are currently nine apartments for sale in One Fifth — including a three-bedroom, three-bath that hasn't been on the market in 20-odd years. Considering that listings have proliferated during the pandemic (the latest numbers from StreetEasy say the city's inventory has nearly 30,000 listings more than last year) and the number of apartments sold in Manhattan in the past three months was down 46 percent, many of the units have seen significant price drops ($1 million off a penthouse; $450,000 off that three-bedroom). Still, the process is the same as it has always been: You apply through the board, which reviews your information. Though Weintraub says, "there are no set rules about liquidity, employment, or salary" for applicants, others in the building say that's not always the case. At one point in the not-so-distant past, says resident Oberlander, the board "required you to have something like 50 times the liquid amount of the value of your apartment in your account."
Here Are Four on the Market
The Restaurant Downstairs
Probably cursed.
For decades, the first floor of One Fifth has housed a restaurant. In the '30s, there was the supper club #1 Bar that launched the careers of Dorothy Lamour and Paul Lynde. By 1976, George Schwarz and his wife, Kiki Kogelnik, opened One Fifth, where brothers Keith and Brian McNally's worked before they went on to open the Odeon. Per building lore, hostesses were occasionally dispatched to send drunken patrons-slash-residents back up to their apartments. Throughout the '90s, though, no one was able to stay open for long. Alfred Portale, the celebrated chef of Gotham Bar & Grill, tried his hand at a seafood restaurant, named One Fifth Avenue, in 1992, which failed in less than two years. That was later followed, unsuccessfully, by Vince and Linda, where Anthony Bourdain ran the kitchen. In 1997, Ruth Reichl asked in her 'Times' review if the space's newest restaurant, Clementine, would be able to outlast the others. (Her takeaway: maybe.) But it was only with Mario Batali and Joe Bastianich's Otto Enoteca e Pizzeria in 2003 that something finally stuck — until Batali was accused of sexual misconduct in 2017 and, earlier this year, when the restaurant was forced to close permanently owing to COVID-19.
*This article appears in the November 9, 2020, issue of New York Magazine. Subscribe Now!