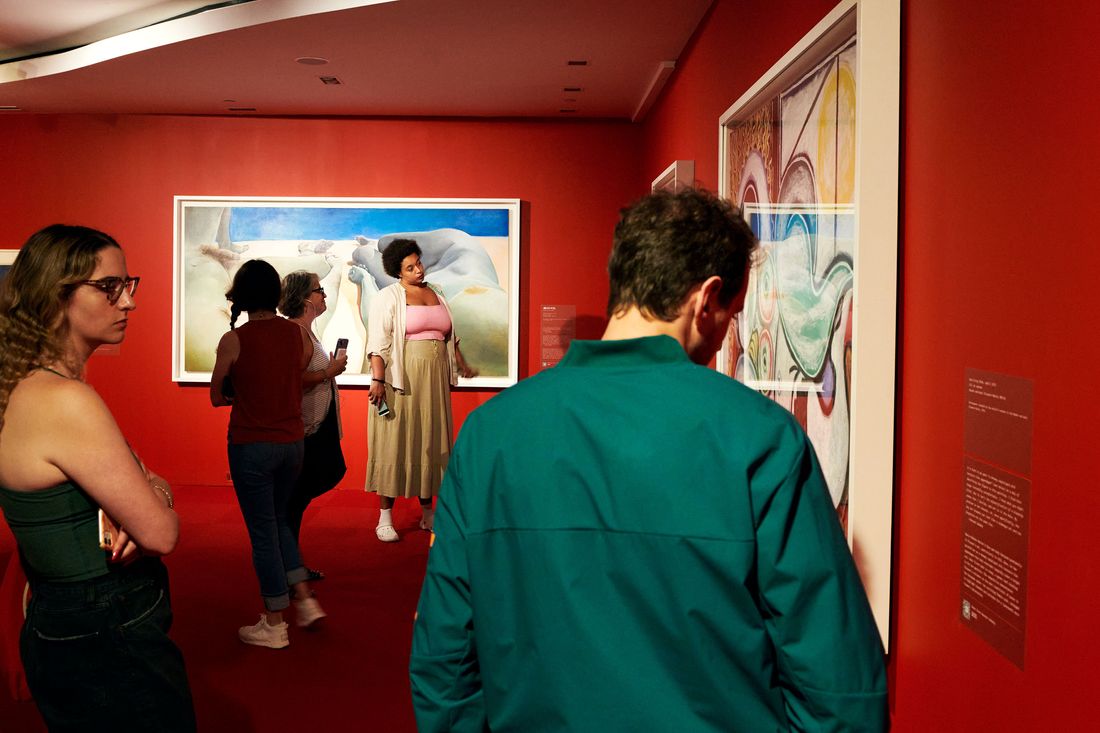 On June 2, the Brooklyn Museum opened "It's Pablo-matic," an exhibition that takes a post–Me Too look at Pablo Picasso's reputation by placing some of his work alongside feminist pieces and wall texts quoting scholars, artists, and the comedian Hannah Gadsby, who helped curate the whole thing. The reception was unenthusiastic. The show's ambitions were called "GIF level" (the New York Times) and the Picassos "minor" (Artnet), while ARTnews described its "disregard for art history, the discipline that Gadsby studied, practiced, and abandoned after becoming frustrated with its patriarchal roots." One week after it opened, I spent six hours meandering through the galleries. There were plenty of the types of people you'd expect to see at the Brooklyn Museum on a Friday afternoon: tourists whispering in other languages, parents with babies, and retirees lingering on benches. There were also a healthy number of viewers enjoying the exhibit — groups of boomers who referred admiringly to Gadsby's first Netflix special, Nanette, a cut from which plays on a loop in the show; young women who laughed at the quotes on the walls; and many lesbian couples. (There were some Gadsby detractors, too. "No, I'm saying it. Hannah isn't a happy person," said one young woman to another.) Also spotted: academic types who mentioned their students and lectured their friends on the value (or failure) of the exhibit's controversial format. Two young men in shirts buttoned to the collar wondered if Gadsby's reading of Picasso weren't slightly unfair. And a group of young women seemingly in their 20s went through with a shrewd eye, at first processing every blurb, then deciding at one point they'd had enough. "I feel like I'm reading, like, so much right now," one said. "I'm just gonna look at the art." Below, some other things I overheard during my day at the exhibit.
Is she naked?
No. She has really long pants on.
This is by Lena Dunham's mom.
What? No way?
Yeah, she's an artist.
Is it supposed to be funny or serious?
I guess it's both.
The controversy is it's, like, totally funded by the Sackler foundation or some corporate sponsor. It's like, ma'am —
"Do women have to be naked to get into the Met Museum?" Interesting.
I want inclusion. Like, I want that. But this is — it's just like what they already had in their collection.
Which came first: the show or the comedic essays?
In her defense, she, like, got this to happen.
But next to these ridiculous quotes!
I personally find the repeated scene of artist and object fascinating. We are subjects, and subjects to us are objects, and he's dwelling on a very relevant experience. She's returning a very cold look, but the look he's giving to her is actually quite fascinating. A vulnerable gaze.
Fantastic light, the Mediterranean coming through the window.
Fantastic light. But I see it more like a — the Minotaur, do you say?
I say Minotaur.
This would be, for me, a total dream purchase.
He had eight students and taught his students how to paint, and one of those students taught your aunt how to paint.
He was a really bad man. He didn't teach other people.
This is sick. This is so dark. This is hard. I think I just might replicate that!
Look at the teeth.
It's so good.
Shit.
Nope!
That's so nasty!
She's having sex with a cat!
I don't like that painting!
It's not a painting. That's a photograph. You need to catch up on human anatomy.
That's so cool: It's women having sex.
Do not touch. You're gonna get us in trouble!
That's so cool.
"Seeing her pets as reincarnations of a single being …" Basically, she's in love with her cats.
She's in love with her cats?
Maybe the name alone is the first tell, but the whole thing is a joke.
We would expect nothing else, right? All right, jokester!
There's her quotes. They're really funny.
They're extremely funny.
It's really fascinating.
He was such a misogynist.
Such a misogynist.
It's so different than womanizing. One is ethical, the other is …
There are some people who don't buy Picassos anymore because of his —
That's so interesting.
That's a pretty good inspiration for a cake.
She has an anus on her chin?
Ah!