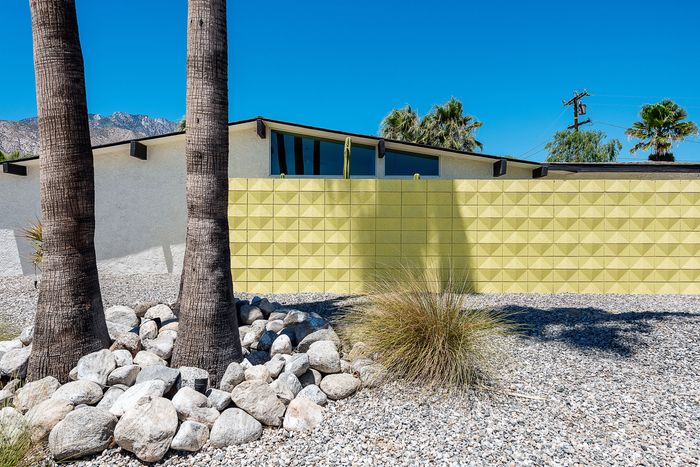 Photo: Craig Bernardi Photography
Location: Palm Springs, California
Year built: 1959
Architect: William Krisel
Specs: 3 beds, 2.75 baths, 1,225 square feet, 0.23 acres
Price: $815,000
The late American architect William Krisel is an icon of mid-century design, a modernist who designed more than 40,000 homes over the course of his 50-year career. The majority were built in Southern California, where Krisel was known for angled roofs, concrete breeze blocks, and floor-to-ceiling glass windows. From 1950 to 1966, the architect partnered with Dan Palmer and the father-son team at Alexander Construction Company to develop tract homes in Palm Springs, first in the Twin Palms Estates subdivision — where each home came with a pair of palm trees.
Homes in the Racquet Club Estates subdivision were part of the team's second development, which spanned 1959 to 1962. Located just one mile from downtown Palm Springs, the open-concept homes in Racquet Club Estates were designed with almost identical floor plans, yet Krisel made the houses feel distinct by providing five different roofline options and several street orientations.
Today, many of these modestly sized "Alexanders" — most average around 1,300 square feet — have been upgraded, renovated, or restored. For example: 2311 North Avenida Caballeros, a three-bedroom in Racquet Club Estates. Its yellow "shadow block" wall, which is visible from the curb, isn't original but uses a breeze-block-like diamond pattern to echo the geometric motif in Krisel's designs.
Inside, you'll find Krisel's classic post-and-beam design in the living room with tongue-and-groove ceilings and a full-height fireplace. From the dining room, through a wall of aluminum-framed, thermally-improved windows and sliding doors, you can see views of Mt. San Jacinto. And across from the (renovated) kitchen, an updated bar has walnut cabinetry and custom smoke mirrors from Palm Springs Mirror & Glass (the original glass supplier for the Alexandra Construction Company).
Other improvements include new clerestory windows; Krisel's original design did not use this style of window on the back of the home, but many owners in the neighborhood have added them to match the front windows. Despite these changes, the focus on indoor-outdoor living is evident, with a fairly large side patio, an outdoor fireplace, extensive landscaping, and a pool.