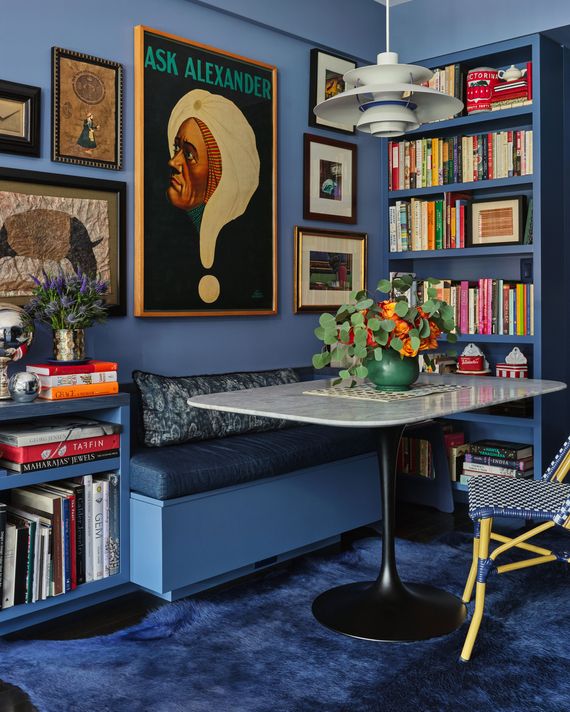 A huge, vintage early-20th-century "Ask Alexander" poster has pride of place on the wall over the dining table. "Alexander was a famous conjurer-magician-psychic-vaudevillian," Pam Sommers says. "This was my late husband's, and I love having it as a focal point in the room."
Photo: Claire Esparros
Speaking of the blues and how I ended up with an entirely blue apartment," says Pam Sommers of her 550-square-foot Village studio, "basically, my apartment grew out of a two-inch piece of stone."
It all started with an intention to replace the kitchen countertops; she chanced on the Jac Elan tile store, where she found the "Cambria Quartz line that had really cool colors. Then I spotted this square of navy blue with tiny sparkles, which gave it depth and life." And that gave her other ideas. "I changed almost everything inside this apartment except for the floor and the windows," she says with a smile. "I did a gut, 100 percent."
But to back up: Two years ago, after selling the 2,000-square-foot loft where she and her late husband had lived for 27 years, Sommers decided to downsize. What she didn't think she wanted: a '60s postwar building or a one-room studio. Then she walked into this place and found it was exactly what she wanted. "The lobby was Mad Men mid-century chic, the layout was very reminiscent of my loft, and there was this (south-facing) view, which overlooked landmarked Village rooftops so nothing will obstruct it ever — or at least in my lifetime." It didn't hurt that there was an ample closet where she could install a washer-dryer.
She then began what she describes as her "joyful adventure" of methodically purging, donating, and selling a loft's lifetime of stuff: white Wedgwoods, copper pots, sets of linens, pottery, and — given her job as publicity director of Rizzoli — at least 3,000 books. (She still has around 1,000.) She set up an Instagram account she dubbed "Pam Sells the Ranch" and ran it as a virtual yard sale. As for her library, "I literally did that Marie Kondo thing of taking every book down and asking myself, 'Do I love this? Do I need this?'"
Sommers studied art and illustration at Parsons; managed Cherchez Antiques and Potpourri, where she learned about furniture and how to buy at auctions; styled photo shoots; and started the Illustration Gallery on East 11th Street (where she represented Roz Chast). After she closed the gallery, she went to work for Taschen, then Rizzoli, where she has remained for two decades.
She knows her way around a floor plan and did due diligence to find her dream team, which included contractor Artur Patycki and millworker-cabinetmaker Jozef Zygmunt, who were able to store what she didn't off-load: Think combined front closets and custom-built kitchen cabinetry that extend to the ceiling.
"The biggest decision," Sommers says, "was whether to bring along furniture I owned, like a big Empire-style dresser and green-painted primitive-country dish cabinet." She let go of the heavier pieces, opting for more streamlined built-in bookcases and a banquette for the dining-work area.
The rigorously edited décor includes a smaller version of the Moroso Big Mama sofa she had in her old loft, a mid-century-looking Ikea stool now lacquered in a hue of blue, a large dose of Benjamin Moore's Stratford Blue on the walls and Blue Heron on the cabinets, a bed from West Elm with four giant drawers underneath, and an Ikea light fixture for the bed area Sommers had loved for years, now out of stock but available on eBay. Her passion for bistro chairs has been met, too.
"Living in the smaller space has been such a delight. There was no adjustment period at all," Sommers says. One thing that didn't get the heave-ho was the assortment of old pottery and glass shards she collected on her mudlarking forays along the banks of the River Thames. They rest in bowls on a table at the foot of her bed.