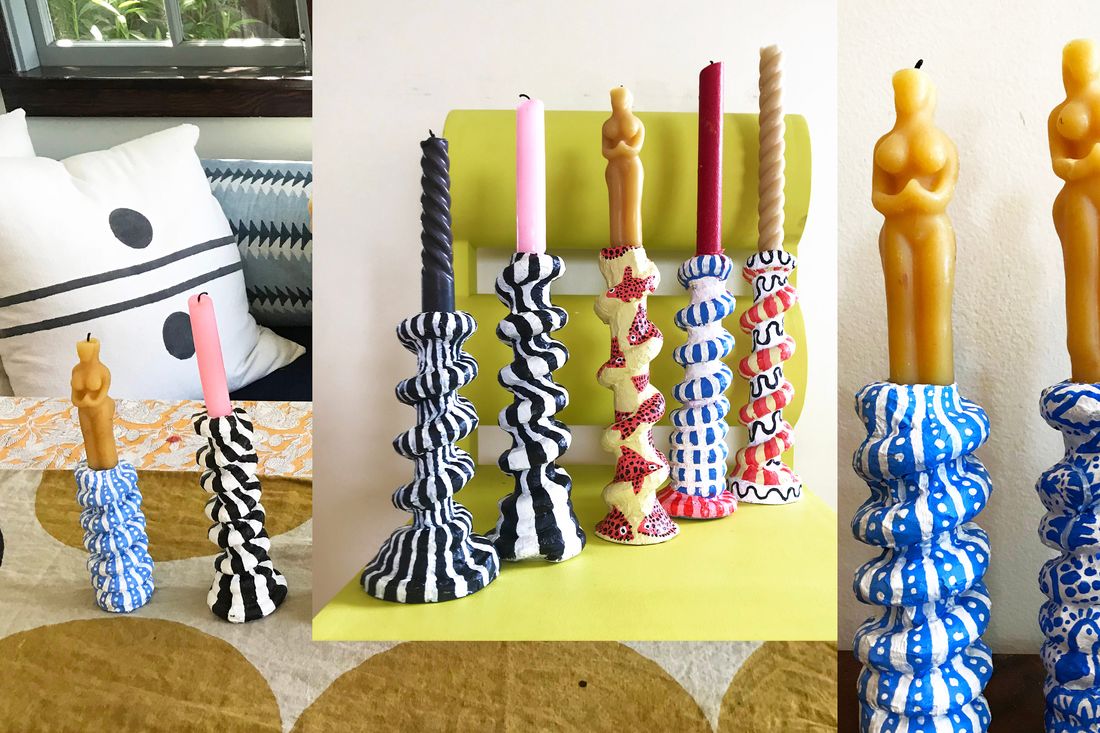 Hopie Stockman, cofounder of Block Shop Textiles, riffed on the totems of Ettore Sottsass and turned-wood furniture legs for these papier-mâché candlesticks.
Photo: Courtesy Hopie Stockman
This story was originally published by Curbed before it joined New York Magazine. You can visit the Curbed archive at archive.curbed.com to read all stories published before October 2020.
Hopie Stockman, co-founder of Block Shop Textiles, is eating at her dining table more often these days, like many of us are doing under stay-at-home orders. She quickly grew bored of looking at the same table setting but didn't want to order nonessential items like candlesticks. So she decided to make her own.
She began by wrapping old rope around a paper tube, then sculpted everything into place with papier-mâché, and painted the candlesticks with optical patterns and punchy colors. The spiral shape riffs on the Italian design guru Ettore Sottsass's whimsical totems and the turned-wood legs of a table she was admiring on Chairish. Stockman showed them to her sister, who suggested she share them with their audience as a DIY Instagram tutorial.
"We're trying to find the humor where we can, and papier-mâché feels silly," Stockman says. "It's not about putting pressure on ourselves to be productive, but hopefully using this time to be a little more exploratory."
Stockman isn't alone. People are making papier-mâché doppelgängers for Zoom calls and papier-mâché coronavirus piñatas for "cathartic destruction." Artists who can't access their normal supplies are turning to papier-mâché, and contemporary designers who have always worked with the medium are pushing it even further.
While papier-mâché is French for "chewed paper," the material's history dates back to ancient China. Paper, as we know it today, was invented during the Han dynasty — about 206 BC to 220 AD — and some of the earliest known three-dimensional objects made from paper also come from this era. During the 18th and 19th centuries, papier-mâché became popular in Europe. Designers molded it into elaborate and ornate furniture, like this ca. 1844 chair in the Cooper Hewitt's collection inlaid with mother-of-pearl and gold leaf. The material also has a long history in folk art, including Mexico's cartonería sculptures, and outsider art. Twentieth-century heavyweights like Claes Oldenburg, Eva Hesse, and Franz West all used the medium.
The long history of paper art has always appealed to Hannah Bigeleisen, a Brooklyn-based artist and designer who became obsessed with using paper to create 3-D objects while studying sculpture at the Cleveland Institute of Art.
"The material properties [of paper] are amazing," Bigeleisen says. "It's halfway between a sculptural form and a textile. Paper also has a beautiful history: It's the site of investigation, learning, and drawing."
Bigeleisen launched a new collection of papier-mâché lamps at Sight Unseen's virtual Offsite fair this month. The Archi lamps are composed of geometric bases molded from cotton pulp and plaster, a mixture that yields a bumpy surface not unlike a popcorn ceiling. The shade is made from wispy marbled fringe, a design by the the New Orleans–based artist Jami Girouard that Bigeleisen commissioned for the lamp.
"Those irregularities and dimples give the light a rich surface to cast itself on," Bigeleisen says, pointing out that the strangeness of the surface makes your eye linger. "The form becomes fluid."
Adam Frezza and Terri Chiao, the artists behind the studio Chiaozza, are known for their surreal and psychedelic sculptures like cartoonish plants and imaginary geological formations. They use papier-mâché heavily these days. Their creative relationship with the material began in 2012 when they were drowning in an endless flood of junk mail: They carefully removed all the staples and plastic windows from their mail and began turning it into pulp for papier-mâché. Now they source paper scrap from local photography studios, pulverize it in an industrial immersion blender, and mix it with wood glue.
"Almost everything we use in our practice is a bit of a utilitarian reaction to what is readily and easily available weighed with the toxic impact those materials might have on us over time," Frezza and Chiao write. "We try to use things we can source easily, manipulate with hand tools, and achieve a finished product without too much of a negative impact on the environment."
Frezza, Chiao, and their young daughter, Tove, are quarantining in Vermont, away from their Brooklyn studio. But they're still collecting paper and cardboard waste and making papier-mâché. "It is nice to revisit the early methods we used for making pulp and to recognize how far we have come with paper so far," they tell Curbed. "It feels like the kind of material one could spend a lifetime with."
The pandemic led Kaye Blegvad, a designer and illustrator based in Brooklyn, to integrate papier-mâché into her artistic practice. Blegvad normally makes jewelry, prints, and ceramics, but the stay-at-home orders have prevented her from going into her studio. She also had a bad case of artist's block, which was amplified by the crisis. Enter papier-mâché, a material that wasn't precious and that was fast and easy to get into.
"I thought to myself, I'm going to mush some stuff together and see what happens," she says.
Blegvad's papier-mâché foray started with figurines based on old photographs of folk-art statues. "It unglued something and made me think of other things I can make," she says. She sculpted a miniature version of an armchair that her cat loves to sit on. She made a piece based on a photograph of her grandmother holding her father as an infant. She's done reclining nudes and surreal flowers, among other things. The figurines rapidly took over her apartment, which doesn't have much storage, so she made a papier-mâché shelf to hold some of them.
"It made me feel more able to make things and think creatively again in a way that feels energizing … and has contributed to my threadbare grip on sanity."
Stockman posted her candlesticks tutorial to Instagram as a way of offering people that therapeutic outlet.
"This is a really challenging and alienating time for people," Stockman says. "We're all facing different challenges, and we're suffering in different ways. One thing we could do is roll up our sleeves, get our hands dirty, go back to the days of art class, and do something fun for the hell of it."
When I first saw an image of the finished candlesticks, I immediately wanted them. When I learned they were a craft project, I had to try it for myself. I didn't have art paste like the kind Stockman used, so I mixed up flour and water like I did when I was a kid, cut up a few pages from a pile of old New Yorkers, and got working. (You might be wondering about the safety of candlesticks made out of a highly flammable material like paper; Stockman says use your best judgment and remove a candle if it has burned too low.)
Like Stockman, I got lost in the slow and repetitive process of soaking paper strips, draping them on the candlesticks' structure, building up the form, and smoothing out the crinkles. The candlesticks are far from perfect — lumpy, lots of edges that make it pretty obvious that they're paper pieces — but they're so satisfying. After spending all day staring at my flat computer screen, working on something so slimy and messy felt freeing and refreshingly tactile. And unlike the story I was writing earlier in the day, this project wouldn't be scrutinized by outside eyes.
I'm currently thinking about what I can make next: An entire candelabra? A funky plant? A table lamp? By the end of quarantine, I just might wind up with a shelf like Blegvad's.