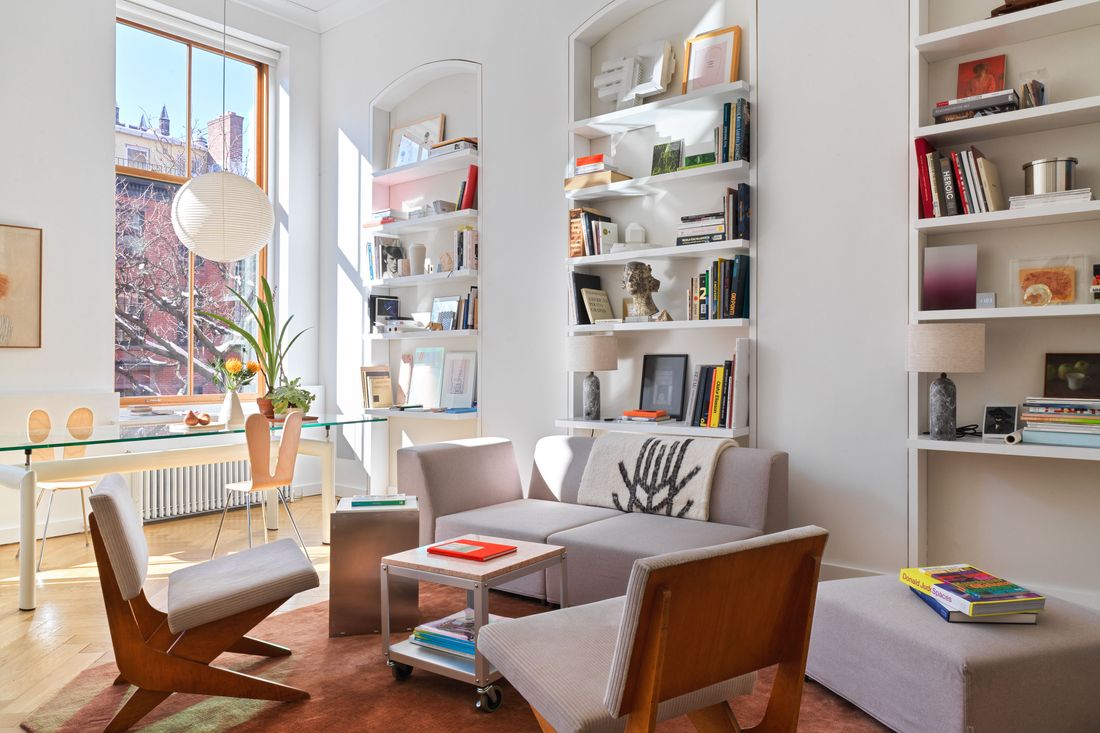 The Great Room:
Each library niche doubles as a workstation. The table is for meetings as well as dinner parties.
Photo: Chris Mottalini
The apartment was in such bad shape we could actually afford it," Noam Dvir recalls of the parlor floor of this 1856 Chelsea townhouse that he and his partner, Daniel Rauchwerger, bought together this past April, just at the start of lockdown. "We were like kids taking over a palazzo."
The couple had met and fallen in love when working for the same Tel Aviv newspaper in 2011. They plotted a path together that entailed getting master's degrees from Harvard — Dvir in urban design, Rauchwerger in the history of philosophy and design — then coming to New York to look for jobs in architecture as, Dvir says, "a package deal."
And sure enough, OMA hired them both, and Dvir later worked for WeWork. But that plan had always led up to starting their own firm, which they did a year ago in January, calling it BoND. "Shohei Shigematsu" — the director of OMA's New York office and their boss — "told Noam he's the kind of person who probably would not be truly satisfied if he didn't run his own practice," says Rauchwerger.
This apartment, their second since arriving in New York in 2015, had its challenges. The one-bedroom had long since lost its architectural details, following up time as an SRO with a dispiriting renovation. But the ceilings were 13 feet high with tall, south-facing windows in the front room.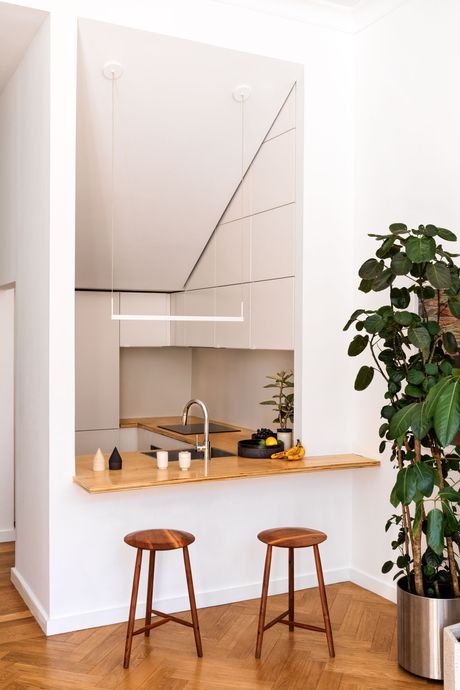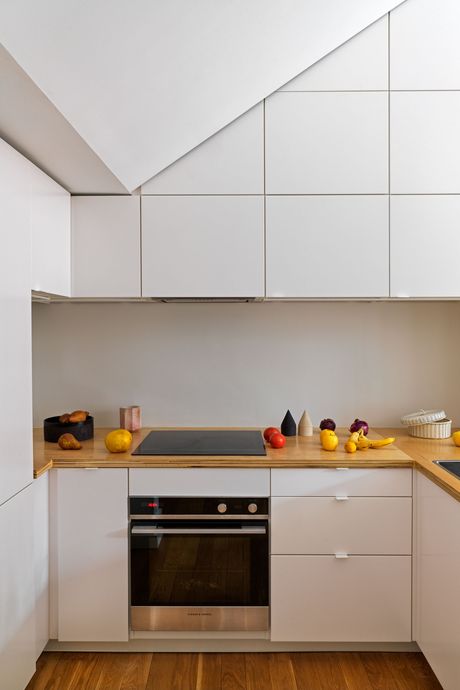 It ended up being a pandemic project, which also delayed construction for a few months. "The lockdown definitely had a big influence on our thinking." Rauchwerger says of the live-work space. "We rethought the layout of the great room as one with many corners, so that we wouldn't constantly be working or sitting in the exact same place."
"It's a little pastiche, a fantasy," Rauchwerger says of how he and Dvir reintroduced architectural details. "The biggest spatial change we made was to build out the western wall by seven inches to make room for the built-in library," which is ensconced in three new arches that look like they have always been there. "The arches were a way to create symmetry in the space and give an abstracted idea of the glamour this room must have had when it was originally built." Crown moldings and a new herringbone oak floor added to the feeling of restoration, along with the custom Arabascato-marble mantel for the wood-burning fireplace.
They added the slant over the kitchen, where the ceiling steps down from 13 feet to eight. "It's a bit like an attic," Dvir says. The countertop is plywood. "We were thinking to do a stainless-steel counter, like a little bit futuristic, and we had a temporary piece of plywood, and we loved it." Somehow every detail looks intentional. "We wanted a fixer-upper; that's what we do," says Rauchwerger.