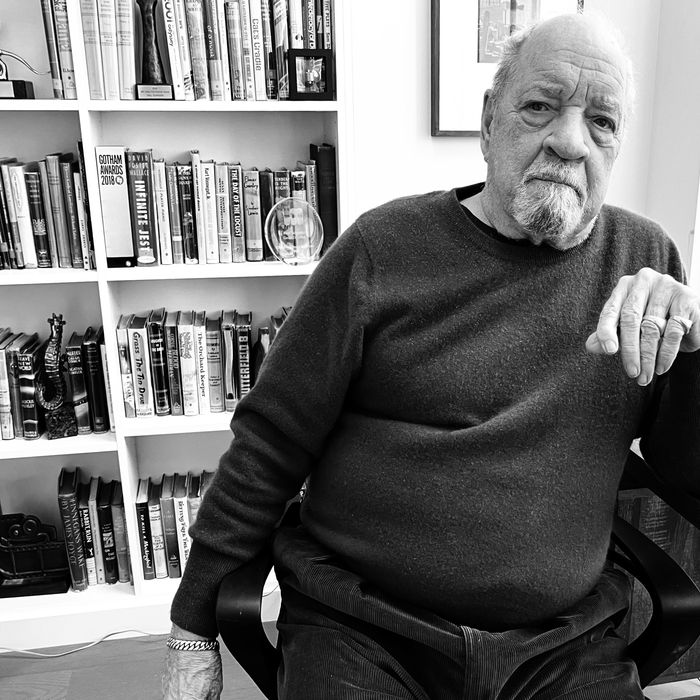 Paul Schrader is late and hasn't eaten. He's been stuck in his apartment on a Zoom call with Antoine Fuqua of Training Day, trying to get the director to sign on to a new script he's set on calling Three Guns at Dawn. It follows three brothers — a dirty cop, a serial killer, and a drug dealer — who hate one another. At 1:30, he appears in the restaurant, orders three eggs scrambled and a scoop of cottage cheese, mixes it all together, and huffs it down, his heavy gold bracelet thumping the table. Then he looks around. The space is sterile but tasteful: big windows overlooking Hudson Yards, vaguely mid-century furniture, an open kitchen. Everything smells of jasmine. "Living in this place feels like living on the Cunard Line," he says. "Sometimes I think, God, I've got to get to a dive bar somewhere."
This place is Coterie Hudson Yards, a luxury senior-living facility that Schrader, 76, moved into in February. It's a good spot to write in, he says, and he has been working near constantly since he arrived, managing to finish two scripts from the desk in his one-bedroom on the eighth floor. The first he optioned to Elisabeth Moss to direct; the second, an adaptation of one of the last novels by his friend Russell Banks, he is keeping for himself. He plans to shoot it this summer with Richard Gere in the lead role.
Schrader didn't necessarily need to move into an assisted-living facility. He told a documentary crew speaking to him about 2018's First Reformed that it could be his last film; it was not. Over the past few years, he managed (despite COVID-induced delays) to toss off two movies about afflicted loners distanced from society: The Card Counter, which premiered in 2021, and Master Gardener, set for release in May.
But eight years ago, his wife of almost 40 years, the actress Mary Beth Hurt, was diagnosed with Alzheimer's. At first, he quietly cared for her in the Putnam County home where they'd lived for years. That wasn't sustainable. "You have to strike a balance. You can't let her condition stop you from working," his friend and longtime collaborator Martin Scorsese advised him. He hired help, but recently that care "needed to escalate. I started realizing that we're not gonna be able to take care of her anymore and wondering, Where's a good place?"
His own health had also taken a downturn. Last year, heart issues landed him in the hospital; a bout of long COVID came with bronchitis. He was starting to skip events, such as the talk after a screening of Master Gardener at the New York Film Festival. Suddenly, Schrader — whose screenplays have honed the archetype of the lonesome American man driven mad — was afraid of becoming the character in his films. "Am I gonna be left as the lonely old guy at the lake house, walking into walls, drinking?" he says. "Is that gonna be my fate?"
So Hurt moved into Coterie in January, and Schrader arrived a few weeks later. Now, almost every day, he wakes up at nine, works for a few hours, then takes the elevator down to the sixth floor, where Hurt's apartment is. She lives in what Coterie calls Memory Care, a floor designed for people with cognitive impairment: Hallways flow in a circle so anyone who forgets where they're headed can just keep going, drifting through two living areas, a small café, and long rows of studio apartments. Hurt and other residents on the floor sometimes forget their room numbers, so outside each apartment is an illuminated glass box that residents and family can fill with mementos.  In Hurt's, Schrader has put a Playbill from the 1996 revival of Edward Albee's A Delicate Balance signed by the rest of the cast. (Hurt played Julia, the troublesome divorcée; the show won the Tony for Best Revival of a Play.) Below that is a souvenir plate from a family trip to a crocodile farm in Thailand; in the middle of the plate is a photo of the family. The kids are around 9 and 13. Behind them are Schrader in a Hawaiian shirt and Hurt, with a backpack, smiling.
Sometimes he'll bring her up to the main restaurant; other days he'll stay in Memory Care and play a game or read a book beside her. When a live band came to play for residents, a staffer says, Schrader made requests. Friends come by, too. Glenn Close recently popped in a few times before heading back to her house in Bozeman, Montana.
"Would I have moved here if I didn't have a situation with my wife?" Schrader asks. "No. Will I leave if she dies? No. I like it."
Schrader likes that Coterie feels like a hotel. "I've lived in hotels half my life when I'm on location," he says. "I like the room service. I like the bar. I like the maids." Plus, those hotels on location always offered Schrader another perk: someone at the bar he knew, someone from the crew, someone to talk to. At Coterie, where the residents rarely shift, he has been getting to know his neighbors, a group that includes a former cabaret singer and a onetime Broadway set designer. "They all tend to be kind of interesting because otherwise they couldn't afford to be here," Schrader says before sensing his snobbishness, "even if they are a little on the geriatric side. But then so am I."
Coterie does feel decidedly less nursing home, more Four Seasons, at least if you ignore a few details: leather banisters along the hallways, rugs whose edges are tamped down to prevent trips, and a bar furnished with armchairs instead of teetering stools. In apartments, Alexa reacts to voice commands to raise shades, read out the weather, or turn off lights. A tech specialist can help you set it up or assist you with the computer, and a receptionist downstairs is more of a concierge who can be tasked with booking theater tickets, restaurant reservations, or a ride anywhere in Manhattan; the fee is included along with daily housekeeping, use of a 1,500-square-foot gym and spa, and dining at three on-site restaurants (room service goes until ten, but if a resident wants to order a steak at 2 a.m., staff will help them find a local restaurant to deliver it). All this comes at a cost: A one-bedroom starts at $15,600 a month.
Schrader mockingly describes the aesthetic of his apartment as "Wayfair modern." But he's made it his own. The shelves are stuffed with awards (his Spike of Honor from Valladolid, a Golden Lion) and books (a signed copy of Revolutionary Road). In a bin in the hall are copies of the script he's planning to shoot this summer with Gere. ("My Ivan Ilyich," Schrader calls the project.) In early March, he had a party — a sort of announcement that he was back in the city in the neighborhood where, more than 20 years ago, he had shot Light Sleeper. "I thought it's very cool to live in Alphaville," he says, referencing Godard's 1965 sci-fi film. He invited 80 people, colleagues and critics and friends, and all of Coterie's residents. The party spilled over from the Brass Room restaurant to a lounge outfitted with a player piano and down the hall past Coterie's private theater. In that small dark room, Schrader played a single film on loop: Chilly Scenes of Winter, a 1979 romance starring Hurt in her early 30s, around the time they met. It's his favorite movie of hers.