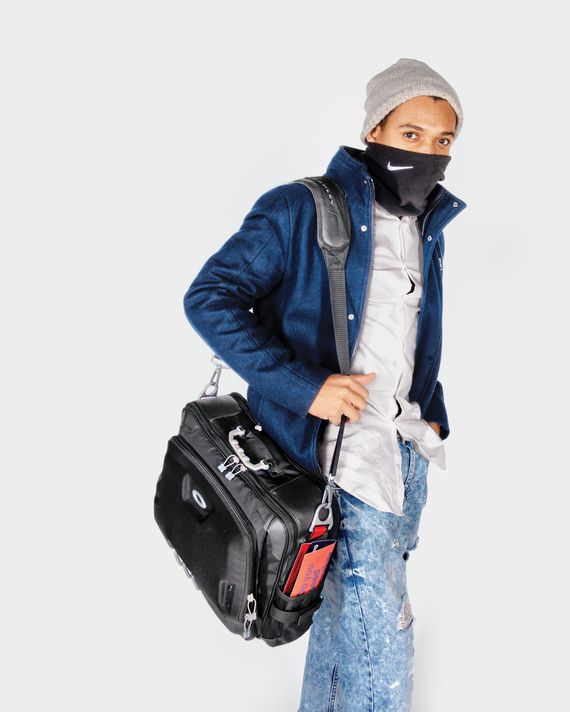 Wilson Lisboa (pictured above), student and cruise-ship employee, New Haven, Connecticut.
What are you up to today?
Me and some friends came into the city from New Haven to take pictures. We're going to the Brooklyn Bridge, Times Square, Grand Central, and Central Park. Friend time. Usually, I'd be on a ship, but most of them are docked right now.
So you work on cruise lines?
Yes, in the gift shops or in the restaurants, usually. For the past few years, I've been at sea eight months at a time. Before this, I never thought of cruises as unsafe. I mean, I saw some things. Sometimes a person would pay for the best room, then just jump overboard when we were in the middle of the sea. And sometimes it's not possible to find them. And it's pretty normal for really old people to die. Though when I saw it the first time, it was shocking. I do want to go back after the pandemic. I like waking up every day in a new country.
You're from Tennessee?
Yes, we're here visiting my husband's family. It's very different here, COVID-wise. At home, there are Walmarts you can go into where not one single person is wearing a mask.
Where are you coming from?
Connecticut. My friend and I are going thrifting on the Lower East Side.
We're obsessed with fashion. I've been coming into the city alone since I was 13. That first time was with a friend, too. We went to get bubble tea and buy K-pop posters.
Nice outfit.
I was raised in the 1950s, and this is how professionals dressed. I'm a lawyer for religious institutions. Through work, I've made friends who have political views a world apart from my own. One of my dear friends, who thinks Trump ought to have been reelected, went to D.C. a couple of weeks ago. And I haven't heard from her since.
What brings you to Grand Central?
Oh, I'm just going home from work. I'm a nurse. It's my first job in America. I moved from the Philippines and got my license, and a year later, the pandemic hit. I've had the vaccine — Moderna, three weeks ago — but dealing with the stress is hard. I pray silently when my patients die.
*This article appears in the January 18, 2021, issue of New York Magazine. Subscribe Now!