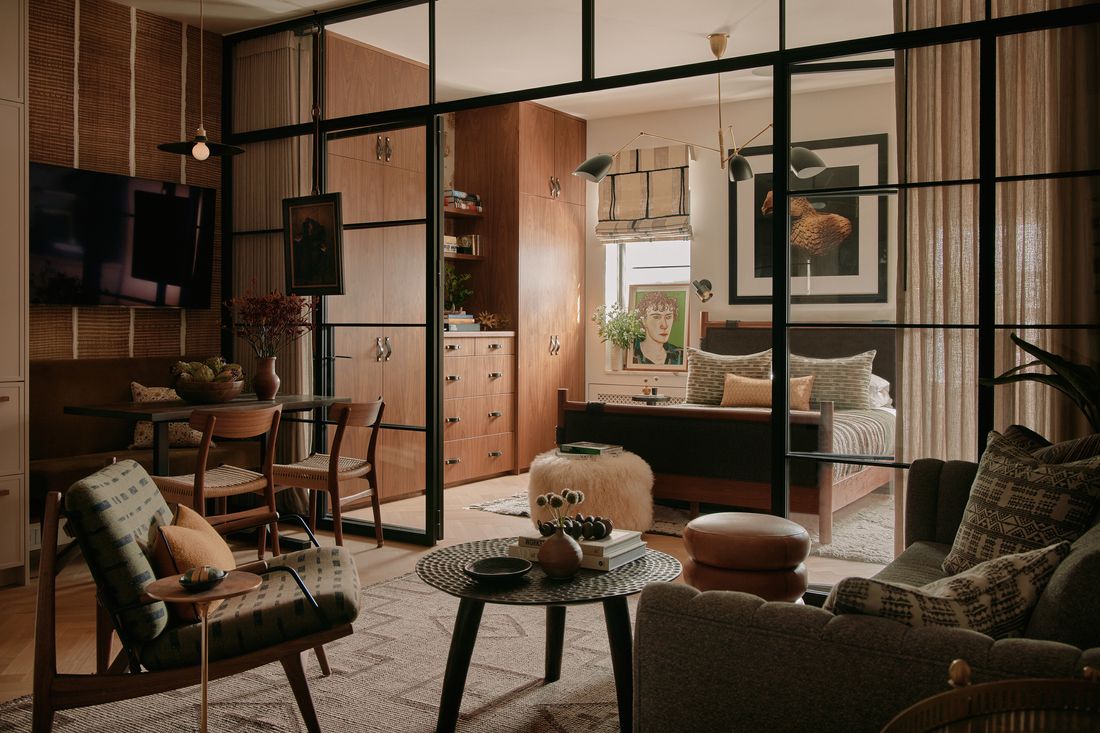 Living Area:
The studio is an open plan designed to accommodate cooking, sleeping, and relaxing all within 600 square feet. Designer David McMullen divided the room with a glass and metal partition.
Photo: William Jess Laird
When Kristoffer Cusick, an actor, and his husband, Dan Hickle, a marketing executive, bought this prewar studio in the West Village a decade ago, they hadn't bothered to do much work on it. Even if the studio with its glossy finishes "wasn't really our style," Cusick says, "the price was right." They weren't there full time anyway; they had a home in San Francisco where Hickle's job was based.
In 2020, Hickle got a job in New York and "we thought, let's make this our little dream location." Soon the pandemic hit, which put their renovation on hold, as well as their move. They stayed put in San Francisco and worked remotely, but eventually they were able to begin the reno. David McMullen, who also did their West Coast home, redesigned this one.
A lot of the work happened over Zoom calls. "At first it was scary," Cusick says, "because we thought, yikes, is this going to be possible? But it turned out in a lot of ways to be less stressful when you're not in the middle of it day-to-day; you can just sort of release it and let it come together, and come together it did."
McMullen divided the space with an industrial-style metal and glass wall hung with sheer linen curtains, which separates the bed area from the kitchen and living area.
Now the bed is no longer quite so close to the fridge, and a work-dining table is tucked into a corner with a banquette. The kitchen has been designed to blend into the open plan living and dining area. It's finished in wood that corresponds to the wood in the bedroom, with lots of custom built-ins for storage.