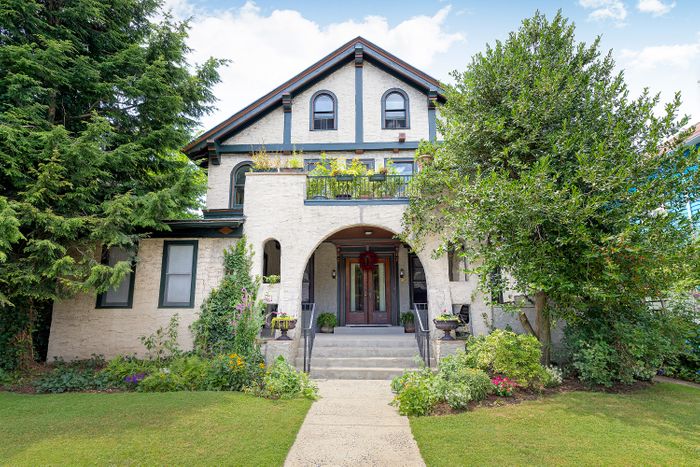 Photo: Melanie Greene/Courtesy of Compass
This story was originally published by Curbed before it joined New York Magazine. You can visit the Curbed archive at archive.curbed.com to read all stories published before October 2020.
Location: Prospect Park South, Brooklyn
Year built: 1908
Architect: George E. Showers
Specs: 8 bedrooms, 3.5 bathrooms, 4,812 square feet, 0.11 acres
Price: $2,750,000
The streets in Prospect Park South's Historic District are lined with trees and large single-family homes, making them feel practically suburban. But those single-family homes also represent an impressive range of architectural styles, from Italianate and Queen Anne to Swiss chalet and French Renaissance. Although this kind of juxtaposition would have been deemed "inappropriate" in the mid-19th century, according to the Landmarks Preservation Commission, by the turn of the 20th century, when the district was being developed, the "stylistic mix" apparently "gained acceptance and was seen as an enlivening factor."
Now, one of those homes — which itself borrows from a variety of influences (there are elements of neo-Tudor and Colonial Revival architecture, plus some Spanish mission–style arches, far more rare in the area) — is on the market.
The frame and stucco structure at 86 Argyle Road was designed by architect George E. Showers, whose dozen-plus works in the neighborhood include homes with Flemish gables, a Greek Revival temple front, and Tuscan and Doric columns. The façade at 86 Argyle has arched windows, half-timbering, and a balcony above an expansive porch with two archways. A single door to the left accesses a separate 1,000-square-foot suite (once a doctor's office), while a set of wood and glass double doors in the center opens up to the main parlor.
"When I started bringing people through, I kept telling them to look up. You have to look up and see every chandelier, every ceiling medallion. They're all different," says listing agent Carolyn Cedar of Compass.
The current owners, musicians who keep multiple pianos spread throughout the house, have carefully maintained the home, preserving the original chandeliers and fireplaces while updating the kitchen with a reclaimed enameled sink and stainless-steel appliances, including a Viking stove.
Already on the larger end of houses in Prospect Park South by interior square footage (four of the eight rooms on the second and third floors have a side that measures about 20 feet), the property also has four separate outdoor areas.
In addition to the front porch and balcony (which is off the en suite master bedroom), there's another balcony off the second floor family room and a 30-by-60-foot backyard with a brick patio, side yard, and cutting garden filled with roses, lilacs, hydrangeas, tulips, peonies, daffodils, and daisies.