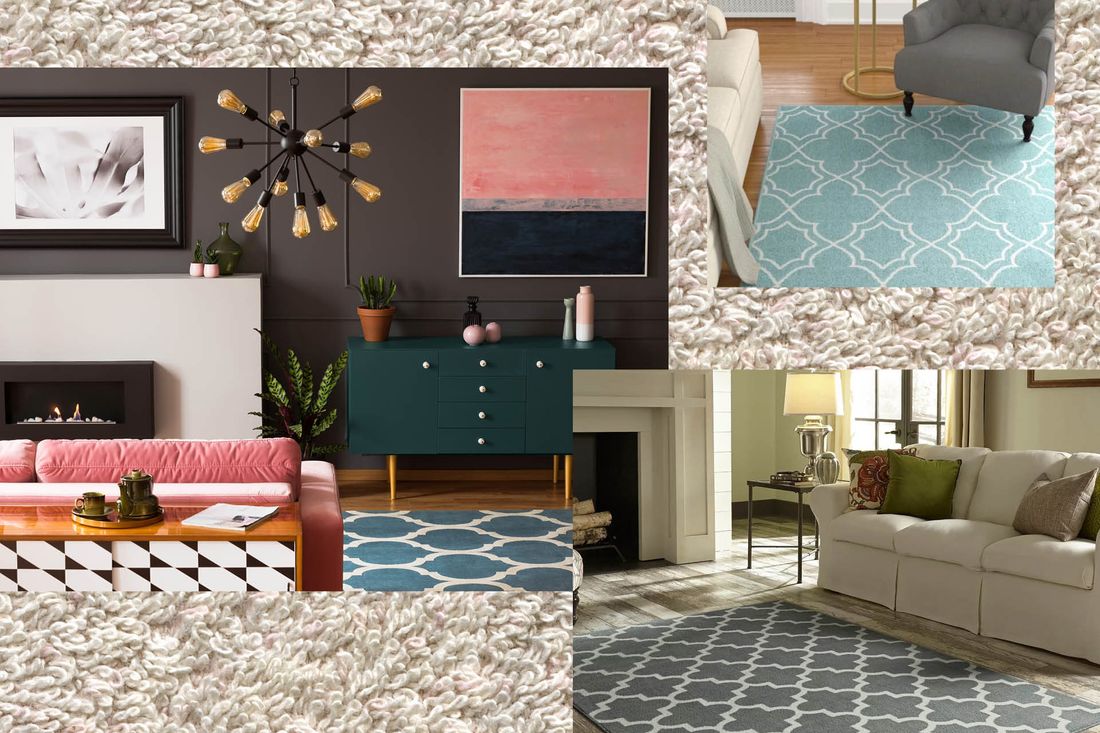 Photo: Shutterstock; Wayfair; Target
This story was originally published by Curbed before it joined New York Magazine. You can visit the Curbed archive at archive.curbed.com to read all stories published before October 2020.
In the second episode of Judd Apatow's Netflix show, Love, a long and circuitous day of mishaps between the show's main characters, Mickey and Gus, concludes with the two sweetly realizing a romantic connection — a classic, albeit prolonged, meet-cute. But in the tender final scene, a third character is present: the rug. The rug's geometric pattern is uncannily familiar, vaguely pleasant-looking, mostly unassuming. It doesn't demand one's attention or clamor over other objects in the scene. It simply is.
Mickey realizes she and Gus have the same rug, and suddenly their chaotic encounter feels a little bit fated. Which is funny, because these days, there's hardly a single big-box, mainstream interior goods retailer in America that doesn't have a rug like that in its inventory.
As a design motif, the quatrefoil shape (which sometimes goes by other names, like trellis, lattice, or fretwork) has been around for centuries. But in the last two decades, its contemporary iteration in textile form has popped up everywhere from "modern farmhouse" bloggers to Mitt Romney's son's house to, of course, HGTV's Instagram. It's on Target's website, where the $75 Threshold Fretwork Rug has amassed 1,700 reviews and an almost-perfect star rating. In the "Most Reviewed" results for area rugs on Wayfair.com, another version of the rug holds the top slot. And of a quarter-million results on Overstock, the rug holds the No. 10 post among the "top-rated."
Unlike other Pinterest-y home decor trends that shot to popularity and burned away just as brightly (looking at you, "Keep Calm and Carry On" art), quatrefoil has endured. It seems to fit just as seamlessly among circa-2013 chevron as it does underneath a wall of shiplap. It's a white T-shirt, a pair of sensible heels, a chambray blouse. It's pretty hard to get wrong.
Charting quatrefoil's rise is tricky, mostly because it has been here all along, its meaning shapeshifting for so much of human history. While the pattern is evident in the art and architecture of ancient cultures around the globe, from the Yucatan peninsula to Constantinople, it was Islamic weavers who gave it life in textiles. Preethi Gopinath, the director of the textile design MFA program at Parsons, says that geometric shapes like the quatrefoil are not only simpler to weave but also carried religious significance. "In Islam, for a certain period of time, you were not allowed to actually, realistically depict nature," says Gopinath. "Instead, the way to attain that level of perfection in art and design was to use geometry, and weaving lends itself very easily and naturally to geometric patterning."
As these hand-woven carpets made their way to Europe through trade, quatrefoil trickled into the West. It showed up in Gothic and Renaissance architecture (typically in places of worship, including Notre Dame), then reappeared in art and architecture during the Gothic Revival, as the design podcast 99% Invisible explored in 2014. Over time, quatrefoil also became a signifier of "fanciness." In that podcast episode, producer Avery Trufelman (who also hosts Curbed's upcoming podcast) points out that Louis Vuitton, Van Cleef and Arpels, and David Yurman have all made attempts to claim copyright on the shape. Beyond diamonds and designer bags, it now pops up everywhere from throw pillows to dog beds to ottomans.
Its entry into mainstream retail as the pattern of choice for throw rugs, bathmats, and stair runners has also been decades in the making.
Interior designer and original Fab Five cast-member Thom Filicia, whose 2003-2007 run on Queer Eye paralleled the quatrefoil rug's steady ascent, traces the pattern's textile revival back to the turn of the millennium, when the collective understanding of "traditional" interiors began shifting away from stuffy and ornate to fresh and clean (and, simultaneously, when retailers like Crate and Barrel and Williams-Sonoma responded by rolling out kid-sister subsidiaries like CB2 and West Elm). "All of a sudden, graphic rugs started to feel more interesting to people than the ones with florals, or Oushaks," says Filicia. "Quatrefoil became this graphic and decorative tool that connected things that felt traditional with these more modern pieces… a bridge between the midcentury coffee table and the classic sofa."
Taryn Williford, lifestyle editor at Apartment Therapy, says that by 2008, "quatrefoil was just everywhere — it was the pattern." She knows, because she was decorating her first apartment that year, and bought a pair of blue quatrefoil throw pillows from Target as her requisite "pop of color" amid a mostly neutral palette. "The pattern felt kind of modern and fun and fresh at the time," Williford says. "I'm sure I have stuff now that I'll look back on and go, 'ugh,' but that makes me feel great right now — and those pillows made me feel great about my apartment." She jokes that, by that point, it felt as though the pattern was already approaching the end of the "cerulean cycle" so eloquently and icily laid out by Meryl Streep as Miranda Priestly in The Devil Wears Prada.
In Miranda Priestly's monologue, cerulean inevitably trickles down from the runways of Oscar de la Renta and Yves Saint Laurent to the clearance bin of a Casual Corner store. But by 2014, quatrefoil was still going strong.
That fall, it was prominently featured at the High Point Furniture Market, the largest home furnishings trade show in the world; after the show, Westchester Magazine described the pattern as "a darling of interior design." Meanwhile, the area rug category as a whole grew in popularity as homeowners began gravitating to hardwood floors over wall-to-wall carpet in their build-outs and renovations. A newfound interest in whimsical pattern play, perhaps sparked (or at least foretold) by Target's highly anticipated, chevron-heavy Missoni launch in 2011, gave rise to an environment in which quatrefoil thrived.
In a 2014 Today article offering tips on mixing patterns, quatrefoil window treatments are pictured alongside chevron pillows, a fretwork nightstand, and a throw pillow illustrated with, of course, a bird. Today, most of the aforementioned decorative accents feel like a very specific Pinterest time capsule (or a well-worn Portlandia joke). Nevertheless, quatrefoil persists.
Skye Westcott, senior vice president of merchandising and design at Ballard Designs, says that while quatrefoil rugs have been consistent top sellers in the last five years or so, variations of the pattern have stayed in Ballard's inventory for decades. "Our rug merchant has been here for over 20 years, and quatrefoil rugs were here before she joined," she says. "That's how long it's been popular."
Twenty years is a long time for a single trend to stick around, even by the standards of interior design, an industry whose trend cycles tend to move much slower than those of apparel. Part of that longevity may be due in part to "the Fixer-Upper effect" — as chevron and bird art gave way to shiplap and farmhouse sinks, quatrefoil managed to hitch its wagon to the Gainesian star, and stayed the course while its circa-2014 contemporaries went the way of the Casual Corner clearance bin. These days, the rug is often pictured on Pinterest alongside rustic whitewashed furniture, DIY wall art with "Family" or "Gratitude" or "Our Nest" on it, galvanized steel accents, and yes, shiplap. A Google search for "modern farmhouse rugs" yields variations of the rug in droves. One home decor blogger's farmhouse style shopping guide features the pattern twice in its greige-washed list of five recommended rugs. Another blogger describes the pattern as a "staple of farmhouse decor."
Of all the bright-burning pattern trends of the last decade or so, Williford says, "I don't know of anything that has had legs like quatrefoil has." She points to chevron as a stark contrast: both experienced a jolt of popularity around the same time. Both are simple, geometric shapes. Both have been part of our shared aesthetic vernacular far longer than Pinterest has. But eventually, the tides turned on chevron. "It became aligned with 'Pinterest aesthetic' and things that people wanted to be judge-y and shame-y about, even though it's actually a pretty timeless pattern," says Williford. "But you'll still see quatrefoil in really sophisticated homes." Poor chevron, which is now frequently mentioned in "trends that need to die"-style clickbait, has not been quite so lucky.
Over the last decade, Williford and her coworkers have fielded countless inquiries from readers about the pattern, mostly asking what it's called, where they could find it, and frequently, what it "goes" with. "A lot of people are obsessed with 'what goes with this' questions when you work in design," says Williford. "That's usually the first question somebody has when they're new to designing their place, and they find something they like."
The inherent appeal of quatrefoil, though, is that for the most part, anything goes.
It can make a traditional room feel a little bit more modern; it can tether a modern room in tradition. As Filicia mentioned, it can act as a bridge between different eras and aesthetics. It's easy on the eyes; it's about as neutral as patterns can get. It, as recent history has shown, can shapeshift from "first apartment out of college" to "modern farmhouse" pretty seamlessly. "The fact that it translates to so many styles and trends is, I think, why it stays around," says Westcott, who says the pattern shows up across all of Ballard's internally defined style categories, from "modern rustic" to "global." "I could make it feel very traditional and classic, but I could also make it feel bohemian," she says. In a design sense, quatrefoil can mean whatever we want it to mean.
Filicia points out that, rather than overhauling rooms entirely, most people these days are updating their spaces a la Theseus and his ship: integrating new things here and there into an existing environment. Quatrefoil is a perfect pattern to deploy in that situation, because it's unlikely to be disruptive. "It's one of those designs that plays well with others," he says. For some consumers, it's a simple and cheap way to freshen up a space, without having to redesign the rest of the room's elements around it. Plus, he adds, "not every piece in your room needs to be super powerful."
That adaptability and inherent ease help explain why the pattern has enjoyed such mainstream popularity for so long. "I think the reason it has this mass appeal is that it's an easy way for the layperson to sort of feel like they're instantly doing a 'designer look,'" says LA-based interior designer John McClain (who adds that, though he did use the pattern once in 2013, he's now ready to see it fade). McClain says the massive popularity of HGTV has led a large swath of consumers into believing that achieving that "designer look" is as simple, quick, and cheap as it's presented on television. That dynamic, often bemoaned by those in the trade, fuels the popularity of easy bets like quatrefoil, which can feel like a quick upgrade requiring little legwork or funds. "It's less risky than any other design that's out there, yet it makes the consumer feel like they're a designer," he says.
Similarly, Williford points out that the confluence of social media and lightning-fast production cycles means that aesthetic quick fixes are easier — and more alluring — than ever. "Today, there's more shorthand for the styles you want," she says. "In the internet-shortcut age, we're looking for the one thing that's going to give us that look: It's the shiplap, it's the quatrefoil rug, it's the macrame plant hanger."
Mostly, though, quatrefoil resonates because it's just so incredibly safe. "Nobody's going to say, 'I hate that rug,'" says Gopinath. "There's nothing to hate." And it's true: in my own casual conversations with people who own The Rug, the most common explanation for buying it was something along the lines of, "I didn't want it to be boring, but I didn't want it to clash with my stuff," or "I needed a rug, Home Depot had this one, and it seemed like a safe bet." Basically: It's not scary, but it's also not nothing.
Quatrefoil's adaptability is a draw not just for consumers, but for manufacturers, too, according to Deborah Hernandez, an assistant textile and surface design professor at the Fashion Institute of Technology. Quatrefoil presents an easy template. "You can change it greatly with scale and color, and those two things can change who you're trying to appeal to," she says. Large-scale quatrefoil in a splashy color might speak to a younger demographic; scaling the pattern down and putting it in a quiet, soothing neutral can appeal to a retiree decorating their vacation home. Westcott says that Ballard is constantly adding and tweaking styles. "Even within one style, we might add and drop colors," she explains. "Design is becoming more and more a fashion statement, and you have to be on top of the color trend."
"Anything that easily goes into repeat, and can be altered through scale without losing its integrity, you have a seller, you have a winner," says Hernandez. Stripes, she adds, are famous for exactly that.
As for where, exactly, quatrefoil is currently in the Miranda Priestly cycle Williford joked about? Well, it probably wouldn't be described by anyone as "the darling of interior design" in 2019 — but neither would industrial shelving units, one example of which is a top seller in Overstock's decorative accessories inventory. Quatrefoil rugs may not be perceived as cutting-edge, but that probably won't stop people from embracing their ease and adaptability. According to Julie Cassetina, a spokesperson for Wayfair.com, quatrefoil rugs took off among the site's shoppers in 2015, and judging by search data, interest has only steadily ticked upward in the years since. She describes it as a "perennial favorite."
Trend cycles ebb and flow, but something as simple and arguably timeless as a geometric shape never really goes away — it simply drifts in and out of relevance. "I see it as an easy classic, and I think easy classics have a very long shelf life," says Filicia. "I don't know if it's going to be the kind of thing you're going to see in very compelling designs, or in a design that's really pushing the envelope, or that's really got something to say, but … you know, I leave that up to the individual or the designer."
With time, Wayfair and Target shoppers will likely move on, and quatrefoil will quietly slip lower and lower on the "Sort By Most Popular" lists with time, usurped by Moroccan diamond or ikat or maybe even a few "weird" designs. Most likely, quatrefoil will always be humming along somewhere in the background. And almost inevitably, one day it'll resurface, perhaps even cooler than before. "The next time we see a quatrefoil trend, it may be something that's very edgy and kind of cool," says Filicia. "Hopefully, we're all still alive when that happens."
The original rugs used in that "Love" scene — West Elm's Tile Wool Kilim, in Mickey's orange and Gus's blue — are no longer in stock in those colors. But something tells me that if you like that rug, you'll never have to search too hard for one.