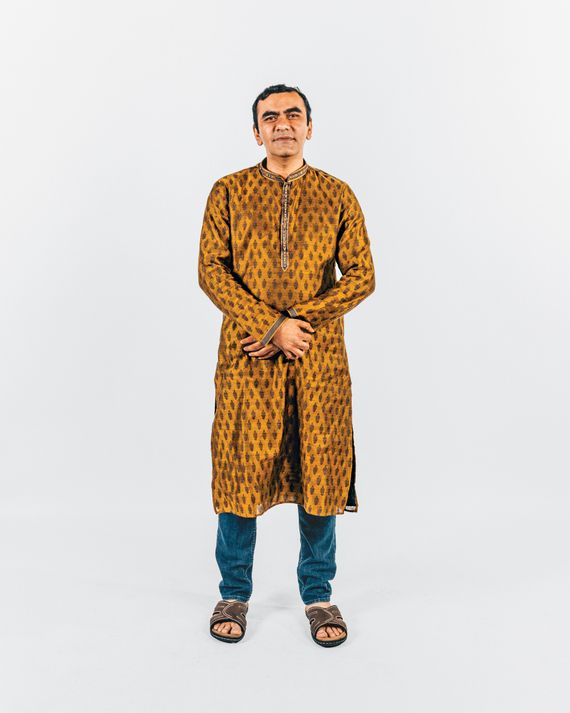 Mohammad Iqbal.
Photo: DeSean McClinton-Holland
Mohammad Iqbal (pictured above), Freelancer, Sunnyside.
What brings you to Sami's?
I came here to break fast with my sister and my brother-in-law. Not my wife — she is in quarantine with her parents in Queens Village because her brother got COVID. I got COVID last year. I enjoyed it; staying home is good. I watched so many Bollywood movies.
How did you meet your wife?
It's an arranged marriage. Her parents arranged a meeting at a shopping center. Things went well and then we married. Not that romantic. And the wedding was like not so colorful.
Do you think of yourself as a very religious person?
I don't practice like other Muslims do, but I'm trying to. If it's a fasting month, I do fast, but I don't pray five times a day like you're supposed to. And I only go once a week to the mosque. If I were to give numbers, I'd say I'm a 20 out of 100.
Who'd you come with?
My boyfriend. We're actually getting married soon. I'm waiting on that ring. I know it's coming within the next month because I'm the type to be on top of things. Plus he met my parents; I met his parents. But I'm going to try at least to be a little surprised.
So Sami's is your dad's place?
Yes. It's a spot for all of us — almost like [for] the Sopranos, how they have the one place they get together and eat food. My dad has done a really good job of making the entire restaurant feel like home. When customers come in, he says he wants them to feel like at home. Actually, what he says is funnier: "I want you to be here and feel like a baby."
Is this your first time here?
No. Ali — the owner Sami's son — is one of my best friends. I'm not Muslim, but on Fridays during Ramadan, I do try to fast with Ali. It's actually one of the first times I've been out. The awkwardness went out the window. Everybody here is genuine and has been fasting all day and just wants to eat and be around people who love them. That social anxiety I felt before — that's not the standard when you know everyone is meeting up for an iftar.
What did you order?
Finding Afghan food in Brooklyn is really hard. There's one spot in Coney Island, but it's not really authentic. When you go to Sami's, you can tell it's authentic. The white sauce is just so good.