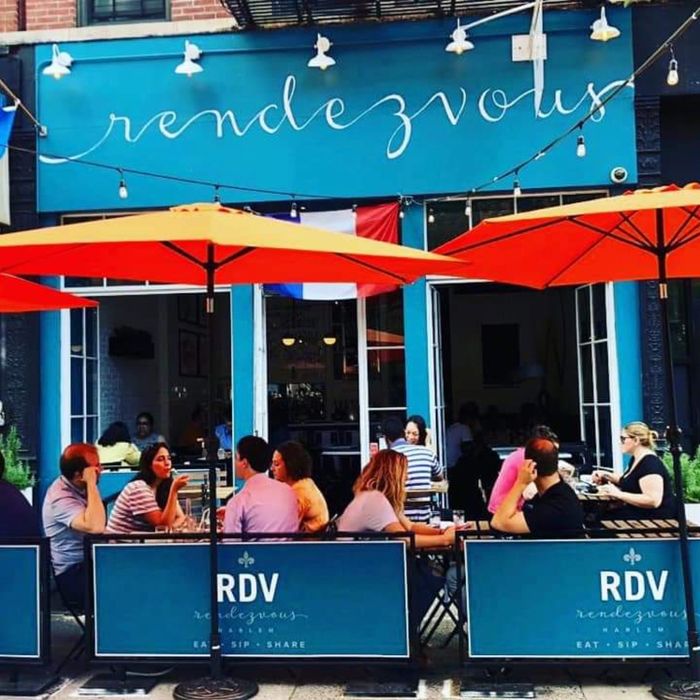 Photo: Rendezvous - RDV Harlem/Facebook
This year, we have devoted New York's annual "Reasons to Love New York" issue to a celebration of the go-tos that have closed since the pandemic struck. A wake for the places that defined our lives here — that gave us community and let us try on new identities in return for our money. The bars where we came together for after-work drinks, the boxing gym where everybody thinks they're in an action movie, the gallery that trusted you to build a cloud, the coffee shop where you were left alone to read, the restaurant with the full bar where you'd find yourself trying to eat after an all-night bender, the place that was so of its moment that it became a relic and then (deservedly) an icon. All gone. And sadly, probably, more to come before the city returns to its purpose: a place of gathering. We'll be sharing these tributes all week on Curbed.
Growing up in Harlem, I spent much of my life on Frederick Douglass Boulevard, and the slow transition of Harlem's "Restaurant Row," purported to bring life to a blighted neighborhood, was, of course, just gentrification by another name. Some restaurateurs, like Marcus Samuelsson with Red Rooster, sought to actively integrate with the local community and solicit their patronage, albeit with mixed results. And then there were ones like Kfir Ben-Ari's RDV–Rendezvous Harlem, along with its sister café, Caféine.
RDV was situated between 112th and 113th Streets, and sold a quaint, small-plates version of a city I had never associated with anything above 96th Street. I used to make my way to 116th instead for the creature comforts — whole fried snapper, plantains, bissap — of Little Senegal. RDV had a different rhythm from the beloved restaurants there, such as Pikine and Le Baobab, which were largely halal and served clientele from the Sopey Shaykhul Khadeem and Malcolm Shabazz mosques nearby (Pikine does not offer bottomless mimosas for brunch). Ben-Ari catered to the people he wanted to see in the neighborhood, not the people who were already there. When a Black patron raised concerns on Yelp about his experience there, he dismissed him with the true history of Harlem being Dutch and Jewish.
By all appearances, Little Senegal restaurants like Pikine have managed to stay afloat so far; their devotees have remained faithful, painful delivery times notwithstanding. As COVID-19 snatched the bottom out from under the country, RDV's support from newcomers dwindled; Ben-Ari reported that Caféine alone lost 90 percent of its regulars. A GoFundMe effort to save the restaurant ultimately fell short despite several four-figure donations amounting to almost $14,000 — an oblique reflection of whom it spoke to.
Ben-Ari promises to get another Rendezvous in another location once it's all over. To that end, he has been serving as a personal chef in the Hamptons. Hopefully, the future reprise will come with a newfound understanding of the sphere it is inhabiting, whether that be Harlem or any other "burgeoning" neighborhood.
*This article appears in the December 7, 2020, issue of New York Magazine. Subscribe Now!
More Reasons We've Loved New York
See All