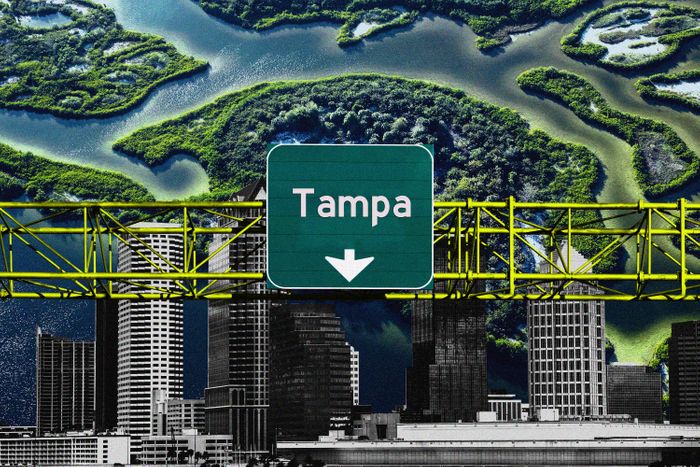 Photo-Illustration: Curbed; Photos: Getty
In the past year, the real-estate market has, well, gone berserk. Houses are going for millions over asking in Boise and Albuquerque. Buyers are offering to name their firstborn baby after sellers. In this biweekly series, Realtor Diaries, we hear from the people at the center of it all — the 2 a.m. emails from clients, the 16-hour workdays six days a week, and the all-cash offers coming in from people who've never once seen the property they're buying. Today, an hour-by-hour glimpse into the working world of Randy, 35, a power broker in Tampa.
7 a.m. Before the market turned into the animal it is now, I'd wake up at this time and meditate on the balcony of my high-rise or go to the gym or just relax and sip coffee until I wanted to start my day. Now I wake up at 7 a.m. and there are dozens of messages already waiting for me on top of the 20-something ones I did not get to yesterday. So that's what I'm doing now: playing catch-up.
My messages always range in subject from networking ("I wanted to introduce you to my friend Joey from Chicago, he wants to move to Tampa") to clients forwarding me listings (always with the note "How soon can we get in here?!"), to general "Just got the appraisal — call me!" or "Did you see the inspection yet? Thoughts?" I mean, that's just a snapshot, but it can be anything.
8 a.m. I start dealing with my client, who is a nightmare. I've been in real estate for almost a decade, and she's the only nightmare client I've ever had — to this extent, at least. She's listed her house for about $3 million. It's about 8,000 square feet and a very nice, regal estate in South Tampa, which is the most posh part of town, but before she lets anyone even come see it, she needs me to vet them completely. I need to know all their finances, verify all their bank statements, and have legit paperwork confirming they have the money. This is before one simple showing! Apparently, she was a victim of financial fraud in her past, so she's paranoid. Anyway, I get in my car to meet the buyers' broker, who will hand off the paperwork, just to (maybe) get their client inside this house.
8:30 a.m. My phone rings all the way to meeting this broker. Tampa is hot right now. What you see on Selling Sunset — well, I don't want to be rude, because we all know those brokers in real life and they're great, but the show is far from the truth in the sense that everyone on it is so vicious to each other. It's pretty accurate in terms of the velocity and cadence of their sales, though. In my experience, none of us Realtors are that dramatic. We are, for the most part, pretty good to each other down here. At my firm, there's rarely any internal fighting. Most Realtors are friendlier than you would think, which is really special considering it's such a mix bag. You have the classy older ladies who still put their listings in newspapers, you have the young hustlers, and you have the former party girls who are sort of transitioning into real estate because they have incredible connections. I don't fall into any of those categories, but I admire them all. My social scene is not a bunch of Realtors, but there's a lot of mutual respect.
10 a.m. I get the paperwork and am ready to drive it over to present it to my difficult client — remember, this is just to arrange a freakin' showing! In the meanwhile, as I've been dealing with this, I've missed ten texts and a couple of voice-mails. It's 10 a.m., and I'm exhausted. You can never get it all done.
Everyone wants something different in Tampa. Some clients care a lot about walkability — they want a condo downtown that's a block or two from the hottest new restaurant and their gym. Hyde Park is a really hot, walkable, and attractive area to almost all my clients. Some clients want waterfront so they can go fishing or kayaking; you wouldn't move here if you wanted the hard-core beach lifestyle, but there are pretty waterfront views. Everyone likes a pool, and most houses do have pools here, but we all know they're extremely expensive to keep up and you never use them as much as you think you will, so "no pool" is actually not a deal breaker. There are these mini-towns developing everywhere in Tampa — apartment buildings with restaurants underneath them, a Whole Foods right there, the whole live-work-play package within a couple-block radius, and people love that.
It's a new year: People have new intentions; they're coming in hot. Plus COVID. I've worked with rich New Yorkers, snowbirds, major athletes, people who are tired of the politics wherever they're living now, people looking for a better life, better weather. Tampa doesn't attract one single type of person. But no matter who you are or what your deal is, everyone is in a buying frenzy right now — like I said, it's not just big estates anymore; now it's all these brand-new hip areas with a potentially fabulous "scene."
10:30 a.m. My client is looking everything over and says she still might not let these people come see her house. I'm not sure if anyone will be good enough for her. She doesn't need to sell this house, so she's potentially just toying with me and everyone else.
11:30 a.m. While driving back to my office, I try to set up a few showings this evening for various clients. Everything is so time sensitive. Clients want to see the big houses or the sexy high-rises the day they come on the market. It all has to happen that day. Because inevitably there will be multiple offers on the house, and it will be off the market by the end of the day. In this era, you're always one of 20 offers, so you move fast, work hard, and then just kind of pray.
12 p.m. I help a colleague figure out how to sweeten the pot for a deal they're working on. Sure, you can bring an all-cash offer, but lots of people do that. You can waive the appraisal, but again, that's nothing new.
One thing that sometimes works is offering to buy all their furniture — even if you don't like the style and even if you're offering something way more than what the stuff is worth. Like, We'll throw in $200,000 for all your furniture (when it's really worth a lot less).
In this case, I suggest she ask her buyer — who is a famous athlete — to offer the family a bunch of signed swag and season tickets and all things VIP like that. Her buyer thinks it's an amazing idea. Let's see!
2 p.m. My difficult client asks for the buyer's financial adviser to email us more documents. More?! She says if she likes what she sees, we can set up a showing for tomorrow.
3 p.m. I screen a call from a seller who I got a bad vibe from a few months ago. When I went to look at his condo, his maintenance man whispered to me on the way up, "You better be careful."
A few weeks later, this seller asked me to hide mold from a potential buyer. Not a good look. Bad business. A sketchy character. We mutually agreed to part ways.
5 p.m. I'm attempting to inhale a sandwich in my car while I drive to my showings. It's the first time I've eaten all day.
5:03 p.m. Take one bite of the sandwich and my bliss is interrupted by my crazy seller, who says she finally feels comfortable showing her house tomorrow. Phew!
6 p.m. I get to my showing. A funny story: I had an open house down the street from here a few weeks ago. I pulled up a few minutes early and there was already a line down the street. Hundreds of people were in line to see the place. We ended up with 48 offers, and honestly, it was just a regular townhouse. It's the new normal.
8 p.m. I just showed four properties to a new client. He wants to buy at least two of them. They're in the $2 million range. Most houses, even the very best ones, don't go for much above $5 million or $6 million in these parts. I have a long night ahead because, like I said, everything good sells the day it's listed. The clock is ticking.
Sometimes it feels like the walls are caving in. You get so stressed out. You get spam calls constantly. I like to work with my phone on "Do Not Disturb" so I can focus, but then you miss a million calls and clients start to panic. You are literally always getting pinged, and there is more and more paperwork everywhere you turn.
I do have an administrative coordinator; if I didn't, I don't think I'd be alive right now. I'm not even exaggerating.
9 p.m. I see a couple colleagues at the office. It's late. We give each other understanding looks. A lot of Realtors have Realtor empathy. It's like this shared experience of severe exhaustion and running on fumes.
If you're doing decently, you're making something in the low six figures. The top Realtors are making half a million. Last year was my best year ever, and I made something in between the two, but the money's not guaranteed. If you're a listing agent, you're killing it, but buyers' agents might show a hundred houses a week and still have nothing to show for it. You can write 20 offers and have literally nothing to show for it. That can get to you mentally. You've been grinding and grinding and nothing gets accepted for weeks? It's brutal.
9:30 p.m. I call my mom to check in from work. She worries about my hours and the fact that I have no time for a social life. Instead of parties, I meet with developers. Instead of dates, I do paperwork. On my birthday, I did showings all day. I do try to stay in my Bible and spiritually keep myself on point. Talking to family and friends, especially friends who are also Realtors — they remain my support group, and I feel real gratitude for that.
I guess it's just addictive. You reach one goal, and it's not enough. And then you get successful, and it's still not enough. Every year, I used to set a financial goal for myself. But then I started making all those goals. This year, I was like, I don't even care about the money; I just want to feel calm and centered. I want to be a force of good and be happy. I want to get out of the emotional rat race. This year, for me, there are no numbers' projections. This is the year in which I want to pursue … peace.
10:30 p.m. This is a late night for me. I usually try to unwind by 9 p.m. I'll pour a glass of wine and watch an episode of TV. Usually, I can't keep my eyes open for anything more than that.
In the half-hour it took to interview Randy, she received 42 texts, 39 WhatsApp messages, and 11 missed calls.