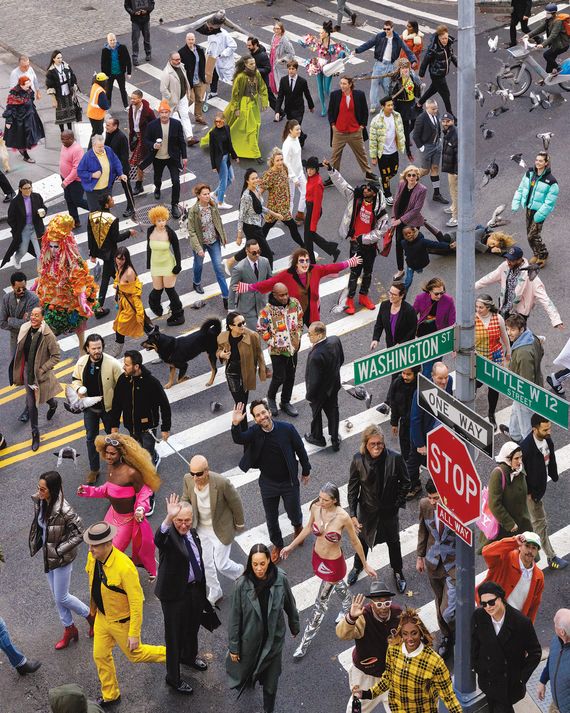 Photo: Pelle Cass for New York Magazine
This article was featured in One Great Story, New York's reading recommendation newsletter. Sign up here to get it nightly.
At the end of 2020, when hardly anybody had yet gotten even the first dose of a vaccine and the subways weren't running overnight and the sidewalks of midtown were so empty you could text and walk safely and there was no place to go dancing or see music or very easily get a martini and burger at midnight, our annual "Reasons to Love New York" issue was written in the past tense: "Reasons We've Loved New York." It was a wake for a traumatized commercial metropolis on pause, bruised and boarded up and unsure of when it would get going again or what would be left of it when it did. We wrote tributes for 500 businesses that had shut down forever during the pan-demic: go-to diners, late-night party spots, boxing gyms, Bushwick art galleries, and one luxury department store that had recently arrived from Texas. The places where we lived our city lives.
Two years later, this city, a little banged up and wild-eyed, is possibly more brazenly itself than it has been in decades. Does anybody under 20 not jump the subway turnstile these days? People are smoking indoors and having sex in the bathroom at the bar while you bang on the door. There is a defiant, down-for-whatever disorderliness that can feel threatening, liberating, or both at once.
But it's not all Joker-like retro-punk dysfunction: A tuned-up David Geffen Hall faces off across Lincoln Center with David Koch Theater. The city is suddenly awash in new restaurants, many spangled in Michelin stars, and the streeteries spilleth over. Even Rockefeller Center, which before the pandemic had begun to feel like a Vegas simulacrum of itself, has restaurants that you — as a New Yorker, not a tourist — wouldn't mind eating at again and that reward your sense of why you live here. And for all the talk about the death of midtown, when Saks closed Fifth Avenue this holiday season so Elton John could sing "Your Song" as its windows were lit up — "I hope you don't mind / I hope you don't mind" — it had to be done quick, because people, well, honk, honk, honk, lots of people minded.
The least New York part of lockdown was the sense that you wouldn't run into a friend or an ex or a famous person on the street. The certainty of the night ending, that nothing else was going to happen because it couldn't. That serendipity was gone for so long. That feeling that most anything could go down, much (if not all) of it good; you could get laid or just drunk or get run down by a drunk on a Citi Bike. The great joy of the past year was a return of that spontaneity. The city has grown back, thistles and rust and all.
We swapped out twee for feral, but the rents sure didn't go down and the prices of everything else have gone up. I have friends who are afraid to take the subway, but did anybody really want the Guardian Angels back on the 4 train? The scammers have reappeared; drugstore shelves are locked down. The city is complicated again.
This time in 2020, I was visiting a friend at his house upstate. My East Village apartment — the one that worked mostly because I was hardly ever there — had become claustrophobic, even a little tragic. But soon I found that I hate upstate: the empty trees and empty roads, the 30-minute drive to the brightly lit, uninteresting abundance of the grocery store, the faux Balthazar two towns over that everyone who gave up and moved up there said was the spot to go. It all reminded me too much of just how limited and lonely the place I originally came from was — the one I fled to lose myself and find a new self. (There have been several iterations since.) I cut my stay short and got back to the city, landed a pandemic deal for a bigger apartment in Brooklyn, and my partner and I started throwing house parties where we let people smoke indoors.
This year, we had a proper Thanksgiving at our place, which went until 2:30 in the morning. Not all of the guests were even living here before the pandemic. Afterward, many of them went out, and at least a couple of them, high on tryptophan and the loose joints a guest brought over in exchange for asking people to tag the joint company he works for on IG, went home with each other. Every time it's been confronted, New York has returned, more impossibly and unpredictably itself than ever, because we wanted it to. — Carl Swanson
1.

Because we've started treating the subway like our living room again.
In collaboration with Subway Creatures / @subwaycreatures
2.

Because our mayor is certainly enjoying himself.
Performance is an inherent part of politics. But perhaps no prior mayor has ever leaned so far into spectacle.
Read about Eric Adams's first year here ➼
3.
3.

Because Amy Sohn is now a mayoral spokesperson.
Mid-'90s icon Amy Sohn, who grew up in Brooklyn Heights, wrote raunchy articles for the New York Press and turbulent novels documenting the grossest of Brooklyn lives (Prospect Park West). She's now the press secretary for the Mayor's Office of Climate and Environmental Justice, proving that a real New Yorker's life can always have one more great plot twist.
4.

Because there's always room for a few more New Yorkers.
Meeting asylum seekers at Port Authority.
Read about the volunteers welcoming migrants ➼
5.

Because no matter where you live, New Yorkers can help you get an abortion.
(And we'll pay for it, too.)
Read about the influx of out-of-state patients post-Dobbs here ➼
6.

Because all this hero wanted was to stay here.
Francisco Puebla was among the people who spotted the suspected subway shooter.
Read about he only wants the gift of staying in New York ➼
7.
7.

Because Anna Delvey is fighting to stay.
After nearly five years of incarceration for defrauding the wealthy and overstaying her visa, the artist known as Anna Delvey now lives in the East Village under house arrest and threat of deportation. She's allowed out only to see her parole officer and uses these journeys to conduct her many press appearances.
8.
8.

Because Aaron Judge bet on himself.
Aaron Judge's home runs announce themselves more loudly and reach the seats more quickly than anyone's, and no position player so large — he's a physically dense six-foot-seven — has ever played such a brutal and refined version of baseball at once. When he's injured, as Judge was for portions of the 2018, 2019, and 2020 seasons, it seems like evidence that a person in a body his size cannot play the way he does. When Judge is right, his full-spectrum brilliance somehow seems even more impossible.
So when Judge did what he did this year with the Yankees — break Roger Maris's single-season American League home-run record with 62 and lead the league in RBIs, runs, walks, and slugging and on-base percentage with a .311 batting average — it was both astonishing on the merits and very much the sort of season he'd always been on the verge of having. This was the year.
Making it the more delicious was the small fact that on opening day, Judge declined a seven-year contract extension. The contract, while rich, would have been less so than those signed by superstars Mike Trout, Mookie Betts, and Bryce Harper in recent years, and Judge believed, rightly it turned out, that he was their peer. This year, Judge not only held the attention of the nation's addled and seething sports fans but also bet on himself and won in a way that figures to land him a far bigger deal as a free agent this offseason, either from the Yankees or some other team. The last bit is the big one. By refusing to take less than he felt he deserved and delivering as he did, Judge carried the Yankees and stuck it to them at the same time — giving both Yankees fans and Yankees haters something to admire.  — David Roth
9.
9.

Because the Knicks have something to smile about (the Nets).
A clear sign that your basketball team is having a bad season is if the head coach gets fired and fans start wearing FIGHT ANTISEMITISM T-shirts because of the star point guard's taste in conspiracy theories. In the case of the Brooklyn Nets, it's all in a day's work — literally: Steve Nash got the axe and Kyrie Irving sank to new depths of infamy in the same 24 hours in November.
Only one year ago, the New York Times had the Nets pegged as maybe "the greatest basketball team of all time" owing to its trifecta of stars: Irving, Kevin Durant, and James Harden. Then Irving refused to get vaccinated for COVID-19, prohibiting him from playing home games, and Harden got so tired of picking up the slack that he left for Philadelphia. Durant demanded a trade over the summer, but the front office convinced him to stay. The Nets started the 2022 campaign with cautious optimism, even if new arrival Ben Simmons was still struggling with the yips. Then Irving posted a link to a video that describes the Holocaust as a hoax and half-assed his apology, prompting the team to suspend him.
If you're the New York Knicks, you're taking your Schadenfreude with a side of relief. It's always nice to watch a crosstown rival implode, but especially when it distracts from your own foibles. And the Knicks have had their share — a 23-year NBA Finals drought, chronic mismanagement, Isiah Thomas. But now they look almost functional by comparison. As of this writing, they have the same head coach they started the season with, and none of their players have alienated the city's Jewish community. It's a low bar, but the Nets are at least proof that the Knicks aren't uniquely cursed — and if you bleed blue and orange, that's its own kind of solace. — Zak Cheney-Rice
10.
10.

Because Lea Michele saved the show.
"For every single person that's there in the audience at night, I want to give them the best show that I possibly can," says Lea Michele. "I haven't done a Broadway show in 15 years, so I'm still figuring this out as I go." She swooped in to the Broadway revival of Funny Girl in September as it was floundering, replacing its original Fanny Brice. Now ticket sales are the highest they've been in months, Michele got to record a cast album for the show and sang at the Macy's Thanksgiving Day Parade, and her performance has received rave reviews. She didn't read those reviews, but "I've seen some of the quotes that have been put up in the subway and they seem very nice, so I'm very grateful." — Jackson McHenry
11.
11.

Because Adrienne Kennedy is getting her Broadway debut at 91.
The playwright Adrienne Kennedy is widely acknowledged as a master of the form, a legend of the avant-garde who has taught at Harvard and Yale and been honored by the American Academy of Arts and Letters and PEN. Yet her spare, experimental dramas — in which Hapsburgian duchesses, Jesus Christ, and Patrice Lumumba are as likely to appear as Suzanne Alexander, her semi-fictionalized alter ego — have been more read and admired than produced and staged. One laurel has always eluded her: Broadway.
It's hard to imagine a white playwright (certainly a white male playwright) of similar renown being similarly overlooked. "The playwrights I admired in the '40s and '50s all had plays on Broadway with stars in them — Death of a Salesman, Streetcar, Long Day's Journey Into Night," says Kennedy, who spent decades in New York before moving to Virginia to live with her son. "A writer was part of Shubert Alley and it was a code for 'important.' Not having that code always left me insecure and wondering if I were lesser. People came to identify my plays as downtown — small audiences and unable to reach a general theater audience."
But on December 8, at 91 years young, Kennedy is set to have her Broadway debut, complete with Broadway's starriest star, Audra McDonald, as Suzanne. Ohio State Murders, directed by Kenny Leon (A Raisin in the Sun, this season's Topdog/Underdog), is a grueling, 75-minute one-act from 1992, an ice-cold indictment of the insidious fruits of racism. McDonald plays both the older Suzanne, returned to her alma mater to discuss violent imagery in her writing, and the younger Suzanne, a promising Ohio State student (as Kennedy was) whose brutal circumstances shape the obsessions of her later work. "I think I've had a pretty varied theatrical career," McDonald says, "and I've never done anything as difficult as this."
Before joining this production, the six-time Tony winner had never seen a performance of Kennedy's work. McDonald knows better than most that Broadway's interest in Black stories is a slowly and belatedly developing one. "There was a time when work had to be diluted in order to be acceptable on Broadway, especially when it came to stories about Black people," she says. "I think there's been some growth in the fact that we are now at a place that producers can trust that the audience will come." — Matthew Schneier
12.

Because Margaritaville is the chillest, cheesiest place in town.
It's bright, cacophonous fun.
Read about a place that brings the word chillaxing back here ➼
13.
13.

Because a hostage negotiation can be the start of a 50-year friendship.
On a Monday afternoon in 1975, Ray "Cat" Olsen walked up to a bank manager's desk and yelled, "Put down the phone or I'll kill you." Larry Haber looked up and thought it was a prank. The West Village was still a mystical scene in the '70s, and Olsen, a 23-year-old drifter wearing a psychedelic T-shirt, fit right in. Then Haber saw the rifle, the revolver, and the two hunting knives.
Olsen listed his demands: $10 million in gold, a jet to Cuba, and the immediate release of the recently arrested Patty Hearst and a handful of her Symbionese Liberation Army comrades and captors. "Everybody knew the SLA back then and knew that they were killers," Haber told me. "I was really, really stressed out. My heart was pounding."
Two years earlier, spurred by a two-day hostage standoff in Bushwick and the killings at Attica prison and the Munich Olympics, the NYPD created the world's first hostage-negotiation unit. Detective Lieutenant Frank Bolz was its first commanding officer. He arrived on the scene in his shirtsleeves and backward ball cap and, over the phone, began working on Olsen. His priority: getting the hostages out. "You talk to all different kinds of people on the job, but the idea is always the same: I want to get this guy to come out," Bolz said.
"It was obvious Frank knew what he was doing," Haber said. "He took the tension out of the air. It had such a calming effect on me. Olsen was calmer, too. That was the first time that I thought we had a good chance of making it out alive."
Olsen had been inspired to hold up a bank after seeing the Sidney Lumet film Dog Day Afternoon, which had premiered two weeks earlier. He tried his best to match Al Pacino's performance as a troubled but charismatic Everyman, calling into one of the city's most popular radio stations to chat with an on-air DJ and request a Grateful Dead song.
This eight-hour saga, chronicled on the NYPD podcast Talk to Me, ends the way all good hostage negotiations do: with a whimper. Olsen, tired and worried about the consequences of his actions, let Haber take his rifle and revolver. Haber opened the door and officers swooped in. That afternoon was the beginning of a nearly 50-year friendship between Haber and Bolz. While Haber credits Bolz with saving his life, Bolz says Haber is the only hostage (out of more than 900 he helped free) who ever became his friend. The two saw each other at dinner, charity events, and at Haber's son's bar mitzvah. Once, they met Lumet. "I said to him, 'You son of a gun — you almost got me killed!'" Haber said.
Haber, now 78, and Bolz, 92, recounted the Olsen affair recently during lunch at Fogo de Chão, where they love the "gaucho" buffet. They started going to lunch weekly in 2021 after Bolz's wife died. "I'm a different person than I was back then, all because of Frank," Haber said, sipping coffee. "How many people do you know who can say that one person not only saved their life but changed their life?" — James D. Walsh
14.
14.

Because there's a place in Penn Station where the sun shines …
The jury's still out on what exactly will become of the Empire Station plan, pushed by Andrew Cuomo in peak Robert Moses–Howard Roark mode and now proceeding with slightly less bullheadedness. It's inescapably true that Penn Station is still overloaded, that the Hudson River tunnels are crumbling, that Moynihan Station added exactly zero new-passenger capacity.
But here's a little thing: If you're getting on the Long Island Rail Road at Penn Station, the particulars of the experience are less dank than they were for decades. The corridors that seemed to have five-foot ceilings have had their lids lifted off and, owing in part to the new East End Gateway at 33rd Street, there is some actual sunlight and air down there. We're a long way from a finished concourse and even further from a rationalized, functional Pennsylvania Station complex. But (to paraphrase the old line) arriving in the city now seems a bit less like scuttling in like a rat. — Christopher Bonanos
15.
15.

… And because you'll soon be able to avoid going there anyway …
As my colleague Michael Tomasky explained it concisely two decades ago: There are three principal sources of commuters into New York City: Long Island, Westchester/Connecticut, and New Jersey. There are three main destinations: Midtown East, Midtown West, and downtown. There ought to be nine main rail arteries feeding them. For the past century, there have been only four: New Jersey trains and the Long Island Rail Road to Penn Station, the PATH train into downtown, and Metro-North into Grand Central. Finally, there will be a fifth. The East Side Access project — bringing LIRR trains to Grand Central Terminal — has been crawling along since 1997. It's a spectacular cash burner, up to $12.7 billion (as of a few weeks ago; perhaps another billion or two was tossed on the fire when we weren't looking), just as commutes are on the wane. But even if it's not the perfect project, even if we might have been more efficient with our funding, there are worse things to spend money on than solving the crushing passenger load at Penn Station. And the art is gorgeous. — Christopher Bonanos
16.
16.

… And Lincoln Center may finally have a real concert hall …
It was hard to believe Lincoln Center would ever get its janky concert hall to work properly. But it has! The twice-renamed Philharmonic Hall, now David Geffen Hall, is the classical music world's Second Avenue Subway: the chimera that finally materialized.
The just-completed renovation project demonstrated the philanthropic firepower of New York's music lovers, who forked over $550 million. It showed off the organizational chops and collaborative spirit of Henry Timms and Deborah Borda, the respective presidents of Lincoln Center and the New York Philharmonic, who fast-tracked construction so hard that they opened almost two years early. It bolstered the Philharmonic itself, which spent a season bouncing among venues and still found a loyal audience waiting when it returned.
Unquestionably, the hall sounds better than it did — a bar so low you could barely pass a piece of paper beneath it. The sound is bright and clear, sometimes aggressively so, but so far it has been more impressive than seductive. The musicians used to complain that they could barely hear one another and had to rely on guesswork to determine just how forte a fortissimo should be. (The answer was generally "When in doubt, play louder.") Now, every whisper and tap is exposed, and the players are still getting used to that acoustic nakedness, learning to adapt their style to the quirks of the hall.
Geffen's completion makes it easier for the human part of the ensemble to evolve. With a symphony orchestra, each concert is a blank slate: a chance to woo another listener, to freshen up a dusty classic. This 180-year-old institution can feel young again. — Justin Davidson
17.

… And even La Guardia is kind of ritzy.
"It's unexpected, and it's dramatic."
Read about the airport's new statusy sky bridges here ➼
18.
18.

Oh, and have you tried the fancy new Citi Bikes?
It didn't take long for Citi Bike to buckle under the weight of its ambitions. Even as the program expanded to practically every busy intersection (at least in wealthier neighborhoods), the ubiquitous blue bikes started falling into disrepair. Chains rusted; brakes grew faulty; seats slid down no matter how much you messed with those finicky little latches. No small number of the vehicles became totally unrideable. Even the beloved pedal-assist e-bikes seemed to lose a step. The electric-power boost, which won riders over by providing the sensation of implanting Lance Armstrong's calves directly into their legs, grew sluggish and herky-jerky. The bikes groaned up inclines and could barely keep pace with non-electrified models, let alone cars. And that's if a rider could find one that wasn't out of charge.
But in the darkest hour, a savior appeared. In May, Lyft (Citi Bike's operator since 2018) launched a brand-new fleet of 1,400 sleek off-white e-bikes. Designed to overcome the issues that plagued its predecessor, this second generation of cycles can last up to 60 miles per charge (the previous limit was 25) and has a foolproof seat-height clasp. The new paint job reflects headlights for extra nighttime visibility. Best of all, these things have juice. Bolting into action as soon as one's feet touch the pedals, they rapidly hit 20 mph (a city-mandated limit). You'll keep pace with traffic on busy streets and blast past even the most hard-core spandex-clad trad-bike riders (their judgmental stares offer another layer of vindictive satisfaction). For riders accustomed to the first generation, the off-white bikes feel like mounting a handsome stallion after years spent commuting by donkey. — Ezra Marcus
19.
19.

Because organized gays saved us from a pandemic.
They stood in line for hours, a row of bodies wading through thick walls of summer heat. They wore short-shorts and loose tanks and AirPods while they scrolled and putzed around and occasionally shared nervous, hopeful glances. Technically, they were in line to get vaccinated for monkeypox, but, honestly, "waiting in line at my favorite gay bar had a similar energy," says vaccinegoer Josh H.
"You were familiar with a lot of faces that you saw there," says Patryk Kot. "I saw people that ran into people they went out with or close friends in the same line."
"A lot of the health-care providers who were giving the vaccine were queer and trans themselves. Everybody was sort of looking at each other," says queer activist Nick Diamond. "I was checking to see if any of the guys there were on Grindr. It was just — I dunno, it's different."
But that bond was also a product of mounting fear. By late July, the city had officially declared monkeypox a public-health emergency. Nearly 100 new cases a day were being reported in New York, while federal mismanagement had led to widespread vaccine shortages.
"We knew that we really had to build a response that leaned on the lessons learned from AIDS activists and still considered new lessons learned from COVID," Diamond says. As summer progressed, gay clubs put up informational flyers in their bathrooms. Community-health workers set up booths at Pride events. Local queer and trans influencers who'd had monkeypox shared their stories, using TikTok and Instagram to show painful lesions. "At various times in gay history, gay men's health was not prioritized by the larger medical community," says queer community-health activist Michael Donnelly. That history creates a "basis upon which we can have uncomfortable conversations with each other a little bit more -easily than some other groups." Donnelly acknowledges there's also self-interest in all that sharing. "There's this really kind of beautiful self-reinforcing dynamic that says, 'If I can help my community be healthy and happy, then I can be healthy and happy.'"
Just a few months later, around early November, new reported cases had gone down to two or three a day. "It was just another example," Diamond says, "of the queer and trans community stepping up to take care of themselves." — Paula Aceves
20.
20.

Because the New York 'Post' found the perfect way to cover Donald Trump.
"Florida Man Makes Announcement — Page 26" is how the New York Post handled Donald J. Trump's assertion that he would like to be president again. With that bland phrase at the very bottom of the November 16 front page, the punchy pride of the Murdoch empire signaled the publication may be covering the next presidential election quite differently.
21.

Because New York is trying to build a drug industry the right way.
Some applicants on their high hopes.
Read about why they want the marijuana dispensary license here ➼
22.

Because resale saved retail.
Out with the old and in with the older.
Read about how New York stores reinvented themselves with vintage ➼
23.
23.

Because people are actually still opening bookstores.
Yu and Me Books sits on the site of a former funeral-supply store in Chinatown. Its footprint is small and its layout simple: a large counter with bar seating; a tiny reading room with comfy armchairs and dim table lamps; and dark wood shelves that once stocked urns and paper houses for burning but now hold a selection of new and used books, many by immigrants and writers of color. The mood is less "Please buy something" than "Slouch around in this living room." At a recent reading for Erika Hayasaki's Somewhere Sisters, the author held court behind the counter while attendees stood around, making the event feel like a house party, albeit a tame one.
Yu and Me is part of a wave of new indies with an emphasis on smaller spaces and tighter curation. There's Burnt Books, hidden inside a Greenpoint bodega (vintage pulp paperbacks); the East Village's Book Club Bar (mostly alcohol); and, on the Lower East Side, Sweet Pickle Books (used books and pickles). Yu and Me's proprietor, Lucy Yu, 28, was a book-world outsider. "I didn't know anything about how the publishing network works," she says. So she figured it out herself. After a year of collecting used books from estate sales, learning how to manage a bookstore from reading Reddit threads, and raising $20,000 through GoFundMe to cover the store's deposit and initial rent, she opened Yu and Me in December 2021.
She made a bookstore that is unstuffy and wholly satisfying with an identity all its own — much like the neighborhood where it's located. — Kevin Nguyen
24.

Because the only person hotter than my doula and my barista? My mom's doorman.
New York attracts the world's most beautiful people.
See who we have our eye on here ➼
25.

Because you can't burn down cool.
Bossa Nova Civic Club, Bushwick's 'techno Cheers,' came back.
Read about the sticky dive bar's return here ➼
26.
26.

Because the city is training bartenders and go-go dancers to save lives.
Alongside needle exchanges and fentanyl test strips, this year the city funded naloxone training for nightlife workers to prevent deaths from overdose. (It even passed a law to shield them from liability.)
27.
27.

Because even Rihanna knows when to use us.
Conventional wisdom suggests the announcement would come through a @badgalriri Instagram post or during a special-edition pay-per-view Savage X Fenty show — maybe even a candid shoot beside the hedges that line Giorgio Baldi, the Santa Monica restaurant that is the common backdrop for her paparazzi walks. Billionaire Rihanna, mother to some and Johnny Depp apologist to others, bucked convention January 31 when she hard-launched her pregnancy in photographs shot by celebrity paparazzo Miles "Diggzy" Diggs beneath the Riverside Drive Viaduct in Harlem. The image is quintessentially Gotham: Rihanna and baby daddy A$AP Rocky are framed beneath the bridge's cold, unceremonious steel arches while thin layers of dirty snow or remnants of salting cloud the adjacent thoroughfare. It's an urban landscape at its purest state (ugly) and a gesture to the kind of grit needed to hustle in a city that sometimes doesn't bother being cute. I can smell the piss-stained streets through the photograph, hear the scurry of rats at the nearby elevated platform of the dawdling 1 train that makes only local stops, breathe in the Columbia students smoking weed by the Hudson River, and see that same university's gentrification at work through the construction of the Manhattanville campus. What was she thinking introducing the baby to the world, appearing casual in jeans and a pink puffer but actually wearing archive Chanel (both the jacket and the costume-jewelry drip), in photos that have a distinctly Tumblr-era street-style sensibility, all taken in Harlem? Maybe it's just a nod to the baby's father's hometown or to the city where she signed with Def Jam. Maybe she wanted to pre-christen the (still publicly nameless) child underneath that bridge for all its metaphorical value and then get the hell out of there. Or, you know, maybe she wanted some nice pregnancy pics and called up her friend to shoot them. — Zoe Guy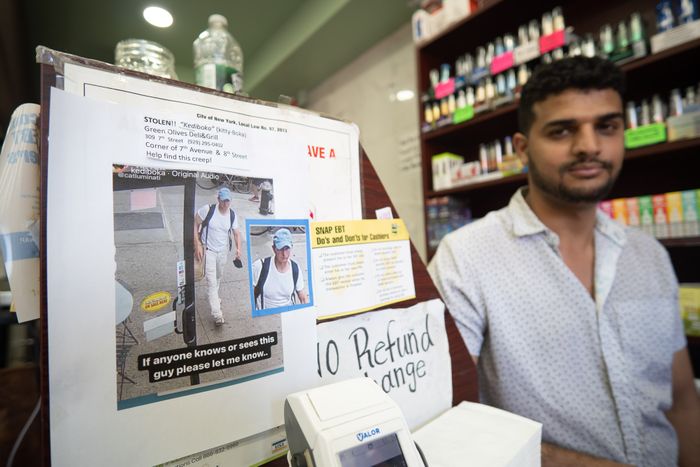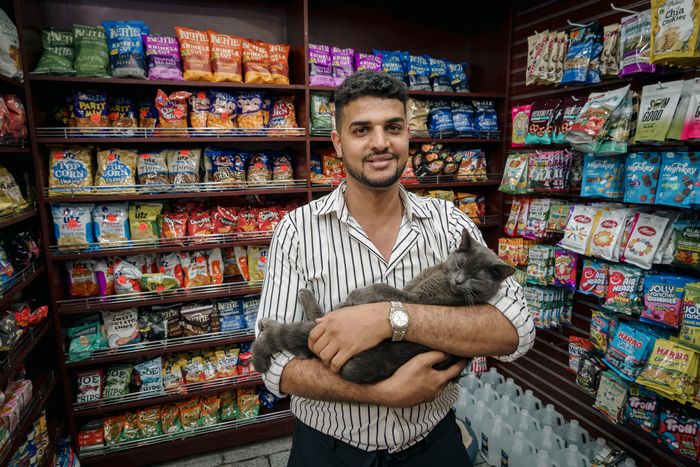 28.
28.

Because no one messes with our bodega cats.
Boka, a resident of Park Slope's Green Olives Deli & Grill and an abnormally friendly Russian blue, disappeared near the end of July. A surveillance photo of a kidnapping suspect was circulated; outrage gripped the neighborhood; pitchforks were sharpened, and torches were lit; many tabloid-TV-news segments were aired. "I know a guy who knows something," someone told the owner — and soon enough, they found Boka patiently waiting outside the deli doors.
29.

Because the story of the bishop robbed during his church service is so much wilder than the headlines.
"They turned me from a victim to a villain."
Read about Bishop Lamor Miller-Whitehead here ➼
30.

Because we will wait … and wait … and wait … for a Suprême.
The latest and arguably greatest entry in New York's croissant craze.
Read about this tightly coiled, finely layered confection here ➼
31.

Because the best pizza in the world can be found in one square mile of Williamsburg.
Any neighborhood would be lucky to have even one or two of these places. Here are eight.
Read about best pizza neighborhood here ➼
32.
32.

Because Keith McNally shares the receipts.
New York has always had its restaurant majordomos, colossi bestriding their narrow host stands, ushering in the elect and the elected, frowning on the disfavored. But theirs has largely been a whispered language unshared with, and indeed inscrutable to, uninitiated ears. But not at Balthazar. Keith McNally, its irascible owner, broadcasts it with a bullhorn. McNally adores his customers, except the ones he loathes, and both have a way of making appearances in the theoretically for-his-eyes-only managers' reports from the restaurant (and its sibling establishments, Pastis, Minetta Tavern, and Morandi) that he publishes for mass consumption on Instagram.
These reports are full of delicious gossip of the most picayune, and therefore most perfect, variety: table choreography, appetizer agita, who is good (and receives free Champagne) and who is bad (non-tipping customers, food critics he considers corrupt, Graydon Carter, his ex-wife, and, once, this reporter). These feuds are usually small and local, tempests in teapots. But a recent face-off with James Corden over bad behavior at Balthazar went wide (he scolded servers about a hair in his salad and stray egg whites in his wife's egg-yolk — yes, yolk — omelet). The 15-day back-and-forth of bannings and unbannings, apologies and denials, escalated all the way to the national airwaves. At the New York City Marathon, someone held up a sign encouraging runners to "Run like James Cordon [sic] Is Seated in Your Section at Balthazar." McNally, naturally, posted it.
With his Instagram vérité, McNally has brought his brasserie into the age of the docusoap, another set on which to stage the dramas of the rich, famous, and badly behaved. Just this fall, a Balthazar brunch report noted a reservation made by a fake Connecticut politician ("No such senator … by that name exists"); at 4:28 p.m. on Halloween, Leonardo DiCaprio walked in for dinner on the patio at Pastis. Restaurants have always contended with gossip and bad press, but McNally may be the first to vertically integrate, publishing his own scandal sheet in real time. Will it threaten his celebrity business? Not likely. With l'affaire Corden still fresh in the air, Sienna Miller, Tony Hawk, and Antoni Porowski all had brunch at Balthazar, a fact we know because McNally told us. That same day, an unnamed guest sent back their eggs Benedict (overcooked). For now, the suspect remains at large. — Matthew Schneier
33.
33.

Because Hell Gate brought back the alternative press.
Obviously, their lawyers said it was a bad idea. Or did they? "They didn't actually say it was a bad idea," says Hell Gate reporter Nick Pinto. "They said it would be a bad idea to think that we could do this without necessarily paying some price."
The idea: What if they installed a bench in Penn Station's billion-dollar — and completely benchfree — expansion of Moynihan Train Hall?
On a bright-white afternoon in Alphabet City in mid-November, four of the five core members of the independent, journalist-run local news site are gathered around two folding tables in the cluttered front room of a former bank. Most of the time, anti-consumerism performance activist Reverend Billy and his followers use this location, known as Earth Church, as a rehearsal and performance space, but these days it's doing double duty as Hell Gate's makeshift office. Less than a year old, the publication pursues "a version of journalism that is more playful and laughs at the absurdities of power more than many other extant strains of journalism do," as Pinto puts it.
If they pull it off, a guerrilla bench-installation could be their punkish way of calling renewed attention to Moynihan Hall's lack of public seating. For nearly an hour, they discuss such pressing matters as how, exactly, to drill a bench into Moynihan's marble floor ("Wait, it's marble?!") and how much jail time they are actually willing to do ("Well, if it were just a state offense, like just a night in central booking …").
Then the conversation turns philosophical. Other outlets have covered hostile architecture, so, in reporter Max Rivlin-Nadler's view, the Hell Gate angle should be "to move the conversation forward" and ask, "Why aren't we pushing back?"
Eventually, Christopher Robbins suggests one of them spend 24 hours inside Moynihan instead of installing the bench. This would still be stunty, scalable, inventive — and it'd be less likely to get them arrested. Some eyebrows raise: They like the idea. But the question, says Rivlin-Nadler, is, "Do we want to be provocative or have some news-reporting value here?"
"That," says Pinto, laughing, "is the open question of Hell Gate at all times." — Paula Aceves
34.

Because this awkward office limbo might be remembered as a golden era.
Let's enjoy this moment while we have it.
Read about how everyone getting at least a little of what they want ➼
35.
35.

Because even our junior bankers are teetering on the verge of enlightenment.
This was the year the junior bankers had finally had enough. In an internal survey of working conditions at Goldman Sachs that leaked early last year, one junior staff member wrote, "I've been through foster care and this is arguably worse." The indignities continued to pile up over the past 12 months. They were called back from the comforts of their Fidi micro-balconies to offices that had killed gratis cold brew. Car stipends were scrapped, forcing them back onto the subway. Bonuses were lousy, and layoff season loomed. David Solomon was still, somehow, an international DJ. The junior bankers were ready to quit, they said, anonymously, on the professional social network Blind (and, anonymously, to the New York Post). Some of them even did. Where would they go? Tired of poor treatment and looking for greater purpose, the princelings of Wall Street would pivot to tech. Surely nothing bad can happen to them there? — Katie McDonough
36.
36.

Because Frank Lloyd Wright's corkscrew is the perfect stage for a protest.
On a Saturday afternoon in October, a group of artists caught a glimpse of the Alex Katz exhibition and then assembled atop the Guggenheim's famous spiral. There, the Anonymous Artists Collective for Iran, as we would later know them, unfurled 12 crimson banners revealing stenciled portraits of Mahsa (a.k.a. Jina) Amini, the 22-year-old Kurdish woman who died earlier this year after morality police detained her for an alleged violation of Iran's mandatory hijab law. The words woman, life, freedom in English, Farsi, and Kurdish accompanied her image. The protesters clapped as the banners dropped into the rotunda, the collective later wrote, "to dispel any potential fear of the act from viewers."
It took only a moment for other visitors to join in the applause; some bystanders even helped affix the banners in place. A calm, momentous feeling settled while museum personnel decided how to respond.
It has been more than three years since Nan Goldin used the Guggenheim as a stage to rail against the Sackler family, the museum donors who helped bring America the wreckage of the opioid crisis. Today, the venue was home to a protest for different reasons requiring gentler tactics. "Creating artifacts is a way to manifest consciousness and change," the artists' collective wrote. "The intent was to underline the peaceful, sophisticated, and yet powerful way the protesters in Iran are resisting."
Amini's death sparked the largest protest movement Iran has seen in years. It spread to over 140 cities in fewer than three months, and hundreds have been killed. Yet this fight seems distant from the awareness here. "The least we can do from afar is to simply amplify their voices," the collective told me.
From the white-walled spiral galleries, any movement in the center catches the eye and wins attention. The act of unspooling the vibrant banners was infused with a purposefulness that onlookers would not experience as disruptive. Visitors to institutions such as this arrive with eyes and hearts more open than usual to the novelty of seeing and will follow cues on where to direct their gaze. The banners reset our focus on Iranians' enduring hope for a new world. Recently, the collective says, the museum got in touch to return them. — Jasmine Vojdani
37.
37.

Because these researchers may have found a crucial clue for curing cancer.
It was a tiny clinical trial at Memorial Sloan Kettering Cancer Center on the Upper East Side, the renowned hospital that treats more than 50,000 cancer patients a year, more than half of them New Yorkers. Dr. Andrea Cercek and Dr. Luis Diaz Jr.* decided to treat 14 rectal-cancer patients with a single immunotherapy drug and nothing else — no chemo or radiation or invasive surgery. If it didn't work, the trial would have delayed standard treatment for a disease in which acting fast is imperative.
In his previous research, Diaz had found that immunotherapy, which triggers the immune system to recognize and destroy cancer cells, worked best on patients whose cancer had a specific gene mutation, called a mismatch repair deficiency, that prevents cells from repairing damaged DNA. Between 5 and 10 percent of all rectal cancers are thought to have this mutation, as did the cancers of all 14 of the trial participants.
When Avery Holmes showed up for a scan after the six-month course of the immunotherapy drug, his tumor had vanished. "You go from feeling, Oh, am I gonna die? Am I gonna lose my colon? And then to find out that you're going to be fine — it's an amazing feeling," he later said. Sascha Roth's was gone, too. Roth, the first patient in the clinical trial, was just 38 when she was diagnosed. (While most colorectal cancers are found in people over the age of 50, there has been an alarming rise in the number of young people diagnosed in the past few decades.) By the time the MSK team published its results in June, all 14 people in the trial had the same happy result.
It was a small trial, and more work will be needed to see if the results can be repeated with a larger number of cases. (The trial is currently enrolling new patients.) Still, 100 percent remission in 100 percent of the patients is an astounding feat in the world of cancer research. — Zoë Schlanger
38.
38.

A ferry, a flaming piano, and a juke joint appeared on Newtown Creek one night and played for an hour.
In 1811, when a frock-coated commission planned out our Manhattan grid — avenues up, streets across, numbers marching northwest from First and 1st, all of it — one thing was left out: green space. Why bother? We had one of the world's great harbors, and its shores would do nicely for leisure and play. Until, that is, population growth and heavy industry turned the water's edge busy, dangerous, and foul.
It's better now, of course — clean enough that you can eat the fish (sparingly) and swim (some days). Yet the infrastructure still fights us off. "There's very little engagement with the water," N. D. Austin told me. "New York deserves to be a world-class maritime city, yet in every respect it is not." Austin works as an experience designer — games, events, installations — and he and a partner, Danielle Butler, run a nonprofit called the Tideland Institute that arranges IRL experiences amid the New York islands. "If we can bring back one percent of the level of vibrant activity that used to be here …" He lets the phrase hang. "The barriers are cultural and design-imagination barriers — the imagination isn't there to actively engage with a city made out of a bunch of islands."
In late October, for four successive nights, Austin and Butler invited small groups of people to the edge of the East River in Greenpoint. A launch took them out to an archipelago of rafts. One held a bar, another a floating library, another a baby-grand piano (which, wildly, was somehow set aflame as a musician played). It was a thank-you, he said, to New Yorkers who "have created something marvelous in the previous year."
I asked Austin whether he'd hit any red tape regarding permits or licenses.
"Why would we need that?" he asked a bit heatedly. "The water belongs to everyone!" — Christopher Bonanos
39.
39.

Because Tompkins Square Park hasn't lost its soul.
After school on a recent Friday, Polly and Avril and Mary meet up in Tompkins Square Park. Polly's hair is red and Avril's is blue and they are both 17. They met in the park as kids — like, on the playground. All their friends go to different schools, so this is where they see each other as the day gets dark but before homework and time with their parents. It's one of the first cold days and the park is quiet and they're all bundled up.
They look very intimidating, with their dark eyeliner and cool attitudes, just like every kid who's spent time on these benches over the decades. Unlike teens from some previous generations, they're super-kind to each other. Like, if one of them interrupts the other, they say "sorry" right away and wait for their turn to talk.
Also unlike most of those who came before them, Polly and Avril both really like their mothers. Each, in fact, is wearing her mom's coat today. Avril's mom's jacket is colorful with a patch on the sleeve. Polly's is an oversize bomber jacket; her mother is a lawyer who plays bass and sings in a punk band.
Mary is in a band, too. She plays keyboards in a gothic metal band, and they just played their first show at the Church Street School for Music and Art. They were cut off early, and Polly was so mad that she cursed out the producers onstage, she says.
Recently, a metal band was playing in the park and other kids were complaining about it. That's stupid, Avril says — bands playing is what the whole park is about. No offense, Polly says, but the corporate millennials are the worst in this neighborhood.
Mostly, they're extremely aware that they're on the verge of leaving for college and starting to work for a living, so they're trying to do great things now while they still can. They know a big grind is coming. Polly just pulled off a terrific plan for her 17th-birthday party — it was a funeral. Her friends were told to dress in black and prepare eulogies, while Polly, dressed in white, played dead, listening in silence to everyone talk about how much they love her. — Danya Issawi
*Correction: A previous version of this story incorrectly spelled Luis Diaz's name.