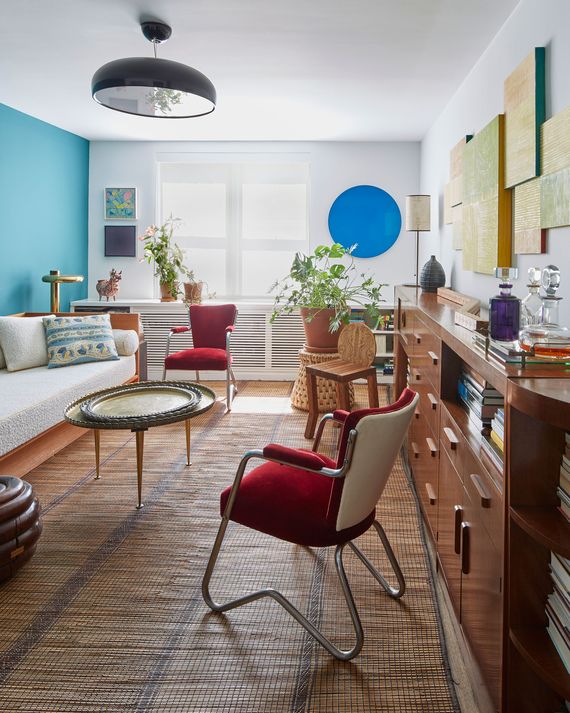 The living-room wall on the left is now painted in Farrow & Ball's "Vardo," replacing the former David Hicks graphic wall covering. The brass coffee table combines a '50s Italian base with three round metal trays from Morocco, Egypt, and Iran.
Photo: Jacob Snavely
The idea of a home that is frozen in time is … very appealing to me, as that is the way I grew up," admits interior designer Aamir Khandwala. "My parents' home in Karachi has not changed in 43 years."
Nonetheless, after living in this one-bedroom postwar co-op in Kips Bay for over a decade with his partner, the artist and creative director Atif Toor, making mostly minor adjustments, they decided it was once again time to really change it up.
Their first renovation of the place, back in 2008, was really more of a design intervention. There were heavy moldings, mud-colored walls, an orange kitchen with green Formica countertops, a gold bathroom, and unappealing built-ins in the bedroom. "When we first saw the apartment," Khandwala told me when I spoke with them post-renovation in 2013, "it was cluttered and cavelike with brown Venetian-plaster walls and heavy dentil moldings. It was begging to be stripped down to its clean and modern bones."
Which they did. Then, last year, they decided to revisit what they had done before. It started with a cleansing edit of all art, furniture, and small objects. Everything they didn't keep was donated or given away to family and friends, so nothing was just tossed. And then they took a good look at not only how the apartment looked but how it felt, inspiring new furniture choices and how to use the compact space. For example, "we had these chairs that were not comfortable, and we had this sofa that was not comfortable," Khandwala says; all were replaced.
Khandwala has recently taken up Urdu calligraphy and practices every day, and Toor makes his paintings — "Atif's artwork is an output of his mindfulness practice," Khandwala notes — on their dining table.
The story of the apartment is "the story about us living as creatives in New York City," Khandwala says, "thriving in our ever-evolving space and using it as a sanctuary to inspire and invigorate us."