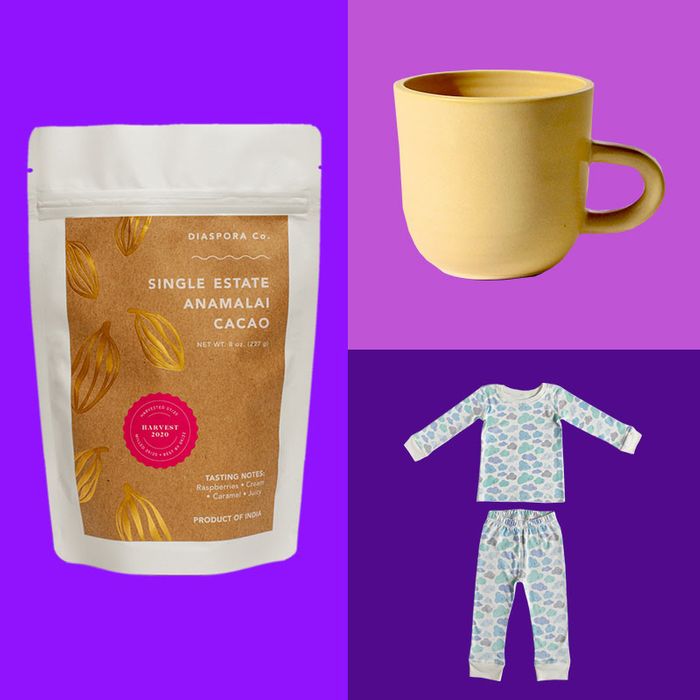 In 2016, just one week before the election, Daniel Sorg helped opened the coffee shop–storefront, Regular Visitors, at a well-trafficked corner in Brooklyn's Boerum Hill neighborhood. With its clean, white-tiled interior and bookshelves chock-full of stylish products — from obscure coffee-table books, to small-batch candles, to handcrafted ceramics — the store was an immediate hit. (A year later, the shop landed on New York's list of the best new shopping experiences of 2017.) In September, Sorg and his partners made the difficult decision to close the beloved corner spot. Below, he talks about the experience of moving on (and moving south) and highlights the holiday gifts he would have stocked if Regular Visitors were still around.
In the summer of 2016, retail and hospitality grounded us. In the spring of 2020, they became all but obsolete. This past spring in New York feels like years ago. And while this pandemic rages on, a new page has turned in America's book. Today I, and many millions of others, feel that there may be a light at the end of this four-year tunnel. On November 7, 2020, we danced in the streets. We felt hopeful again.
With this new hope comes new endeavors, and with these new endeavors comes uncertainties and nostalgia for the "before it all." The FOR RENT sign remains posted over our corner spot on Smith Street. Seeing it summons all the memories of what it felt like to build that place and to be in that community. I do miss seeing everyone, our regulars. I miss that corner. I miss Mario, our UPS guy. He was truly essential. I miss our landlord sometimes. I miss Obama. I have this longing for the way it used to be — but with that, I am certain that what's ahead is going to be equally challenging and fantastic. What's ahead is also, quite frankly, going to be delicious. When we closed our spot in Brooklyn, I moved to Austin to start a pizzeria called Sammataro. It's a much slower pace. Though the spot is different, the idea is the same — connections, community, and a commitment to looking forward.
I've always been drawn to people first, then products. I've recently started to focus on slowing down (moving from New York to Austin helps) and on taking good care of myself and of the people I love. As a small-business owner, I have always taken pride in supporting other small-business owners, particularly women-owned brands. Now that we've all voted (keep your eye on the prize, Georgia), the next most powerful thing we can do is shop small. If I were stocking up for the store for the holidays, the first phone calls I'd make would be to some of my favorite small companies — companies built by women and those built by underrepresented minorities. Think about where your money goes — indulge yourself while supporting your neighbor. To me, that's what it's all about.
Grocery
I never knew all my spices were mediocre until I tried Diaspora. [Founder] Sana went to college with our first store manager, and she turned me on to her turmeric when it first came out. The quality is noticeable, and Sana is really just an impressive person with a great palate for spices. Her new cacao (released this week!) is deeply chocolaty, fruity, and juicy. The extra cacao butter gives it that luxurious mouthfeel. Tastes like the holidays to me.
My favorite condiment (I think it's a condiment?) of this crazy-ass year is this vinegar. Chris Crawford makes amazing things, and this celery vinegar is among them. It should be in your glass in the morning (gut health), in your salad dressings at lunch, and in your cocktails at night. It should be on every countertop in America.
Current Cassis is a black-currant liqueur made by Rachael Petach. The company is based in the Hudson Valley, and I'm super-excited about it. Back in mid-March, I really leaned into the drinking thing, and I have to be honest: I wish this was around then. The black currants used in Rachael's bottles are grown just a few miles down the road from where the product is made. Also, fun fact about black currants: They were illegal in the U.S. until 2003, when a botanist fought to overturn the restriction! That very botanist grows the majority of the berries found in these bottles. Who knew?
Aishwarya Iyer really changed the olive-oil game. I learned a lot about how deceptive and fraudulent the industry can be after learning about her mission. You get what you pay for, and this is a brand that keeps reminding me of that. Also, I'm so about basil right now, and this new Arise bottle of infused EVOO from Brightland is doing all the right stuff. Her company has grown so much since we first came in touch. It's been so cool to watch this vision take shape.
Beauty
Since the pandemic, this stuff has been on my person as much as is humanly possible. Now that I'm in the kitchen more than ever, cooking in a huge pizza oven, burns and cuts are perpetual and unavoidable! The newest addition to cult-favorite simple skin-care line Lauren's All Purpose, this Rose Vetiver LAP Salve is the softest place on earth.
One for my coif guys. On the off chance you actually get dressed up for your Zoom, this is your jam. There are somehow only four ingredients in each of the Jack Henry products. The whole line is actually awesome, but they really figured out a way to make the perfect men's hair product. I've been using pomade ever since I binged Mad Men in South Korea years ago, and this here takes the cake. Comes in two sizes; get the bigger one.
I feel like this is a brand that has come up more than most over the last year. So many friends asking, "Have you seen this yet?" I'm all, "Yes!" It's a beautiful collection of treasures; they even made a dildo into an object that you could keep on your bookshelf. The body oils really do it for me, and this High Priest oil is very special. It's loaded with neroli and is the perfect all-over oil for the "nervousness" we're feeling these days. Soothe yourself.
Books
Is it just me or is everyone a little jealous their life doesn't look more like Lisa Przystup's life? She has compiled an inspiring collection of compelling and characterful interiors that will have city and country dwellers alike dreaming of carving out a personal haven far beyond the big city.
Hetty McKinnon is a national treasure (she's just not from here). Her cooking has continued to inspire me with its simplicity, and simplicity is kind of my thing these days. Her food is so nourishing and provides so much comfort — who couldn't use more of that? Her original book, Community, was rereleased in the States, and it includes new recipes and all the OG good ones it already had. Happy cooking!
Important book alert: A very talented friend did the photography for this book, and it's such an important initiative. As New Yorkers, we're all so reliant on the food and beverage industry, and this book aims to highlight some of New York's favorite dishes. The most important part, though, is that 100 percent of the profits from this hardcover book will go to ROAR (Relief Opportunities for All Restaurants) x Robin Hood's restaurant relief fund, providing cash assistance to NYC restaurant workers. Support this book if you can!
Clothing
Photo: Copyright 2020. All rights reserved.
Comfort is queen, and Julie O'Rourke from Rudy Jude knows how to keep us cozy with the best of 'em. Her new beautiful sweat sets are made out of 100 percent organic French terry cotton (milled in L.A.). Each piece is plant-dyed in-house using roots, berries, bark, flowers, leaves, lichen, or wood (so cool!). I'm pretty sure she was also nominated for an Emmy, so we can trust her with just about everything. Mom, if you're reading this, I'll take a set of Honey, and I'm an adult large! (P.S. The brand is also a favorite of Strategist writer Liza Corsillo.)
I've never been this charmed by a children's line of organic pima-cotton pj's. Never! The brainchild of Alessandra Olanow, she has brought her sweet-as-pie whimsy to some super-fun patterns.
Décor
These poufs! I came across La Réunion's pieces earlier this year and immediately reached out to know more. I was able to talk her into making a handful of masks that I now cherish (please don't bother her with this too). I gave one each to my mom and dad. Everyone always asks where I got them. She's best known for her dresses, as Vogue mentioned her work over the summer. I'm actually in love with these poufs she's come out with.
As if I wasn't going to include a mug. Ariela Nomi Kuh of ANK, which is based in Camden, Maine, has been a favorite of mine for a long time. Her pieces are the perfect shape and the perfect colors, and they make you want to spend a bit more time relaxing on the couch.
Alysia Mazzella makes each beeswax candle by hand in upstate New York, and they're so dang cute. The glass pillar candles are especially beautiful, and they are filled with all sorts of goodness. I mean, if you're on the fence, listen to this knowledge bomb from Alysia: "Beeswax candles are hypoallergenic and cleanse the air on a molecular level. Scientifically, burning beeswax candles emits negative ions, which neutralize positive ions (airborne allergens like dust, dander, pollen, smoke). In nature, negative ions are found at beachfronts and at the top of mountains, where there is little to no air pollution. This medicinal property contributes to why we feel good after lighting a beeswax candle." Sold.
The Strategist is designed to surface the most useful, expert recommendations for things to buy across the vast e-commerce landscape. Some of our latest conquests include the best acne treatments, rolling luggage, pillows for side sleepers, natural anxiety remedies, and bath towels. We update links when possible, but note that deals can expire and all prices are subject to change.