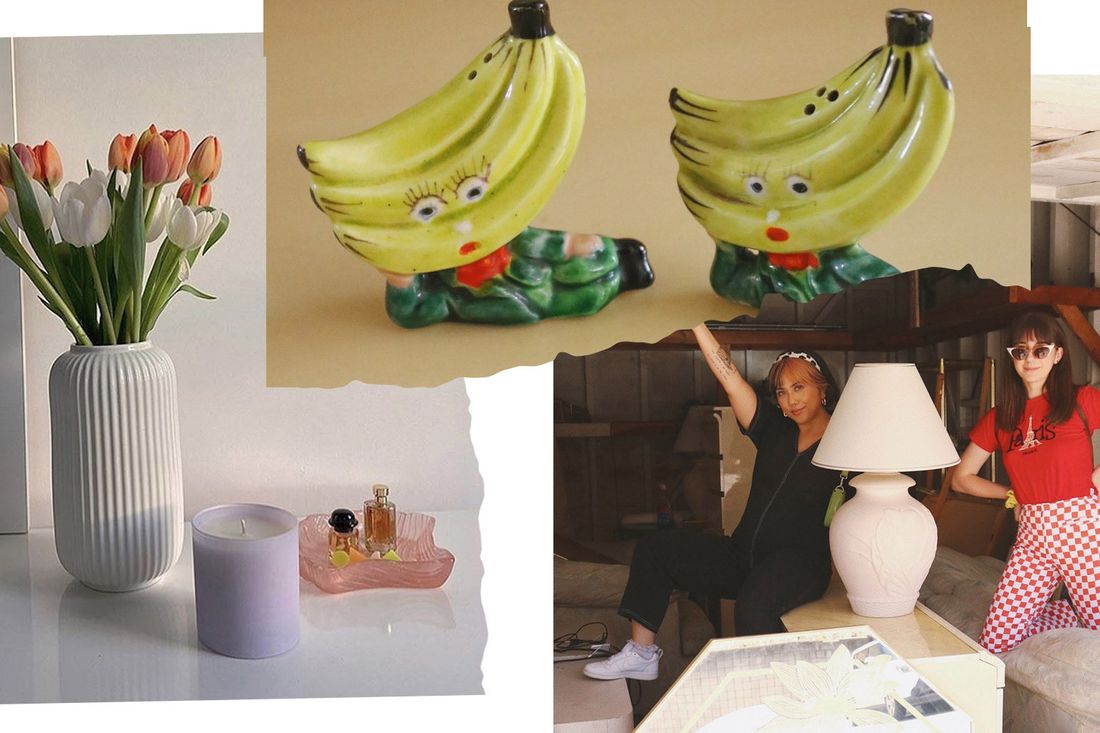 Photo: Courtesy Resident Objects
This story was originally published by Curbed before it joined New York Magazine. You can visit the Curbed archive at archive.curbed.com to read all stories published before October 2020.
Scrolling through Resident Objects, a vintage home goods shop on Instagram, is like a timewarp to 1980s Miami — albeit a version that's more The Golden Girls than Tony Montana: shell lamps and vases, pastel butter dishes, frosted-glass candle holders, cream-colored lacquered nightstands, and beveled mirrors.
Camille Nichelini, 24, and Yuka Iwasaki, 34, launched the shop in February after meeting over Instagram three years ago and bonding over their love of thrifting. Now, they're neighbors in the same 1930s apartment building on the east side of Los Angeles and have converted both of their one-bedroom units into a boutique that specializes in mostly 80s-era vintage pieces. Their homes are also showrooms for the treasures they find before posting the listings to their Instagram followers — over 30,000 and counting. Some things, like small vessels and decorative objects, sell as quickly as a few seconds after they're posted.
How did you get into selling vintage design?
Yuka: We both went to school at FIDM (the Fashion Institute of Design & Merchandising in L.A.). I was doing fashion design and Camille was doing visual merchandising and social media marketing. But we didn't know each other back then.
Camille: Yeah — I went to school for window displays and I was working as a visuals person at Bloomingdale's and I worked as an assistant to an interior designer in Hollywood for two years. Then I got really into social media, so I've been working on my social presence for a bit. Yuka and I met on Instagram actually a few years ago and we originally had started a vintage clothing boutique but it didn't really go anywhere.
Y: Out of all our friends, we thrifted the most. So we would always be going to thrift stores together all the time and we would always find really cool stuff. But we would always just be like, "Oh, well, if only I had the room. I already have three of these. I don't need another one." And from there, we were just like, "Well, we know so many people who probably would want one of these. That's pretty much how it started. It kind of started off as a side project more than anything."
C: It was pretty spontaneous. We didn't launch it with, like, the idea of it being as big as it is. But it is that big now. It's honestly a fun project so we're kind of just doing it day by day. Honestly, it's just us two in our apartments shooting photos. It's not a big operation or anything. I think sometimes people may confuse the following with a big business when it's not.
How do you describe the style of what you sell?
C: We like colorful pieces. We have a lot of Art Deco right now, Eighties-style Miami.
Y: Like The Golden Girls Miami.
C: Yuka loves her clowns and Western things too, like cowboy boots.
Where do you find your merchandise?
C: It's a lot of in-person sourcing, which I know sounds kind of weird during COVID to still be going out. Where you source is always a shop's secret but we travel far and wide to estate sales, thrift stores, flea markets, and even use Craigslist.
What are you on the hunt for now?
Y: Funny cartoon animals with boobs. We've also been looking for Murano lamps and we actually just found some. We're still searching for a cute vanity, like something cool 1980s in pink.
C: I really like weird textures and I'm really into pastels right now, which is interesting. because I was never really a pastels person. I'm trying to break away from neutrals, which is a boring trend that's been going on for too long with people's home decor.
Speaking of trends that are everywhere right now, what do you think about Cottagecore?
C: I'm still trying to understand what it is because a lot of people describe my style as Cottagecore, but I don't buy it. I don't know. I think it's the colors. I like the pastels and the florals and the white. I feel like that's very Cottagecore.
Yuka: I always get described as Animal Crossing style and I'm like, okay, I get that. But I don't really know what Cottagecore is.
Have you ever sold anything you wish you kept for yourself?
C: No, but one of the very first items Yuka listed was a set of Cesca chairs that we sold for like $90 and right after she sells them, she looks them up and she's like, "Oh shit! I should've sold these for $400!"
What's the secret to styling the perfect shot for your listings?
C: We pride ourselves on including our own belongings in the images. A lot of accounts will just throw an item in front of a backdrop. Ours feels more like an actual home. If we have a dish for sale, we'll toss in a fragrance and some jewelry and just things that people naturally would have in their houses.
Y: We shoot everything in our own apartments. We're actually neighbors so it's really easy to go to each other's houses and style things.
C: We have each other's keys and being neighbors has made things with the business super convenient because if someone is coming to pickup an item and one of us isn't home, the other usually is. Plus, if I ever go out of town, Yuka is the easiest cat sitter to ask for.
Our building has been around since the 1930's. Our landlord, who is 99, still lives on site with his kids, who we've become very close with. They even make dinner and share it with us sometimes.
Tell me about the cats that sometimes show up in the shots. Who owns this hairless one you just posted?
Y: That's our friend's cat. Camille has two black cats and they'll regularly be in the posts. I don't have a cat, but I take in a lot of strays. I like the neighborhood cats.
C: So if you see a non-hairless car or a non-black cat, it's Yuka's stray cats that she lets inside.
You mentioned starting in vintage clothes then moving to home goods. Why do you like this more?
Y: With objects, sometimes I'll find something and in my head I'll make up a whole story about them like, "Oh, the person who owned it probably was like this." It's just more fun. It sounds kind of cheesy, but there's more magic behind it. Especially if we go to estate sales. Like, you actually get to see the person's entire house. And sometimes they still have photos on the wall of their whole family.