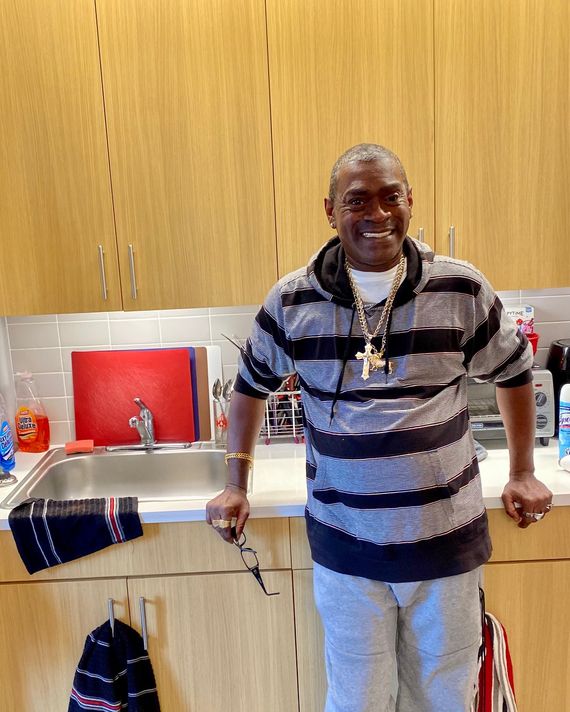 Paul Turner in his kitchen.
Photo: Wendy Goodman
Edwin's Place, a new affordable- and supportive-housing building in Brownsville, Brooklyn, is designed by Robert A.M. Stern Architects, a firm better known for its stratospherically priced limestone residential towers like 220 Central Park South. Edwin's Place offers 88 units to formerly unhoused individuals and their families and 37 apartments for community residents with low incomes. They range from studios to three-bedrooms and were all sorely needed. "We had 47,000 applications to sort through" for the 37 low-income apartments, says Brenda Rosen, president and CEO of the social-services nonprofit Breaking Ground, the city's largest supportive-housing developer. For this project, it teamed up with African American Planning Commission, Inc., which provides on-site social services for all tenants and gave the building its name (Edwin was a colleague and friend at AAPCI who died in 1994, at the height of the AIDS crisis).
"The typical way somebody would come into one of our buildings," Rosen explains, "is that we would work with them on the streets for as long as it takes, and that can be a week, or a year, or several years. We bring them into transitional housing and continue to provide services and help to get people ready to apply for permanent housing."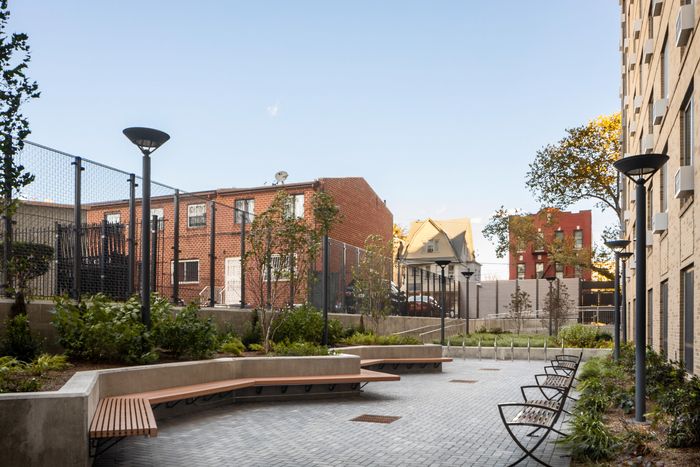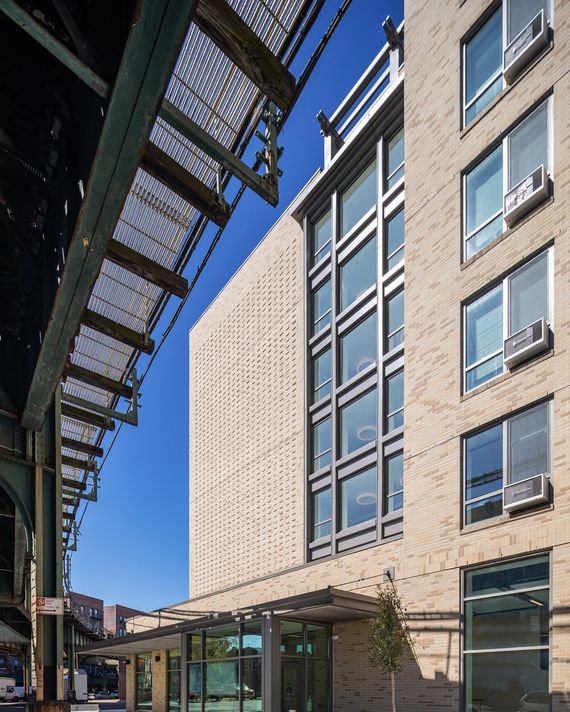 Grant Marani, a partner at Robert A.M. Stern, worked on the project with Andrew McIntyre, a senior associate at the firm. "When designing Edwin's Place, as with all of our apartment buildings, we listened to our client's aspirations and looked to the neighborhood for inspiration," Marani says. "Brooklyn's rich heritage of well-detailed brick apartment buildings provided the context to create permanent, comfortable, dignified, and welcoming homes."
Edwin's Place is a short walk from the Saratoga Avenue station (which is elevated, not underground; triple-glazed windows keep out the train noise), served by the 2, 3, and 4 trains. There is a fitness room, a computer lab, and a large landscaped outdoor area, and the building has a green roof and photovoltaic-solar array for reduced energy use. Beds, tables, chairs, and dressers are provided in the apartments for formerly unhoused residents, and social-services partners provide sheets, towels, and pots and pans. Plus, as a housewarming gift for residents when they move in, they can choose from among the 128 paintings donated by an artist who wished to remain anonymous.
I met with six of the residents, who shared some of their stories. As it turns out, two were artists themselves and showed me their work.
Paul Turner (pictured above) moved into his Edwin's Place studio last January after a year of living in the Valley Lodge shelter in Manhattan. "It is a pleasure to be here," he says, beaming in his immaculate studio, where he set a table with a colorful cloth that goes with his telephone salt-and-pepper shaker. "When I came here, this place was empty; it had a bed and other things. I had to fix it up a little to my liking."
Denzile Cendrecourt has a little indoor garden. "My green thumb? That's nothing," he tells me. "I just like keeping things alive." An artist himself, he covered his window with two works of his that are painted on both sides so "anyone looking in would see a different picture." "This is my most recent picture," he says, taking out Sink or Swim and laying it down on the table. In 2019, "I was living in the streets of Greenwich Village, and there was a gigantic heat vent. In the winter, it was 103 degrees out there, and I just painted all night, all night. And being a tourist center, people would come up and ask, 'How much for that?' I sold 680 pieces to people all around the world, and I still have cards: Iran, Tokyo, Brussels — you name it! And I felt so humbled."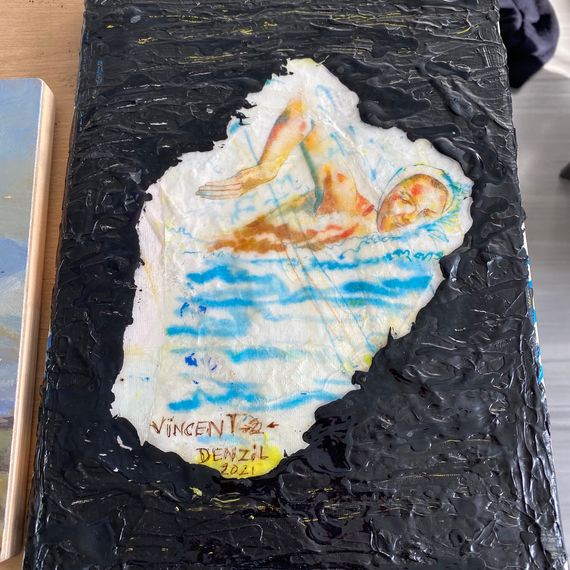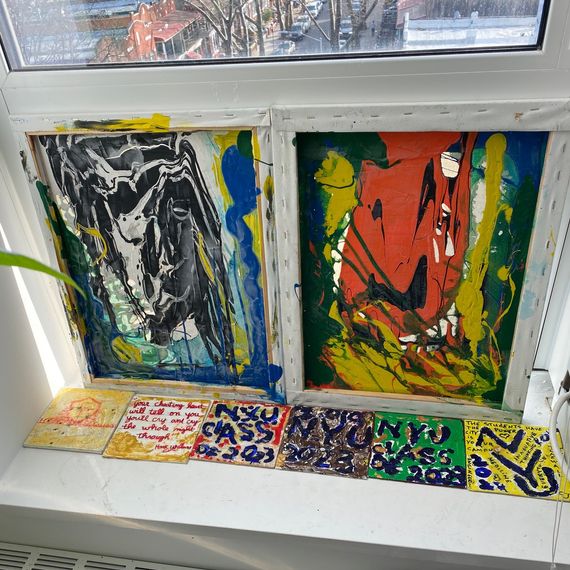 Gershwin Mansfield came from living in the shelter system a year after losing his job installing boilers because of heart problems. "I am just pretty much grateful to be out of the shelter system," he says. "This is truly a blessing, and not even in disguise; it's wide open." His choice of painting was a still life of a potted plant on a shelf with books. "Plants are good for the environment, and books are good for the brain," he notes. But he doesn't have that painting anymore. "My mom conned me out of it," he says, laughing. "My mom is 84 years old, and when she saw it, she said, 'Gershwin, that would look good in my vestibule.' She's the only one in the world who could have conned me out of that."
Gerile "Maleek" Bennett has been at Edwin's Place since March, arriving from a shelter. A boxer who grew up in Newark, he says, "I trained a lot, and I still work with some of the little brothers — that's my thing." Describing the neighborhood he grew up in, he notes, "We have a big family, and all my aunts and uncles stayed on the same block with my grandmother. I came up with around 52 of us; it was 52 first cousins. The whole hood was my family." And now that he has this place, he wants to get back to his family life. When asked what he was most interested in doing now, he says, "Getting back to my grandbaby's life, the way I was prior."
Elizabeth Rosario has been here for almost a year. "I love it; it's beautiful," she says. "I feel like the luckiest person in the world for what I have. To live here, I feel safe." Rosario is an artist — "I have always been an artist; it's very therapeutic for me. I am more of a Pop artist" — and when offered a painting for her new apartment, she chose a painting of palm trees. "I am part Puerto Rican and Brazilian, and I have Filipino in me too. The painting just made me think of a beautiful place somewhere in the Caribbean," she says. "I just imagine myself in a hammock somewhere, lying back and the wind blowing and just soaking up the sun — the kind of lifestyle I wish I could have. It's fantasy, but … it also makes me realize that, looking at it, I could have that if I worked hard enough at it. Never say never. It's never too late."
Lelani Deruso moved to Brooklyn from Seattle to be near her daughter. "I asked her if she wanted me to buy a one-way or return ticket when I was coming to visit her. And she said 'one-way' — to be here for each other." When Deruso moved into Edwin's Place four months ago, it exceeded her expectations. "This is way more than I expected, and I saw this and I was like, Wow. I am very grateful to be here. It's an amazing complex — just so much more than I would have expected. I so appreciate the little housewarming gift: the painting," Deruso says. "I got the little ocean, and it's nighttime and the moon is out and reflecting. I love this painting; it's beautiful." When Deruso thinks about how proud she is of her daughter, she also mentions her worries. "I am going to be honest: I kind of feel a sadness for the young people with the state of what the world is going through now. When we were growing up, it was just so much simpler. I used to say, 'Take it day by day,' but now I say 'moment to moment,' and you have to find a way to create your happiness every day, whatever that may be." She is holding a painting of Betty Boop by Rosario, who heard that Deruso loved her work during our shoot and gave it to her.