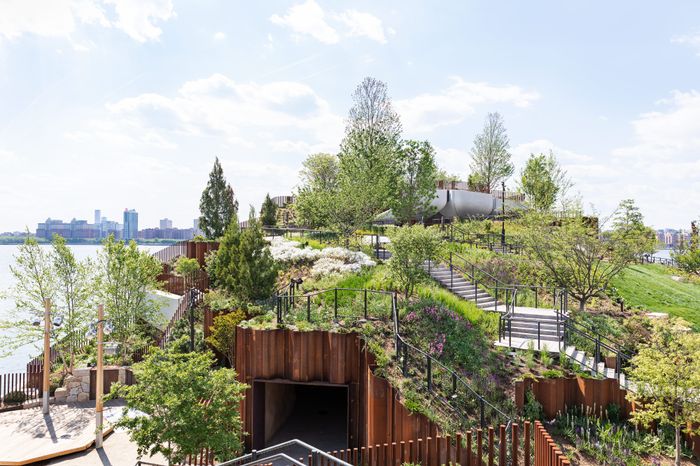 When you're standing in the middle of Little Island, the new parklet levitating off the coast of Chelsea, it feels bigger and farther than it is. You approach from the shore, where a bouquet of Alice in Wonderland–ish concrete toadstools springs from the Hudson River. Friendly staff members wave you onto the gangway if you have reserved a free, timed ticket or it's before noon or after 8 p.m. Once there, you're in a bower that has been designed down to the smallest stamen. These 2.4 acres of Babylonian lavishness cost$260 million to build and will require millions more per year to maintain. That expense is borne by the media mogul Barry Diller, a fact that has discombobulated those who think of rich and rapacious as synonyms. What's astonishing is not that a billionaire should have commissioned this handmade Eden to his own taste and in a location of his choosing, but that he should have done so to benefit the rest of us. It's true that urbanism by plutocrat is no way to build a city, and I half-expected the result here to be a tacky mini-Disneyland alluding to concepts like nature, public, and park without a clear understanding of what they mean. Instead, Little Island is a bewitching, and utterly New York–y, place.
New Yorkers mostly know the London-based magus Thomas Heatherwick for the shiny, monumental, sometimes panic-inducing Vessel at Hudson Yards. That misconceived creation was designed with no thought given to visitors with disabilities; now, it's governed by rules designed to forestall more suicides. (No loners allowed, signage urging against self-harm, more guards on the alert for desperation, and a $10 entrance fee to cover the costs.) Along the High Line, a Heatherwick-signed condo features glass bays like bulging eyes, giving the building a disturbingly entomoid look.
But at Little Island, Heatherwick's imagination somehow found its moorings. That speaks well of the man footing the bill, Barry Diller, who mixed largesse with vigilance. It speaks even better of the collaboration between Heatherwick Studio and the longtime New York landscape architect Signe Nielsen. In a day of exploring the city, you might pass a dozen of Nielsen's projects; 25 years ago, she produced the master plan for Hudson River Park, and she knows which trees and shrubs will tough out the wind, salt spray, and dog urine. When Little Island feels like a strange and wondrous creature that alighted just offshore, that's Heatherwick. When it feels like it's tightly enmeshed with the city, that's Nielsen.
In one sense, the island is one more component of Hudson River Park, part of the archipelago of leisure stretched along Manhattan's western flank. Look south and you'll see Gansevoort Pier being cleared for a new beach, north and you'll hit the wall of Pier 57, which has Google and a rooftop park in its future. (City Winery is already there.) The Hudson River Greenway lays out a line, urging visitors on wheels or in cushioned sneakers to speed. The piers offer a menu of destinations: playgrounds, dog runs, ball fields, sunbathing lawns, tables ensconced among flowers. The Island, though, has a different rhythm. You begin at an open plaza serviced by food trucks, furnished with café tables, and bordered by lawns that are fine for lounging on when they're not busy resting themselves. An inclined path meanders up hill and down dale, doubling back, splitting off stairways, and pausing at boulders and benches to savor the ever-changing perspectives. Like all worthwhile climbs, this one has a peak and a payoff: a wraparound view that stretches from Lower Manhattan and the Statue of Liberty to the Empire State Building and beyond.
The pathways are long, looping, and gentle, but they are crisscrossed with stairways and rock-clamber shortcuts, like a serene kind of Chutes and Ladders. This gives visitors options and prevents an itinerary from feeling like a one-way march. At times, you almost feel lost in the tiny terrain, cut loose from the nearby shore. Retaining walls are made of sheet pile, a system of folded steel panels that interlock to form quick-and-dirty barriers. Nothing could be less refined. Their virtue, though, is that they have hardly any thickness, and in a landscape as tightly designed as this one, every inch not devoted to wall adds up to many more plants. The surprises are impossible to spoil. You come upon the amphitheater ("the Amph," in Little Island argot), hidden in a depression behind a ridge, as you might upon a high mountain lake. Even the bathrooms are a surprise, tucked beneath a hillock and gleaming like buried treasure in their own cave.
One of the island's marvels is an ever-shifting sense of depth. At close range, it's a cornucopia of tactile detail: succulents bordered by rusting steel crenellations; kid-friendly vibraphones; rustic rock walls; stairs made of wood so weathered-gray they hint at a previous incarnation; bleachers hewn from blocks of black locust. The signage is cut right through standing metal columns, like ancient incisions that will never fade. Everything demands to be touched.
All these design decisions add up to a rare specificity, an only-here-ness that is absent from so many contemporary places. And those close-up details conduct a conversation with the middle ground. The weathered-steel rods that fence off the island's edge are tightly enough spaced that not even an underweight toddler could squirm between them. That allows parents to relax, lift their gaze, and register the visual rhyme between the rusty poles and the old wooden piles in the water below. The echoes work across distance, too, though not all of them are intentional. Near the top of the hill, I passed a cluster of white Canterbury bells standing like towers. Behind them, the World Trade Center and the Financial District drew up tall, as if in clumsy imitation of the floral skyline.
A secret garden is usually walled off. This one is out in the open, and the city whirls around it, presenting unfamiliar views of familiar spots. The Whitney, piled up and carved like a milky cliff; the Standard Hotel, skinny and not-at-all slablike when seen edge-on; Bjarke Ingels's pair of twisting towers, still under construction near the High Line — all these sharp-cornered, faceted structures rear up beyond the island's gentle mounds and seem suddenly fresh, made festive by foreground flowers and mature trees.
More than a series of pretty pictures, the island is a full-immersion experience, which is why photographs don't do it justice. People tend to keep their eyes on the ground as they climb and raise them when they descend, so Nielsen planned for both. She planted fragrant perennials close to the paths to give visitors something more interesting than their feet to look at (and smell) and thinned the vegetation at the edges of the island to reveal the skyline and the Hudson River. "Japanese gardens have the notion of borrowed scenery," she says. "You don't own it or control it, but it becomes part of your gaze. And I thought there were moments where the landscape needed to recede to highlight that."
For the most part, the support structure, so striking from the shore, remains out of sight when you're on it. At one point, though, the path dips down to where the great concrete goblets on their narrow stems form a gallery of pointed arches. The solid mass above and slenderness below — the sheer improbability of that whole little world balanced above the water — brings home the audacity of the artifice. English landscape designers of the 18th century delighted in miniature pavilions set amid boscs and meadows. Instead of a folly in a garden, Little Island is a garden in a folly.