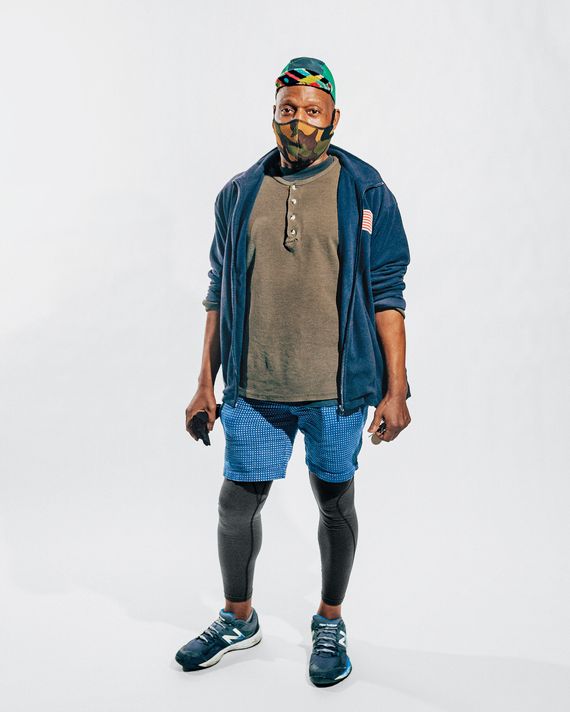 Keith Sims.
Photo: DeSean McClinton-Holland
Keith Sims (pictured above), Retired, Far Rockaway.
Do you come here often?
Yes. As a matter of fact, I turned 60 yesterday, and I've been going to the YMCA since I was 12. It's a family atmosphere. I raised my daughter in the YMCA — my daughter who made me a grandfather.
In which part of the Rockaways do you live?
On Beach 84th. I live alone. My wife passed away from cancer in 2010. It was such a beautiful marriage. Ain't no secret or wisdom to a good marriage. A little bit of compatibility. She was born March 29, and I was born March 31. We clicked. We enjoyed each other and did things together. Even when she would go to the beauty parlor to get her hair done, I would go with her. We were just like, Go, go, go, we ain't wasting time. So that's what I still do. I enjoy life. I love my plants, my pink Chinese evergreen. I love my squirrels — I give 'em the big walnuts. I've seen Shen Yun five times, I meditate. We only get one shot at this shit.
What are you here for?
A swim class. I learned to swim two years ago, and I'm pretty good in the shallow end now. But I've never been able to conquer my fear of the deep end. So I wanted to take some more classes to build up my confidence. It's getting there.
Do you have a pre-workout routine?
I stretch and make a Dominican breakfast: mashed plantains with onions, ham, and cheese, maybe some avocado. I eat it every day, and I do not get tired of it.
Nice highlights.
I'd seen girls doing it on TikTok but not many curly-haired girls. I used to post all the time, mostly dance challenges. TikTok has been a plus during quarantine. It keeps everyone busy, butit kind of feels like a relief that while I'm lifeguarding, I can't be on my phone.
So you're a scientist?
Yes, I'm in cancer research. I work with a rare subtype of melanoma, trying to figure out better treatment options. And then lately, in my free time, I've been coming here and learning how to play the ukulele. I've been working on Coolio's "Gangsta's Paradise."