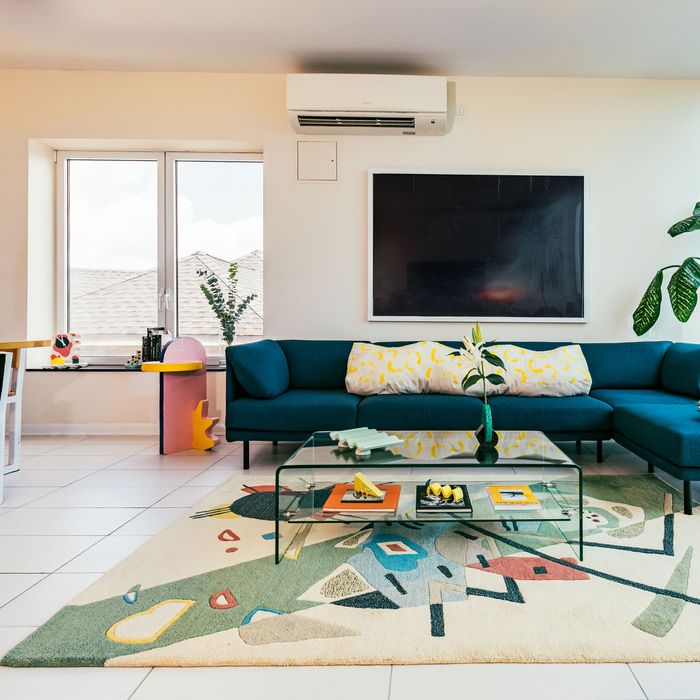 Blue at home by the beach.
The photograph was taken by Daniel King in the Australian bush in 2015 for the Australian Wildlife Conservancy. The "Wiggle Pillow" near Blue was designed and sewn by Emma Hastil, who also painted the fabric. The rug is vintage from the 1980s.
Photo: DeSean McClinton-Holland
You're really seeing this apartment on a good day," says Daniel King of the two-bedroom Rockaway condo where he and Emma Hastil live with their dog, Blue, and from which they run their design business, Locus of Occult. Their dining table is more often than not used as a worktable, and patterns and drop cloths are usually all over the living-room floor.
King moved here two and a half years ago from the Lower East Side, following friends who wanted to live in a "beach town full of artistic people and different cultures" that just happens to have subway access to the rest of the city. He grew up in Australia and loved being able to walk in his wet suit to go surfing. He met Hastil through a mutual friend who had stopped by his condo with her to say hello while on a beach excursion. The two hit it off immediately. Hastil left her 200-square-foot room in Bed-Stuy, where she didn't have space for much; her move to the beach took all of two hours.
Before the pandemic, King often was flying around for his work as a fashion and portrait photographer. (The Rockaways are also convenient to JFK airport.) Hastil, who studied fashion design at Pratt, worked for a while in Los Angeles for a branding agency before returning to New York, where she had a gig creating kids' graphics.
During lockdown, "we had a lot of time on our hands," Hastil recalls. So they decided to make things. "We had been drawing and playing with Sculpey, doing arts and crafts leading up to this. Once you realize you can just try something, trial and error, it opens you up to doing more."
Hastil's investigation of materials brought them to Jesmonite, a water-based composite product. "You can color it, and color has always been really important to me," Hastil says. But they had to buy it in bulk. "It weighs a ton, so the shipping costs were high. I thought, If we do this, we're either going to get a ton of it or we're not going to do it. So we got a ton of it!" she says, laughing.
The apartment has become their lab. They even constructed a lamp with the material left over from making objects: "We poured the excess into a big dish and layered it up, and we smashed it and sealed it and drilled it and made the lamp from the pieces."
Now that the business is going (Liberty London, among other places, is selling Locus pieces), King confesses that logistics need to be worked out: "All the big stuff and manufacturing side we still haven't figured out, but the smaller homewares we make here ourselves." Hastil adds, "Because we have no formal background in object design, we have a very MacGyver approach to our work — how can we create our vision with the skills we do have?"