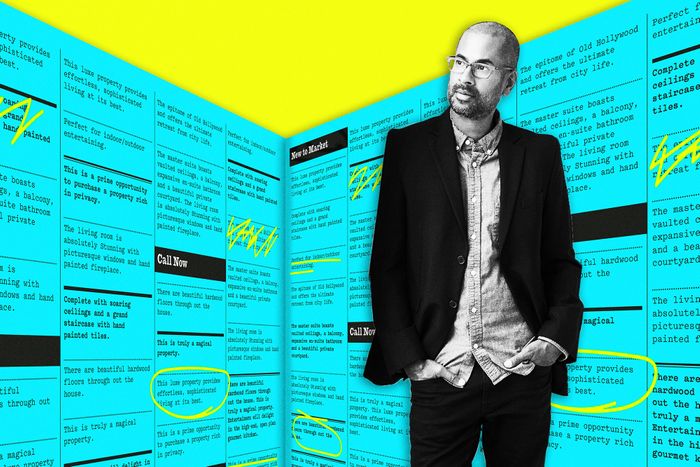 Photo-Illustration: Curbed/Photo: David A. Land
I don't care about sports, unless you count real estate. The appeal seems the same: spectacle and fantasy, numbers and statistics. Basketball and football are, to me, a foreign language. I divert myself gawking at real-estate listings. Instead of by proxy inhabiting the body of the heroic athlete, I'm this same old subpar self, wandering rooms that are not, and never will be, mine.
This is how I de-stress; I'm not sincerely looking for an apartment, especially not of the sort I linger on. But I've come to appreciate the nuances of the high-end real-estate listing: the bland furnishings of the professional stager, the trickery of the photographer, the exuberant language of the eager broker (indeed, the title of my new book comes from a fictional real-estate listing; my Google alert sends me real listings that use this same language). I especially enjoy the numbers — prices, square footage, monthly maintenance. Plug them into those handy calculator tools and marvel that there are people who spend hundreds of thousands of dollars a month on their homes.
Sometimes I feel sorry for the internet, which is still learning how to master us, serving us advertisements for things we've already bought or confused by the difference between daydream and fact. The internet seems not to understand that I'll never live on Sutton Place; at this point, the computer seems to think I'm the offspring of some oil magnate or of royal lineage, reliably serving me up homes around the 30 million-dollar mark. It's getting stranger, lately, as the computer shows me homes in San Francisco and Los Angeles. Honestly, I appreciate the computer's faith in me. But, internet, if I'm going to spend $30,000,000 on a house, it's going to be in New York City.
The Ones He's Saved
I am trying to imagine a dinner party: three other couples, maybe a caterer called in, because if I can afford a $32,000,000 apartment I'm going to pay someone else to roast a chicken for me, or conjure up those molten-chocolate cakes that are no longer fashionable but that I love all the same. Would it feel intimate in a room so vast, a table for eight adrift on that sea of herringbone, candlelight bouncing off those yellow walls. I am trying to imagine my children — really, any child — perched at this very table, muddling through their multiplication or Zoom classes. The dining room in my house is full of Legos, art projects, pencils (why do we have so many pencils?), and spills. That's our life, and it seems impossible to achieve in an apartment like this. So it goes. Still, I wish there were more photographs. I'm most curious about … the staff room.
This house is preening for a very specific buyer, the sort who would perch an electric guitar beside the bath, who wants to get it on alfresco in a hot tub, who wants their wine on display, who wants a big television. I didn't even know they made televisions that big. I'm not convinced it's real. The glass handrails and overhead lighting have all the charm of an airport; you just know if you lived here there would be some very specific irritation, like the radiant heat made the floors too warm, or the maids were never able to get the grease off the stainless backsplash, or when you microwaved popcorn, all 8,757 square feet of the place ended up smelling like microwaved popcorn. The house is indifferent to what anyone thinks about it, which is sort of admirable.
Listen, I'd probably do bad things to get this house. Maybe anyone with a house this nice has, indeed, done something pretty bad. Money can't buy happiness, but I think I could be happy here? I don't know if this is the kind of home where, late at night, you slip from your bedroom, naked, and steal to the kitchen, where you spoon peanut butter into your mouth, illuminated only by the digital display of the stove clock. But there's more than one kind of happiness out there. Maybe you can't be that sort of person when you have a home this nice, or maybe I mean, simply, this expensive. Maybe you don't possess a home like this in any meaningful way; maybe it possesses you. Still, imagine!