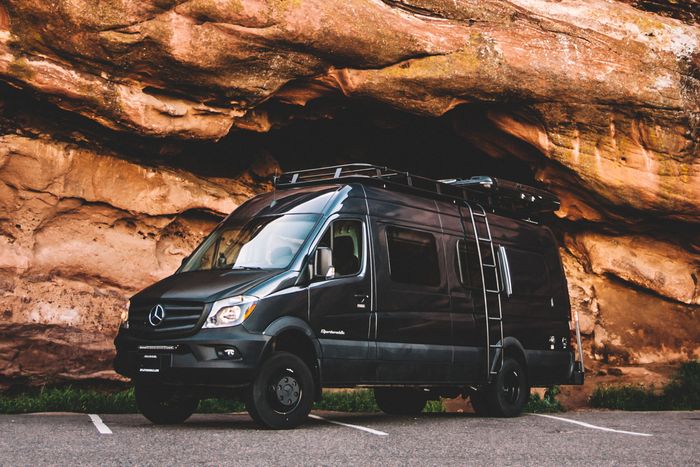 This Class B Sportsmobile camper van 
sleeps a family of six
 and has plenty of storage for gear and food.
Photo: Lucy Beaugard
This story was originally published by Curbed before it joined New York Magazine. You can visit the Curbed archive at archive.curbed.com to read all stories published before October 2020.
There's a lot to love about campers and RVs — that's why we started a community group just for camper addicts. But even the most enthusiastic camper aficionado can get confused: What makes a Class C different from other RVs? Why is a fifth wheel trailer called, well, a fifth wheel? And are camper vans considered an RV or…something else?
Whether you're looking to buy a new camper or just want to level up your camper vocabulary, this guide is a good place to start.
In the Recreational Vehicle (RV) world, you're either towing something, or you're not. It sounds simple, but that's the first main distinction. If you're not towing a trailer, then the vehicle and the living space are on the same chassis and you can always access the interior of your camper when you're driving.
If you're towing something, you're likely pulling some sort of trailer. How much that trailer weighs and how you actually pull it depends on a few factors, and that's what we break down in this guide. From Class A RVs to the tiniest featherweight trailer, here's every kind of RV you can find on the road.
Class A RVs: The Biggest Beasts on the Road
Size: 26 to 45 feet
Weight: 13,000 to 30,000 pounds
Details: The biggest motorized RVs on the market, Class As are like giant homes on wheels. They can be relatively simple or come with all sorts of bells and whistles, including over-the-top amenities like king-size beds, washer and dryers, and mobile garages that can hold a sports car. You get a lot of space with a Class A, and potentially some serious luxury. Another benefit is that you can usually tow a car behind a Class A. But Class As can also be very expensive, have low fuel efficiency, and are limited on where they can travel due to their size and hookup needs.
Class C RVs: A Mid-Size Option
Size: 20 to 30 feet
Weight: 10,000 to 13,000 pounds
Details: Not quite as big as a Class A, but not as small as a Class B. Yeah, we know that's confusing. Sleeping quarters in a Class C are often over the cab with another area in the back, and you might find slide outs similar to those common in larger Class As. Class C RVs usually have a separate bathroom area, whereas a Class B camper van might not. Class Cs work well for people who want something smaller and less expensive than a Class A, but think a camper van is too small. Note that Class C RVs usually aren't big enough to tow another vehicle.
Class B RVs: Van Life and So Much More
Size: 17 to 23 feet
Weight: 4,000 to 9,000 pounds
Details: Often called camper vans, Class Bs are a mid-size option that are much smaller than the big Class A RVs. Common van bases include the Mercedes Sprinter, Ford Transit, and Ram Promaster, and these small but mighty campers can be basic — think bed and storage — or have extras like bathrooms, dining areas, and room to sleep six. The biggest drawback is that you don't get as much space or amenities compared to Class As and Cs, but there are also benefits to the Class B; some come in a four-wheel-drive option, get good fuel economy, can fit in many parking spots, can stay off the grid, and are easy to drive.
Travel Trailer: Big, Small, and Everything in Between
Size: 10 feet to 40 feet
Weight: 1,100 to 12,000 pounds
Details: There's probably no greater range of campers in a single category than the travel trailer. Bumper pull travel trailers connect to a standard trailer hitch, and they can range from lightweight to fairly heavy. This means that the smallest travel trailers can be pulled by a small SUV, while others might require a large truck. Travel trailers are good for campers who want to unhitch and store the camper more easily when not in use, and a plethora of options means that there is something for everyone. Just how diverse is the travel trailer category? The 10-foot Happier Camper is a travel trailer, and so is the 33-foot Classic Airstream, a trailer that's more than three times as large. You'll also see convertible trailers, teardrops, and trailers with vintage style.
Pop-up Trailer: Compact and Easy to Store
Size: 8 feet to 16 feet
Weight: 700 pounds to 4,000 pounds
Details: Also called a folding trailer, the pop-up trailer is a lightweight camper that folds into itself for easier storage and towing. Think of pop-up trailers as an alternative to a tent, since you get a similar open-air feeling, with a living area in the center and two sleeping areas on either side. Pop-up trailers are great if you don't mind fewer amenities, can't tow a lot of weight, and your main goal is to avoid sleeping on the ground. Many are also reasonably priced. The downside? Folding trailers aren't as well insulated for weather — think of them as three-season camping tents.
Fifth Wheel: The Largest Trailer You Can Buy
Size: 22 to 40 feet
Weight: 7,000 to 20,000 pounds
Details: Fifth wheel trailers are the largest trailers you can tow behind a vehicle. They are called "fifth wheel" because the front of the trailer extends over the bed of the truck. The truck bed contains the hitching mechanism — a u-shaped coupling component — which can make fifth wheels easier to tow than some other travel trailers since it's easier to turn. Fifth wheels offer all the space and comforts of a Class A RV — including slide outs, bathrooms, and even multiple bedrooms — but they also require a pickup truck with a specifically fitted hitch. This type of RV is best for someone who wants all the amenities of a large Class A, but wants to tow it and then store it when not in use.
Truck Campers: From Weekend Campers to Expedition-Ready Vehicles
Size: A few feet longer than your truck
Weight: 1,000 to 5,000 pounds
Details: Truck campers like the one pictured above are best for traveling off-the-grid for weeks, months, or even years. This isn't a camper meant for a large family; it works best for one, two, or a maximum of three people. Four-wheel-drive capabilities and burly suspension mean that these campers can go anywhere but have limited storage and only the most basic amenities. There are also truck campers with more amenities meant for regular campground stays; these often use a rear door and can include an overhead sleeping cabin. Options for truck campers include long and short beds, hard-side and pop up, as well as slide outs.