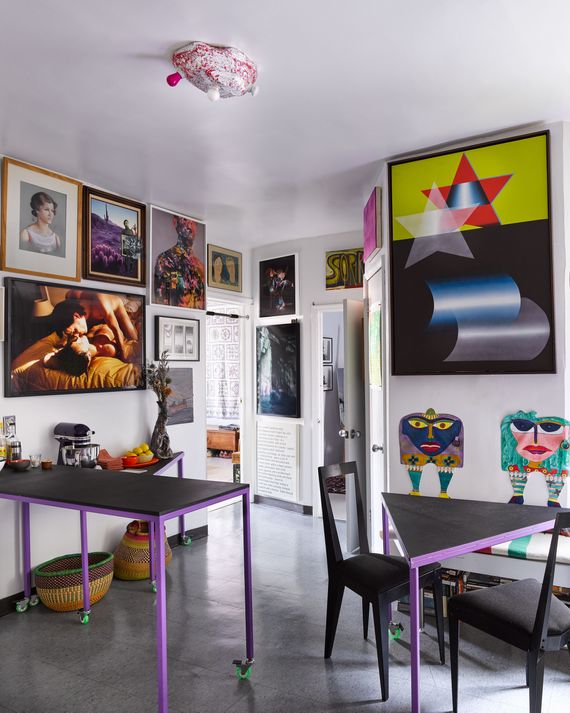 For the past five years, the artist Sam Roeck has lived in an elegantly worn walk-up apartment building in Williamsburg, and his neighbors include friends he's accumulated over his time in New York and even a former boyfriend or two.
Growing up in Chicago's Lincoln Park, Roeck was encouraged by his mother, an artist, printmaker, and teacher, to "draw and make things, and that's where my sense of You can come up with any idea and make it comes from." He went to art school in Maryland before moving to New York. He's worked as studio manager for various artists as well as exhibited at downtown galleries including OCDChinatown and Situations (for one show, he molded a sculpture of an old rotary telephone out of Rice Krispies Treats, which later was partly eaten by a mouse). In 2017, he got an M.F.A. from Hunter College.
You enter his apartment directly into the kitchen, with the two bedrooms, one of which he uses as his study, side-by-side to the left. The kitchen "makes absolutely no sense, space-wise," Roeck says. So he designed three tables, two triangular in shape to accommodate the odd angles of the room, and put them on wheels so they could be easily moved around. Plus he notes that when he moved in, he was in a thruple, so a three-sided table made the most sense. The dining chairs, which he bought at a vintage store in Gowanus, are more in keeping with aesthetics than actually being comfortable. "They look like prototypes," Roeck guesses. "They're very bizarre."
He even made the ceiling light. "The wiring in the kitchen was so old that no light fixtures would fit on it anymore, so I made this one from insulation foam, lamp parts, and silver leaf to reflect light around the room," he says. The kitchen is full of art, mostly that of his friends — there are pieces by Ryan McNamara, Nicole Eisenman, Nan Goldin, Kimberly Williams, Luke O'Halloran, and others, including a woodblock print by his mother, Katie Roeck.
And then there are the quilts. He bought the first one seven years ago on eBay, and he now has 18 and counting. "I had a big wall, and I wanted to put something on it, so I thought, A quilt," he says. "I was first buying quilts that had something kind of 'off' in them." His first was "all light pink and then there are four spots of really bright, dark pink, and I was like, Okay, that's weird." And the weirdness is what he likes. "You get to know a little something, or you think you know a little something, about the person who made it."
His latest project is designing sets for a contemporary-dance project at Abrons Arts Center on the Lower East Side. "It's my first foray into set design. It's exciting," he says. "It's been a very strange process of like, 'What do you need? And what is it going to look like?' " Then he adds, "Which are my two favorite questions."