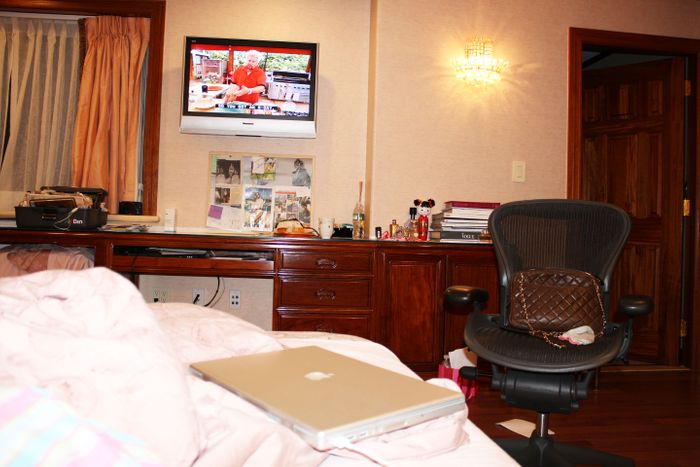 Liang's prized Chanel bag sits on the Herman Miller chair her dad got for her desk in the teenage bedroom he (and she) designed.
Photo: Sandy Liang
I moved into this room in high school, after my parents split up. It's in a duplex apartment inside a building my dad developed in Flushing, which is a little ways away from my first home in Bayside. My parents designed my bedroom in the Bayside house; I didn't get to do much. Flushing was my time to shine in terms of picking stuff out; it felt very dreamy and princess-y. That's what kids on television get to do, you know? The room has a long table-slash-desk with a TV above it; I loved watching the Food Network back in the day, before it was all weird game shows. I took this photo shortly after moving in, around when I was starting to work on my college applications and portfolio. I was very proud of that Chanel bag on the chair; it was my first eBay purchase, and I had to beg my dad to let me use his credit card. My dad still lives in the house, so I'll stay in the bedroom on weekends. I'm surprised at how much I still like it. I feel very at ease here.
It has a balcony with views of Manhattan (and Citi Field).
After I moved in, I set up some seats out on the balcony. I could connect to the Wi-Fi and go on my laptop. I remember a few emo nights when I would go outside and just listen to music. We eventually removed the furniture because it's really windy out there. But the view is of the whole city skyline — it's gotten a little obstructed by new construction, but you can still see the buildings. It's also right next to Citi Field, and we're really close to LaGuardia, so you can sometimes hear planes flying.
And an en-suite bathroom.
I was totally spoiled. My first bedroom did not have an en-suite bathroom. My own shower? It was the shit! The bathroom has gold fixtures and I got to design parts of it; I picked out the tile, which is blue-green. I don't know why I chose that color, I was probably thinking of The Little Mermaid. Looking back, I don't love it now.
She picked the curtains.
My dad had originally bulk-ordered curtains from China — super-gaudy stuff with beading and heavy embroidery and really rich colors. I was like, "I can't have that in my room, no way." He was fine with it — I don't know if I would be with kids of my own — so I went to Zarin Fabrics on the Lower East Side and picked out this heavy silky taffeta in a light-blush color. I picked the trim, someone from Zarin came and met me in the room for a fitting and everything. I had no idea how much it would all cost, and when my dad got the invoice, he was like, "What makes you think you can get silk curtains?" To this day I will say I have the nicest curtains in the house. I don't remember how much they cost — just that it was more than any other curtains he bought.
And the wallpaper.
It's a creamy, blush-y, coral-y pink. And it has a subtle texture. It's not flat. When I moved in, I was obsessed with the movie Marie Antoinette, and I'm just so glad I didn't pick out some baroque wallpaper I would have hated now. This is much calmer.
But not the light fixtures.
My dad's favorite thing to talk about are the German light fixtures on the walls. He's still so obsessed with them and will tell anyone how they're the nicest German lights. Sure, they're nice — they dim, and I like to have them on when I'm about to sleep. But my dad is such a nerd about it. He works in construction and is very proud that he's an architect and designer all in one. He can go on about it for days.
There was a hand-shaped chair (that she promptly removed).


When I first moved in, there was zero furniture. Like, I slept on a mattress on the floor. As the furniture slowly got brought in, there was this one chair that arrived: It was shaped like a hand and made of red leather. My dad was like, "I got this custom designed for you." It's such a Chinese thing—when parents exaggerate like that to make you happy. I knew he didn't get it custom made, and it didn't go with my room. But the chair was oddly comfortable, so I gave it to my brother.
But the safe her dad put in a corner is still there.
You can see my desk in the corner of one photo — I did my college applications to RISD and Cooper Union at that desk. The Herman Miller chair, the office-style telephone, and the safe were all my dad's doing. He did the same setup in my brother's room. My dad is all about being a professional and, in order to be legit, he thought we needed the proper stuff. The phone is wired so that you can press a button to call the kitchen, but I've never used that phone in my life. The safe? I put stickers on it. But I can feel my dad's hopes and dreams for this room from when he designed it. Even though I find his aesthetic to be a bit much, this is what he gave to me, what he designed for me. So it's special.